Mattress company King Koil offers an array of beds for its consumers, ranging from spring to hybrid to memory foam. (Yes, despite the word "koil" in its name, the company is not opposed to foam!) Today we're going to specifically look at its iMattress collection, which contains two hybrid-style mattress models that claim to bring you to "the cooler side of sleep." The collection features specific cooling technologies that promise to regulate heat so you don't wake up feeling trapped in hot air. We'll look into this, along with the other qualities of the King Koil iMattress collection, including pros and cons, price-point, construction, and design.
The Company: King Koil
In 1898, Samuel Bronstein founded what was then called United States Bedding, in St. Paul, Minnesota. The team started with six employees, and then throughout the 1900s, expanded both its number of employees and manufacturing operations. In the 30's, the company placed a focus on its bedspring innovation and renamed to King Koil, a play on words with "coil." Today, King Koil mattresses are sold in 90 countries around the world and the company is headquartered outside of Chicago, Illinois. They sell innerspring, hybrid, and memory foam mattresses that are available in five exclusive collections.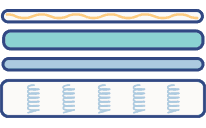 King Koil iMattress Collection: Construction
These two mattresses in this iMattress collection include the XS 10 Hybrid Firm mattress and the XS 50 Hybrid Plush. They are constructed with specific technologies, including a copper infused sleeping surface, cooling foams, and an individually encased coil system. Moreover, all King Koil mattresses are endorsed by the International Chiropractors Association (ICA) to help promote proper spinal alignment.
Let's zoom into both of these two mattresses in the iMattress collection.
XS 10 Hybrid Firm & XS 50 Hybrid Plush:
Cover: The cover on both beds is infused with copper yarns. These copper yarns are known for keeping cool by transferring heat, protecting you from odor, and promoting healthier skin.
Comfort layer: This is the main construction differentiation between the two mattresses. The comfort layer is made with gel-infused memory foam, however, the SX 50 Hybrid Plush has a thicker and softer comfort layer to give it a softer and plush feel.
Temperature regulating foam: The XS 10 Hybrid Firm and SX 50 Hybrid Plush focus on keeping cool by combining a temperature regulating foam technology called iFusion with the antimicrobial and odor eliminating copper infused sleeping surface we described above. To reiterate, copper is known for transferring heat, destroying bacteria, and inhibiting the growth of the fungi, molds, and viruses.
Coil system: Both mattresses are designed with a pocketed coil support core. Specifically, there are 630 individually encased coils that are constructed to separately respond and conform to the body while eliminating motion transfer.
Edge support: In both models, there is also an Excellent Edge™ Foam Encasement which provides stability and solid edge support.
Base: The base of both mattresses is made from a polyfoam pad.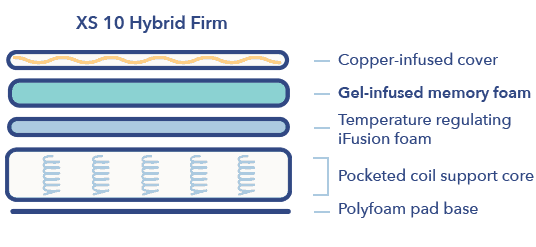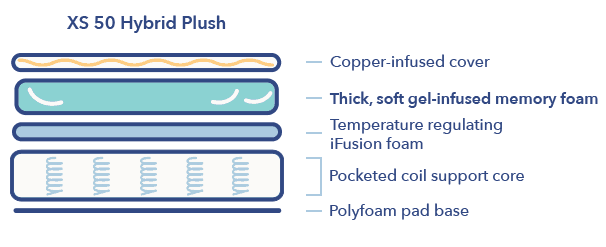 King Koil iMattress Feel
The biggest and most obvious difference between the XS 10 and XS 50 hybrid mattresses is the firmness level. The XS 10 will feel a lot more firm, a qualitytypically well-suited for back sleepers who are looking for proper spine alignment and might even be dealing with lumbar and low back discomfort. (Note: no mattress can be a substitute for medical attention if you're experiencing pain.) Meanwhile, the XS 50's plush surface is great for side sleepers who need specific support for their hips and shoulders, and for people in general who like to feel like they're "sinking" into the mattress.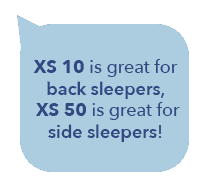 The main characteristic of the iMattress XS 10 and XS 50 is the array of cooling technologies. While innerspring mattresses are generally known for staying cool, thanks to airflow moving freely through the coils, the addition of a foam layer (aka a hybrid mattress) mean heat is more vulnerable to getting trapped in the foam. Thus, the focus on a copper-infused sleeping surface and the iFusion foam help to keep air moving throughout the entire mattress so you don't wake up feeling super hot.
It's also fair to assume that both mattresses will have strong support near the end of the mattress due to the use of the Excellent Edge™ Foam Encasement. The cover, made with an infusion of copper yarn, is also known to protect you from smells and keep away unwanted bacteria and fungus.
King Koil iMattress Collection Vs. Others
The King Koil iMattresses are classic hybrid beds that come in two comfort levels: firm and plush. Two other mattresses that will provide a similar feel would be Brooklyn Bedding Aurora Mattress and the DreamCloud Mattress.
The Brooklyn Bedding Aurora Mattress will provide good edge support and motion control like the King Koil; Brooklyn Bedding's Aurora' hybrid construction combines the support of springs with the motion-dampening and pressure-relieving properties of memory foam. It's also great if you share a bed with someone else and want to remain undisturbed throughout the night.
The other option, DreamCloud, will feel closer to the XS 50 plush model thanks to its soft and plush cover. Moreover, the DreamCloud also has a special edge support system, which allows sleepers to lay securely near the edge of the mattress like the King Koil.
Brooklyn Bedding Aurora and DreamCloud Mattresses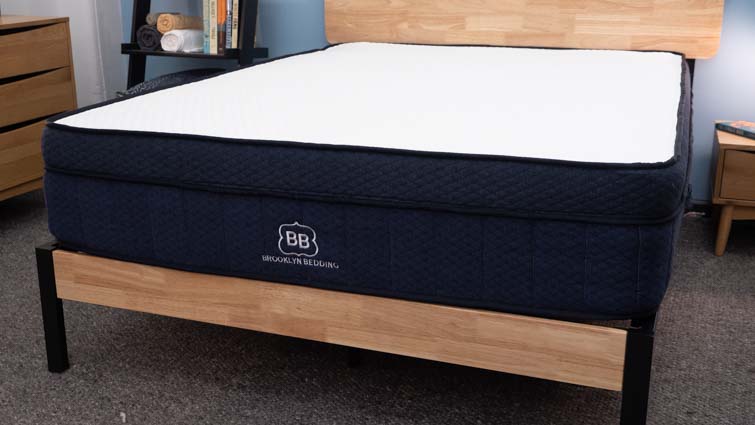 Brooklyn Bedding Aurora Luxe Mattress
Multiple firmness options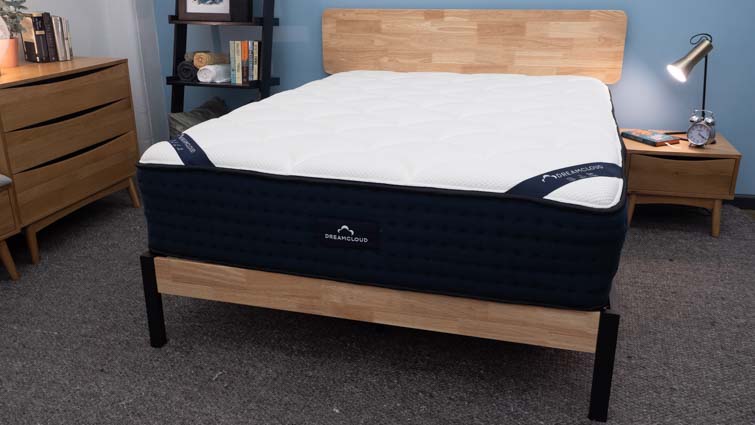 DreamCloud Original Mattress
Medium-firm: 7/10
Brooklyn Bedding Aurora and DreamCloud Mattresses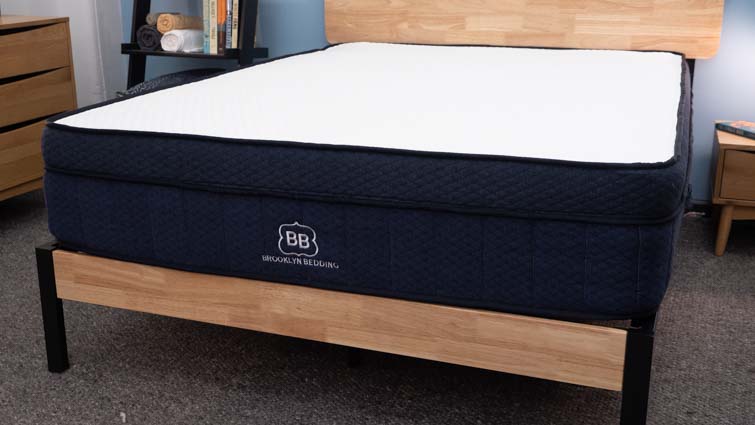 Product
Brooklyn Bedding Aurora Luxe Mattress
Firmness
Multiple firmness options
Score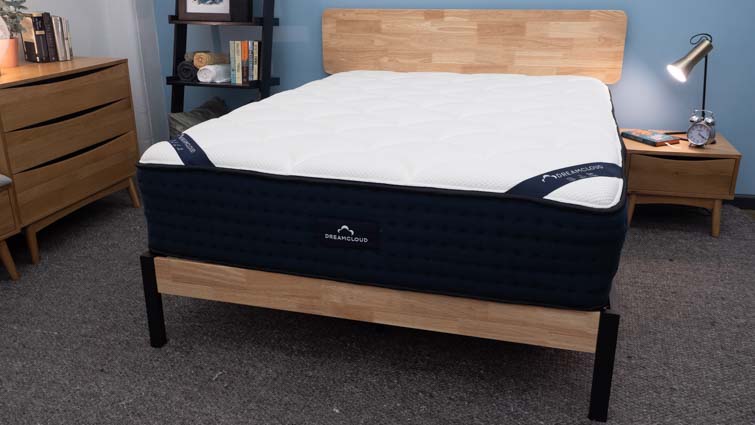 Product
DreamCloud Original Mattress
Firmness
Medium-firm: 7/10
Score
Additional Need-to-Know's
How to buy: King Koil mattresses are exclusively available for purchase at brick-and-mortar retail locations. Customers should defer to the delivery policy of the retailer where they purchase their mattress
Old Mattress Removal: King Koil does not offer old mattress services. Customers should defer to the mattress removal policy of the retailer where they purchase their King Koil mattress.
Made in the USA.


King Koil iMattress Collection: Pros and Cons
There are limited online reviews for the King Koil iMattress collection, but here are general themes found throughout.
Common Pros:
Good edge support. Positive reviews of the King Koil iMattress collection include feeling supported on all sides of the bed, including the edge. This is thanks for the special foam encasement that is part of the construction.

Keeps cool. Foam, and memory foam especially is notorious for trapping heat. Luckily, the XS 10 and 50 both have integrated technology to allow for heat to transfer through the foam and keep the body cool.
Eliminated odor and bacteria. The upper layer is made from a copper infused material, which assists in eliminating of odors and keeping the mattress free from bacteria.
Common Cons:
Limited specification disclosures. Probably the most frustrating aspect of this mattress collection is that there is limited information on the exact specs of this bed (for e.g., how tall is it?) along with information on the warranty and thickness of the comfort layers.

Cost. In a similar vein, for the cost of this mattress — over $2,000 for a King — more often than not folks want all the fine details before making this type of investment.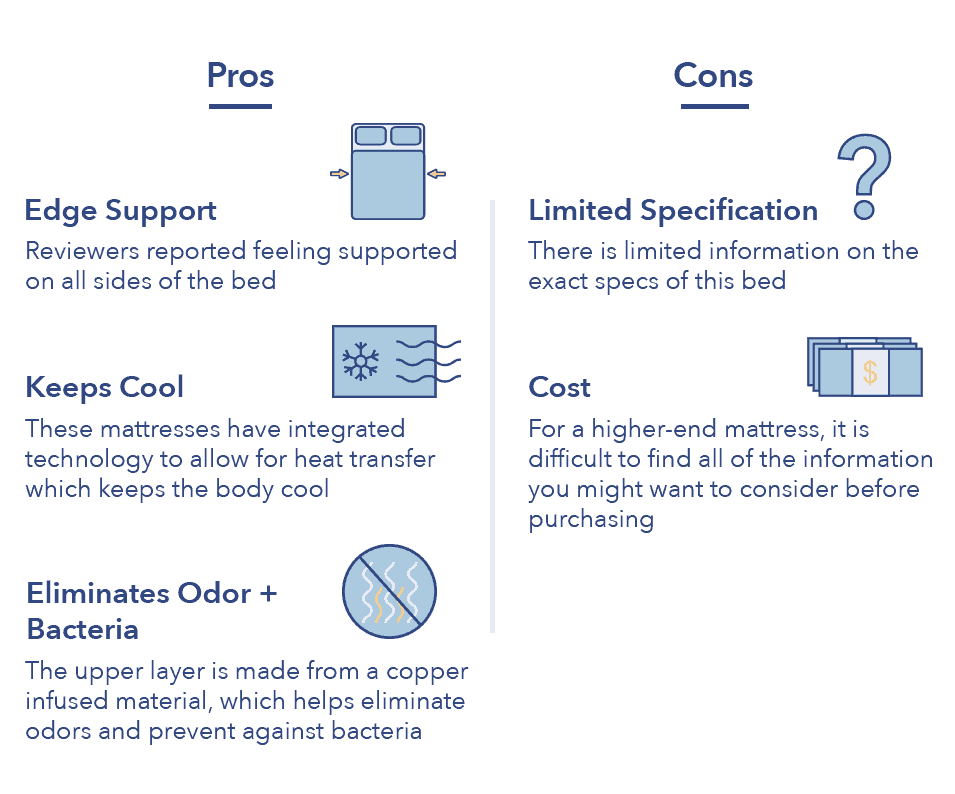 Sizing and Pricing Information
| Model | Twin | Twin XL | Full | Queen | King | California King |
| --- | --- | --- | --- | --- | --- | --- |
| XS 10 Hybrid Firm | $1,299 | $1,489 | $1,574 | $1,749 | $2,179 | N/A |
| XS 50 Hybrid Plush | $1,399 | $1,589 | $1,674 | $1,849 | $2,279 | N/A |
Is the King Koil iMattress Collection Right for You?
If you've made it this far, congrats! If you've skipped ahead, no worries either: Here are the main three reasons one of the mattresses in the King Koil iMattress collection could be a good fit for you and your bedroom.
You sleep hot. The entire focus of this mattress collection is around the cooling foam. If you sleep hot but still enjoy a hybrid mattress with a foam top, you might do well with the technologies embedded that help to transfer heat and keep you comfy all night long.
You are looking to level-up your bedroom spending. This mattress is definitely on the higher-end of the spending spectrum, which could be a great thing if that's what you're looking for. If you want to "level-up" and invest in a quality mattress, this collection is one of the most "luxurious" of all the collections within the King Koil brand.
Related: Best Luxury Mattress
You want a classic hybrid feel. These beds aim to provide that classic hybrid feel — the bounce and lift of innersprings with the contouring, pressure relief of foam. If you're a hybrid bed lover, you can choose if you want something plush or firm with the iMattress collection.


King Koil iMattress Collection Summary

All in all, if you're looking to invest in a hybrid mattress, want to choose between firm or soft, and especially are looking to keep cool, the King Koil iMattress collection could be a great fit for you. You'll have to head to a retail store to get all the information, but this article was hopefully a good place to help jumpstart your mattress search.
Laura Schwecherl
Laura is a journalist with nearly a decade of experience reporting and covering topics in the health, fitness, and wellness space. She is also a marketing consultant, where she works with impact-oriented startups to build marketing and editorial strategies. Outside of work, you can find her reading Murakami novels, writing amateur poetry, or trail running in her hometown, Boulder, Colorado.