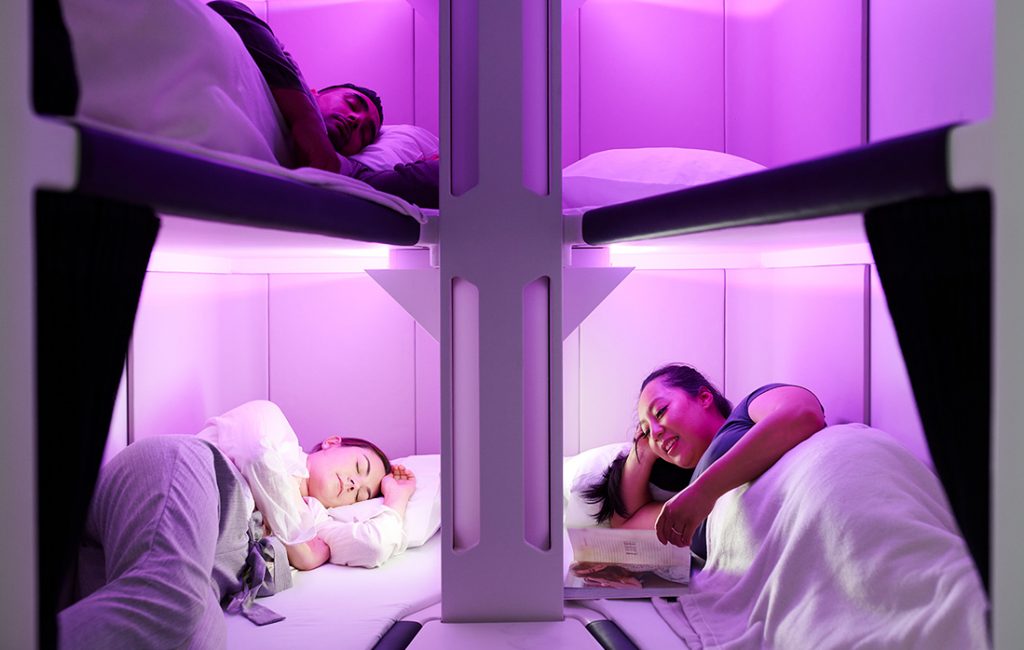 Air New Zealand recently announced the world's first lie-flat "pods" — for economy travelers. The rentable sleep pods, called "Skynest," are set to debut in 2024.
"Skynest" will consist of six full-sized bunked sleeping pods that passengers can rent for several hours. Hoping to offer their customers the best sleep in the sky, the pods will be installed on Air New Zealand's Boeing 787-9 Dreamliners and will exist alongside regular seating sections.
Beds are not a revolutionary idea in air travel. But until they have been considered a luxury option for some airlines and only available at a premium price. Etihad's A380 Residence and Apartments, Emirates' 777-300ER suites, and Singapore Airlines' A380 double beds are some of the more well-known options for getting your forty winks on a long haul.
Air New Zealand is pushing the envelope by bringing the option to economy passengers.
Why the Change? And Why Now?
After conducting extensive customer research and listening to customer feedback on the importance of sleep and their need for more comfort and space, customers asked, and Air New Zealand answered with Skynest.
Air New Zealand Chief Executive Officer Greg Foran says, "New Zealand's location puts us in a unique position to lead on the ultra-long-haul travel experience. We have zeroed in on sleep, comfort, and wellness because we know how important it is for our customers to arrive well-rested. Whether they are heading straight into a meeting or to their first holiday hotspot – they want to hit the ground running […] We wanted to offer our Economy customers a lie-flat option, and that's how Skynest was born. It's going to be a real game-changer for the economy travel experience."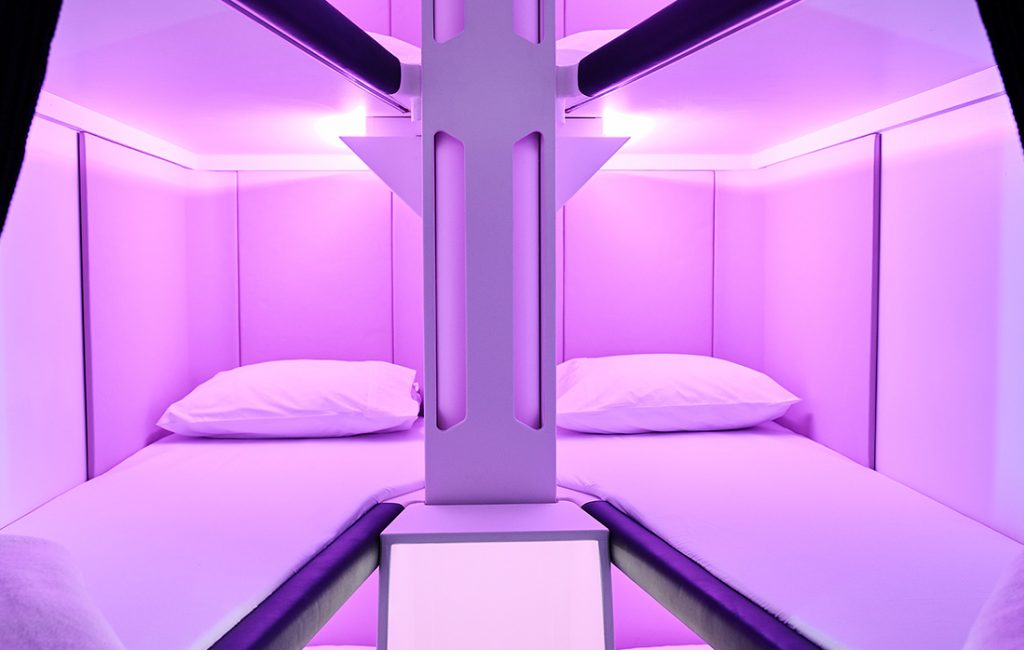 It's also worth noting that the announcement of the Skynest rollout comes just ahead of Air New Zealand's first nonstop flight from Auckland to New York's John K. Kennedy International Airport starting September 17, 2022. With total flight time coming in somewhere around 17 hours, it will be one of the world's longest regularly scheduled passenger flights, so for anyone considering the trip, the Skynest option certainly sweetens the deal.
Digging even deeper into what prompted the change and expected outcomes, Chief Customer and Sales Officer Leanne Geraghty says, "Research shows us the first night away from home is the hardest to get a good night's sleep, so everything we do on board is to help create a sense of calm […] help customers unwind, and get ready for rest."
The airline currently offers passenger comfort options like the "SkyCouch," coach seats with footrests that extend and lift to create a bedlike space, and their Business Premier Luxe seat, designed to give travelers more space and privacy.
Air New Zealand has yet to announce pricing on the Skynest, but they have confirmed what we'd expect; there will be an additional fee for access to the sleep pods on top of your economy ticket.