In recent months, weighted blankets have skyrocketed in popularity — but the reasons behind this sleep accessory's rise to fame have sparked quite a bit of controversy.
Within the span of a year, weighted blankets have become very trendy among celebrities and the social media masses. But before they were featured on Kourtney Kardashian's Twitter profile, they were predominantly used for therapeutic purposes within the special-needs community. So, while many are feeling excited about the weighted blanket's peak in popularity, some folks are worried that it's indicative of appropriation — and that something used to treat those with disabilities shouldn't be marketed as a hip, new trend.
To gain a better understanding of the controversy surrounding the weighted blanket fad, I spoke with an occupational therapist and a special education teacher who shared their professional (and personal) opinions on the inner-workings of the weighted blanket world.
How Do Weighted Blankets Work?
Though they range in style, all weighted blankets feature an internal liner with small, sewn-in pockets that are filled with a weighted material (typically plastic pellets or glass beads). Most weighted blankets weigh between 10 and 25 pounds, and are designed to provide what's known as Deep Pressure Touch. The blanket's exterior can consist of any kind of fabric, though cotton, flannel, and fleece are among the most popular.
So, how does Deep Pressure Touch work? To find out, I spoke with occupational therapist Annie Schlecht of the Sleepopolis Expert Network, who told me weighted blankets rely on "proprioceptive input."
Light touch, such as a tickle on the neck, can often be alerting or irritating. Conversely, Deep Pressure Touch, like a big bear hug, is more calming to the central nervous system. The reason weighted blankets are beneficial for sleep is due to the fact that deep pressure can help facilitate the release of serotonin (the happy neurotransmitter), and then serotonin helps in the production of melatonin (our sleepy hormone).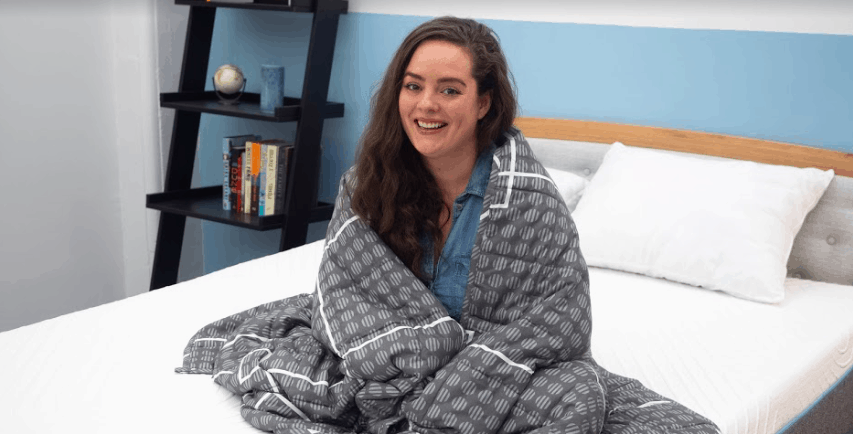 Schlecht went on to explain that weighted blankets are prominently featured within the world of occupational therapy, and have been used to treat patients with sensory processing disorders for decades. Essentially, the concept behind the weighted blanket is to replicate deep pressure therapy in an effort to allow the release of serotonin, which aids in relaxation.
So, Why Are Weighted Blankets So Popular Now?
The first weighted blankets date back to 1999, when occupational therapist Tina Champagne began using them to treat patients coping with mental and physical trauma. Fast-forward to the present and weighted blankets are increasingly featured in "Must-Have Gift Lists," ads on Instagram, and were even listed in Time Magazine's "Best Inventions of 2018" roundup. If weighted blankets have been around for years, one has to wonder: Why are they so popular now?
Well, the primary reason is that, until recently, weighted blankets were mainly marketed to and within the special-needs community. As Schlecht mentioned, those with autism, Aspergers, PTSD, and other sensory processing disorders have historically used weighted blankets to alleviate anxiety and calm the nervous system. But in 2017, bedding brand Gravity Blanket launched a Kickstarter campaign to make weighted blankets accessible to everybody, advertising them as a cozy sleep accessory rather than a medical aid.
Within a year of the hyper-successful Kickstarter campaign, myriad brands emerged, and weighted blankets swiftly became the super-trendy hashtag they are today. Influencers like Kourtney Kardashian, JoJo Fletcher, and Vanessa Grimaldi have all celebrated the fad on social media, crediting weighted blankets with helping them achieve a great night's sleep… But not everyone shares the same enthusiasm for the campaign's success.
For those who use weighted blankets to cope with trauma, anxiety, and physical disabilities, advertisements featuring happy, able-bodied people flaunting their sensory sleep accessories can be triggering. In fact, some folks (particularly within the special-needs community) have taken to various online forums to express their frustration.
The Controversy Behind The Weighted Blanket's Rise to Fame
Before Gravity Blanket started selling its own weighted accessories for upwards of $200 a pop, most sensory blankets typically cost around $80. The uptick in price aside, many feel that weighted blankets were appropriated from the special-needs community, and re-marketed as a hip fad. Parents of children with disabilities have voiced concern about the growing trend, asserting that mainstream media did not invent weighted blankets — they've been used for decades.
To hear more about this controversy, I spoke with a special education teacher. Though she wishes to remain anonymous, she told me that she frequently uses sensory blankets to relax her students (particularly those with ASD), and she worries that this increased demand for weighted blankets might also increase cost:
The higher demand for these newer, name-brand weighted blankets has definitely affected the whole market, and we can tell that some of the earlier, less popular companies have taken a hit. My kids with ASD do feel really comforted by Deep Pressure Touch, so I'm hoping this weighted blanket trend doesn't increase prices too much.
Though she expressed concerns about the growing trend, she asserted that weighted blankets should be used by anybody who benefits from the healing power of Deep Pressure Therapy. However, she reminded me that it's important to remember where weighted blankets began, and respect those who use them for purposes unrelated to sleep.
On a personal note, I must admit that when I first endeavored to write this piece, I had no idea this controversy existed. I also thought that weighted blankets were invented one year ago. So, after combing through online forums and gaining a wider perspective, I realized there's actually a lot of hurt felt from certain disenfranchised communities.
That being said, while it's irrefutable that everyone is entitled to great sleep and comfort, there needs to be more awareness surrounding the origin of this bedroom accessory.
Sleeping With Anxiety
Though the weighted blanket may have become something of a fashion trend, experts agree they are very useful in curbing anxiety. Recent polling data compiled by the American Psychiatric Association found that 40% of Americans feel more anxious in 2018 than in 2017, following a 38% uptick from 2017 to 2016. So, with Americans feeling more anxious with every passing year, maybe the weighted blanket movement is just what the doctor ordered.
Related: Anxiety keeping you awake? Learn more about insomnia from the Sleepopolis Expert Network. 
In my conversation with Schlecht, she told me that weighted blankets have risen in popularity because of "marketing techniques that promise a good night's sleep." However, she also told me that, if used properly, they can be very beneficial as a calming technique. So, perhaps the takeaway is that anyone in need of some R&R could potentially benefit from a weighted blanket, but those dealing with specific sensory conditions should always be considered first.
Featured Image Courtesy of @gravityblankets on Instagram
Sarah Riccio
Sarah is the former senior writer and bedding expert at Sleepopolis. She received her degree in Creative Writing from Brooklyn College and spends her free time doing stand-up, making pasta, and hanging with her cats.