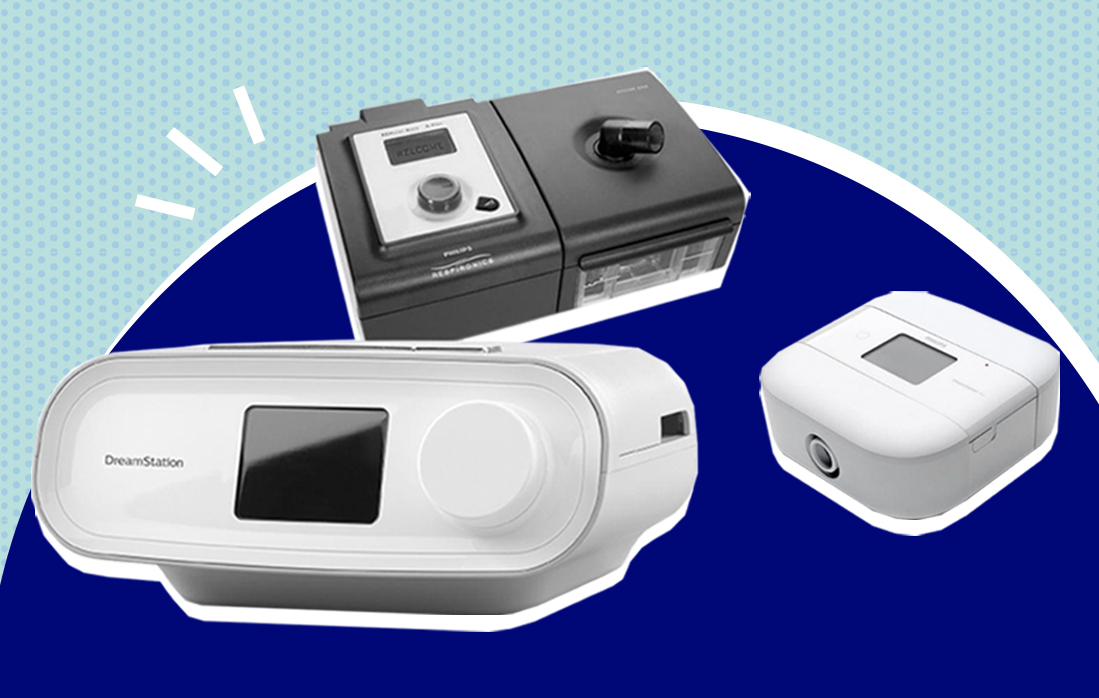 Back in June of 2021, Philips Respironics Sleep and Respiratory Care devices voluntarily recalled about 5 million of its CPAP and BiPAP machines. Why? Because a noise-dampening foam used in their products could be emitting particles and cancer-causing chemicals into consumers' airways. 
So, what's up with the old news? The issue with this massive recall is that it's taking quite a while for all the affected consumers to receive their replacement devices. 
CPAP stands for Continuous Positive Airway Pressure therapy and these machines are used to help those suffering from obstructive sleep apnea, so their airway doesn't collapse when they breathe in during sleep, according to the University of Michigan Health system. Similarly, BiPAP stands for Bilevel Positive Airway Pressure and is a type of ventilator that also helps with breathing, as stated by Johns Hopkins Medicine.
At the time of the recall, "Philips had received a limited number of reports of possible patient impact due to foam degradation, and no reports regarding patient impact related to chemical emissions," according to the U.S. Food and Drug Administration (FDA). They said they continue to monitor complaints. 
Emma Cooksey, the host of the Sleep Apnea Stories podcast, told ABC's First Coast News that "some people were told to stop using their machine completely, but that left their sleep apnea untreated, and untreated sleep apnea is really dangerous." She also stated that many were quite worried about waiting for a replacement machine because of the increased risk for heart attack and stroke. 
As of October, Philips reported a production of "750,000 repair kits and replacement devices, of which more than 250,000 have reached customers." The solution to the dangerous foam in question is a different, silicone-based foam. At this time, the FDA is not yet sure whether this new foam poses any risks to consumers, but they've asked Philips to conduct testing in an independent laboratory. They advise those who fall within the repair and replacement program not to discontinue device use, as this could pose even more dangerous health risks. 
While it could take months for everyone to receive their repaired or replaced devices, Dr. Peter Nassar, who runs the Jacksonville Sleep Center, offered ABC's First Coast News some alternatives for those suffering from sleep apnea.
Weight loss.

According to North Carolina's Mountain Ear, Nose, and Throat Associates, there's a

big correlation

between sleep apnea and obesity, and it's possible for weight loss to cure the condition completely.

Try a

travel CPAP device

while you wait on your replacement Philips device.

For mild to moderate sleep apnea, an

oral appliance

might work for you. Nassar explained to First Coast News that this custom, dentist-made product holds your lower jaw forward and increases space in the airway.

For moderate to severe sleep apnea, you can also consider an

implant

. Especially for those who find their CPAP machine isn't doing the trick, a remote-controlled device can be implanted in the airway. Nassar told First Coast News, "Every time you breathe in, the device senses your inspiration, sends the pulse to your tongue, and the tongue protrudes forward slightly and opens the airway and treats the sleep apnea."
As always, Sleepopolis recommends consulting your doctor if you experience sleep apnea or have been affected by the recall in any way. 
Have you suffered the blow of a recalled CPAP or BiPAP machine, or found an alternative therapy that works for you? Shoot a note to carley.prendergast@pillarfour.com.