A federal judge just ordered more sleep for the inmates of Alameda County's Santa Rita Jail in response to a class-action lawsuit alleging inhumane bedtime conditions.
San Francisco U.S. District Judge James Donato recently ruled in favor of a group of female inmates serving in Alameda County's Santa Rita Jail. In December 2018, the women filed suit against both the jail and the county Sheriff's Office, citing cruel and unlawful treatment in the form of forced sleep deprivation. The women claimed they were subject to "pill calls" at 2:30 AM, breakfast at 4 AM, and a constant stream of noisy maintenance throughout each night.
Lead plaintiffs Tyreka Stewart, Tikisha Upshaw, and Andrea Hernandez also accused deputies of rattling their cell bars, shining flashlights in their faces, and making the prospect of even a few hours of uninterrupted sleep an impossibility. The plaintiffs join the 28 other women who have successfully filed lawsuits against Alameda County since 2014, alleging medical malpractice, abuse of pregnant inmates, and cruel and unusual use of isolation.
Officials from the Sheriff's Office argued that the early morning pill calls were necessary for those suffering from health conditions, but Judge Donato ruled there is no known medical basis for why this has to happen in the "dead of night."
In his preliminary injunction, Judge James Donato emphatically sided with the plaintiffs, asserting that "sleep is a human right," and that Santa Rita Jail was in violation of the 14th Amendment's right to due process. Following the Judge's decision, breakfast and pill calls will now be served no earlier than 5 am on weekdays, and 6 am on weekends.
The Science Behind Sleep Deprivation
During the final hearing for this lawsuit, Judge Donato not only declared sleep a "constitutional right," but described himself as "very sleep-deprivation sensitive" as well. Though he didn't detail his own personal experience, some may be left wondering — what does sleep deprivation do, anyway?
Well, when it comes to sleep deprivation, the science behind the inmates' complaints is very real. We at Sleepopolis have covered myriad studies directly linking sleep deprivation to cardiovascular health, mental wellness, hormonal changes, cognitive function, and many more serious bodily impacts. In fact, research shows that even 24 hours of sleep deprivation can induce hallucinations and schizophrenia-like symptoms.
Additionally, studies have demonstrated that sleep loss often results in feelings of loneliness, depression, and irritability. To that end, the plaintiff's lawyers — Yolanda Huang and Dennis Cunningham — argued that more sleep would benefit both the inmates and the officers, stating that "well-rested prisoners will always be more cooperative than tired prisoners."
Rest Is Not A Luxury, It's a Human Right
While the science behind the effects of sleep deprivation is indisputable, it's important to remember there's a humanitarian component at play here as well. According to a legal statement made on behalf of the plaintiffs, the women of Santa Rita Jail "suffered irreparable harm" having been denied proper rest for so long. But, aside from filing lawsuits, how do we shed light on sleep inequality?
Well, in the past several years, the topic of sleep has risen in popularity not only in regards to health and wellness, but as a tool of resistance for some social justice groups. The idea of sleep as an inalienable human right is something we see in groups like Rest for Resistance and The Nap Ministry, which work to provide marginalized communities with a safe place to unwind.
I was fortunate enough to speak with The Nap Ministry's founder, Tricia Hersey, who told me that the women of Santa Rita Jail should be commended for fighting for their right to sleep:
The prison system is designed to attack anything that makes you feel human, so it makes sense that they'd target sleep. But the fact that these women got fewer than 4 hours of rest every night and were still able to pursue justice is so admirable. Sleep is a powerful spiritual tool, and no matter where or who you are, you can use it as a form of resistance.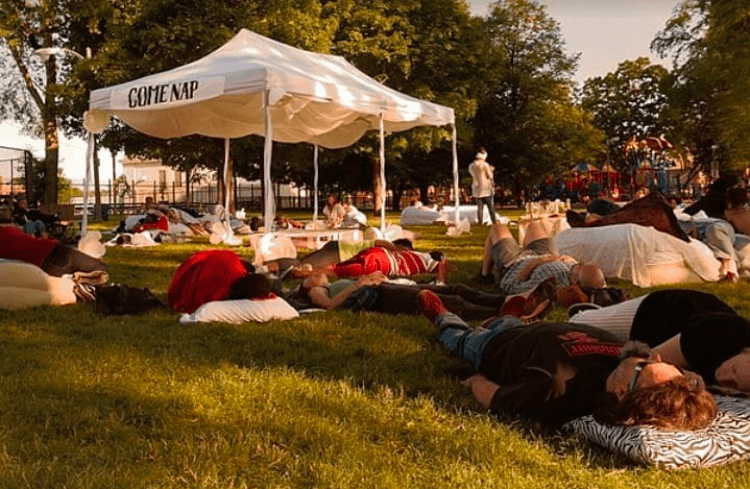 Hersey went on to tell me that The Nap Ministry's mission is to create a space where people can come to meditate, nap together, and "dream of a better world." She added that many people who join her nap collective claim they feel guilty for taking a break from life's daily grind, making it "all the more important to nourish the soul with much needed sleep."
Meanwhile, though the inmates of Santa Rita Jail were victorious in their fight for more sleep, it'll be interesting to see the impact their story has on the rest of the country. Hopefully, it will inspire people to always prioritize the need for healthy sleep, and protect their human rights, no matter the circumstances.
Featured image courtesy of @alamedacountysheriff on Instagram 
Sarah Riccio
Sarah is the former senior writer and bedding expert at Sleepopolis. She received her degree in Creative Writing from Brooklyn College and spends her free time doing stand-up, making pasta, and hanging with her cats.