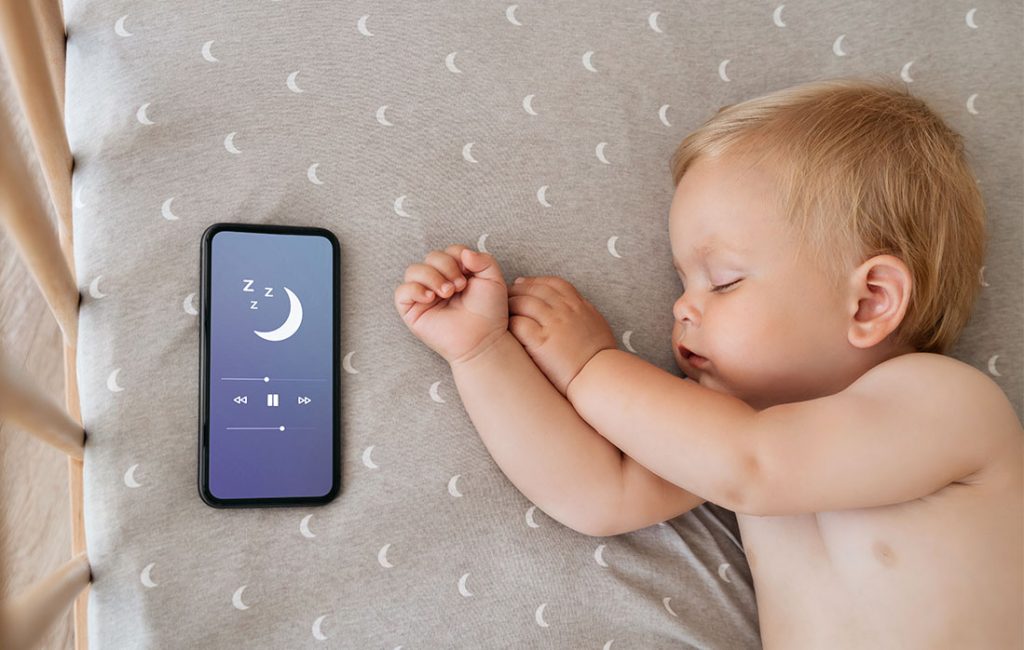 Music has often been referred to as the "language of emotions," allowing those who listen to experience a range of emotions depending on the song. Past research has found that humans are sensitive to the structure of music and from even before birth fetuses are able to respond to the tempo of music in varying degrees.
Researchers at the University of Dundee in Scotland wanted to understand if newborns can perceive and respond to different emotions in music. According to their findings, certain kinds of music may help your newborn fall asleep faster.
What the Study Looked At
The study analyzed newborns' movement and heart rate in response to three different conditions: happy music, sad music, and no music.
While listening to the happy music, researchers found sleep came faster to the newborns. The duration of drowsiness and the delay of self-regulatory behavior, such as sucking, was significantly higher during the happy music. The newborns also experienced a decreased heart rate during the happy music, but not while listening to sad music or no music at all.
Overall, the main finding from the study found that happy music was associated with providing soothing and faster sleep for newborns.
Lead researcher, Dr. Emese Nagy said in a press release, "Our results show that newborns do react to emotions in music, supporting the notion of a generic, possibly inborn, human musicality."
The Study Selection Process
The main focus of the study was to understand if newborns would react to varying emotions in music. Both the participants and music went through a thorough selection process.
There were two different sample groups used for the study, one tracking behavioral responses and one analyzing heart rate.
To track behavioral responses, the researchers videotaped 32 newborns approximately two days after birth. In a separate group, they analyzed 66 newborns' heart rates, with each newborn averaging 2.28 days old. All newborns were healthy and had high Apgar scores (Apgar scores assess how newborn babies are doing immediately following labor and delivery).
Two experimenters collected and reviewed the music selected for the study. They started with 126 children's songs and lullabies in various languages. They narrowed the list to 25 songs with only six sung in English. Each song was categorized as either happy or sad.
From here, 16 participants, all native English speakers, validated each song, rating it on a Likert scale ranging from extremely sad to extremely happy. The French lullaby, "Fais Dodo," was selected for the sad song, and a German song, "Das singende Känguru," was chosen for the happy song.
The study does point out that the language of the songs could have affected the rating process, however since lullabies and children's songs are traditionally sung and not instrumental, linguistic elements are unavoidable.
What This Means For You
The results from this study continue to explain the impact music can have on children, but also on sleep. While past studies have found the best music to listen to before bed, this is the first study to uncover that newborns are affected by the emotions of music they listen to.
If you're struggling to find a way to help your newborn sleep, try putting on some happy music in the background.
Need some musical inspiration? Check out our playlist on Spotify and let us know if this helped your newborn fall asleep faster.
Julia Medina
Julia is a Staff News Writer for Sleepopolis. From sleep news and education to the latest sleep trends, her goal is to keep you informed about what's going on in the world of sleep, dreams, mattresses, and more. Julia graduated from Wake Forest University with a degree in communications and minors in film and sociology. In her free time she loves exploring new cities, relaxing with a good tv show, and getting some good quality sleep.