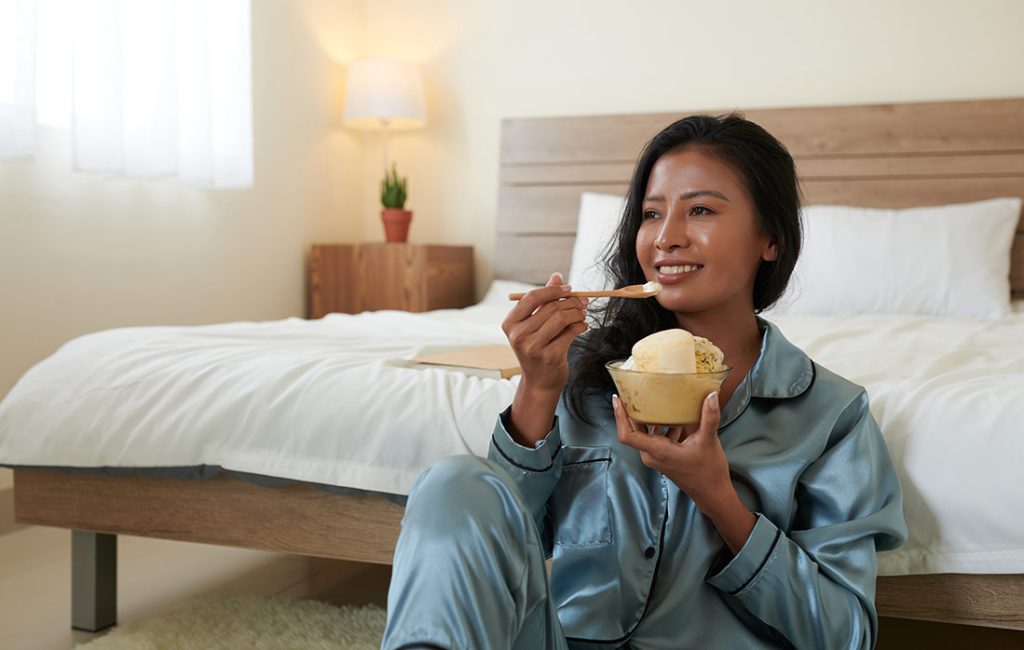 Have you ever been craving a nighttime snack, but didn't want it to negatively impact your sleep? You're not alone. According to a 2021 survey by the International Food Information Council, nearly half of Americans snack between 8 p.m. and 11 p.m.
What snacks are we reaching for? Here's something interesting: According to a different survey, this one done by Impulsify, a hospitality-focused data service, many of us might be opting for Nightfood, a newish "sleep-friendly" snack brand.
In May 2022, Nightfood became available in hotels across the United States and has seen growing success. The Impulsify survey mentioned above compared 29 hotels that sell both Nightfood and Haagen-Dazs ice cream and found that Nightfood outsold Haagen-Dazs in 38 percent of hotels, suggesting that it's growing in popularity.
What makes Nightfood's products so sleep-friendly? Founder and CEO Sean Folkson states on the brand's website, "Sleep-friendly means less sugar, less fat, fewer calories, and lower glycemic with more protein and more prebiotic fiber. Plus certain vitamins, minerals, and digestive enzymes recommended by our sleep excerpts. The result is a delicious ice cream that satisfies those pesky nighttime cravings in a better, healthier, and more sleep-friendly way."
Currently the company, which was founded in 2018, is focusing on expanding their ice cream presence within hotels, while also launching other sleep-friendly snacks. In July 2022, Nightfood added sleep-friendly cookies to their portfolio. In a press release Folkson said, "Hotel leaders have flat-out told us they want sleep-friendly options in all the popular categories, not just ice cream."
Currently on Nightfood's website, a pint of ice cream retails for $7.99 and their cookies range from $14.99 for a 3 pack to $57.99 for a 12 bag case.
Let us know: Would you try Nightfood sleep-friendly snacks?