Cotton-covered comforters offer a classically cozy feel that many sleepers find to be irresistible. But with so many different options on the market, finding the perfect one can be kind of a hassle! That's why I'm presenting my top four favorite cotton comforters right here in this guide. Plus, I'll provide you with all the pertinent information you need to make the best buying decision possible. Let's get started!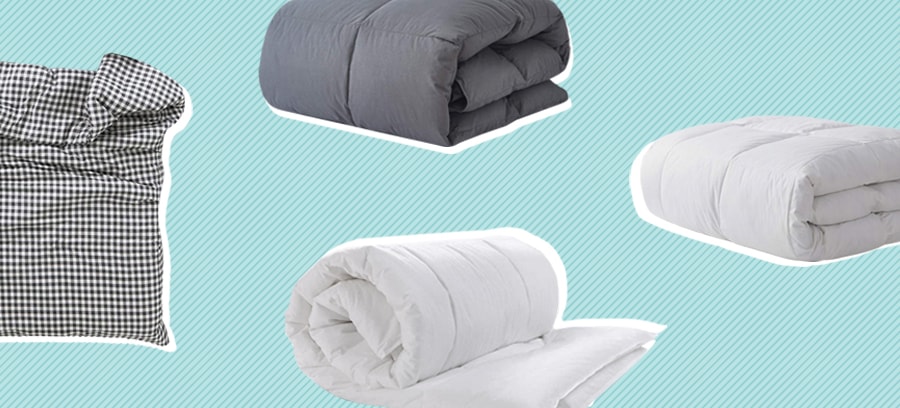 Editor's Choice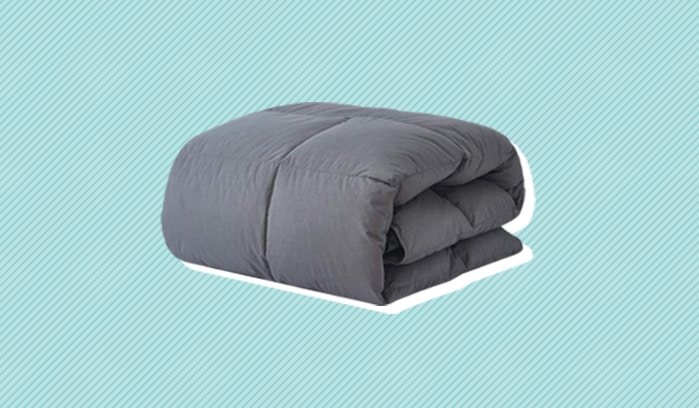 Decroom 100% Cotton Quilted Down Comforter
Covered in soft cotton and filled with a blend of duck and goose down, this comforter is luxuriously soft and fluffy. Plus, it features gridded stitching for a nice, even loft.
Pros
This comforter is filled with white goose and duck down, which are widely regarded as some of the softest, most luxurious materials in the industry.
Sewn-in corner tabs make this comforter compatible with a duvet cover if you choose to use one.
This comforter is offered in a full range of sizes, including "oversized" options for folks who prefer an extra big blanket!
Cons
It comes tightly vacuum sealed, and will probably take a full day to fully expand. 
While it's a pretty good value for its quality, this comforter might be out of the budget for some shoppers. 
Most Affordable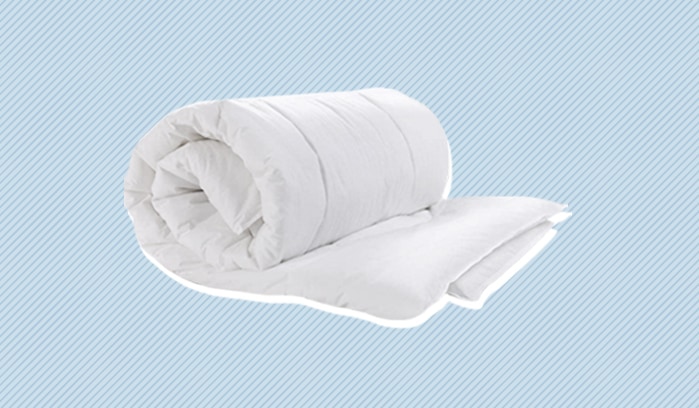 HOMFY Premium Cotton Comforter
If you're searching for a cozy cotton comforter that's easy on the wallet, this affordable option is a great way to go. It's covered in a soft cotton shell, filled with plush microfiber, and easy to wash and dry from the comfort of your home.
Pros
This comforter features gridded stitching, which makes for a balanced distribution of fill and an even loft.
If you're worried about dry-cleaning, you'll be glad to know that this comforter can be machine washed and dried right from home.
This comforter is very reasonably priced, making it a particularly great pick for shoppers on a budget.
Cons
This comforter might lose its loft from time to time, in which case I suggest throwing it in the drier for 10 minutes or so. 
This might not matter to some, but this comforter only comes in a white color.
Best Style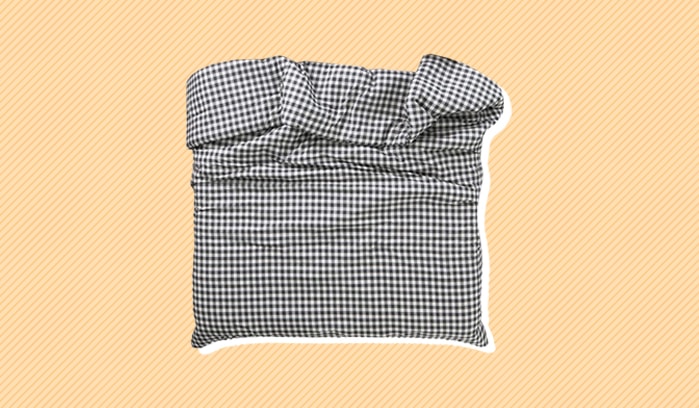 Wake In Cloud
If you're looking for a comforter that's as cozy as it is stylish, this is a great pick for you. It's covered in breathable cotton, filled with plush microfiber, and comes in a variety of fun colors and printed patterns.
Pros
This comforter comes in about a dozen different styles, including chevron, zig zag, pinstripe and more.
Its cotton cover fabric is super soft to the touch, and promotes great breathability within the comforter's internal fill.
This comforter can be washed and dried right at home, making maintenance nice and easy.
Cons
This comforter doesn't come in any solid color options, which might not appeal to those looking for a more subtle aesthetic. 
After unpacking this comforter, it may take a few hours for it to restore its full loft. 
Best Down
Ubauba All-Season Down Comforter
This comforter combines the soft feel of cotton with the luxuriously fluffy quality of down. It's suitable for year-round use, but has a light weight that might particularly appeal to sleepers who run hot.
Pros
This comforter has a soft cotton cover and a super fluffy down filling, which combine to offer a classically cloud-like feel.
While it's great for all four seasons, hot sleepers or those shopping for summertime might be most compatible with its lightweight feel.
Unlike many down comforters out there, this one doesn't require any dry-cleaning or special maintenance (just be sure to use a low-heat dry cycle!).
Cons
After you unpack this comforter, it will take about 2-3 hours for it to fully expand and reach its fluffiest loft.
Down comforters tend to be a little more expensive, and this one might be a little too pricey for some sleepers. 
How We Picked
Okay, sleepers, now that we've seen my top four favorites, let's dive deeper into the methodology behind my picks. Yes, shopping for the perfect cotton comforter is largely a matter of personal preference, but there are a few key factors to keep in mind!
Fabric & Fill
The first thing to focus on is materials, as the cover fabric and internal fill say a lot about a comforter's overall feel. Of course, this guide focuses specifically on comforters with cotton cover fabrics, but not all cotton is woven the same way! Plus, the internal fill directly affects how warm, breathable, and lofty your comforter will be. So, let's take a look at the materials you're most likely to encounter on your hunt for a new comforter.
Down & Feathers – Perhaps the most sought after, down comforters are luxuriously fluffy and soft. They are typically filled with a blend of down clusters and feathers from ducks and/or geese, and are praised for their durability and cloud-like feel. But keep in mind that down comforters can be pretty pricey, and tougher to clean as well.
Down-Alternative – Down-alternatives like polyester, microfiber, and polygel fiber are all great substitutes for real down because they're engineered to mimic the feel of real feathers (without using the real thing!). Additionally, down-alternative comforters are often hypoallergenic, affordable, and easy for care for. However, they're generally less durable as compared to real down comforters.
Cotton – If you're a die-hard cotton fan, you might opt for a comforter that's covered and filled with cotton. These tend to be super soft, cushy, and breathable — but they can also be tougher to find. Comparatively, they're usually a bit more expensive than down-alternative comforters, but can also last longer.
Once you've found the internal fill that suits you best, it's important to pay attention to the cover fabric. Like I said, cotton comes in many different forms, and the weave style tells you a lot about how it'll feel on your skin. Let's examine the most popular weaves below:
Plain – A plain weave is probably the most popular style, and it makes for a soft, breathable, classic cotton feel. It's not lustrous in appearance, but it's not exactly matte either (it lies somewhere in between). Because it's the simplest weave style, plain woven cotton is usually the least expensive.
Percale – A percale and plain weave are similar in many ways, but percale really boosts the crisp factor. Percale woven cotton is known for its very crisp, cool feel, as well as a solid matte finish (think of a freshly ironed dress shirt). Additionally, cotton percale generally has a higher thread count as compared to plain woven cotton.
Sateen – A sateen weave is pretty much the opposite of percale. It makes for a super silky feel, lustrous appearance, and heavier finished fabric. If you choose a comforter that's covered in cotton sateen, it'll probably be more insulating and a little less breathable (ideal for cool weather). Personally, this is my favorite weave style because of its luminous sheen!
Weight
Once you've landed on the materials that are right for you, it's time to focus on weight. Don't worry — this doesn't require any measuring on your part, and most bedding brands break it down pretty simply. So, before you start shopping, take some time to consider whether you're looking for a comforter that's light, medium, or heavy in weight.
Lightweight – If a comforter is categorized as lightweight, that means it was crafted to be extra breathable and (you guessed it) light! This is ideal for summertime, or folks who run hot year-round.
Medium-Weight – Often described as "all-season," a medium-weight comforter is great for year-round use. If you're not looking for something too warm and insulating, but don't want a thin comforter either, this is a safe bet.
Heavyweight – Sleepers who run cold are probably going to be most compatible with a heavyweight comforter. As the name suggests, they lie heavier on the body, and do a better job of trapping your warmth.
If you're still feeling unsure about which weight to choose, I suggest reading the "product description" as given by the bedding brand itself. Typically, it'll let you know if the comforter is ideal for warm or cold weather, which will give you a better sense of which weight is right for you.
Wash Care
As I mentioned earlier, wash care varies depending on the materials used. In general, down comforters are the toughest to care for, as they typically require dry-cleaning or special maintenance. But down-alternative and cotton-filled comforters are almost always machine washable and dryable, so take some time to decide how important easy wash care is to you before you make your purchase!
Personally, I suggest covering your comforter with a protector or duvet cover in order to add an extra layer of protection. This way, you can just remove the cover and throw it in the wash rather than having to wash the entire comforter every time it gets dirty.
Pricing, Returns, & Trial Periods
Like with wash care, price typically depends on the specific materials used. That said, cost can also be influenced by the popularity of the manufacturer, so I always recommend comparing prices across several brands. This way, you can get a good sense of the average cost for a given product.
You should also pay close attention to each retailer's return policy and/or trial period. Some brands extend a 30-day return policy, some offer a 100-night trial period, and others don't accept returns at all. So, before you make your purchase, make sure you're clear on these policies to prevent any buyer's remorse as much as possible!
Finally, it's important to remember that a return policy is not the same thing as a trial period. A return policy refers to a set amount of time in which you can have your new item refunded, but there are usually stricter criteria around what merits a full refund. For example, many retailers will not accept returns that have been opened or used in any way.
Conversely, the purpose of a trial period is to personally test it! Typically, a trial period gives you a month or so to test a product out and, if you decide it's not for you, you can send it back for a refund. So, again, pay close attention to these policy details in order to make the best buying decision.
Sleepopolis Buying Tips
We're almost at the end of my guide, but let's recap a few helpful tips before you start shopping:
Corner Tabs – If you're planning to dress your comforter with a duvet cover, make sure it has corner tabs! If your comforter has four corner tabs, you'll be able to attach a duvet cover and secure it with internal ties or loops.
OEKO-Tex Certification – Sleepers with allergies or sensitive skin should keep an eye out for the OEKO-Tex certification, which guarantees that no harsh chemicals, dyes, or insecticides were used in the manufacturing process.
Style – Comforters come in a wide variety of colors, prints, and patterns, so take some time to consider which style appeals to your personal aesthetic!
Final Thoughts
Well, now that you're all experts on cotton comforters, you're one big step closer to picking the one that's perfect for you. Just be sure to keep an eye on all the details (no matter how small), and you'll be enjoying sweet dreams in no time. Happy shopping!
Sarah Riccio
Sarah is the former senior writer and bedding expert at Sleepopolis. She received her degree in Creative Writing from Brooklyn College and spends her free time doing stand-up, making pasta, and hanging with her cats.