A coverlet is a lightweight, decorative blanket that can really spruce up the look of your bedroom. They come in all different sizes, colors, and patterns, and can be found in a wide range of materials. But with so many options on the market, it can be tough to know which coverlet is the best fit for you. So, I've rounded up my top four favorites along with some expert shopping tips that'll point you in the right direction!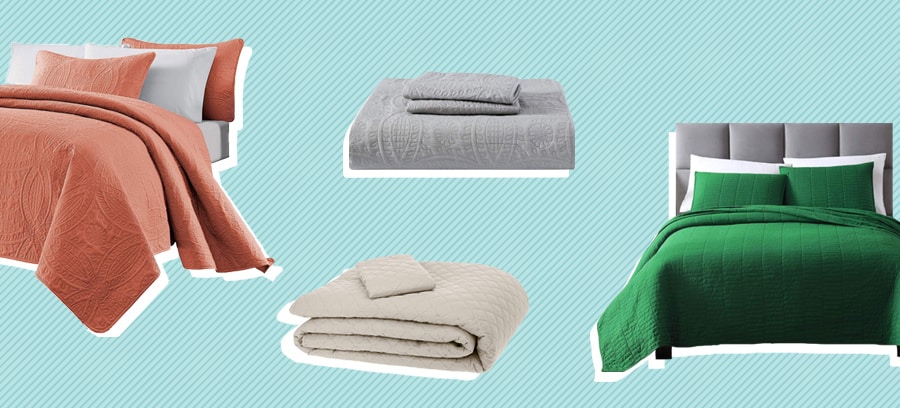 Editor's Pick
AmazonBasics Quilted Coverlet Set
A Quilted Coverlet Set with a Hotel Bed Style
This coverlet set comes with two pillow shams, both of which have flanged borders for a hotel aesthetic. Additionally, each piece of bedding features decorative embossed stitching.
Pros
Every piece of bedding in this set is completely machine washable and dryable, making maintenance nice and easy.
Its stylish stitching gives it a hotel look and a gently textured feel.
From Twin to King, this set is offered in a full range of sizes.
Cons
If you're looking to get creative with vibrant colors, you should search elsewhere. This set only comes in neutral tones. 
Sleepers who prefer natural materials might be better suited to a cotton coverlet as opposed to this polyester-based fabric. 
AmazonBasics Quilted Coverlet Set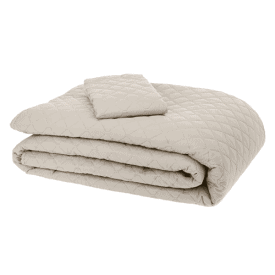 The AmazonBasics Quilted Coverlet Set is stylish and machine washable.
Sleepopolis Score
4.50 / 5
Best Style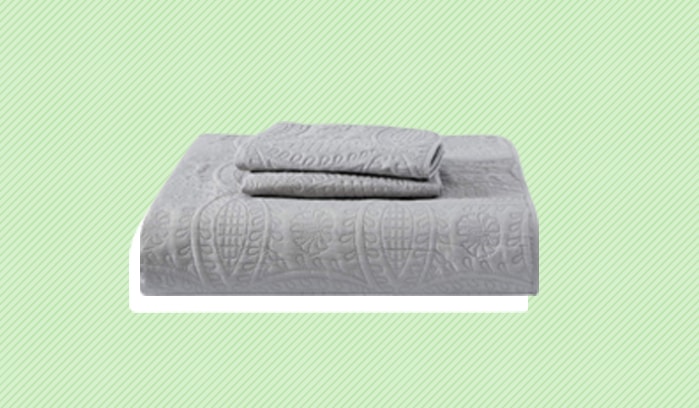 Mellanni Bedspread Coverlet
A Decoratively Embellished Coverlet
Made from 100% brushed microfiber, this three-piece coverlet set feels velvety to the touch. Plus, it's intricately woven with embellished patterns for a stylish aesthetic.
Pros
This microfiber fabric has been brushed, a manufacturing process that makes it feel extra smooth on the skin.
It features embroidered stitching and comes in a variety of bold colors.
It included one coverlet and two pillow shams, all of which are machine washable.
Cons
Hot sleepers might find this microfiber coverlet to be a bit too warming. 
This coverlet set is not offered in a Twin size option.
Mellanni Bedspread Coverlet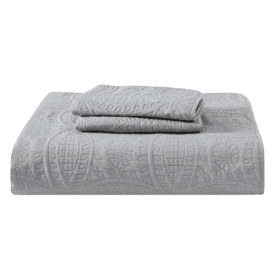 The Mellanni Bedspread Coverlet features embroidered stitching and has a smooth feel.
Sleepopolis Score
4.60 / 5
Most Affordable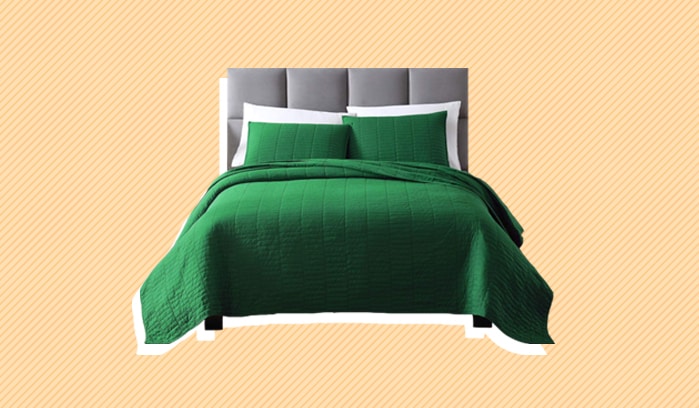 EXQ Home Quilted Coverlet
Made from a lightweight microfiber material, this set comes with one coverlet and two pillow shams to match. It's also very reasonably priced, making it a fantastic choice for shoppers on a budget.
Pros
This set comes with three pieces of bedding and is surprisingly inexpensive for its quality.
It comes in a variety of fun colors and is offered in two different embroidery styles.
This coverlet and pillow sham set can be washed and dried by machine.
Cons
Twin size sets come with one pillow sham as opposed to two. 
The more vibrant colors might fade a little bit after the first few wash cycles.
EXQ Home Quilted Coverlet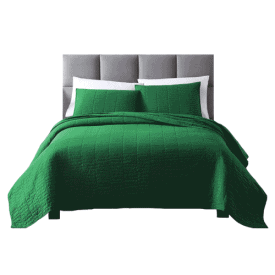 The EXQ Home Quilted Coverlet is surprisingly inexpensive and comes in a variety of fun colors.
Sleepopolis Score
4.70 / 5
Best for Warmth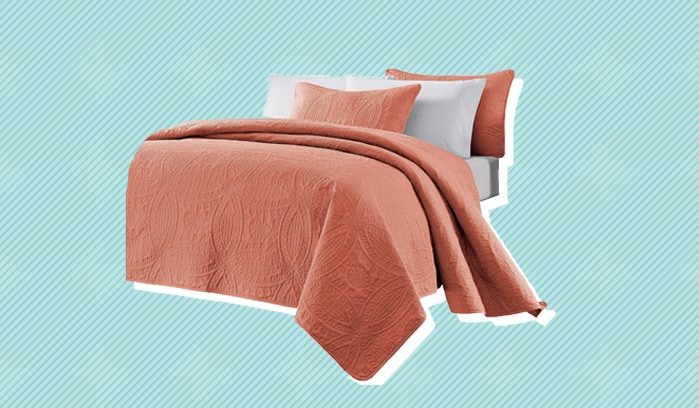 Chezmoi Collection Bedspread Coverlet Set
A Warm and Cozy Coverlet for Cool Weather
Made from velvety-soft microfiber, this oversized coverlet is super warm and cozy. It's offered in 15 different colors, comes with two pillow shams, and is totally machine washable.
Pros
This microfiber coverlet is very tightly woven, making it more insulating than cotton.
It comes in 15 different colors, giving you plenty of room to get creative with style.
Every piece of bedding in this set can be washed and dried in the machine.
Cons
This coverlet isn't very breathable, and is probably not ideal for warmer climates. 
This set is only available in Queen and King sizes. 
Chezmoi Collection Bespread Coverlet Set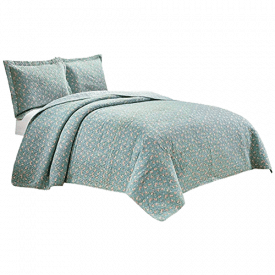 The Chezmoi Collection Bedspread Coverlet Set is tightly woven for better insulation.
Sleepopolis Score
4.60 / 5
How We Picked
Okay, shoppers, now let's talk about the methodology behind my top four picks. While a lot comes down to personal preference, there are some important factors to keep in mind when you're searching for the perfect coverlet.
Materials
The first thing I like to focus on is material makeup, as the specific fabric will tell you a lot about a coverlet's feel without even having to touch it. So let's take a closer look at the materials you're most likely to encounter while you shop for coverlet sets:
Cotton – Perhaps the most popular of the bunch, cotton coverlets are praised for having a classically soft and breathable feel. And because cotton is a natural material, they tend to be gentle on sensitive skin or those with allergies. They're also usually machine washable, which is a big bonus for those who prioritize easy maintenance.
Microfiber – Microfiber is a polyester-based material known for its distinctly smooth and velvety texture. It's more tightly woven than cotton is, which often makes it warmer and better for cooler climates. And because polyester is a synthetic material, microfiber coverlets are often very reasonably priced.
Linen – Linen coverlets are generally the most expensive options, but they're also the most durable. Linen is hailed for its strength, breathability, and ability to regulate body temperature. Not to mention, linen has a reputation for getting softer as the years go by.
As you can see, each material brings its own special properties to the bedroom. Of course, this is not the full list of existing fabrics, and you may encounter velvet or bamboo coverlets on rare occasions. Whatever you choose, just be sure to find out exactly what your coverlet is made of so you can better understand what it'll feel like when it arrives!
Style
First and foremost, coverlets are designed to be decorative. That's why it's important to take some time in deciding what kind of coverlet style appeals to you the most! They come in all different colors, and feature a variety of embroidered quilting patterns.
That said, every quilted pattern is unique, so feel free to shop around until you find the one that suits your personal style best. For example, some coverlets are quilted with diamond patterns, some feature floral embellishments, and others go for a more classic, box-stitched style.
Ultimately, choosing the right style and design is a big part of coverlet-shopping — but it's also totally a matter of personal preference! I suggest taking some time to walk around your bedroom in order to determine which patterns and embellishments will look best.
Sizing
Similar to comforters, coverlets are offered in Twin, Full, Queen, King, and California King sizes. This makes choosing the right size pretty simple, as you only need to pick the one that corresponds to you the size of your mattress. For example, if you sleep on a Queen mattress, you'll be best suited to the Queen size coverlet.
That said, keep in mind that many coverlets come with pillow shams. This means you'll have to make sure that your pillows are also compatible with the size of the shams. It's also worth noting that Twin coverlet sets often come with only one sham instead of two, which means you may want to buy an additional sham separately.
Wash Care
A coverlet is often machine washable, but it totally depends upon what it's made of. For example, cotton coverlets can be washed and dried by machine, but a velvet coverlet must only be dry-cleaned. Fortunately, every coverlet comes with detailed washing instructions as written by the manufacturer itself. Personally, I like to follow the wash care instructions exactly as they're written in order to ensure proper maintenance.
Additionally, those who have the ability to line-dry their coverlets might want to do so! Line-drying a coverlet can be a great way to prevent shrinkage and color fading, and give the fabric a fresh scent as well.
Pricing
Finally, I consider price. As with all bedding, the price of any given coverlet is influenced by factors including (but not limited to) materials, style, size, and brand popularity. That's why I like to compare prices across many different retailers in order to get the best sense of average cost.
It's also important to familiarize yourself with each retailer's return policy, as they vary from brand to brand. Some might allow you to personally test a coverlet for a period of time, with the option to send it back for a full refund if you're not satisfied. Others might not accept returns of any kind unless the product is unused and in its original packaging. So, be sure that you understand the exact terms of each return policy in order to make the most informed buying decision.
Sleepopolis Buying Tips
Now that we've reached the end of my guide, you're ready to do some coverlet shopping. But before you start, let's recap a few helpful tips:
Beading – If you find a coverlet with beaded embroidery, there's a very good chance that it'll need to be hand washed or dry-cleaned.
Stone Washing – If you opt for linen, keep an eye out for linen that's been stone washed. Stone washing makes the fabric extra soft and smooth on the skin!
Cotton Fibers – Shoppers who choose a cotton coverlet might want to aim for long or extra-long staple cotton, as it tends to be softer and more durable.
Final Thoughts
Well, folks, you've seen my four favorite coverlets and taken a look at my personal methodology behind finding the perfect one. All that's left to do now is shop! But before you do, just remember to keep a close eye on materials, style, sizing, and all the little details that appeal to your personal bedding preferences. Sweet dreams!
Sarah Riccio
Sarah is the former senior writer and bedding expert at Sleepopolis. She received her degree in Creative Writing from Brooklyn College and spends her free time doing stand-up, making pasta, and hanging with her cats.