If you're on the hunt for a new down sleeping bag but aren't sure where to start, I'm here to help. In this guide, I'm presenting my top four favorites, along with some expert tips and tricks for picking the right one. And don't worry — I chose a variety of down sleeping bags so that every camper and overnight guest can find their perfect match. Let's get started!
The 4 Best Down Sleeping Bags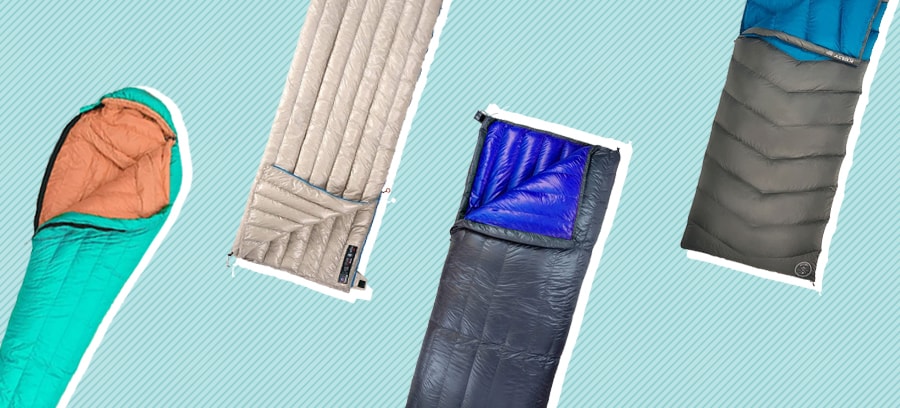 If you're looking for a down sleeping bag with a few bells and whistles, this is a great way to go. It can be converted into a hammock underquilt, combined with another sleeping bag, or used as an extra comforter when nights get cold.
Pros
This sleeping bag is stuffed with responsibly sourced down, features a high 800 fill power, and is perfect for year-round use.

Baffle box stitching keeps the down locked in place and prevents it from concentrating in any one area.

Its nylon cover fabric is waterproof and durable, ideal for camping in the wilderness!
Cons
This sleeping bag is a little pricey, and probably won't fit in every shopper's budget.

You might find that this sleeping bag loses its loft when you use it in very humid weather.
Covered in waterproof nylon and amply stuffed with goose down, this sleeping bag is perfect for hiking and camping. It's cozy, insulating, and comes with its own carrying case for folks on the go.
Pros
This sleeping bag can be compressed and easily stowed in its compact carrying case, making it a fantastic choice for campers and hikers.

Its cover fabric is waterproof, and its down stuffing features a luxuriously high fill power of 800.

You can zip this sleeping bag with

another

sleeping bag in order to share the space with your partner or camping buddy.
Cons
While this sleeping bag has great insulating properties, folks shopping for extremely cold climates should invest in something heavier.

Keep in mind that this sleeping bag only comes in a beige color option.
This affordable option is perfect for shoppers in search of a down sleeping bag that won't break the bank. It's filled with the brand's proprietary down, covered in a water resistant fabric, and comes at a surprisingly reasonable price.
Pros
A special "anti-snag" zipper makes it super easy to get in and out of this sleeping bag without damaging the cover fabric.

This sleeping bag is offered in three different lengths so that folks of all body types can find the right fit.

This sleeping bag is

very

reasonably priced for its high quality, making it perfect for shoppers on a budget.
Cons
This lightweight sleeping bag might not be ideal for cold or snowy camping trips.

This sleeping bag does not come with its own carrying case, and it's only offered in one color.
Filled with hydrophobic goose down and covered in heavy-duty nylon fabric, this sleeping bag is ultra insulating and durable. Plus, it features a mummy bag design that keeps you covered from head to toe.
Pros
Its 800 fill power makes this goose down sleeping bag super lofty, but also easily compressed when it's time to pack up.

Oversized shoulder and zipper baffles help this sleeping bag to retain more heat and keep your body warm.

This sleeping bag is offered in short, regular, and long sizes to accommodate folks of different heights.
Cons
While it's a great value for its high quality, this sleeping bag is bound to be out of the budget for some shoppers.

If you're looking for a lightweight sleeping bag, you'll probably find that this one is too warm and heavy.
How We Picked
Okay, shoppers, now that you've seen my favorite down sleeping bags, let's dive into the methodology behind my picks. When you're hunting for a new down sleeping bag, it's important to keep a few key details in the back of your mind.
Fabric & Fill
While all down sleeping bags are filled with feathers, it's important to pay attention to the specific type of down and feathers used. For example, some are filled with goose feathers, others are filled with duck down, and many sleeping bags are stuffed with a blend of both. To help you understand the difference between goose and duck down, let's compare them side by side.
Goose Down – Geese tend to produce larger down clusters, which typically makes for a fluffier, loftier, and warmer sleeping bag. Goose down sleeping bags are often extra durable, which can make them more expensive (but also offer better bang for your buck!).
Duck Down – While duck down is often slightly less fluffy and durable as compared to goose down, it's typically less expensive as well. That said, duck down sleeping bags are still luxuriously plush and insulating, especially those with high fill powers (we'll get into that next!).
Duck & Goose Blend – Many sleeping bag manufacturers combine duck and goose down in order to offer the best of both worlds. The goose down boosts durability, the duck down cuts cost, and the overall feel is balanced and cozy. Personally, I prefer this style of sleeping bag!
Once you've found the internal fill that appeals to you, take some time to focus on cover fabric. Most sleeping bags are covered in either polyester or nylon, as these are naturally moisture-wicking and water resistant materials. That said, not every cover features quilted stitching or a baffle box design, and I suggest you aim for those that do. Quilted or baffle box covers will make sure that your internal fill stays securely locked in place, so you can enjoy a nice, even loft.
Fill Power & Weight
The next thing to consider is fill power, the term used to measure the loft and fluffiness of a down product. Typically, fill power ranges from 300-900, with the latter half of that range being exceptionally fluffy. When it comes to sleeping bags, I like to aim for a fill power of at least 600, but keep in mind that higher fill powers typically increase the price.
If you're wondering which fill power is right for you, think about how fluffy and lofty you want your sleeping bag to be. While a high 900 fill power is considered to be very luxurious, it can also make the process of compressing and packing your sleeping bag a bit tougher! Additionally, folks looking for something lightweight and breathable might want to aim for a lower fill power around 300 or 400.
Essentially, a high fill power isn't always the best option — it really depends on what you're looking for.
Construction & Features
Once you've ironed out all the material details, it's time to consider the construction of your sleeping bag, along with any special features it may include. After all, every sleeping bag is built differently, and it's important to note all the little features that'll appeal to your unique needs. So, let's take a look at the most popular construction features below:
Mummy Design – Aptly named for its tomb-like shape, the mummy design is a very popular choice among campers and hikers. It's praised for its ability to keep sleepers covered from head to toe, and the way its tapered bottom helps to trap heat.
No-Snag Zipper – If you're worried about snagging your zipper on the cover fabric every time you get in and out of your sleeping bag, look for constructions that advertise a "no-snag" zipper. These special zippers are designed to steer clear of the cover fabric in order to provide a seamless transition as you open and close your sleeping bag.
Interior Storage – Many sleeping bags are constructed with interior storage pockets wherein you can store your phone, keys, or anything else you want to keep close. These pockets come in all different sizes, so I suggest you pay attention to the exact dimensions of each sleeping bag's interior pockets.
Half-Moon Hood – Half-moon hoods are great for outdoor camping, as they keep your head protected and off the ground. They're attached to the top of your sleeping bag, and sort of resemble a regular hooded sweatshirt. Additionally, they often come with drawstrings that let you adjust how snug the hood fits around your face.
If you're feeling a little overwhelmed by all these different features, don't sweat it. Just be sure to thoroughly browse the "product description" before you make your purchase so you know exactly what's included with your sleeping bag.
Wash Care
Unfortunately, caring for a down product of any kind is never as simple as throwing it in the washing machine. In fact, most down products (including sleeping bags) require special dry-cleaning or spot-cleaning in order to prevent any damage to the materials. Personally, I recommend hand-washing your down sleeping bag because — let's be honest — they're rather expensive. It would be a shame to ruin your investment with improper cleaning! So, let's take a look at how to hand-wash your down sleeping bag:
Fill your bathtub with warm water (not too hot!).
Add a mild down detergent to the bathwater, and mix it around until it's evenly distributed.
Next, place your sleeping bag into the bathwater until it's completely submerged.
Let your sleeping bag soak for about an hour, and then drain the water until the tub is empty.
Then, fill it back up with fresh bathwater.
Carefully press into your sleeping bag until all the soap is removed from the internal fill. This may take some time, so be patient (and be gentle!).
Once your sleeping bag is totally soap-free, you can drain your bathtub completely.
Finally, you may tumble dry on a low heat setting, or allow your sleeping bag to air-dry to be on the safe side.
Keep in mind that the process of washing and drying a down sleeping bag will take several hours, so be sure to plan accordingly.
Pricing
As I mentioned earlier, down sleeping bags can be pretty pricey. That said, cost varies quite a bit, and largely depends on the specific materials used. If you're trying to figure out whether or not a sleeping bag is really worth the dough, I suggest aiming for brands that offer a trial period.
Many manufacturers will offer a trial period wherein shoppers can personally test a down sleeping bag before fully committing. Basically, you have a set amount of time to take your new down sleeping bag for a spin and, if you don't like it, you can send it back for a refund.
However, not every brand offers a trial period, in which case I suggest keeping a close eye on the warranty. A generous warranty inspires confidence that the brand stands behind its product and expects it to last! When it comes to down sleeping bags, I like to pick models that come with a warranty of at least 5 years.
Sleepopolis Buying Tips
Now that we're nearing the end of my guide, let's recap a few helpful tips that'll help you find the down sleeping bag of your dreams:
Style: Just because sleeping bags serve a practical purpose doesn't mean they can't be stylish too! Take some time to browse different colors, prints, and patterns until you find the sleeping bag that best reflects your personal style.
RDS Certification: Eco-friendly sleepers should look out for the Responsible Down Standard certification (RDS). This seal guarantees that the sleeping bag manufacturer met certain criteria surrounding the ethical treatment of animals.
Fill Power: Remember that fill power is not the sole indicator of quality, but it can tell you a lot about how fluffy your sleeping bag will be! If you're looking for something extra fluffy and cloud-like, go with a fill power of 600 or higher.
Final Thoughts
Well, sleepers, you've seen my favorite down sleeping bags and learned all about how to shop for the right one. Just be sure to focus on materials, fill power, construction, and all the little details that appeal to your unique needs. Happy shopping, campers!
Sarah Riccio
Sarah is the former senior writer and bedding expert at Sleepopolis. She received her degree in Creative Writing from Brooklyn College and spends her free time doing stand-up, making pasta, and hanging with her cats.