If you're working on a quilt project, chances are you're on the prowl for some new filling. Expert quilters will know that the filling or batting you choose can make or break the comfort of your quilt, so you'll want to be smart when choosing your fill. Thankfully, there are a lot of options available to you these days, from solid pieces of organic cotton to polyester, wool, rayon, bamboo, silk, and even recycled materials. But which one is right for you? Well, I'm so glad you asked!
In this guide, I'm going to introduce you to the best quilt fillings on the market. Though they differ in terms of material make-up, size, and price, they're all designed to help you put the finishing touches on your latest crafting project. After we go over my picks, I'll also make sure to share the methodology I used to select them. That way, you'll know exactly what to consider when shopping for quilt filling of your own.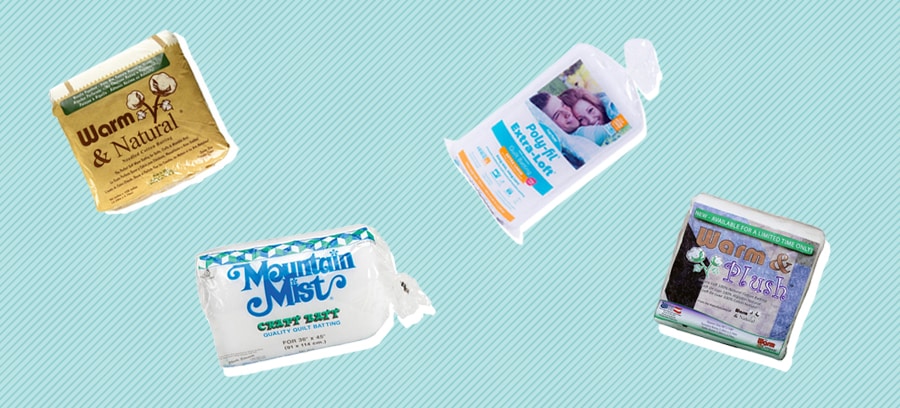 Top Pick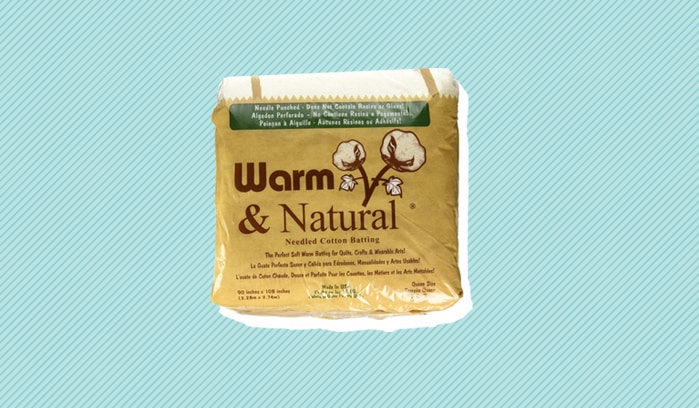 Warm Company Warm & Natural Cotton Batting
An Excellent, Lightweight Cotton Fill
If you're looking to fill your quilt with a lightweight, all-natural material, look no further than this cotton batting from Warm Company. Soft, plush, and breathable, this fill is sure to turn your quilt into a cozy dream.
Pros:
If you need to make a lightweight quilt for hot sleepers or hot weather, this could be the fill for you.
Cotton is highly breathable, so makes for a comfortable quilt no matter the season.
The cotton material is also resin- and glue-free, which makes for a healthy and natural quilt.
Cons:
Cotton doesn't have the loft of other materials, so may not work for those who want a super fluffy quilt.
Most Plush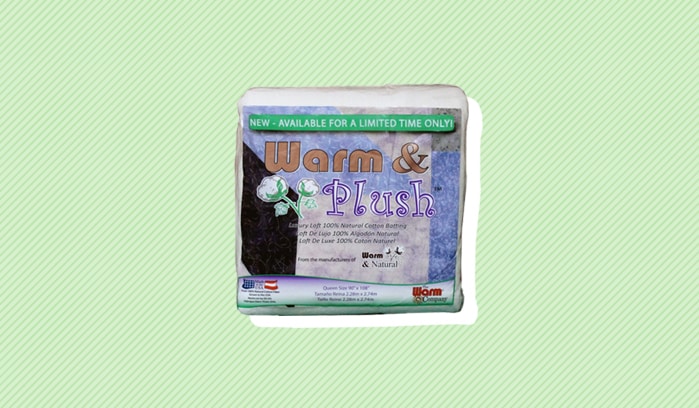 Warm Company Warm and Plush Cotton Batting
Best for a Luxury Feel
Made of luxuriously soft, 100% natural cotton batting, this fill from Warm Company makes for an incredibly comfortable quilt. Plus, it's heavier than other cotton options, so should drape well on your bed.
Pros:
If your main concern is plushness, then this quilt filling could be the one for you.
Heavier than most cotton battings, this fill could be excellent for sleepers who enjoy feeling slightly pressed by their quilt.
In general, this could be a fantastic option for a luxurious, high-quality quilt.
Cons:
This filling is slightly more expensive than other options on the market, so may not work for those on a budget.
Best Polyester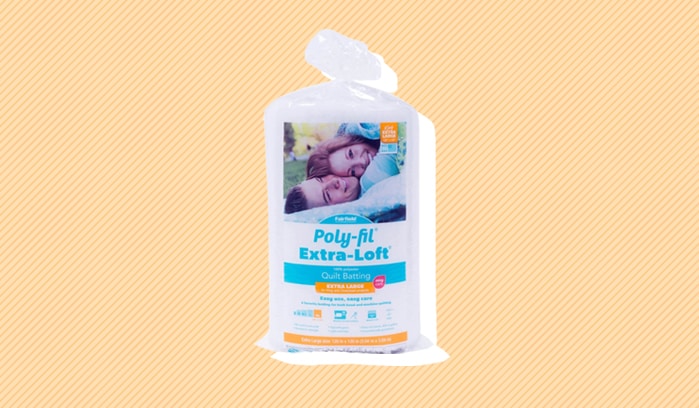 Fairfield Poly-Fil Extra-Loft Batting
A Light and Airy Poly Fill
If you're looking to stuff your quilt with a lofty polyester fill, you may want to take a peek at this batting from Fairfield. Light, airy, and soft, this filling could be great for a kid's bed or a decorative craft.
Pros:
There's enough filling here to make a King-size quilt, which could be a plus for some quilters.
Polyester sleeps warmer than cotton, so could work wonders for those who run cold.
Poly-fill is also less expensive than cotton, marking this filling as a wallet-friendly option for those on a budget.
Cons:
If you're looking to go all-natural with your quilt, this may not be the fill for you.
Most Affordable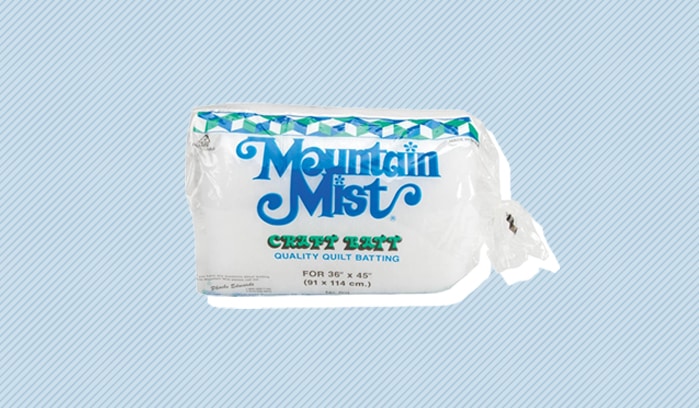 Mountain Mist Polyester Quilt Batting
Best for Those on a Budget
Thankfully, you don't have to pay an arm and a leg to quilt, especially if you snag this polyester fill from Mountain Mist. Cost-effective, light, and easy to work with, this filling could work wonders for those on a budget.
Pros:
The biggest plus of this filling is its wallet-friendly price tag.
It's also American-made, which could be a big selling point for some quilters.
It's worth noting that this fill is quite thin and comes "rolled," so may not work for all projects.
Cons:
If you're after a plush, luxurious feel, this is not going to be the batting for you.
How We Picked
Now that we've gone over my quilt filling picks, let's take a minute to chat about the methodology I used to select them. Think of this section as a round-up of all the important factors you'll want to consider when shopping for filling of your own.
Project
Before you even think about buying fill for your quilt, you should consider what kind of quilting project you're working on. Are you crafting a Queen-size quilt for your bed? Are you creating a collection of small quilts for a niece or nephew's doll collection? The kind of project you're working on will determine both the amount of fill you need and its thickness. So, think about these things before you begin your search.
Material
When it comes to quilt filling, there are two main material options: cotton and polyester. While neither one is better than the other, these materials will endear themselves to different kinds of quilters. Below, I'm going to highlight some of their major pros and cons.
Cotton – An all-natural material, cotton is a popular pick for quilters. It's soft, plush, and provides excellent temperature regulation. However, cotton can be quite expensive, so if you're quilting on a budget, or simply want to save a few pennies, it may not be the best material for you.
Polyester – Polyester is an inexpensive fill option that's thick and soft. Not as luxurious as cotton, perhaps, but definitely more budget-friendly. If you're working on a decorative quilt or one that won't be used regularly as bedding, this could be a great material for you.
Size
Typically, quilt filling is sold and categorized by size, so most products have the dimensions incorporated right into their names. What this means is that if you're looking for enough fill to make a King-size quilt, you'll need to snag quilt filling that's designated specifically for a King-size bed. If you have questions about whether or not there's actually going to be enough fill in the bag, simply read user comments to see what other quilters are saying about the product.
And if the quantity of the fill isn't listed in the name, you can always navigate to the "details" section of the product to get all the specs you need to know.
Weight
Depending on your quilting project, you may want batting that's lightweight, mid-weight, or heavy. Not all fill is going to work for every kind of quilt, so you'll want to pay extra close attention to the liner notes to see how much the fill weighs and for what kinds of projects it's most appropriate.
In general, cotton is going to be the lightest material, so will work best for summer blankets or hot sleepers. Polyester is slightly heavier than cotton and retains heat better, so could work well for cold sleepers or thick winter blankets.
FAQs
What is the best quilt filling?
Depends on your needs! If you want a light, breathable quilt, cotton is the way to go. If you want a lofty, inexpensive-to-make quilt, polyester could be great! And if you're concerned about temperature regulation, you may want to work with wool.
What kind of batting do you use for a quilt?
You can use any kind of batting that you like, though the most popular fills are made of cotton or polyester. Oftentimes, you'll see a blend of the two or can even find batting made of wool, bamboo, or rayon.
What is inside a quilt?
Inside a quilt, you'll find filling or "batting." This material brings loft, softness, and comfort to the two exterior pieces of quilted fabric. Think of it as the meat of your cozy quilt sandwich.
Sleepopolis Tips
Still not sure how to land on the quilt filling of your dreams? Worry not! I'm going to wrap things up with a few tips you can employ to improve your search.
I recommend experimenting with a few different kinds of filling, especially if you're new to quilting! What works great for one quilter may not work as well for another.
Remember to let your batting or filling breathe before incorporating it into your quilt. All you need to do is take it out of the packaging and lay it out flat for a few hours before using.
The way you're going to quilt is also going to inform the kind of material you choose. Hand or machine quilting is best-suited to cotton while tie quilting works great with polyester or wool.
Wrapping Up
Well folks, that does it for this guide to the best quilt fillings on the market! When shopping for fill of your own, remember to consider the project you're going to be using it for, the material you'd like to work with, and the weight of the filling. Then, you'll be well on your way to finding the quilt filling that's 100% right for you.
Cody Gohl
Cody is a former staff editor at Sleepopolis. His work has appeared online for Esquire, Next, LOGO TV, Fandom, Citylife, The Manual, and more.