If you're looking to camp in an area with rough or inhospitable terrain, you may want to consider buying a truck tent. These accessories are just like traditional camping tents, except they're designed to sit snugly in the bed of one's truck. This allows you to pull right up to a camping site and set up your sleep space without having to find flat or solid ground. And though the truck tent is a pretty straightforward product, there's actually quite a lot of variability within the space. So, the question becomes: Which truck tent is right for you and your unique camping needs? Well, I'm so glad you asked!
In this guide, I'm going to introduce you to the best truck tents on the market. Though they differ in terms of style, construction, and price, they're all designed to provide you with safe and steady shelter while slumbering outdoors. After we go over my picks, I'll also dive into the methodology I used to select them. That way, you'll know exactly what factors to consider when shopping for a truck tent of your own. And to make this guide even more useful, I'll round things out with a few tips and tricks you can use to improve your buying experience.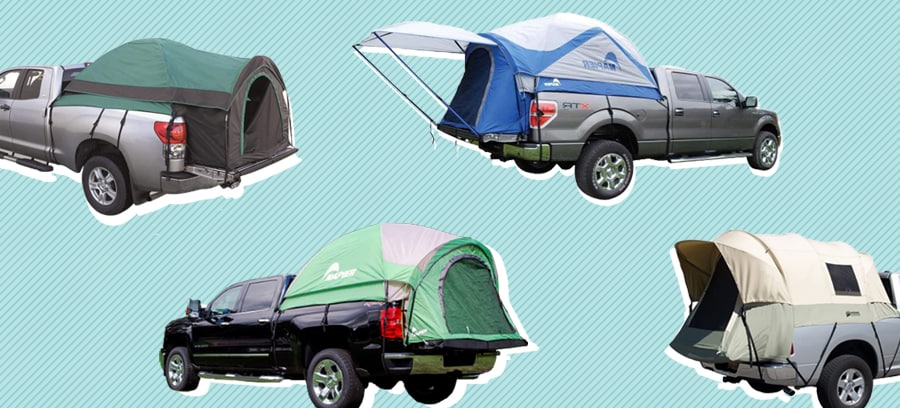 Editor's Choice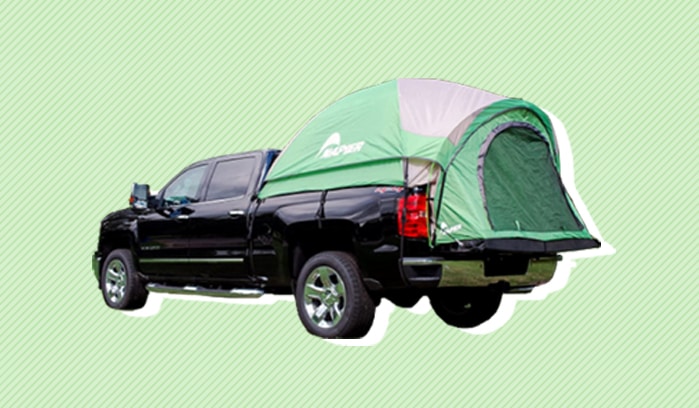 Napier Backroadz Truck Tent
If you're looking for a simple truck tent that's waterproof, comfortable, and roomy, look no further than this option from Napier. Sure, there aren't a lot of bells and whistles here, but the straightforward design packs a serious punch. Great for the novice camper or those simply looking to adventure outdoors for the weekend. 
Pros 
The rainfly design element is a big selling point for this tent as it works to protect the sleeper from the elements. 

I also like that the tent comes with several security straps, which make it easy to affix the tent to your truck bed. 

All in all, this is a well-priced model that should serve the needs of a wide range of different campers. 
Cons
Some users complain that the tent isn't particularly well-ventilated, which could be an issue for some folks. 
Napier Backroadz Truck Tent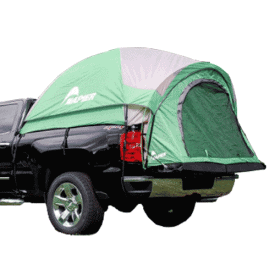 Napier Backroadz Truck Tent
The Napier Backroadz Truck Tent has a great rainfly design and securely straps to your truck bed for stable comfort.
Most Affordable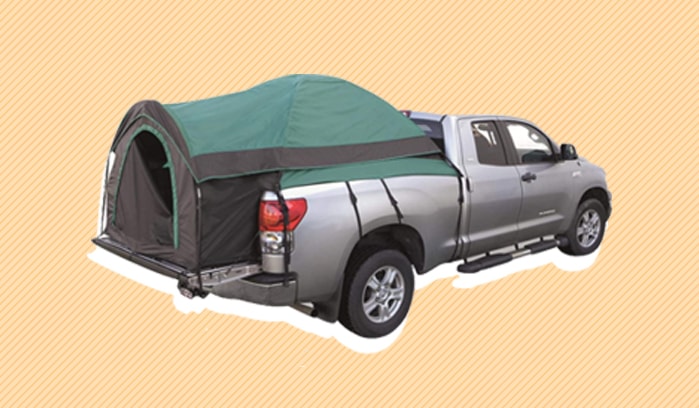 Guide Gear Full Size Truck Tent
It's no secret that truck tents can cost a pretty penny, but thankfully there are a lot of fantastic budget options on the market. And one of my favorites is this tent from Guide Gear. Easy to set up and with a roomy interior, this tent is guaranteed to transform any truck bed into a super cozy sleep space, without breaking the bank. 
Pros 
Budget shoppers could find a lot to love in this truck tent as it provides steady shelter at half the cost of other options on the market. 

It's also quite roomy, providing campers with plenty of space to stretch out and relax. 

In general, this could be a nice truck tent for the casual camper or someone who doesn't need all the bells and whistles. 
Cons
Though the tent is technically waterproof, some users complain that the tent doesn't totally block out the elements. 
Guide Gear Full Size Truck Tent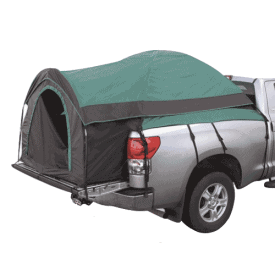 Guide Gear Full Size Truck Tent
The Guide Gear Full Size Truck Tent is roomy and comes in at an affordable price.
Most Luxurious
Sportz Truck Tent
If you're looking for a truck tent that's a little more souped-up, you may want to consider this tent from SportZ. Outfitted with ventilated mesh windows, a cozy sewn floor, and overhead shade awning, this tent is built for optimized support and comfort. Plus, it comes with a color-coded pole system for easy assembly. 
Pros
The shade awning is a really cool feature, which makes this tent as great for a daytime lounge as it is for sleep. 

I also like the extra ventilation you get from the mesh windows here, which should help to keep things nice and cool during the summer. 

This truck tent could be an awesome option for folks who want to seriously step up their camping game. 
Cons
Unfortunately, the luxurious vibe does come with a slightly luxurious price tag, so may not be the best for those on a budget.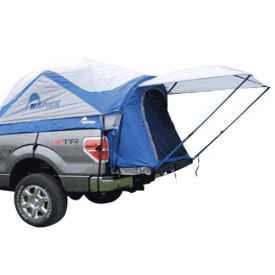 The Sportz Truck Tent provides extra ventilation and has a nice shade awning.
Most Durable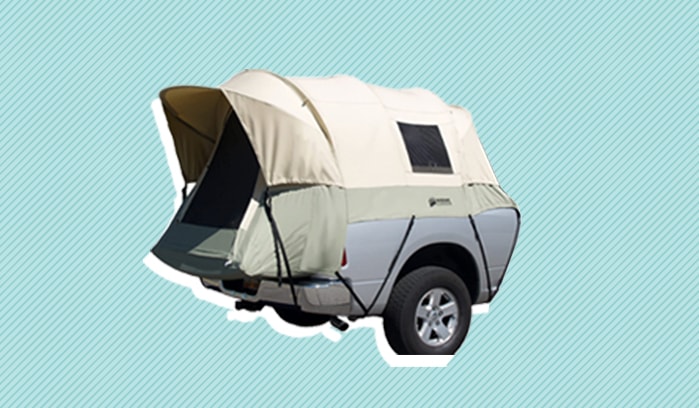 Kodiak Canvas Truck Bed Tent
The Kodiak truck tent is the perfect option for folks who need something built to withstand extreme elements. Constructed with ultra-durable duck canvas and a sturdy steel frame, this tent is designed to weather any storm. I should also mention that it's got five windows, which provide excellent ventilation, breathability, and cooling. 
Pros
If you're an extreme camper or simply need something built to last, this tent from Kodiak could be the one for you. 

The duck canvas cover is a nice feature, as it's one of the most weather-resistant materials on the market. 

All in all, this is a serious tent built for serious campers and could provide fantastic shelter in extreme weather. 
Cons
This tent is pretty expensive, so may not be the best option for those shopping on a budget.
Kodiak Canvas Truck Bed Tent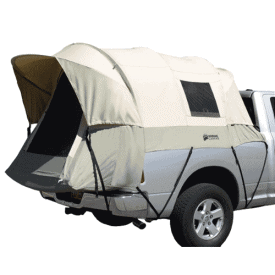 Kodiak Canvas Truck Bed Tent
The Kodiak Canvas Truck Bed Tent is weather-resistant and great for camping in extreme weather.
How We Picked
Now that we've gone over my picks, let's chat about the methodology I used to select them. You can think of this section as a guide to all the major factors you'll want to consider when shopping for a truck tent of your own.
Use
Firstly, you'll want to think about how you're going to use your truck tent. A pretty obvious place to start, but one that can impact the kind of tent you'll want to purchase. Do you want to use the tent for a casual beach visit? Do you need the tent to insulate you against extreme weather conditions? Do you want it to comfortably sleep more than one person? Thinking about these needs will inform your search and help you sort through the many, many options available online.
Size
Trunk tents come in a ton of different sizes, so you'll want to take precise measurements of your truck bed before you purchase. In general, tents range from about 5.5 feet long to 8 feet long and are sometimes categorized as either "Short," "Regular," or "Long." These aren't universal terms, so make sure to read up on the exact dimensions of any given tent in the details section of the product description.
Weather Proof
As with traditional camping tents, you'll likely want to give preference to truck tents that are built with weather- or water-resistant materials. Career campers will agree that there is nothing more annoying than waking up in a puddle of rain water or noticing frost on the inside of your tent in the middle of the night. So, make sure the product description explicitly says that the truck tent is waterproof before buying. And even if it says it is, I always recommend checking out the product reviews to see if there are users who can verify the claim.
Set Up
Ease of set up is another important factor to consider when shopping for a truck tent. Ideally, you'll want to land on a tent that can be set up in around ten minutes; any longer, and you may find that you spend more time trying to build your shelter than you do enjoying it. I think the solution here is to go for a product that comes with clear and easy to understand instructions. If a brand doesn't provide these readily in the product description, it's probably an indicator that they won't provide great ones upon purchase. Again, reading customer reviews can be a great way to learn more about what the set up experience will be like.
Extra Features
Though most truck tents share the same basic design, some of them feature fun add-ons that can elevate your camping experience from okay to great. Popular ones include overhanging canopies that allow you to enjoy some shade while sitting on the edge of your bed. Others may include double layer interiors that prevent water from dripping on you while you sleep. Most brands will list all of these specifications in the product description, so make sure to read everything thoroughly. It's also a good idea to check out as many different options as you can to see what features really jump out at you!
Sleepopolis Tips
Still not sure how to find the truck tent of your dreams? No worries! I'm going to wrap up this guide with a few tips and tricks you can use to improve your search.
Pay extra close attention to the strap supports. Though your body weight will provide a steady anchor to your truck tent, I think it's always a good idea to go with a product that secures directly to the truck itself. So make sure your tent has plenty of fascinators.
Quality ventilation can make or break a camping experience, so try to land on a truck tent that's well ventilated. Mesh windows and net canopies can work well to reduce temperatures in the night.
Practice setting up your truck tent before you go camping. There's nothing more frustrating than getting to your destination and not being able to set up the tent, so give it a whirl in your driveway beforehand. If the set up is too hard, remember that you can always return the product for something a little more user-friendly!
FAQs
What is the best truck tent?
The best truck tent is one that fits snugly in the bed of your truck and provides plenty of overhead room. It should also be waterproof, well-ventilated, and outfitted with plenty of security straps.
Why do people use truck tents?
Truck tents can be fantastic accessories for folks who want to camp in areas with rough or rocky terrain. Though traditional tents wouldn't work in these areas, a truck tent affixes directly to one's vehicle, making it easy to camp anywhere and everywhere.
Can you use a truck tent on the ground?
While you can technically use a truck tent on the ground, I wouldn't recommend it. Unlike a traditional camping tent, truck tents aren't designed to be staked directly into the ground, so have a higher chance of blowing away in bad weather or toppling over.
Wrapping Up
Well folks, that does it for this guide to the best truck tents on the market! When looking for one of your own, remember to consider how you're going to use it, what size you need, and whether or not you want any extra features. Then, you'll be well on your way to landing on the tent that's 100% right for you.
Cody's our staff editor here at Sleepopolis, so manages our fantastic editorial team and brings an expert eye to the written content across our social media, news vertical, and blog. A typical day could include editing an extensive piece on sleep paralysis, popping off a quick Instagram post about the benefits of daytime napping, drafting an informative guide to nightmares, or creating a fun round-up of the best cooling mattresses on the market. TL;DR there's no such thing as a typical day at Sleepopolis and that's exactly how Cody likes it. His work has appeared online for Esquire, Next, LOGO TV, Fandom, Citylife, The Manual, and more.