Are you someone who needs a bit of background noise to fall asleep? You're not alone. Although many sleepers need absolute silence to sleep, there's a large demographic of sleepers who prefer some noise. Whether it's white noise, nature sounds, music, or guided meditation, the Morphée is a device that has you covered with a wide range of sleep sounds.
In this review, I'll cover everything you need to know about this noise machine, its features, and who I recommend it for. I'll also discuss my personal experience using the Morphée to help you decide if it's right for you.
Short on time? Skip straight to my review summary.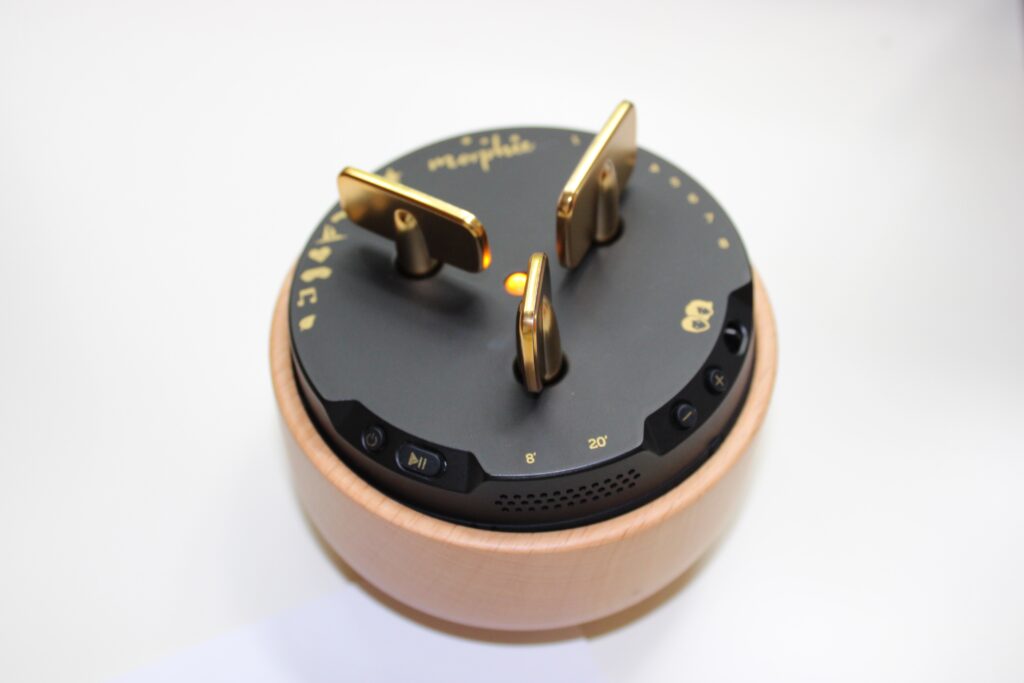 Is the Morphée Right For You?
Before we get into the features and noises this machine offers, I want to give a quick guide to who I think would enjoy the Morphée and who I think should avoid it.
Who Should Try the Morphée
People who love naps: This machine comes with a nap setting that gives you four minutes of relaxation and then complete silence for the duration of the session. It then plays nature sounds to wake you up. You can choose either an eight minute or 20 minute session.
People interested in meditation: This device has guided meditation sessions that walk you through mindfulness, breath control, and releasing tension. It gives clear and simple instructions, which is great for people new to the practice.
People wanting easy controls: The Morphée is controlled by three keys that allow you to pick the theme, session, and time. It's screen-free, and you don't have to connect to Wifi or bluetooth.
Who Should Not Try the Morphée
Budget shoppers: With a starting price of $99.99, this device may be too expensive for some shoppers.
People wanting noise all night: This machine only has sessions lasting eight minutes or 20 minutes. If you want noise to play all night, you may not want this device.
How to Use the Morphée
Let's first cover how to use the Morphée device. The Morphée does not require Bluetooth, WiFi, an app, or batteries. It comes with a charging cord that you can plug into the device. It takes about two hours to completely charge, which will be indicated by the light in the center of the device. After it's fully charged, its battery life will last for three hours. Each session only lasts eight or 20 minutes, so you won't need to charge it every day. You can also keep it plugged in charging and still use it.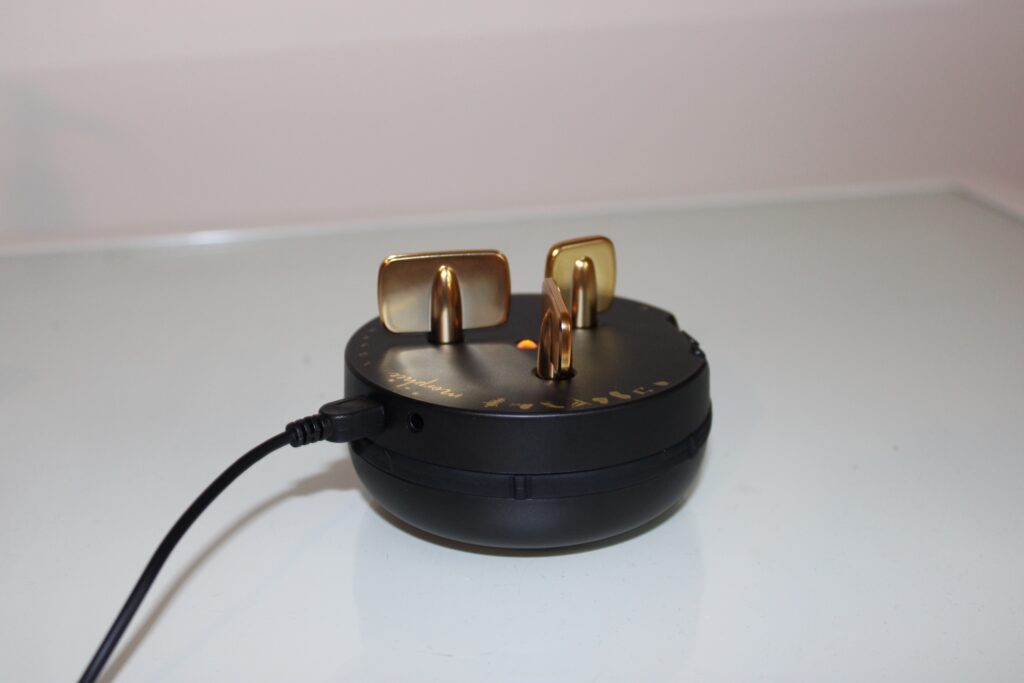 The Morphée is relatively small – it can fit in the palm of your hand. It can sit on your nightstand or on your bed next to you while in use. Wherever is most convenient for you! It comes with a wooden cover to protect it during transportation and act as a base.
On the side of the machine are two buttons that turn the volume up and down. There is also a sliding switch that lets you choose between a male or female voice. The machine is operated with three turnable keys.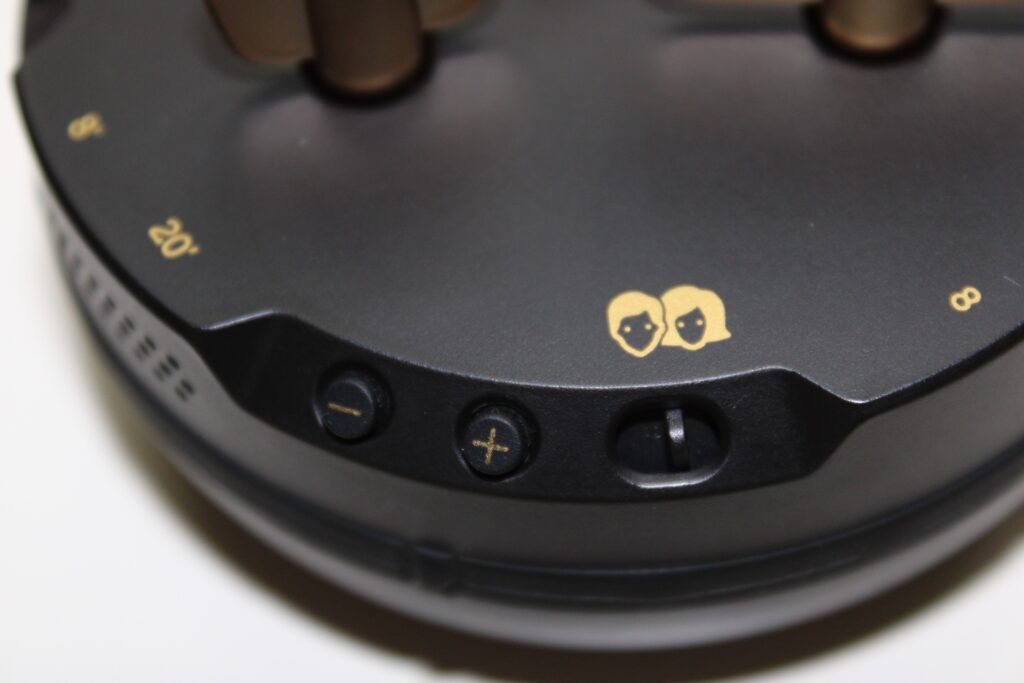 Key 1
The first key allows you to choose between eight different themes, such as body scan, nature sounds, or visualizations. These themes are indicated by a small illustration, and you can turn the dial to select the one you want to listen to.
Key 2
The second key allows you to choose the session variation. Each of the eight themes has eight variations to choose from, which creates a total of 200 sessions to choose from. Each variation is labeled with a number and the key can be turned to select the one you desire.
Key 3
The final key controls the duration of the session. You can turn the key to select either an 8-minute or 20-minute session.
Once you have each key in position, press the power button to turn the device on and then press the play button.
Morphée Features
Themes
Something unique about this machine is how versatile it is. The sounds are categorized by eight different themes:
Body Scan: This theme guides you through body awareness and allows you to concentrate on how your body feels. Body scan meditation can help slow your thoughts and help your body relax.
Breathing: This theme walks you through breathing exercises and allows you to focus on your individual breaths and breathing patterns. Mindful breathing sessions can help you calm down and focus on the present moment.
Movement: If you're full of tension and stress from the day, the movement theme can guide you through the process of contracting and relaxing your muscles upon exhaling. Concentrating on the way specific muscles feel can help relieve those tensions.
Visualizations: This theme allows you to engage your imagination as you're guided through different places, such as walking through the Amazon Rainforest or cozying up in front of a fireplace. Visualizing a relaxing scenario can help focus your thoughts and let you sleep.
Cardiac Coherence: This theme walks you through breathing exercises designed to gradually reduce your number of breaths per minute. You'll start with 10 breaths per minute and work your way down to six. This process will decrease the heart rate, which can help the body relax and fall asleep.
Napping: The nap theme starts with a 4-minute relaxation period and then goes silent for the duration of the session. Once the session is over, it will play nature sounds to wake you up.
Relaxing Music: With this theme, the device will play a variety of relaxing music produced by professional composers.
Nature Sounds: The final theme is a collection of nature sounds from around the world recorded in 3D. Headphones are recommended with this theme for a more immersive experience.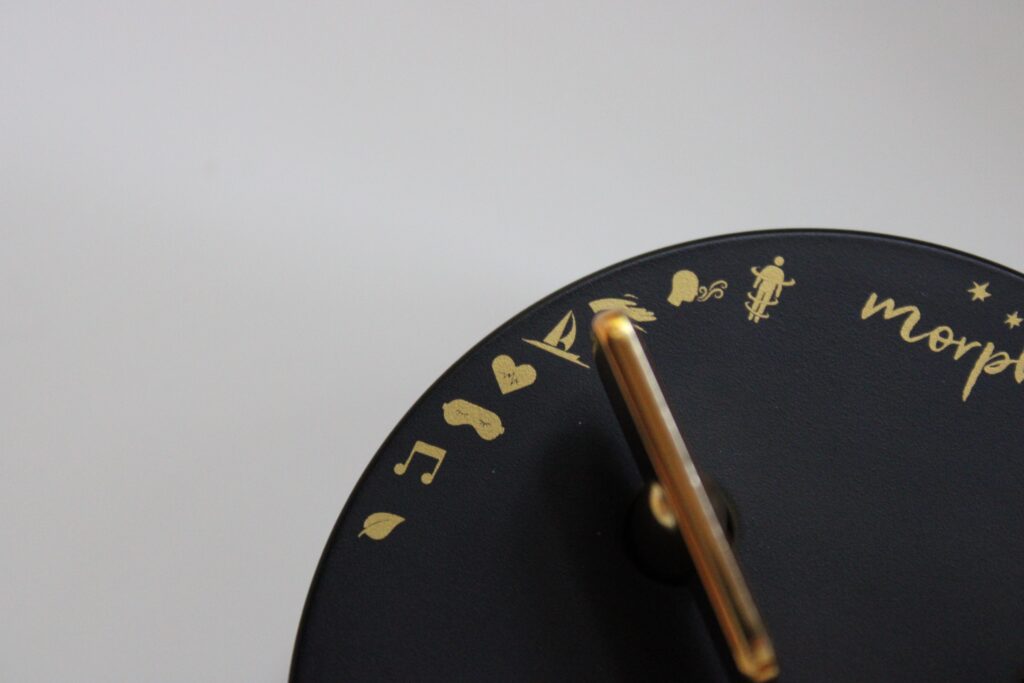 Sessions
Each theme is offered in eight different sessions, so you can choose whichever variation is best for you in the moment. Having a wide range of options to choose from is great because you won't get easily bored from repeating the same meditation. Below is a copy of the different variants, which are all detailed in Morphée's manual, "The Blue Book of Sleep."
Body Scan
Presence Bubble: Body scan from head to toe.
The Present Moment: Variant of body scan.
Calming Observation: Bring your attention to your bodily sensations.
Duo: Body scan in coupled observations.
Strengthen Your Awareness: Front/back body scan.
Relax your Mind: Right/left body scan.
Let Go: Awareness of bodily tensions and relaxation.
Mountain: Body scan associated with a visualization of mountainous landscapes.
Breathing
Serene and Calm: Discover the relaxing effects of breathing.
Respiratory Stroll: Observation of spaces between each breath.
Bubble of Relaxation: Exhale to relax the body.
1, 2, 3 Sleep: Count your breaths to disconnect from your day or to calm your mind and body.
Breathing Wave: Let yourself be lulled to sleep by your breathing.
The Triangle: Contain your breathing to lighten your body and mind.
Present Moment: Take root in the present moment.
The Power of Calm: Soak up calm, contentment, and serenity.
Movement:
Tense – Relax: Release of bodily tensions.
Stretching: Release of muscle tension.
Great Calm: Complete relaxation of the body.
Here and Now: Release of the key points of relaxation.
Serene Face: Self-massage face and scalp.
Hands: Self-massage of the belly.
Herbal Tea: Feel the heat that diffuses in the body
Contraction – Relaxation: Positivity surrounding sleep.
Visualizations:
Female Voice:
The Dolphins
The Amazon Rainforest
The Chestnut Tree
The Lake
The Massage
The Parachute Jump
The Rice Fields
By the Sea
Male Voice:
The Canal
The Prairie
The Fireplace
The Deep Valley
The Vegetable Garden
The Desert
Cycling
The Dive
Cardiac Coherence:
Session guided by voice and breath
Session guided by sound
Session guided by sound + beach
Session guided by sound + storm
Session guided by sound + cat
Session guided by sound + jungle
Session guided by sound + birds
Session guided by sound + fire
Napping
Stretch – Relaxation: Attention is paid to the respiratory movements.
Movement – Relaxation: Body mobilization and respiratory relaxation.
Support: Attention is paid to the support points of the body.
Rocking: Wave of relaxation thanks to a body scan.
Counted Breathing: Count your time to breathe in and out.
Costal Breathing: Relaxation of the diaphragm.
Synchronized Breathing: Inhaling, blocking, and exhaling workshop.
Abdominal Breathing: Follow the abdominal breathing with your hands on your stomach.
Relaxing Music
The Mountain Peaks
Harp Lullabies
In the Stars
Tour of India
The Andes Mountains
The Sahara Desert
Journey to Asia
Inland Journey
Nature Sounds:
The Cat: Burmese cat, asleep in an apartment in Paris.
The Fireplace: Rättvik, Sweden.
The Jungle: Tikal, Guatemala.
The Birds: Sumbawa, Indonesia.
The Storm: Tsumago, Japan.
The Beach: Anse Noire, Martinique.
The Night: Le Tholonet, Provence.
White Noise: For young and old.
Timer
This gadget allows you to choose between 8-minute and 20-minute sessions for each theme and variant.
Guiding Voice
Morphée allows you to choose between a male or female voice. Each session is the same regardless of which you choose, except for the visualization sessions which differ according to the gender selected.
Audio
You can choose to listen to the Morphée directly from the built-in speakers, or you can plug in your own headphones.
The Blue Book of Sleep
The Morphée comes with a small handbook that walks you through how to operate the device and what each theme and session entails. The book also includes a section of general sleep advice and tips provided by Caroline Rome, a sophrology expert specializing in sleep and alertness.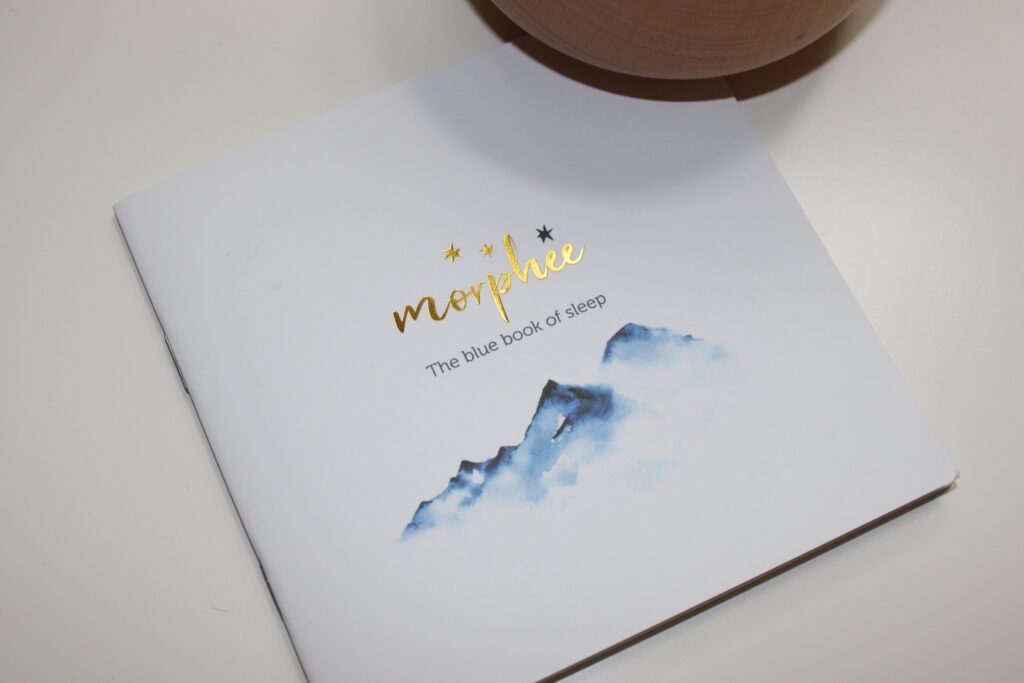 Beechwood Cover
The Morphée has a beechwood cap that protects the keys during transport and can act as a base while the device is in use.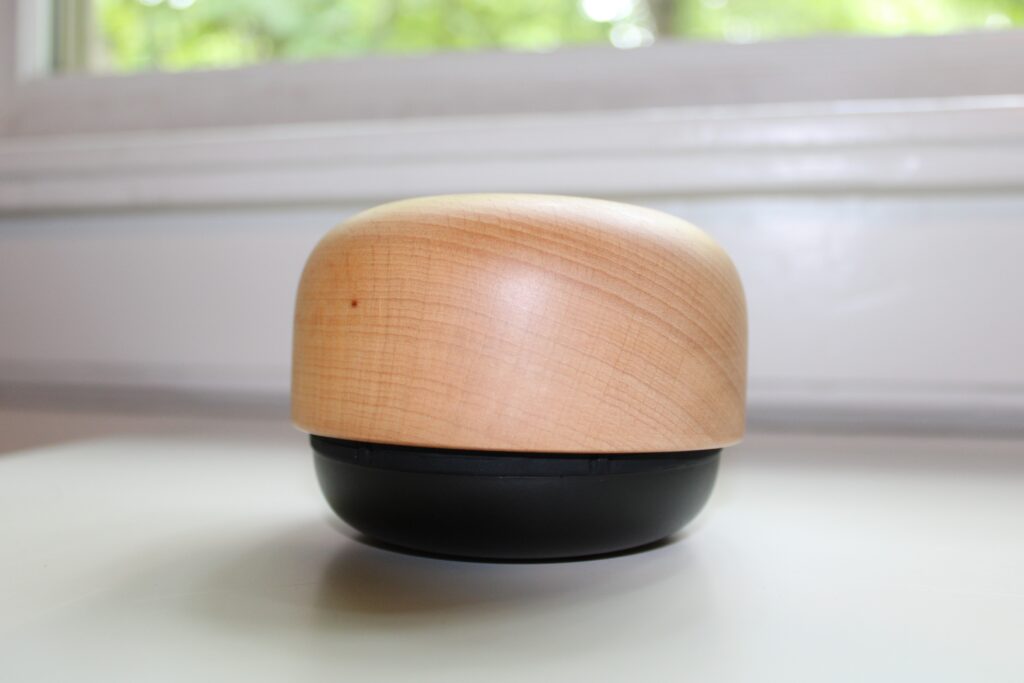 Price
For most shoppers, price is a large factor when purchasing a product. Currently, the Morphée is priced at $99.99 at full retail. For a noise machine, this price is a bit steep and may be out of range for some shoppers.
My Experience Using the Morphée
I think the Morphée is a really solid option for anyone interested in meditation, guided exercise, or just wanting some background noise. I always sleep with white noise and typically turn on a box fan at night. It took a few nights to get used to a person's voice instead of a fan, but the speakers both have very soothing voices. I personally really loved the variety of music, which I love to listen to when working. I also really enjoyed the visualization theme and had a lot of fun letting my mind wander to new realms as I drifted off to sleep. My favorite was The Chesnut Tree. I could really picture myself taking a journey to a beautiful tree and laying down beneath its branches.
I found the Morphée really user-friendly and easy to navigate. I like how its construction is simple and you don't have to worry about connecting it to WiFi or Bluetooth. I also like how small it is. It fits perfectly on my nightstand and its simple design doesn't distract from my bedroom aesthetic.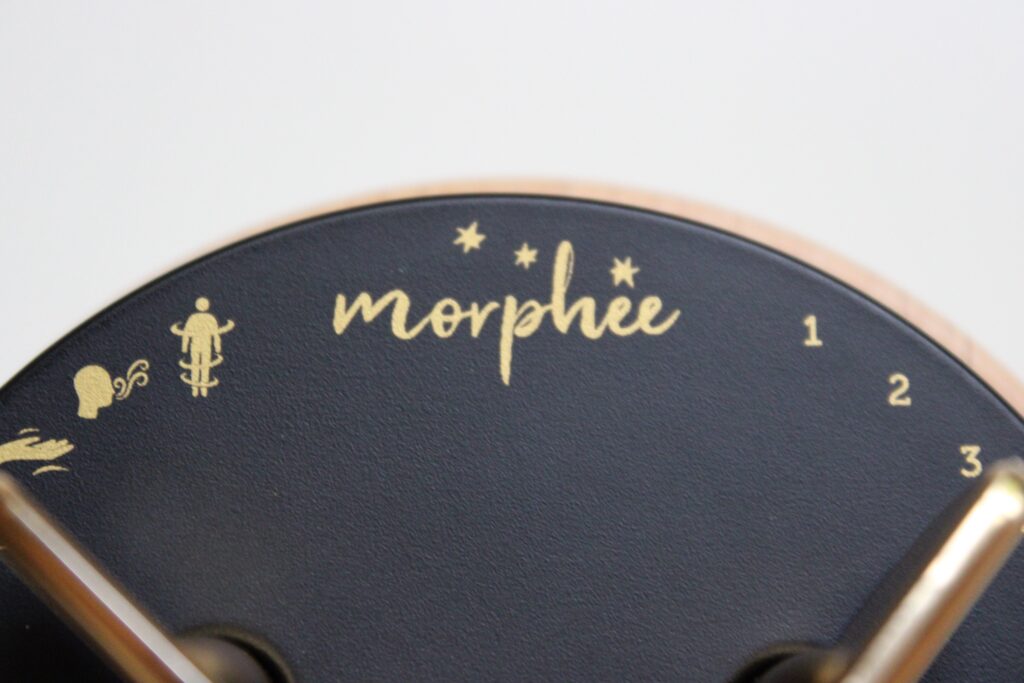 One complaint I have about the Morphée is its sound duration. This device only has two timed settings: eight or 20 minutes. For the guided meditation sessions, I think these are sufficient durations. However, I wish there was an option to keep the nature sounds or music on a constant loop.
Personally, I like having background noise to play all through the night, not just while I'm falling asleep. The battery on the Morphée only lasts for three hours of total use before needing to be charged again, so it wouldn't be able to play all night anyway.
Policies and FAQs
Does the Morphée come with a warranty?

Yes, the Morphée has a 2-year warranty.
How does the Morphée ship?

The Morphée has an $8.99 delivery fee.
Does the Morphée have a sleep trial?

Yes, the Morphée comes with a 100-night sleep trial. You can return the product for free within that time period.
How do you charge the Morphée?

The Morphée comes with a USB charger which can be plugged into an outlet. It takes about two hours to fully charge, but you can also use the Morphée while it's charging.
Does the Morphée need WiFi?

No. This device does not need to connect to WiFi or Bluetooth to operate.