When it comes to picking the right sheets, there's more to consider than just how soft they feel. You have to find the set that is most compatible with your mattress, your body, and your lifestyle. The Classic White Bundle Sheet Set from Sojao is sustainably made from organic cotton, and might be particularly of interest to eco-friendly sleepers. But will the feel and durability of these sheets be just as impressive? Well, there's only one way to find out!
"Sojao" means "go to sleep" in Hindi — and that's exactly what I'm going to do. In this review, I'll assess everything from thread count to handfeel so that we can figure out if these are the right sheets for you!
No time to read the full review? No worries, just click here to skip to the review summary.
Sojao Bedding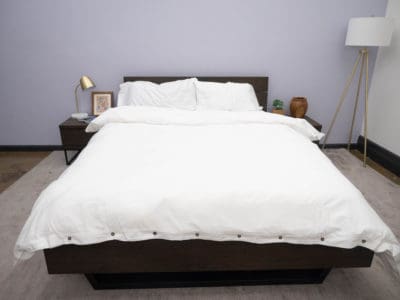 The Classic White Bundle Sheet Set from Sojao is sustainably made from organic cotton, and might be particularly of interest to eco-friendly sleepers.
Sleepopolis Score
5.00 / 5
Read Full Review
https://www.youtube.com/watch?v=KTa2XvRNf5k
WHAT'S IN THE BOX?
Each set comes with a fitted sheet capable of fitting a mattress up to 15 inches deep, along with two pillowcases, and a duvet cover. But this set does not come with a top sheet! Sojao is based in Singapore, and top sheets are not so popular in Asian countries. So for now, Sojao includes a duvet cover in its stead. However, this coming November, the company will be introducing a top sheet to its bedding collections.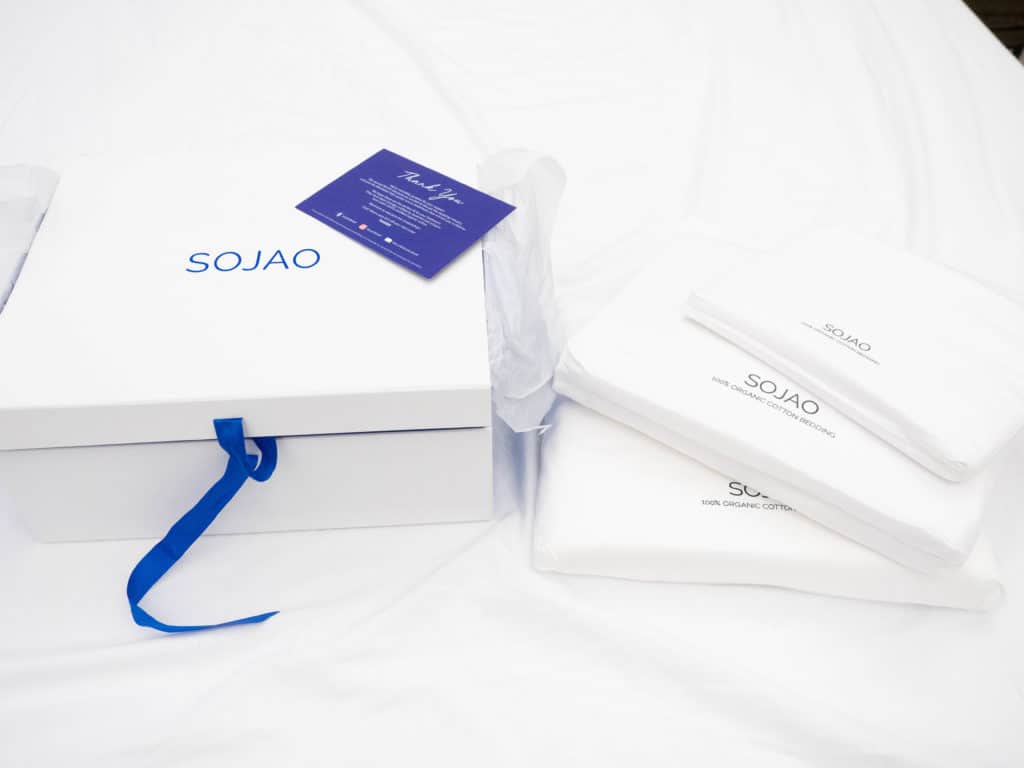 The duvet cover, pillowcases, and fitted sheet all come in their own cotton dust bag which you can use as an easy, organized storage solution for the bedding. They can also serve as travel pouches for frequent flyers who are particular about the sheets they sleep on and prefer to bring their own on trips away from home.
The other thing you'll find in the Sojao box is a little "Thank You" card that includes wash care instructions, return and exchange policy, and a 10% discount code toward your next purchase.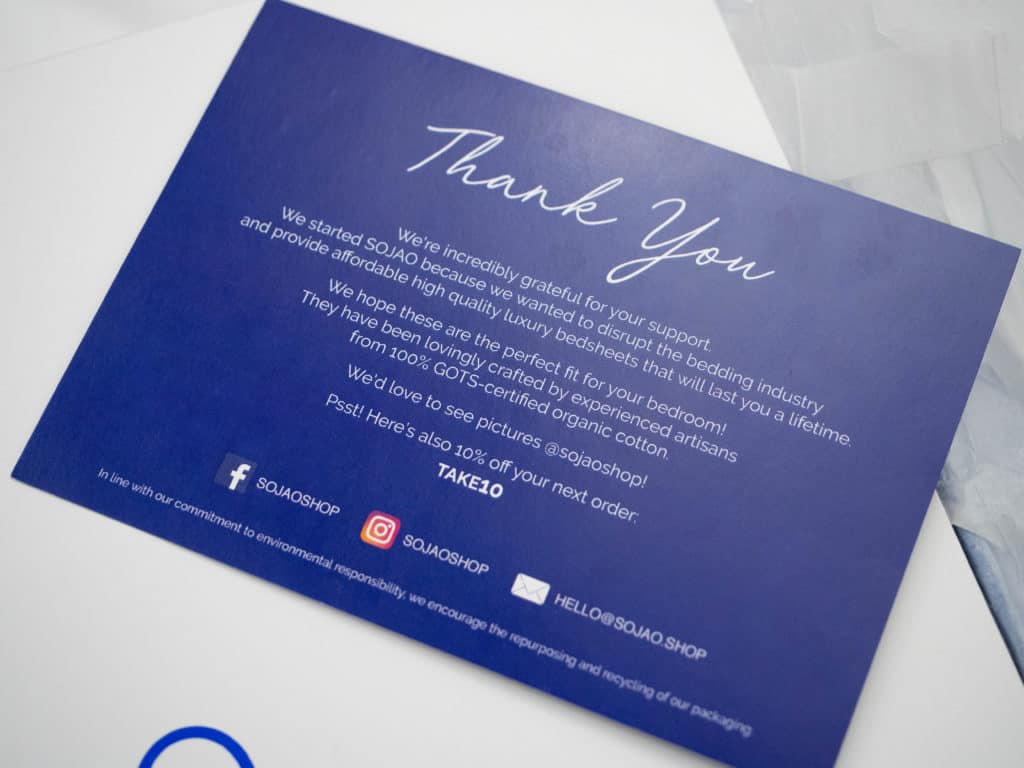 HOW DO THESE SHEETS FEEL?
As I said, these sheets are made from GOTS-certified 100% organic cotton, and they've got a very soft and cool feel. I know a lot of folks think about crispness when they hear "white cotton sheets," but these feature a sateen weave which gives it more of a silky-smoothness than crisp feel. The sateen weave is also responsible for the pretty, subtle sheen that these sheets have. Sateen woven fabric is known for its luster and luxurious drape — and Sojao's sheets are no exception!
They feature a single-ply 300 TC which enhances the cozy factor, and they are spun from long-staple cotton. When it comes to cotton sheets, a lot about the feel comes down to the fibers used. Typically, the longer the fiber (or staple) is, the softer, and more vibrant the sheets will be. The long-staple fibers used in Sojao's cotton sheets combined with the sateen weave leave this bedding feeling, as the company puts it, buttery-smooth.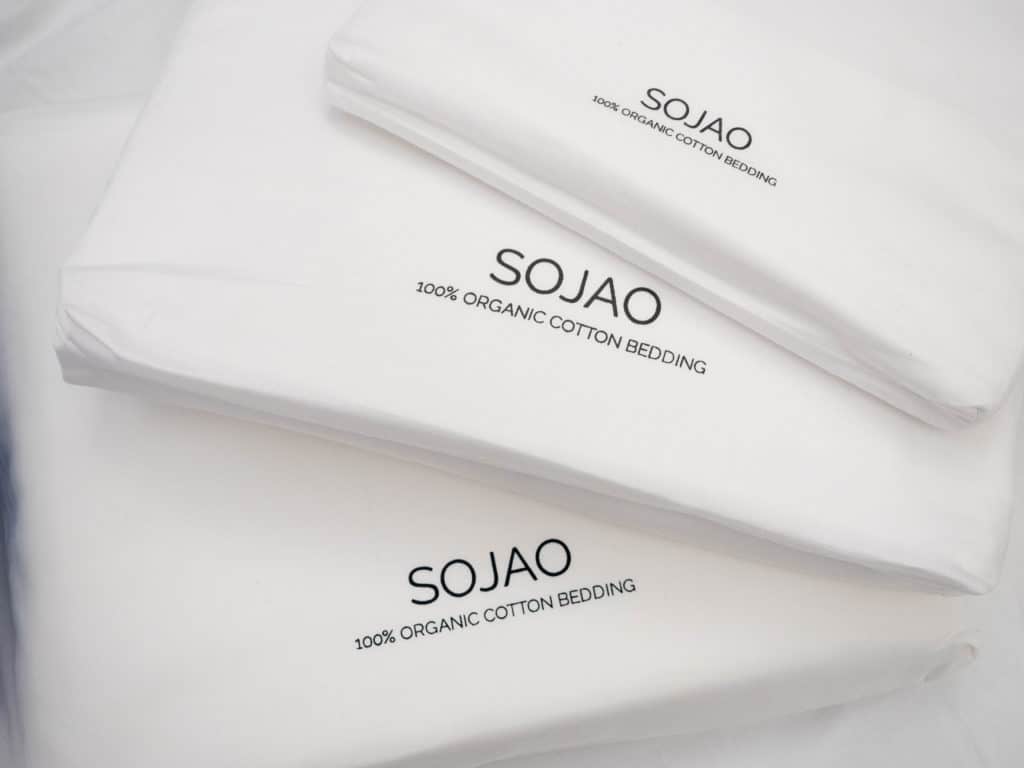 They are pretty lightweight, especially for sateen woven sheets, which seems to illuminate the way the fabric drapes over your body and the duvet. The duvet cover features these lovely, wooden buttons that serve to keep your comforter tucked securely inside and, in my opinion, add a nice aesthetic flare. Additionally, the pillowcases have envelope-style side pockets to keep your pillow snugly covered and hidden.
The fitted sheet clings to the mattress with a very responsive elastic band, and offers deep pockets. In my experience rolling around on these sheets, there was never any issue with the fitted sheet becoming untucked from the mattress. There was actually a little excess fabric that I was able to tuck under the mattress to double down on the security of the fitted sheet, and I definitely got the sense that I could jump on the bed if I wanted to and the fitted sheet would still stay firmly tucked.
The material does make a bit of a swishing noise when your rub your hands all over it (which is really hard not to do because it's very soft). The noise doesn't bother me, but if you're extra sensitive to midnight sounds, that's something to note. Because it has a silken quality to it, these sateen woven sheets make the slightest sound when you roll around on the bed (imagine rubbing two pieces of satin together).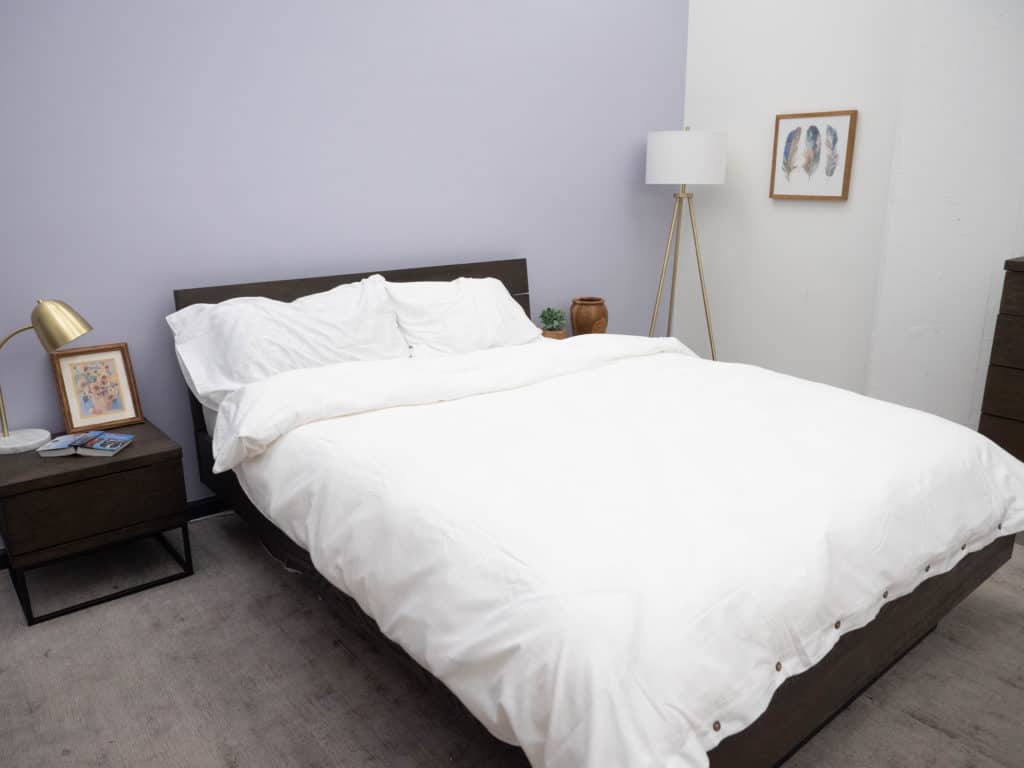 HOW DID YOU LIKE THESE SHEETS, SARAH?
Before I even get into what I thought about the feel and quality of these sheets, I have to talk about the packaging in which they arrived. To me, presentation means a lot and the Sojao sheets arrived in this beautiful, silky, blue and white box. The top and bottom of the box are white and feature the brand's name in elegant blue font. The sides of the box are this vibrant, royal blue color that I find to be quite elegant, and because the sides are made of a silky material, they offer a nice sheen as well. A blue ribbon allows you entrance into the box itself which totally made me feel like I was opening a Christmas present. As far as presentation goes — you nailed it, Sojao.
Upon opening the package, there's a little note about how these sheets are made from organic, sustainable materials, and that the word "sojao" is Hindi for "go to sleep." Resting atop the sheets is a little Thank You card that offers wash instructions, return and exchange policies, and a coupon code to take 10% off your next order. Again, these things just made me feel really good about the sheets I was about to sleep on.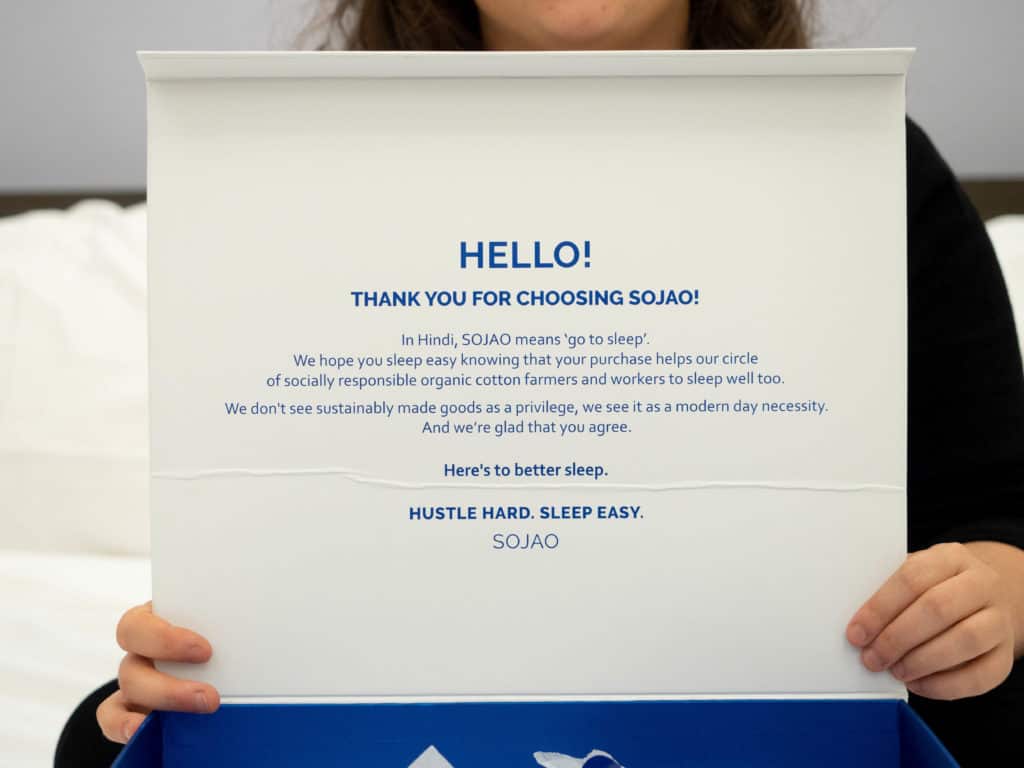 The sheet set is separated into three cotton cases: one containing the fitted sheet, one with the duvet cover, and one with the pillow cases. So, I opened the pillowcases first and dressed the biggest, loftiest pillows I had with them. I was pleased to see that they were more than able to accommodate the pillows, and that the opening is on the side of the pillowcase rather than down the middle. I like to be able to flip my pillow over throughout the night without getting my hand or face caught in the slit that goes down the middle of some pillowcases.
The pillow cases felt super soft and cool against my cheek, so I eagerly broke into the rest of the sheets to get the full experience. Right away, I could feel how silky and cozy they are. They have a pretty lightweight feel, so I was definitely getting the sense that they'd be breathable and help keep me from warming up during the night.
As I said, this set is capable of fitting a mattress up to 15 inches deep, so it was no problem fitting them over my 10" mattress. The process of getting the sheets on the bed was relatively easy, too, as there was a little excess material to play with. Once I had all the corners matched up, I tucked the extra material under the mattress to make sure the fitted sheet was tightly stretched and very secure.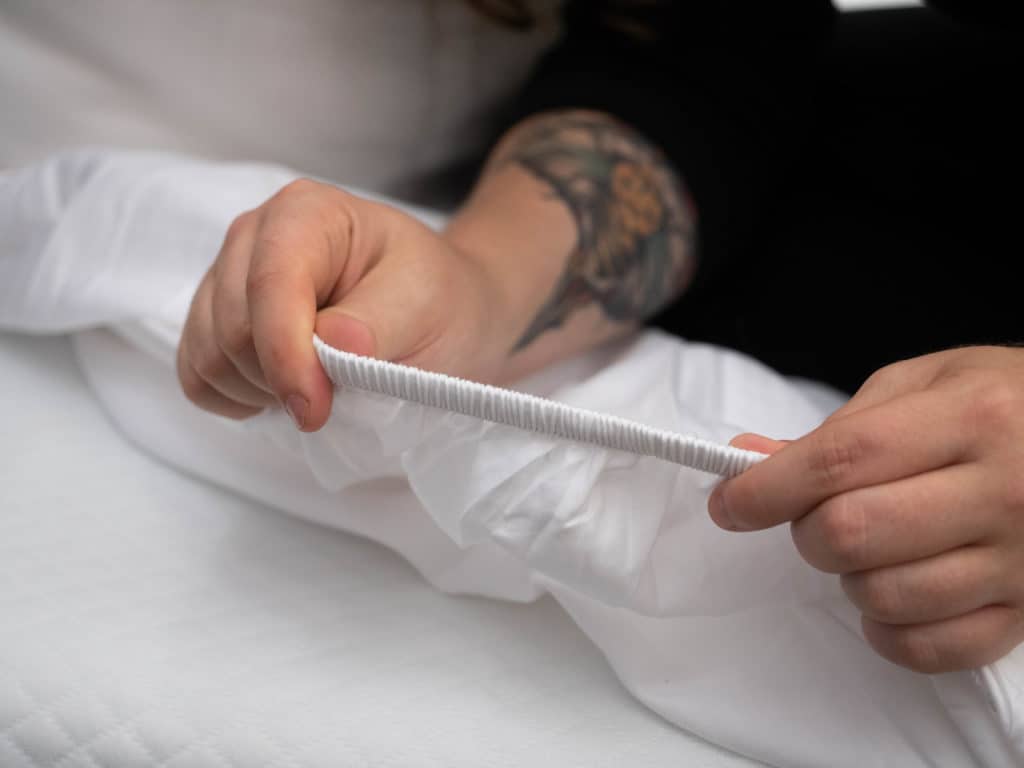 Once the sheets were all fixed and ready for action, I slipped into bed and was met with a very soothing, surprisingly cool feeling. When it comes to cotton, sometimes it's cool and breathable and sometimes it's a bit warmer — it usually depends on the type of cotton, weave, and the length of the fibers. The comfy combination of the long-staple fibers and sateen weave had me rubbing my arms and legs all over the material like I was making a snow angel.
Sojao Bedding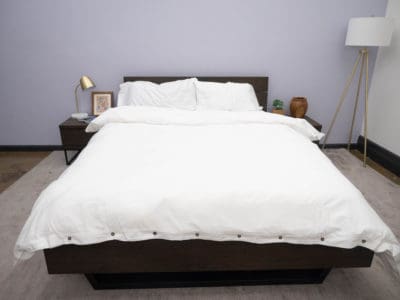 The Classic White Bundle Sheet Set from Sojao is sustainably made from organic cotton, and might be particularly of interest to eco-friendly sleepers.
Sleepopolis Score
5.00 / 5
Read Full Review
I wouldn't call the material of these sheets noisy, as there wasn't that crunchy rustling sound you can experience with some materials. However, like I said, they aren't completely noiseless either. Also, I did find that they did wrinkle a little bit, but not much. I got the sense that a quick tumble in the dryer would shake the wrinkles right out.
When it comes to sheets, the most important factor for me is how the fabric feels against my bare skin. I don't have any allergies, but I do have sensitive skin. So, the fact that these are GOTS-certified organic soothed my mind and my body. I never felt irritated or itchy at all, and it felt really nice to just roll around in the softness of these sheets. Speaking of rolling around — not once did the fitted sheet become untucked from the mattress which, for me, is the second most important factor.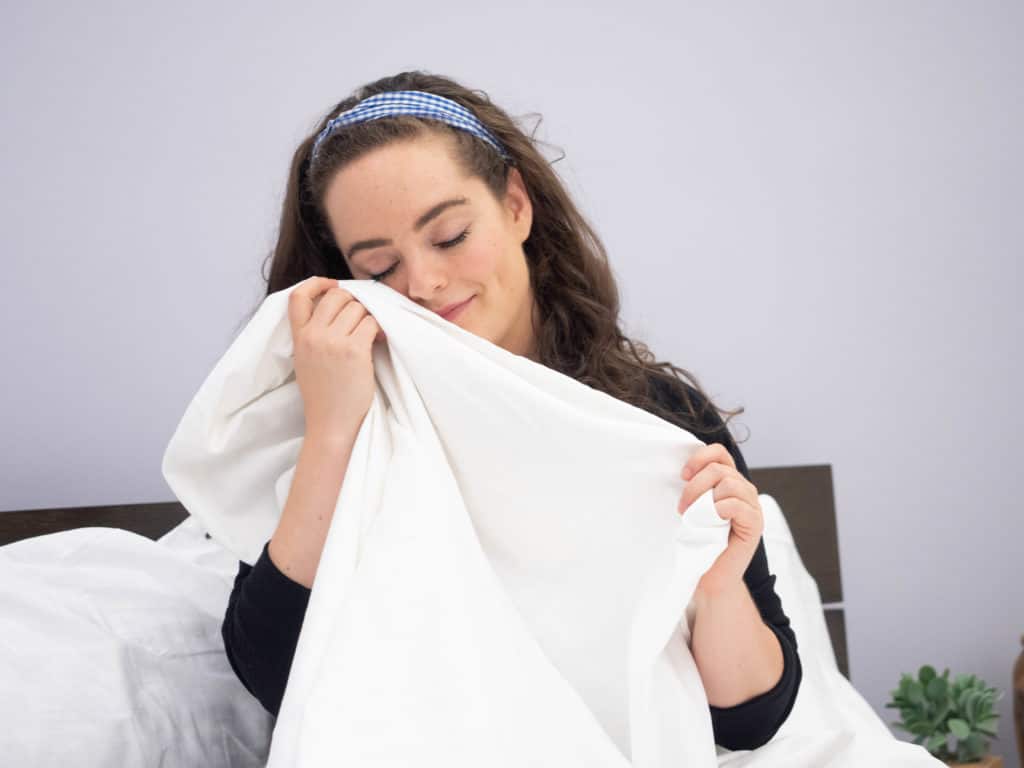 So, with my two main criteria checked off, I was feeling pretty satisfied. However, I did find myself longing for a top sheet. As I mentioned, this set only comes with a fitted sheet, duvet cover, and pillowcases. Don't get me wrong, the duvet cover is so cozy and smooth, but it kind of comes down to a preference here. I like the security of a top sheet and did feel like this Sojao set was missing something without it.
The material of these sheets did feel pretty lightweight and, like I said, relatively cool. So I'm not sure how much use I would get out of these in the cold Winter months. But overall, I think Sojao's Classic White Bundle Set would make an awesome addition to anyone's bedding collection. A reliable, comforting, and super soft set of cotton sheets is a bedroom essential, and I think these are a great option.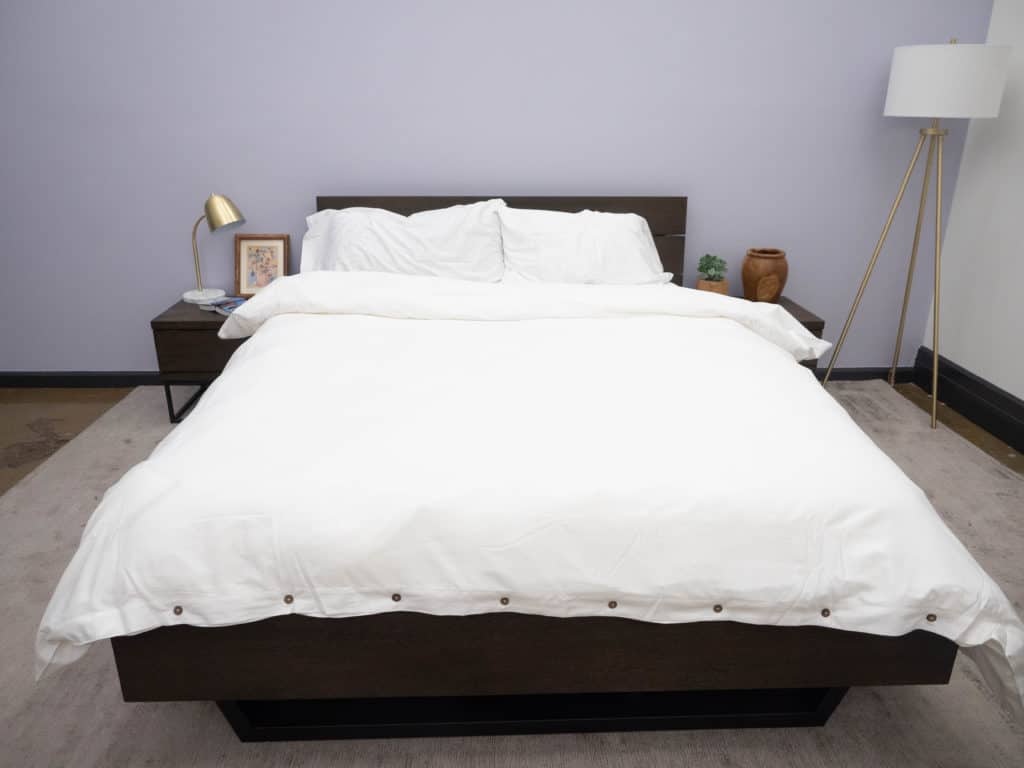 SOJAO SHEETS COMPLAINTS
There are a few things about this sheet set that might not be for everybody:
No Top Sheet — While I do find this sheet set to be extremely comfy and soft, you might find yourself wishing it included a top sheet. Warm sleepers who like to use the top sheet as a blanket, or folks who just enjoy the buffer between you and your duvet might want to wait until Sojao adds a top sheet to this collection in November!
Not Warming — Speaking of hot sleeping! These sheets were designed in Singapore where the climate is tropical and pretty warm all year round. So, they were built to be lightweight and help the sleeper stay cool which is great for summer but probably won't keep you warm in the Winter. For folks looking for warm and cozy rather than light and smooth, that's something to consider.
No Trial Period — Unfortunately, there is no trial period for these sheets. Many companies offer a trial period so that you can kind of get the sense of your new bedding to help you decide if it's the right fit for you. But because no trial period is offered with these sheets, you kind of have to be pretty sure that you want them before you make your purchase.
SHOULD I SLEEP ON SOJAO SHEETS?
In my opinion, there's a lot to love about Sojao's Classic White Sheet Set. However, they might be especially beloved by sleepers who:
Want Eco-Friendly Bedding — These sheets are 100% organic cotton. No toxic dyes, no chemical finishes, no genetically modified seeds. Just soft, hypoallergenic, ethically sourced, sheets. If eco-friendly bedding is important to you, these could be a great option.
Love the Sheen — The sateen weave gives them this really pretty luster and luxurious drape. Sojao also offers these sheets in a few different colors like blue, grey, and ivory, and I have a feeling that this sheen might be even more pronounced with the darker colored sheets.
Prioritizes Easy Care — Caring for these sheets is pretty simple. Just machine wash on a gentle cycle with like colors and tumble dry on low heat. And that's it! If I were you, I'd pull them out of the dryer as soon as they're done so you can stretch them out over the mattress while the fitted sheet is still warm and wrinkle-free.
ANYTHING ELSE I SHOULD KNOW?
Fair Trade — Sojao supports fair trade employment throughout its supply chain in accordance with the International Labour Organization.
Exchanges & Returns — Sojao accepts returns or exchanges within 14 days of delivery (delivery is defined as the date the shipment was marked as delivered by the carrier's tracking number). Exchanges are always free, and returns will be refunded in the original method of payment. Returns of washed or used products will be subject to a processing fee upon return.
Made in India, designed in Singapore
Shipping — The shipping cost is approximately 75 USD for orders under SGD300, and 110 USD for orders above SGD300. Unfortunately, the currency exchange rate is in SGD and Sojao does not have the option to purchase in USD. However, the company has included an auto-detect currency conversion feature so that you'll know your cost of purchase in local currency against SGD.
Sizing — Single, Super Single, Double, Queen, King
Ironing — May be ironed on a low temperature if needed
Do not dry clean
Pricing — $145-$217 USD
accessory-block id='348′]