Listen up, linen lovers, because today I'm reviewing the gorgeous Linen Bedding Bundle from The Citizenry. Spun from French linen (and stonewashed for extra softness!) these sheets are designed to bring sweet dreams to sleepers of all styles.
But while that sounds lovely, the only way to know for sure how they perform is to personally test them — and that's exactly what I did! So keep reading this Citizenry linen sheets review because I'm about to show you how this bedding is made, how it feels, and which sleepers might love it the most.
The Citizenry Linen Sheets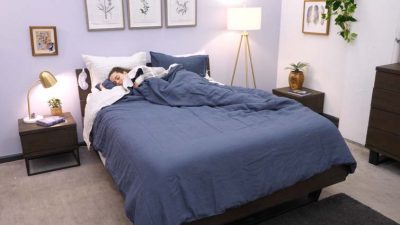 These French flax linen sheets are spun in a family-run mill in Portugal. They are sustainably made, sleep cool, and are very durable.
Sleepopolis Score
4.50 / 5
Read Full Review
Brand Snapshot
The Citizenry was founded in 2014 by Carly Nance and Rachel Bently, a pair of friends who met in their Freshman year of college. With a mission to improve and innovate the home goods industry, Nance and Bently made The Citizenry a one-stop-shop for bath, kitchen, and bedding accessories. And recently, the brand added tables, chairs, and bedroom furniture to its roster as well!
Of course, I'll be focusing specifically on bedding in this review, as I get up close and personal with The Citizenry Linen Bedding Bundle. And I'll be honest — I've heard some great things about this company on social media, so I'm extra excited to see what these sheets are all about. Let's get started!
What Are The Citizenry Linen Sheets Made Of?
This bedding is made from 100% linen, a textile known for its durability, breathability, and distinctly coarse texture. Some of you may already be familiar with the slightly rough texture of linen, but I have to say that this is some of the softest linen I've ever tested (and we'll talk about why that is in a moment).
Something I appreciate about pure linen bedding like this is that it's derived entirely from flax fibers, which are sustainable and organic. While American flax is sourced exclusively from the midwest, The Citizenry sources its flax from France, home to some of the highest quality flax in the world. Plus, they're woven in one of Portugal's oldest linen mills, Machado Linen Mill; so if you're the type of sleeper who likes to know where your sheets come from, take some time to look into its history.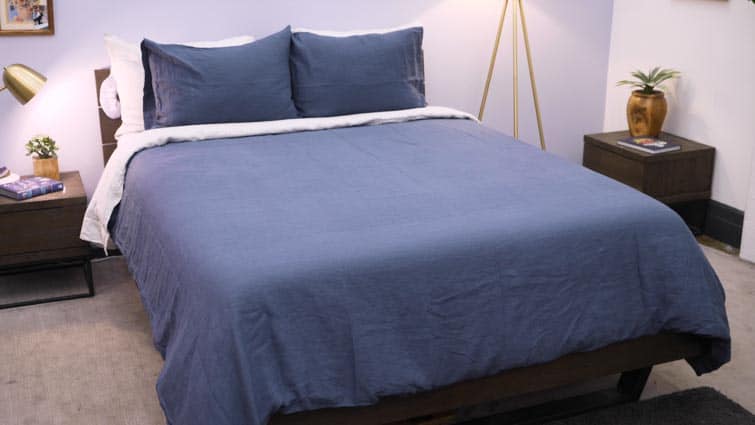 But what I really love about these sheets is that they've been stonewashed, a textile manufacturing technique used to cut through the coarseness of the finished fabric. And yes, this process actually involves large stones rubbing against the sheets in an industrial size washing machine (but don't try this at home!).
Another benefit of stonewashing is that it creates a casually lived-in, rustic aesthetic that many sleepers look for in linen bedding. But the primary perk, in my opinion, is how soft it makes the fabric feel! As I said, this is definitely some of the softest linen I've ever felt, and it doesn't feel itchy or coarse at all.
More: See how these sheets stack up against the competition in my Best Linen Sheets review!
As far as what comes with your purchase, a full set includes one top sheet, one fitted sheet, and two pillowcases. But you can also opt for a bedding bundle (that's what I did), which includes a full sheet set, duvet cover, and two extra pillowcases. Take note, though, that a bundle is pricier and starts at around $400, while a full set starts at about $250.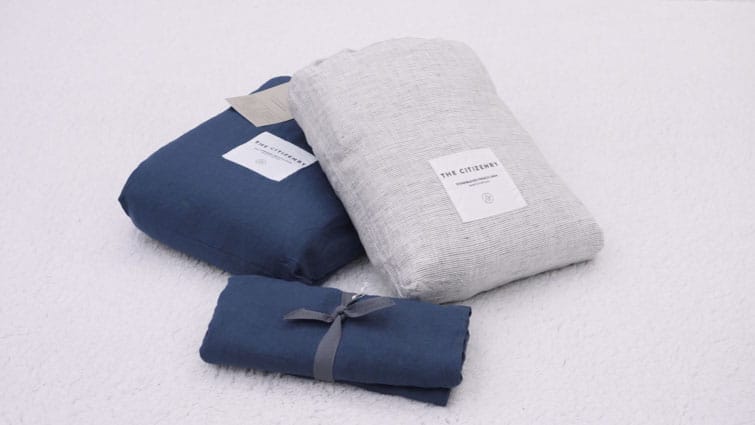 Okay sleepers, now that we know more about what this bedding is made of, let's dive deeper into how it feels, shall we?
The Citizenry Linen Sheets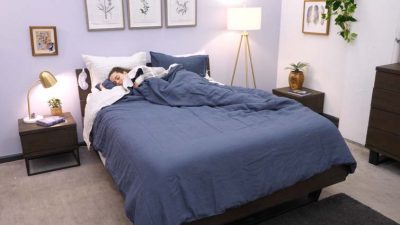 These French flax linen sheets are spun in a family-run mill in Portugal. They are sustainably made, sleep cool, and are very durable.
Sleepopolis Score
4.50 / 5
Read Full Review
How Do The Citizenry Linen Sheets Feel?
Before I even get into how these sheets feel, I have to acknowledge how beautiful they are. This bedding comes in a variety of colors, but I'm testing the "Midnight Series" which combines the brand's "slate blue" and "graphite stripe" colors. The folks at The Citizenry say its colors are meant to be mixed-and-matched, so I chose blue for the duvet cover, and graphite stripe for the sheet set.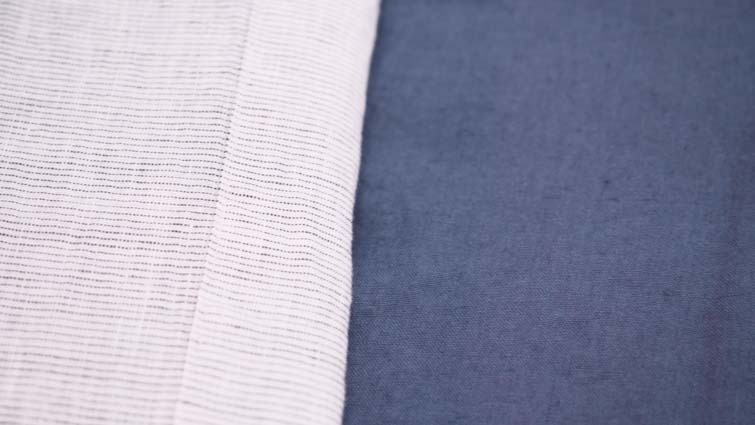 And I must say that these sheets feel just as luxurious as they look! When I first unpackaged them, I couldn't help but marvel at how soft and durable they feel, and I knew right away that I was working with high-quality bedding. I'll admit that I tend to avoid linen bedding if it hasn't been stonewashed, and this sheet set is a great example of what that manufacturing technique can do.
For example, this bedding never irritated my skin or make me itchy, as I've often experienced with linen that hasn't been stonewashed. Instead, The Citizenry linen feels sumptuously smooth to the touch, and is quite breathable as well! Remember — this linen was washed (again and again) with large stones to reduce roughness and make it feel softer.
Speaking of breathability, I appreciate how airy this bedding is. As a hot sleeper, I'm always looking for bedding that'll bring me a nice, cool slumber, and these sheets definitely qualify. That said, keep in mind that linen is thermoregulating, which means it adapts to your body's temperature. Of course, I run hot pretty much all year long, but don't forget that linen serves as an excellent insulator in the wintertime.
And lastly, I really like that the fitted sheet in this set has deep 15-inch pockets and a strong elastic band. I think I speak on behalf of everyone when I say that wrangling with a fitted sheet is not fun (especially when it slips right off the bed mid-slumber). But the elastic band kept a strong grip on my mattress, and was more than able to accommodate its tall, 13-inch profile.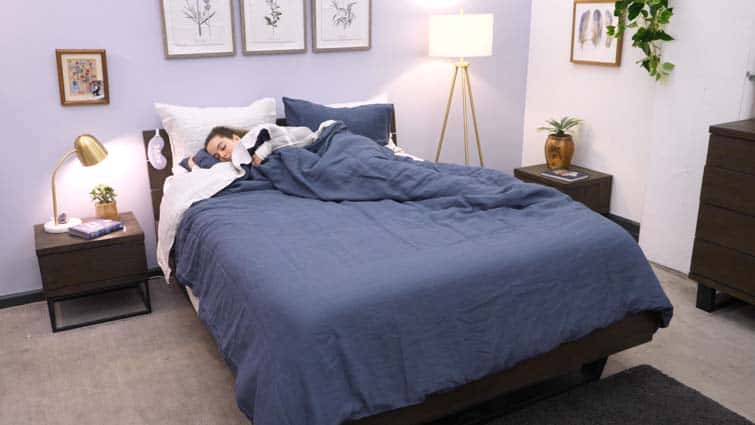 The Verdict: The Citizenry Linen Bedding Bundle gets rave reviews from me! Any sleeper looking for a soft, breathable, and durable linen sheet set should definitely give this one a try.
Should I Buy The Citizenry Linen Sheets?
Now that we've taken a close look at this sheet set, let's recap the highlights so you can better determine if it's the right fit for you:
The Citizenry Linen Sheets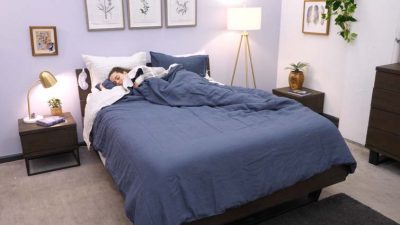 These French flax linen sheets are spun in a family-run mill in Portugal. They are sustainably made, sleep cool, and are very durable.
Sleepopolis Score
4.50 / 5
Read Full Review
Stonewashed Softness – If you shy away from linen because it's too coarse or scratchy, I suggest you give this bedding a try. Remember — the stonewashing process makes linen fabric feel nice and smooth!
Thermoregulating – One of my favorite things about linen is that it's thermoregulating, meaning it adapts to your body's temperature. That's why pure linen bedding like this is perfect for year-round use. It can cool you down when you're feeling too warm, but can also serve as a terrific insulator when the cold weather hits.
Deep Pockets – If you sleep on a tall mattress, you'll probably find that these deep pocket sheets are a good fit. The fitted sheet in this set can accommodate mattresses up to 15 inches deep, and it features a thick elastic band that puts a tight grip on the mattress.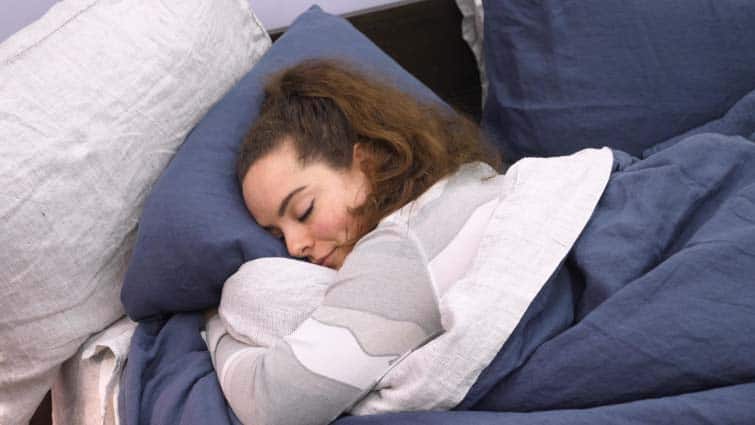 The Citizenry Linen Sheets Complaints
Truthfully, it's hard to come up with any complaints as far as craftsmanship is concerned. This bedding is made from beautiful, high-quality linen and, in my opinion, it's irresistibly cozy. However, linen bedding does tend to come at a higher price point, and these are no exception:
Price – Bedding bundles like this one start at around $400 which, or you can opt for a sheet set which starts at about $250. Obviously, this isn't going to fit in everyone's budget, but keep in mind that luxury linen like this is durable enough to take you through years of use (I'm talking 10+ years!).
No Trial Period – That said, it's important to note that no trial period is offered with this bedding, so there's no way to "try before you buy." It does come with a 30-day return policy, but the bedding must be unwashed, unused, and in its original packaging.
Anything Else I Should Know?
Price – $435-$495 (bedding bundle), $250-$275 (sheet set)
Sizing – Full, Queen, King
Wash Care – wash on cool, gentle cycle; tumble dry on low heat, or line-dry
Free Shipping & Returns – within the U.S.
Woven in Portugal
Sarah Riccio
Sarah is the former senior writer and bedding expert at Sleepopolis. She received her degree in Creative Writing from Brooklyn College and spends her free time doing stand-up, making pasta, and hanging with her cats.