New to the American premium, direct-to-consumer sheet market, British company Third promises high-quality, low-fuss sateen sheets, pillowcases, and duvet covers. But with so many prominent competitors in the market, can they compete against more established brands? Keep reading to find out.
Looking for a quick read? Click here to jump to the summary.
Third Sheet Set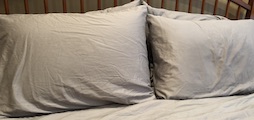 All Third sheet sets come with sleep masks, bedtime tea, and lavendar spray. To enjoy 10% off your order, use code SLEEPOPOLIS!
What I Got
Third says of its sheets that "soft is an understatement." The 500 thread-count, combed cotton sateen linens are made with single-ply yarns, meaning that there are 500 individual threads in every square inch of the material, as opposed to some sheets that use double- or triple-ply yarns to beef up their thread count. Third uses environmentally-friendly chemicals and dyes in the manufacture of its sheets, and has received STANDARD 100 Certification from Oeko-Tex® for making its product without harmful chemicals.
For this review, I received the Third Complete Set in Stone, which includes a fitted sheet, a flat sheet, two pillowcases, and a duvet cover. Because Sleepopolis will be doing a separate series of duvet cover reviews, I put it aside and only made the bed with the sheets and pillowcases. I also received two additional pillowcases because my husband and I are both two-pillow sleepers.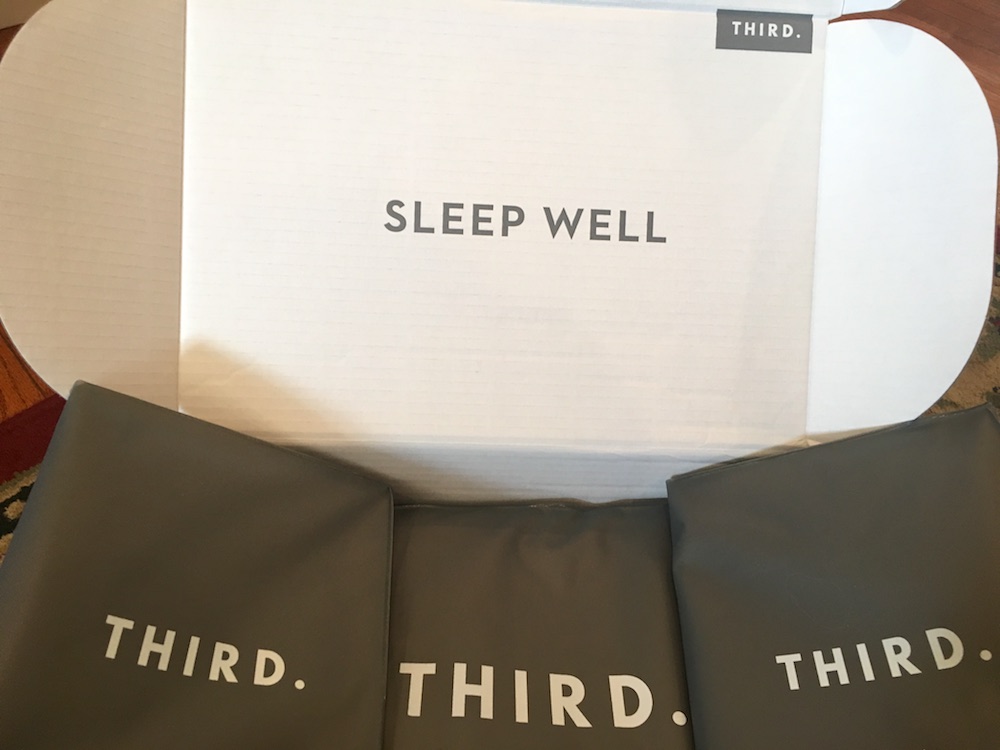 Unboxing
Third's Sheets came beautifully packaged in a branded shipping box. Inside, the words "Sleep Well" are printed on the box flap. Each component of the set (duvet cover, pillowcases, and sheets) were packaged individually in grey, branded cloth envelopes (for lack of a better term). I also received a lovely Tiffany-blue zipper pouch containing two of Third's Bedtime Tea bags, two sleep masks, and Third's lavender-scented Sleep Well Spray. This is Third's Sleep Tight Pack, which it ships with all purchases in order to promote an even better night's sleep.
Because Third's sheets are sateen, they're soft right out of the package. The linens, which are a beautiful dark grey, had a nice heaviness to them, and a silky luster. As first impressions go, this was a pretty good one.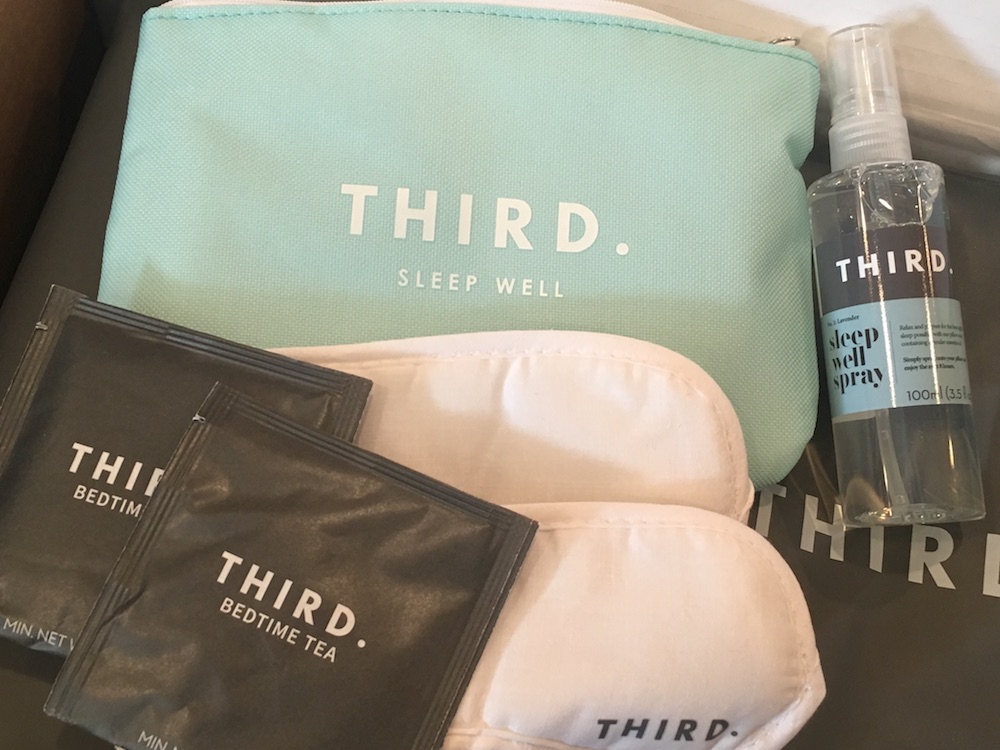 Initial Experience
I will admit that I kind of forgot I had started a load of laundry when I first washed the Third sheets, so they sat in the dryer for a little longer than I would have liked. As a result, the sheets and pillowcases were quite wrinkled when I made my bed—especially for sateen linens—but I wasn't sure to what degree I could blame myself for that, as opposed to blaming Third. I decided that for the second round of sheet testing, I'd get the linens out of the dryer much sooner.
The wrinkles on the fitted sheet largely disappeared once it was put in place, and I was pleased that the edges of the sheet had no problem getting over my 12" mattress (and stayed in place over the next few nights that we were sleeping on it. The flat sheet, unsurprisingly, remained rumpled, which was to be expected—but I was disappointed that the sheet wasn't wide enough for me to tuck under the sides of my mattress, but hung just to the bottom of it. No tucking under for a cozy hotel feel with these sheets!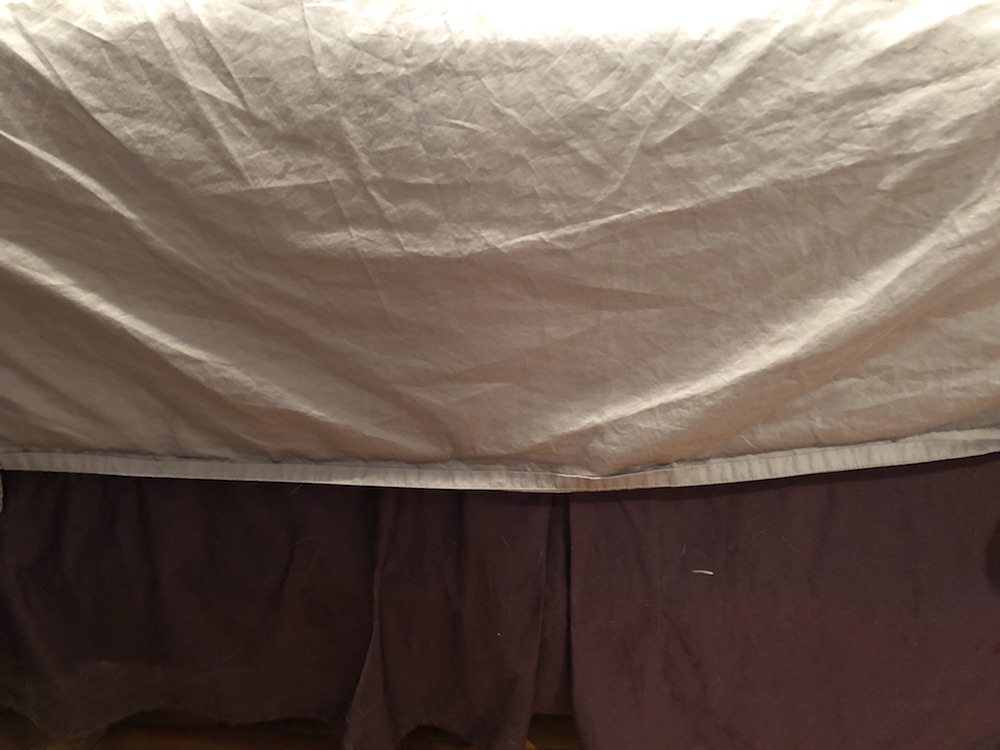 Third's pillowcases are sort of a hybrid of a standard pillowcase and a sham, featuring an envelope-style opening on the side that fully envelops the pillow. I was skeptical about this at first, until I realized two things: first, that these pillowcases allow you to have a smooth, nicely tailored look to your bed pillows, without having all of the fabric hanging off to one side as with traditional pillowcases, and second, that by having the overlapping opening on the side rather than the back, as in a normal pillow sham, I was free to use both sides of the pillow and could flip it if I needed to (which I sometimes do).
Getting into bed the first night, I was impressed both by how the sheets felt against my skin and how cool they felt overall. I'm used to sateen sheets being almost warm to the touch, and even though we had only recently turned the thermostat down, these seemed to be an exception. Though my husband and I did both eventually warm up as we slept, the sheets definitely let us sleep cooler than we often do.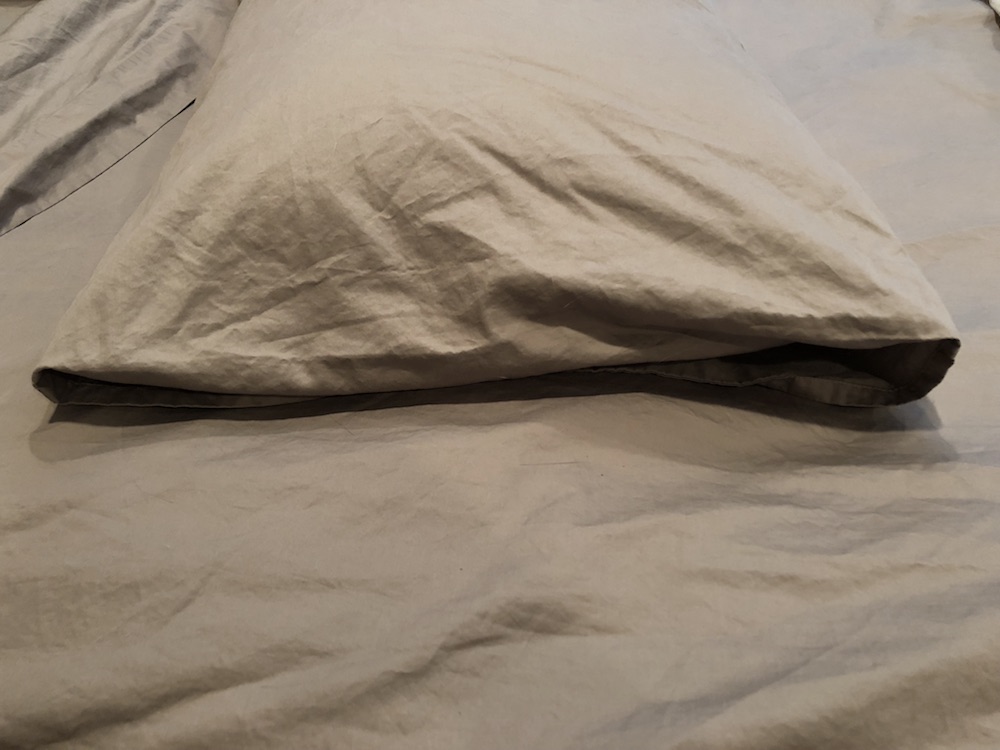 Follow-Up Experience
After giving the Third sheets a second wash and more promptly making the bed after they came out of the dryer, I was able to confirm my suspicion that they'd be a lot less wrinkly. Not completely wrinkle-free, but certainly visibly less wrinkled.
There wasn't much of a difference in the feel of the Third sheets between my first trial with them and the second—which, with sateen sheets, is a good thing. Cheaper sateen sheets can lose their luster or start to pill quickly after laundering because the fabric may be coated to make it look and feel soft and that coating washes away, or because fillers and multi-ply yarns used to bump up the thread count an start to unravel or poke through the weave.
I still wish the flat sheet was cut a little more generously so I could achieve a hotel-style tuck, but otherwise, found the second go-round sleeping on Third's bedsheets was just as comfortable (if sometimes also as warm) as the first.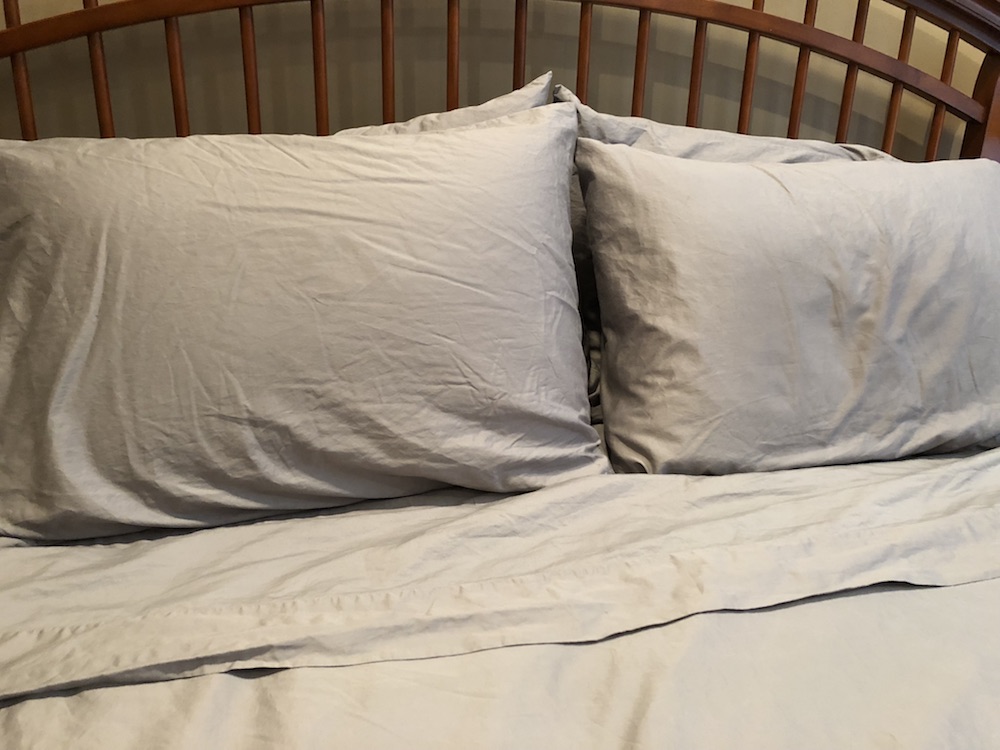 Essential Information
Caring for the sheets: Third recommends washing its linens with warm water and drying on low. Its FAQs also recommend hanging its sheets to dry to get the most wrinkle-free sheets possible without having to iron, but I don't know many people who have the kind of space (or patience) it would take to line-dry a sheet set.
The wrinkle factor: Third sheets are sateen, but they're still 100% cotton, so some wrinkling is to be expected. Making the bed promptly after removing the sheets from the dryer makes a big difference.
Comfort from night one: I fell right to sleep, and slept comfortably through the night, the first time I tried Third's sheets.
Comfort over several consecutive nights: The pillowcases and fitted sheet both stayed in place over the course of several consecutive nights, which isn't true of all brands. I did have a few nights in the sheet where I was sleeping warm and had to switch on the ceiling fan, but once I cooled down, got comfy again very quickly.
Changes with repeated washes: I didn't notice any significant changes between the first wash and the second, but Third's FAQ states that the sheets should soften over time. They're very soft to begin with, though, so the bigger priority for me would be making sure the integrity of the materials is unchanged. Because Third uses a long-staple combed cotton for its sheets, they should, in theory, stay intact over multiple wash cycles.
Overall comfort: Third's sheets are luxuriously soft and feel great against the skin. If they soften over time as promised, they'll only get more comfortable.
Good for "hot sleepers"? Third sheets are soft and very comfortable to lay on/in, and they seemed to me to be a little cooler than other sateen sheets. But if you're a warm sleeper like me, you'll have to keep your room on the cooler side to completely avoid sweating
Value: Although Third's sheet set will set you back more than a set of sheets from a big box store, they're something of a bargain compared with other direct-to-consumer luxury percale sheets.
Company Profile
Taking its name from the fact that humans spend about a third of their lives in bed, UK-based Third is committed to providing high-quality, affordable, and eco-friendly bedsheets to consumers. Confused as to why department stores charged so much for sheets that weren't always even that high in quality, Third offers an alternative to consumers with high expectations and limited resources. A new entrant to the luxury bedding market, Third's product offerings are currently limited to sheets and duvet covers in a sateen weave.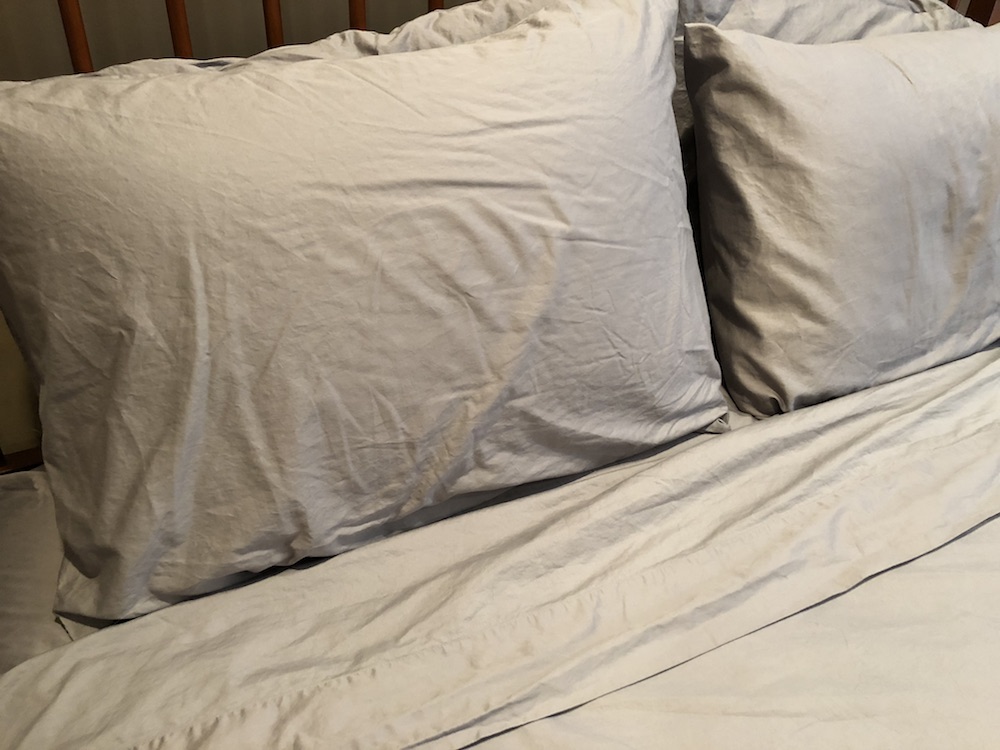 Third Sheet Set Overview
Price: $130 (twin) – $165 (king) as of February 2018
Discount: Use the coupon code SLEEPOPOLIS to save 10%
Material: 100% hand-picked, long-staple, combed cotton
Thread count: 500
Weave: Sateen
Colors available: Leesa x Third (white); Stone (dark grey); Midnight (blue). Duvet sets have additional options for color mixing and patterns.
Included in the set: One fitted sheet, one flat sheet, two pillowcases. Two additional pillowcases can be added to any set at the time of purchase for an additional $5-10.
Extras available: Sheet sets may be ordered with either two or four pillowcases, in either standard or king size.
Care instructions: Machine wash warm. Tumble dry low, or line-dry. Iron on medium if desired.
Return policy: Third offers a 75-day risk-free trial in its sheets. Returns may be coordinated directly with Third's customer service team.
Manufactured in: Israel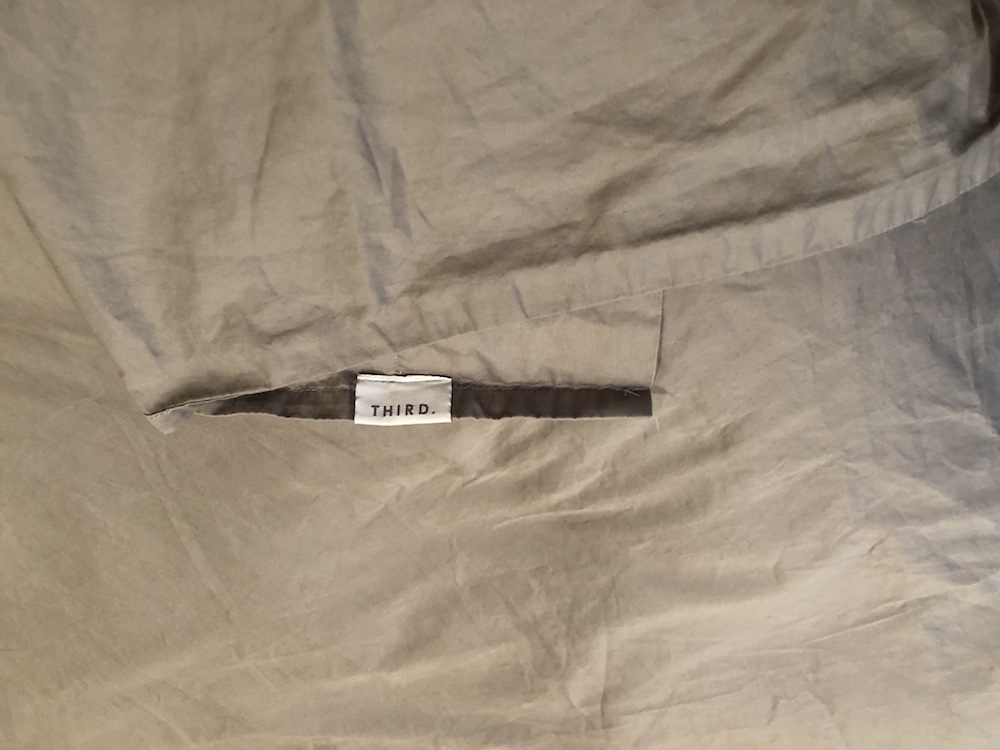 Final Thoughts
Third's sheets are as comfortable as they are pretty, with a thoughtful pillowcase design and a fitted sheet that doesn't shift overnight when you do. I wish the flat sheet were cut more generously, but at this point I'm used to not being able to tuck my bed sheets in on the sides. If you want luxurious bed linens that are both low-maintenance (despite the line-dry recommendation) and low-price, Third sheets might be for you.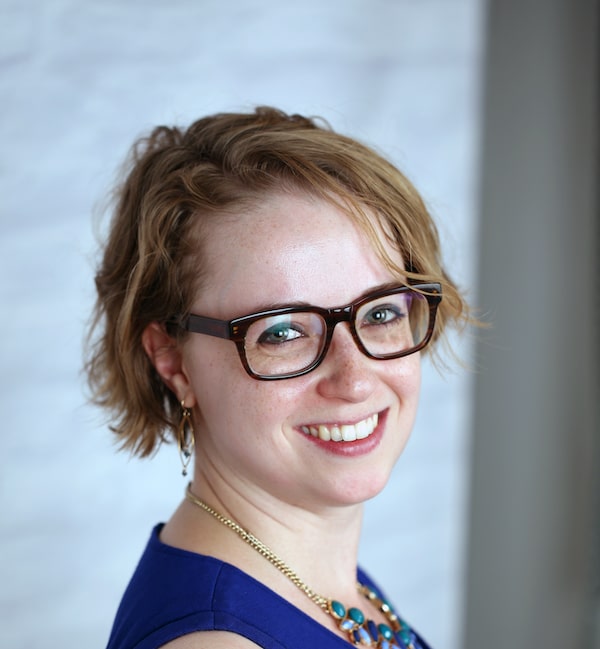 Jillian Ashley Blair Ivey
Jillian Ashley Blair Ivey is a Philadelphia-based writer, editor, and communications strategist. She has a BA in English from the University of Pennsylvania, an MFA in Creative Writing from Rutgers, The State University of New Jersey at Camden, and has published under her own byline at publications including DAME Magazine and The Frisky.