Fitbit is a company that aims to help "empower and inspire you to live a healthier, more active life." They've been around for about 15 years and have developed a wide variety of products in that time, including several sleep, health, and fitness trackers. I remember having one of the very first Fitbits ten years ago, which was a small device you clipped onto yourself to track your steps, calories burned, and distance traveled. (Fun fact, they still sell them!) So I was really excited to test out one of the newer Fitbits, the Fitbit Inspire 3. It's a competitively priced, sleek tracker that analyzes your sleep, health, and fitness.
Will it deliver the same fond memories as my first Fitbit tracker from a decade ago? How in-depth is its sleep tracking? And who would like this tracker the most? I plan to answer these questions and more in this Fitbit Inspire 3 tracker review. Keep reading for my full review or skip down to my summary if you're in a hurry.
Note: Although sleep trackers may help you notice specific patterns or pinpoint behaviors you'd like to change, they shouldn't take the place of a doctor or medical professional for advice, guidance, or help.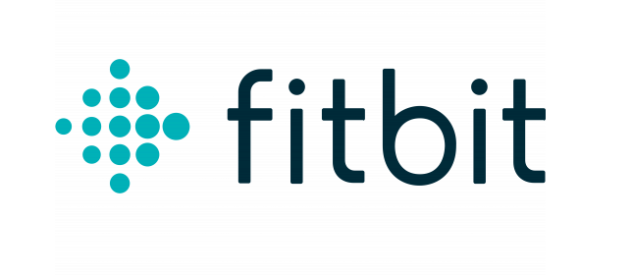 The Fitbit Inspire 3 is a wearable sleep, health, and fitness tracker that helps you boost your energy, get deeper sleep, and feel your best.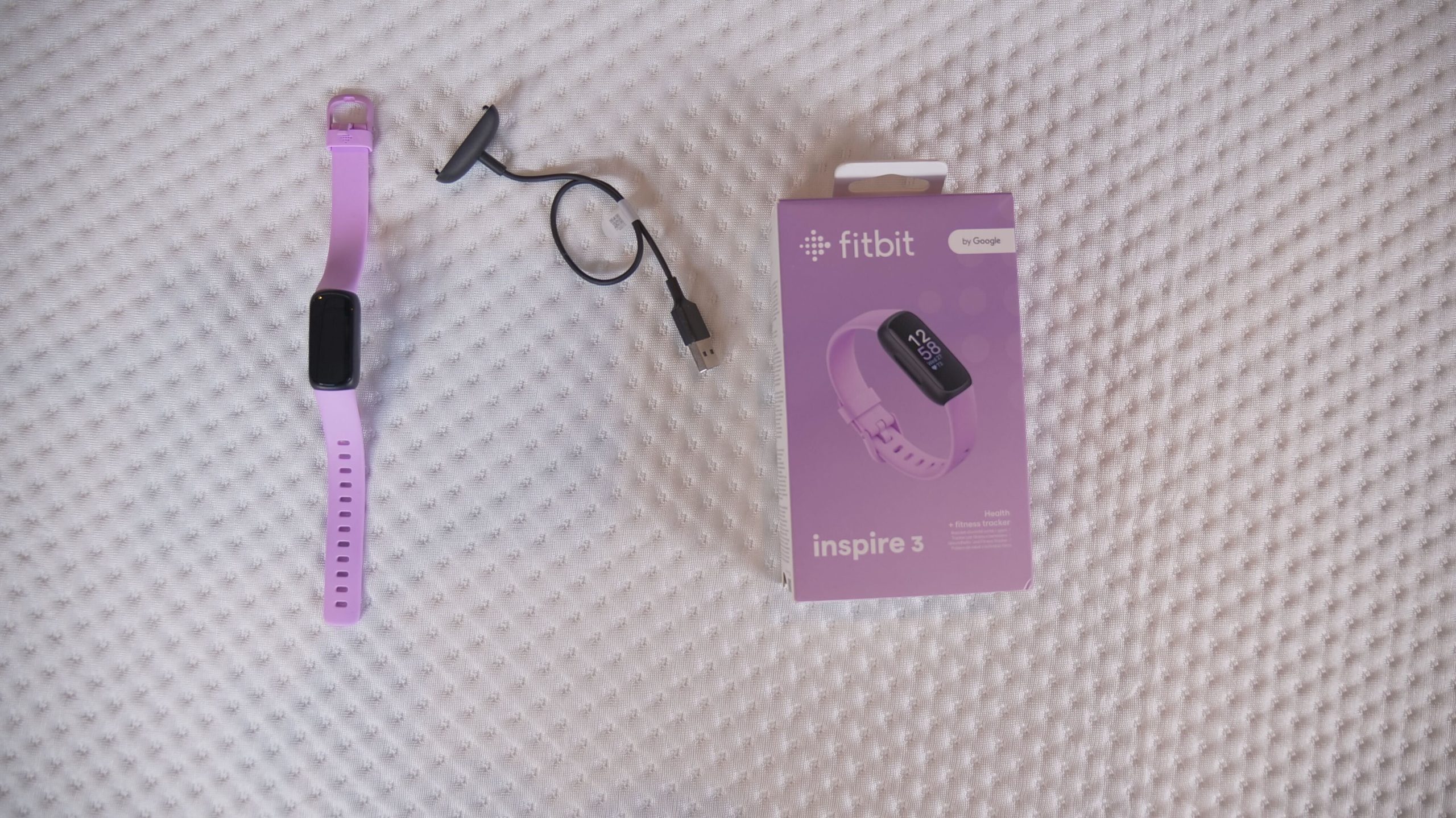 Is the Fitbit Right For You?
Before we fully dive in, I want to offer a quick overview of who I think would and would not like the Fitbit Inspire 3.
Who Should Try Fitbit
People wanting to improve their sleep and health patterns

should enjoy the Fitbit Inspire 3 and the different components it analyzes.

Anyone wanting a tracker that doubles as a comfortable watch

should enjoy this device. It has a slim, lightweight design and comes in three different colors.

Budget shoppers

should appreciate the affordable price tag on this sleep tracker.
Who Should Not Try Fitbit
If you think you could become overwhelmed or stressed by tracking your sleep data

and begin obsessing over it (what sleep experts are calling

orthosomnia

), I don't think this Fitbit — or any sleep tracker — would be a healthy option for you.

If you're looking for a more advanced smartwatch,

like one that resembles an Apple Watch, the Fitbit Inspire 3 may be too limited for you with what it displays. It also has a slimmer watch face than other options out there. Fitbit sells other smartwatches that may be better options, like the Fitbit Sense, Google Pixel Watch, and Fitbit Versa.

Although this is one of Fitbits more affordable tracking options,

if you want access to more in-depth sleep tracking and personal insights,

you'll have to pay a monthly fee for a Fitbit Premium membership after buying the device. I'll cover this more later.
How To Use The Fitbit
Your Fitbit Inspire 3 will arrive in a box with a charging cable and instruction manual. It has a color touchscreen and silicone bands. Let's go over what you do after you get your tracker.
Setting It Up
I thought this Fitbit was easy-breezy to set up. The device arrived partially charged, but I charged it more while downloading the Fitbit app on my phone. To charge it, you simply plug its charging cable into a USB outlet and then click the device on top of it. It displays its battery percentage on its screen. Once you have the app, you can create an account with your email, username, and basic information. Your phone can connect to the tracker via bluetooth and they'll sync together. You can choose from the variety of clock faces in the Fitbit app to display on your wearable tracker. Then, you're ready to go!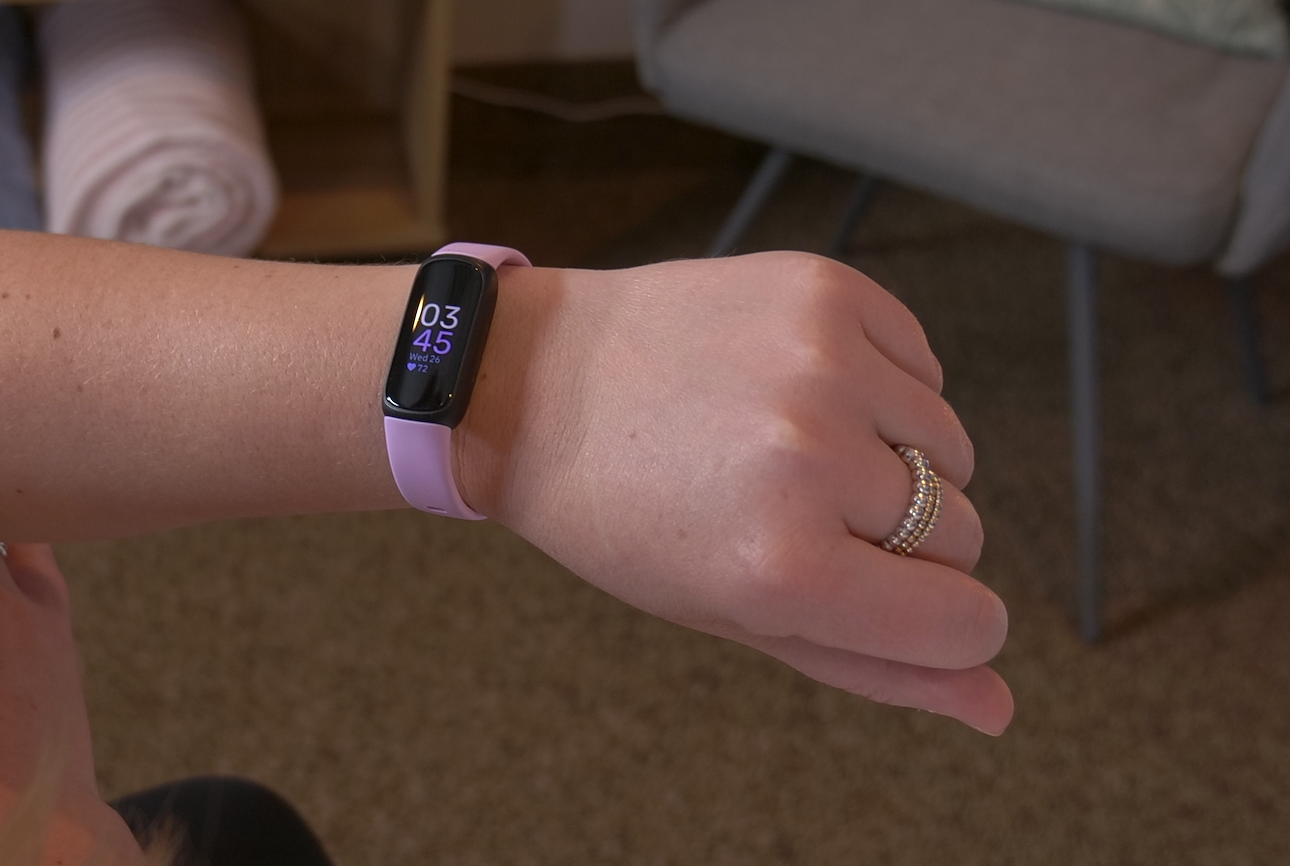 Battery Life
One of my favorite things about this tracker is its impressive battery life. Fitbit says it has up to a 10-day battery life, but it actually lasted a few days longer than that for me without needing a charge. It takes one to two hours to fully charge.
How to Use
Once everything's charged up and downloaded, you can select what you'd like to track and what notifications you'd like to receive. Then you simply wear the tracker throughout the day and night to get your data. You can look at your sleep health and wellness information on the app and then also see a decent amount on the tracker itself.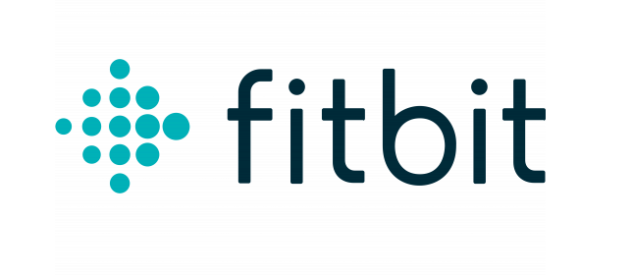 The Fitbit Inspire 3 is a wearable sleep, health, and fitness tracker that helps you boost your energy, get deeper sleep, and feel your best. 
What the Fitbit Tracks
On the just the wearable tracker, you can see the following if you scroll through the watch face and color display:
Time, date, heart rate (current and resting), steps, distance traveled, calories burned, hourly activity,

sleep duration

, sleep score, blood oxygen level (SpO2) percentage, menstrual cycle, exercise progress

Notifications (synced from your calls, texts, and apps)

Exercises/workouts you can start and stop

Relaxation/Guided breathing

Alarms and timers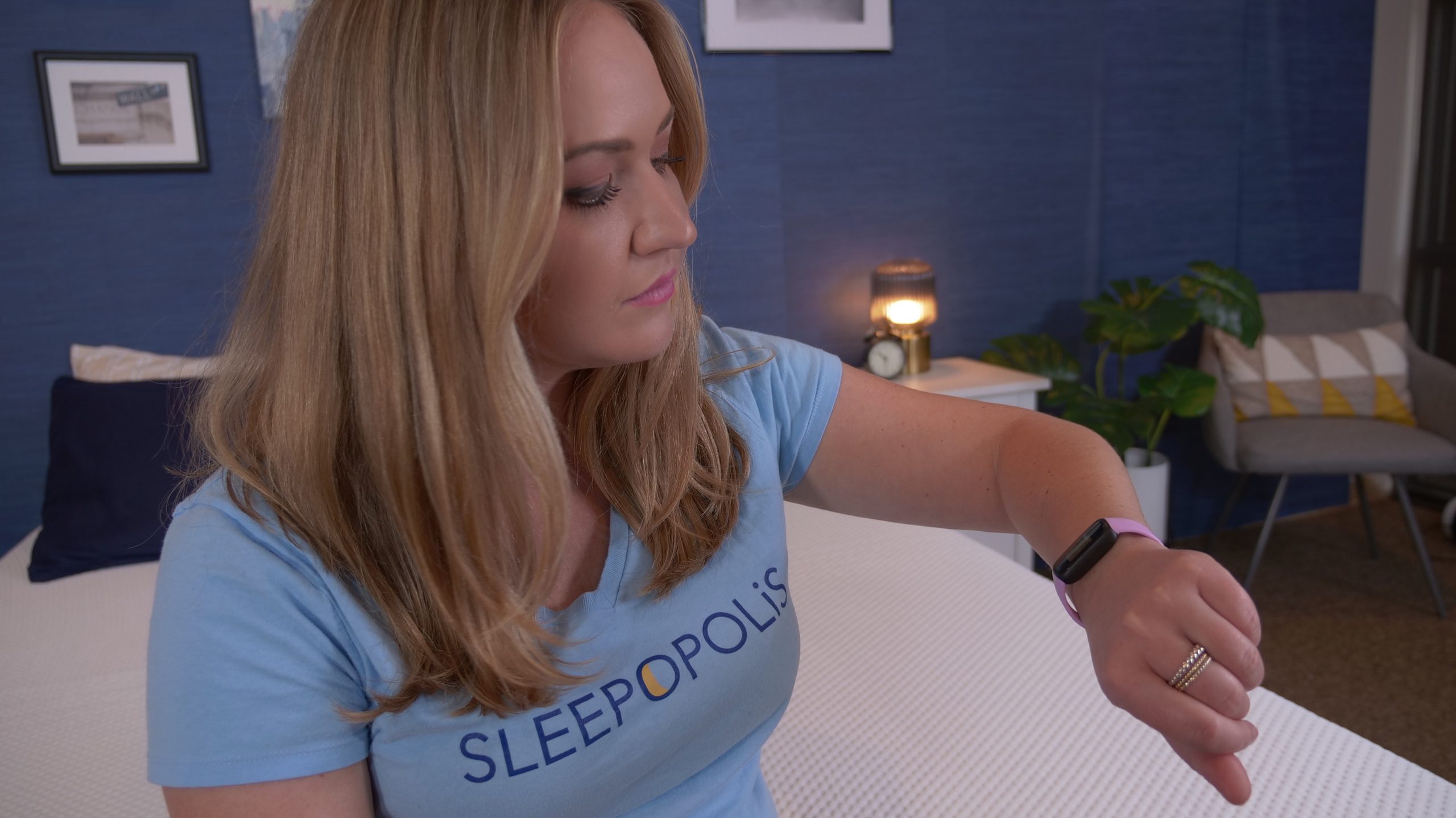 When you look in the app, you can see more in-depth data. Fitbit tracks the following components, but you'll want to make sure some of them are turned on for tracking in the app.
Sleep
Bedtime and wake time

Sleep stages

and duration in each (light, deep, and REM sleep)

Overall duration of sleep

Daily sleep score out of 100

30-day average sleep

Estimated oxygen saturation (SpO2) variation while sleeping (high variations can be linked to breathing issues)

Breathing rate

Heart rate variability (HRV) and resting heart rate

Skin temperature

How your scores compare to others your age and sex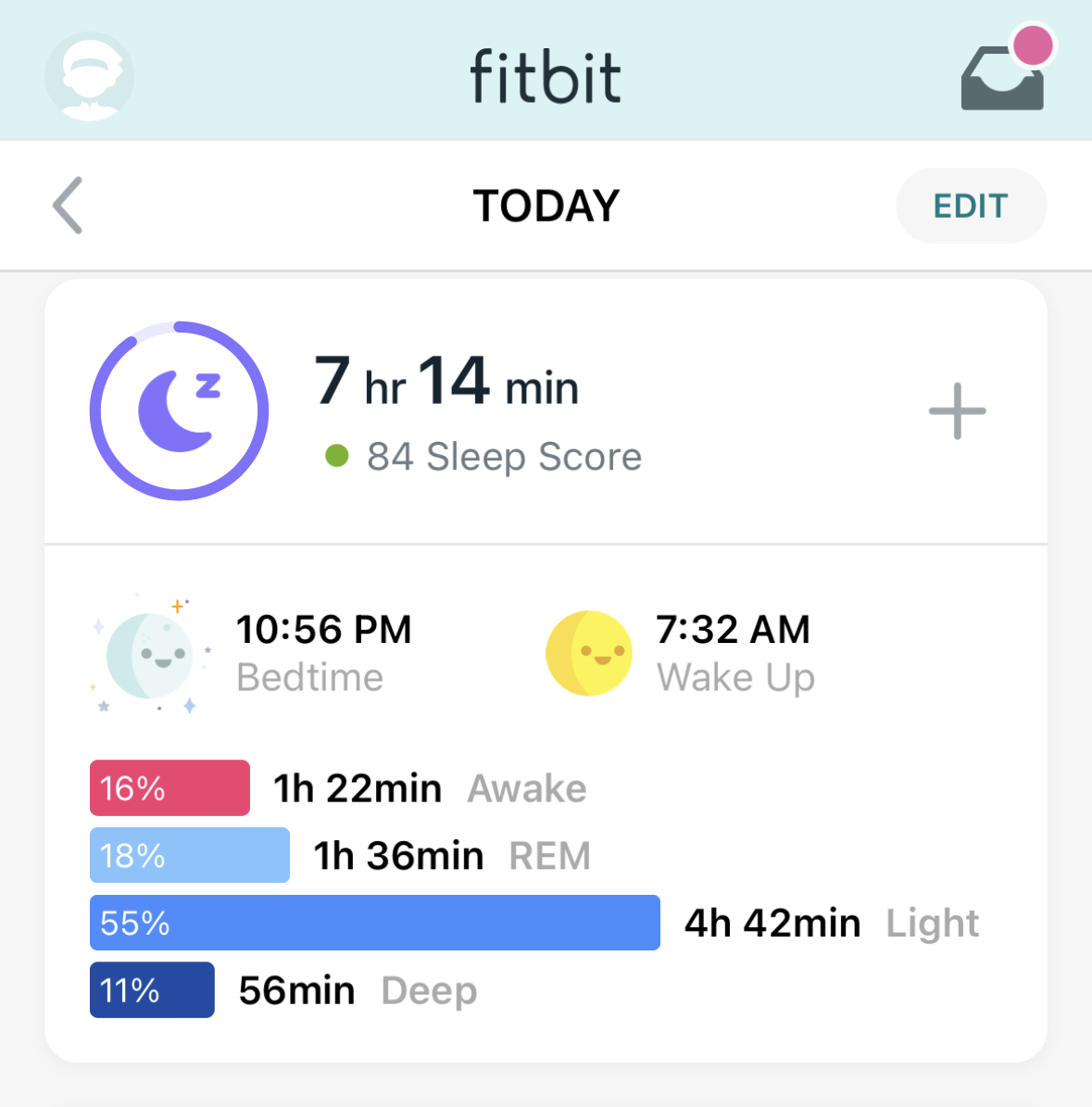 Health
Active zone minutes, steps, miles, and calories burned

Weekly exercise tracking

Average resting heart rate

Stress management (you can log daily scores of your stress levels)

Menstrual cycle

Food and water log

Weight log

Blood glucose tracking

Connected GPS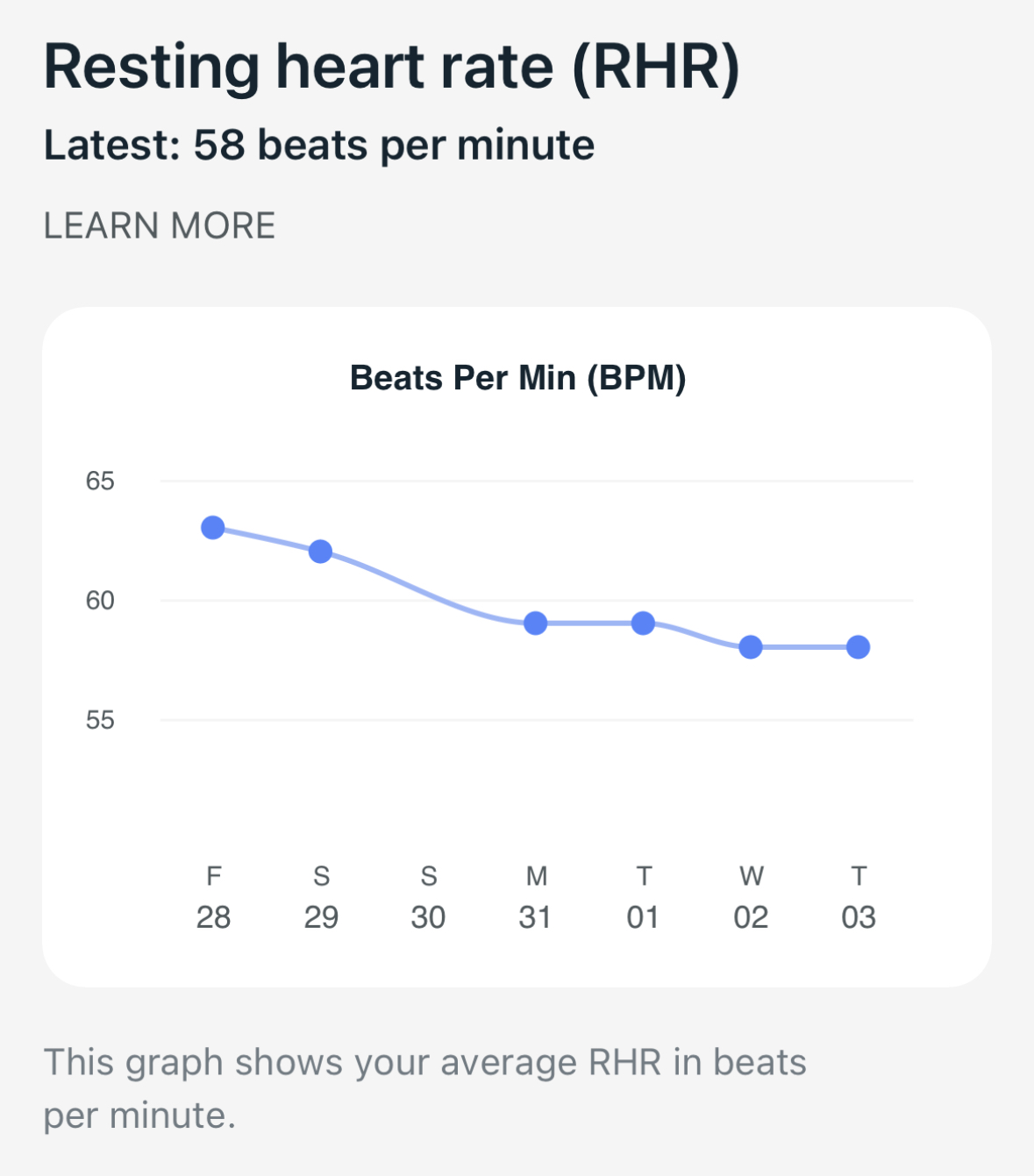 Other
Guided programs to help incorporate better habits or stop poor ones (these can be for sleep, daily health, and fitness)

Example: There's a guided program of habits for restful sleep, which is a guided 2-week program where you can focus on your habits during the day to help your rest at night

You can focus on habits to help you fall asleep faster, feel more rested, stay asleep longer, improve your sleep quality, and more.

Fitbit will recommend you quit certain habits, like a nap too late in the day, and incorporate new habits, like getting 15 minutes of sunlight

Community: There's an option to connect with your friends on Fitbit through the app and cheer them on or compete with each other's goals
As mentioned earlier, if you'd like to see more in-depth information about your sleep and health patterns, you have to get a Fitbit Premium membership. Here's the additional information and resources you'll get with that membership.
Fitbit Premium – Sleep
A detailed sleep score breakdown

Added details for time asleep and restoration

Sleeping Heart Rate

Restlessness (how much you toss and turn during the night)

Skin temperature variation trends while sleeping

Snoring

and noise detection
Fitbit Premium – Health
Daily readiness score and whether your body's ready to work out or needs more time to recover

Stress management score breakdown

90-day health metrics trends

30-day blood glucose level trends
Fitbit Premium – Other
Access to hundreds of videos

200+ mindfulness videos: guided meditation and relaxation videos

Recipe videos

A variety of 200+ video workout classes, from 10-minute arm workouts to 43-minute martial arts cardio.

Sleep profile where you receive a personalized analysis of your sleep every month
Price
The Fitbit Inspire 3 costs $99.95 at full retail from the Fitbit store and on Amazon, which makes it one of the most affordable tracker options on the market. The Fitbit app is free to download. However, if you want the Fitbit Premium subscription to get access to more data and resources, it's $9.99 a month or $79.99 a year. Fitbit often runs promotions to get free months of the Premium membership to test it out. You can currently add a Premium membership for six months for free while checking out online.
The Inspire 3 comes in three different colors: Midnight Zen (black), Lilac Bliss (black and pink), and Morning Glow (black and orange). I tested the Lilac Bliss. Fitbit also sells other bands in different materials and colors you can purchase.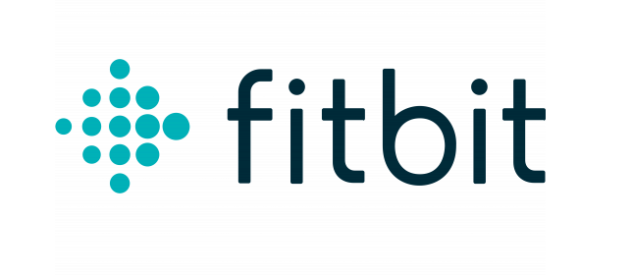 The Fitbit Inspire 3 is a wearable sleep, health, and fitness tracker that helps you boost your energy, get deeper sleep, and feel your best.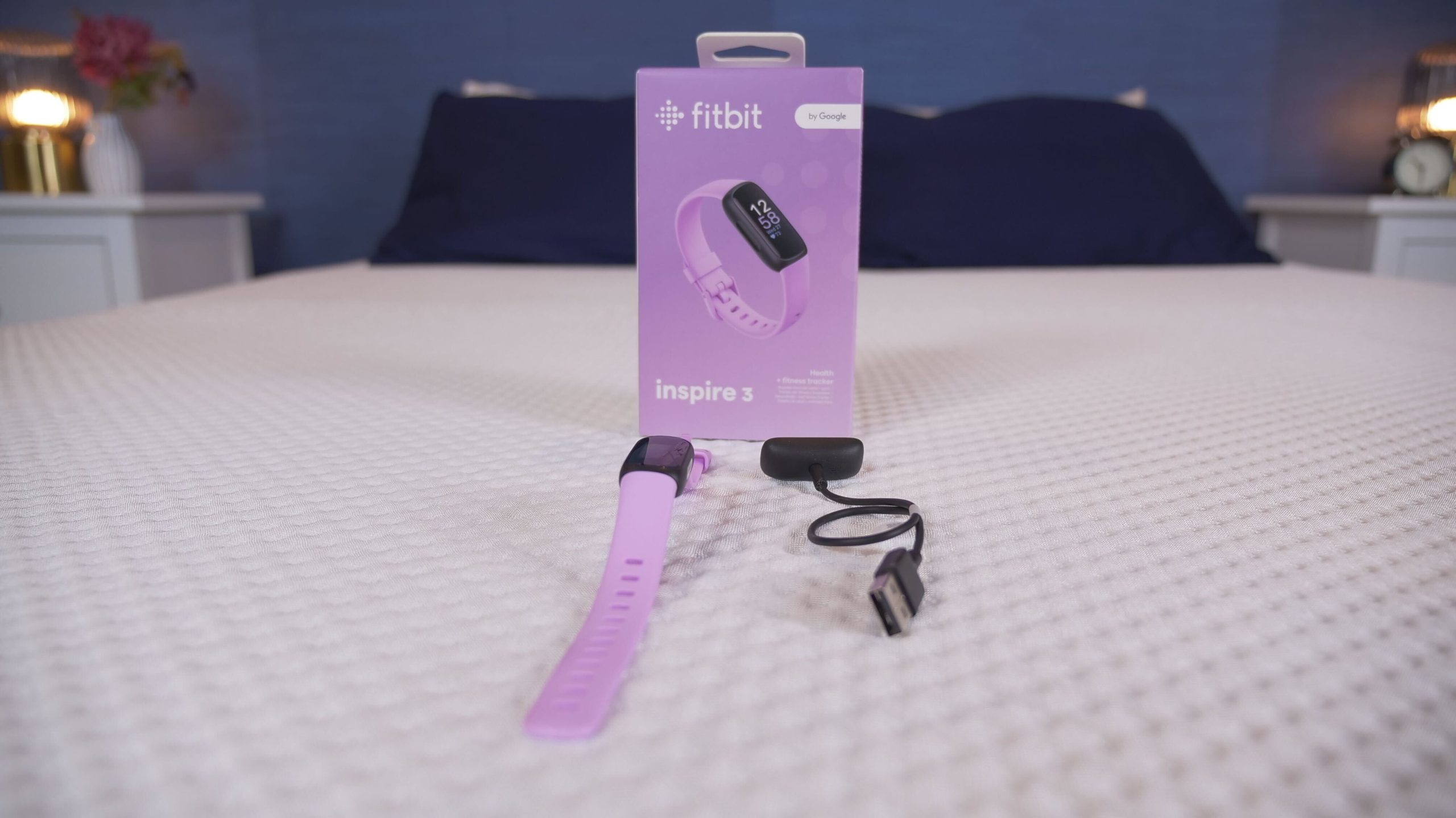 My Experience Using the Fitbit
I instantly liked the Fitbit Inspire 3's simple design and comfortable band. I thought it was easy to set the tracker up, download the app, and get everything synced. Although it's not one of the most advanced smartwatches available, I was still impressed with the information I could view on the tracker itself. For sleep, the wearable device shows how many hours you got the night before and your current sleep score. I like how it also shows many other components, like the date, time, your steps, and your notifications, because that allows it to be more versatile with its wear and serve multiple purposes.
Navigating the Fitbit app was pretty straightforward to me. I like how it breaks down your sleep in one section and then you can click on that section to get more details and see how you've slept through the week. It's never been a secret to me that I struggle with going to bed when I should, but seeing my different bedtimes all next to each other in a week was really eye opening for just how inconsistent I can be.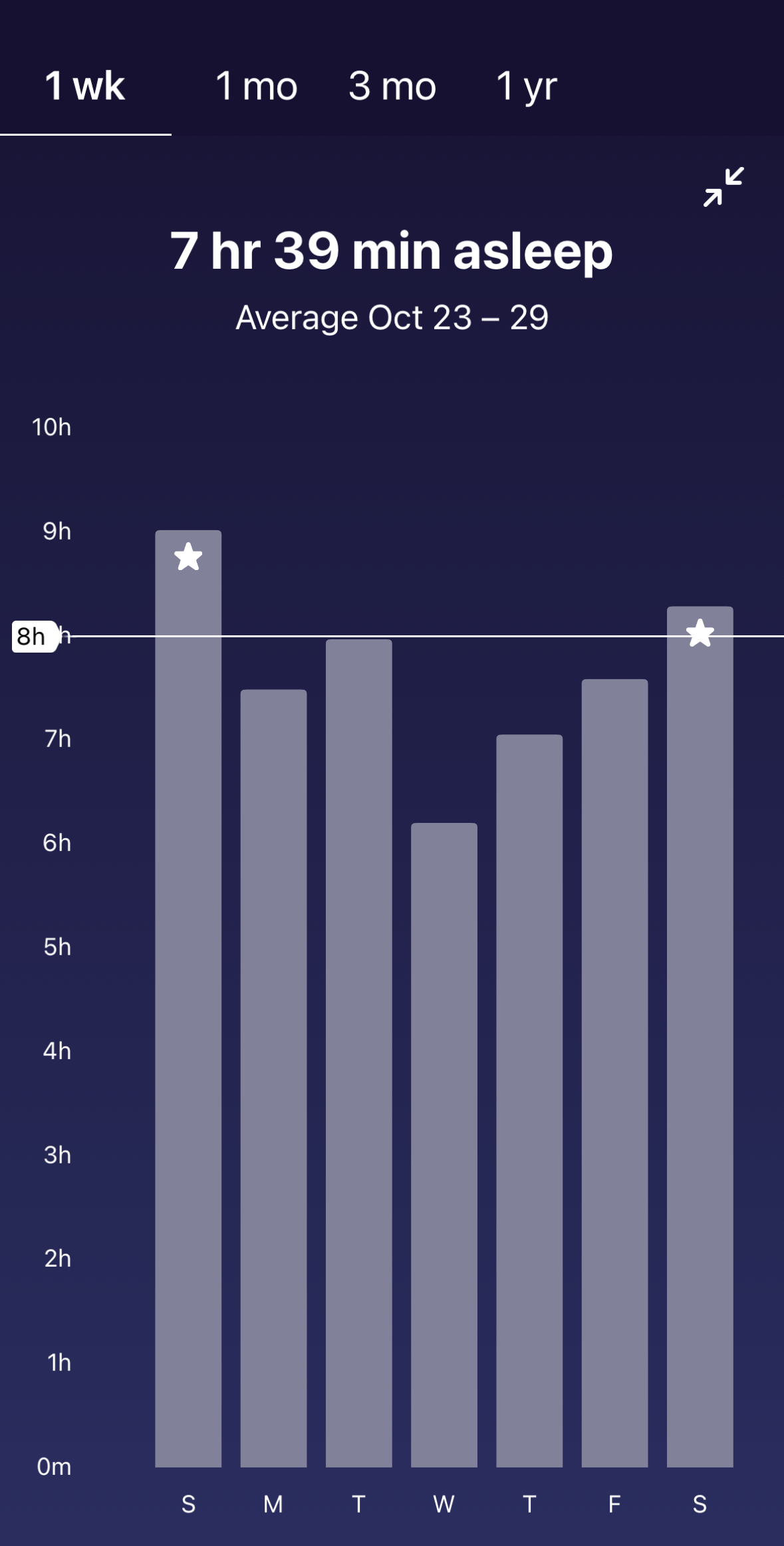 It was really helpful for me to see a chart of my sleep scores and how they varied throughout the week. It made the information easy to digest and allowed me to tie my lower sleep scores to days where I had early appointments or stayed up too late watching TV. One morning I had to wake up around 4 a.m. to bring my friend to the airport (the things we do for our friends) and I went right back to bed when I got home. I thought it was interesting how Fitbit split that day into two sleep scores for me and recognized the time I went to the airport and back as being fully awake in between them.
I also appreciate the health and fitness tracking the Fitbit offers. Being able to see your heart rate, body temperature, and breathing patterns could be beneficial to a lot of people, and could even help uncover underlying issues. I also believe fitness can be connected to how well you sleep, so I liked how Fitbit would show my steps and other fitness progressions. I set the tracker to vibrate to remind me to get up and move around through the day, which I enjoyed. I also appreciate the access to the different guided programs, like incorporating better daily habits for your sleep. This is a great way to be nudged to improve and to hold yourself accountable. Fitbit sends you badges and rewarding messages for achievements too, which was really fun. Overall, I think this tracker offers a lot for its affordable price — including an impressive battery life.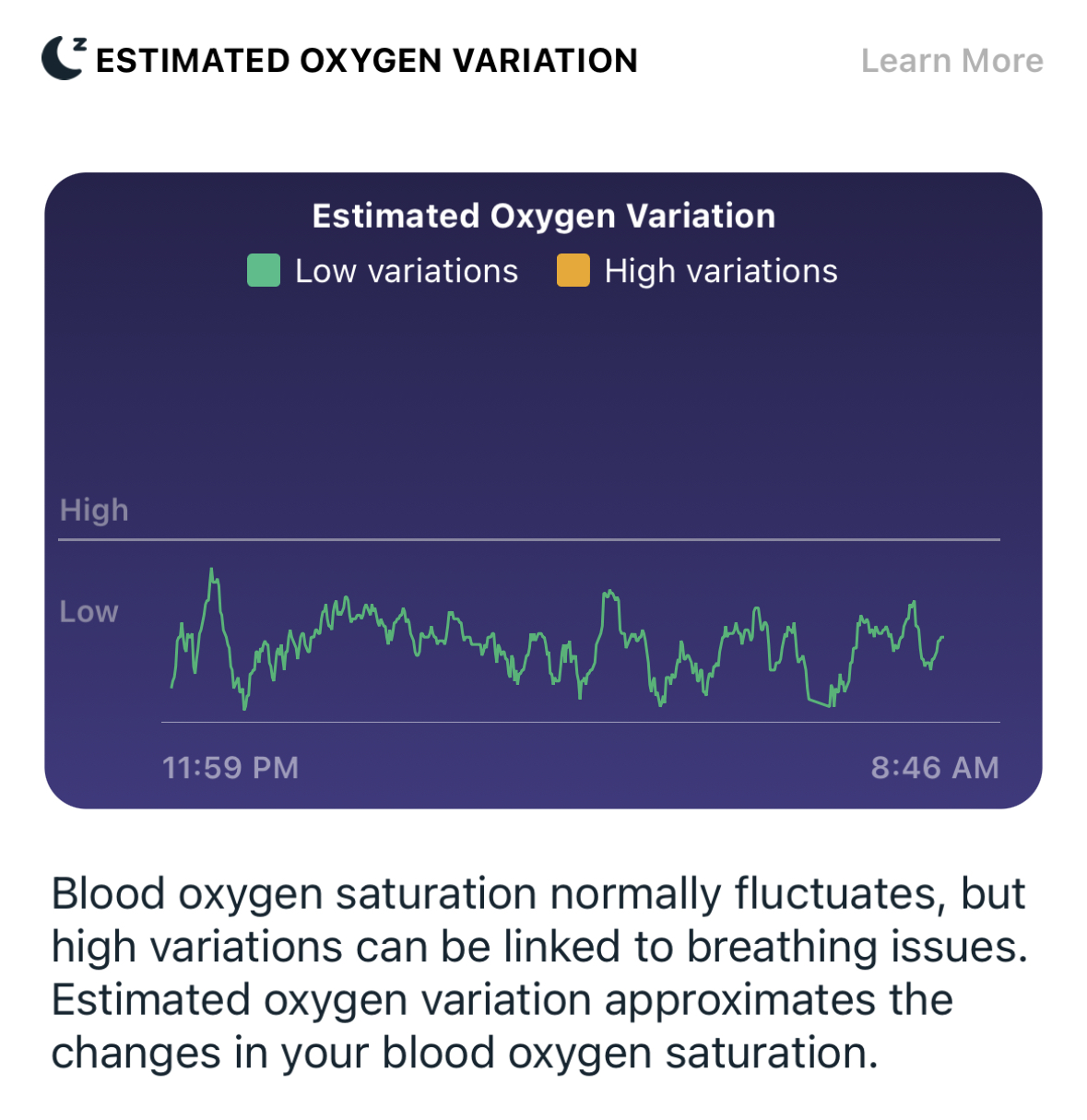 However, if you want to access more in-depth, personalized sleep and health data, you need to pay a monthly membership. I don't think this is necessary for a lot of people wanting to track the basics. However, I do think the membership could be worth it due to the other resources it includes. Along with deeper and more personalized tracking, there are hundreds of workout, meditation, and recipe videos that come with the membership. It really depends on what you'd like to get out of it. If you think tracking your sleep could become too stressful or lead to orthosomnia, I always recommend avoiding sleep trackers altogether.
Policies and FAQ
Is there a trial or warranty with the Fitbit Inspire 3?
Fitbit offers a 45-day money back guarantee and a one-year warranty.
Is it waterproof?
The Fitbit Inspire 3 is water-resistant up to 50 meters, so you can wear it in the pool and shower. However, the brand recommends letting it dry off after. There's also a water lock setting on the Inspire 3 to prevent the screens and buttons on the tracker from activating.
What is the Fitbit app compatible with?
It's compatible with most phones, including iPhones, Androids, and Samsungs. They need to be operating with Apple iOS 14 and higher, Android OS 8 and higher or Windows 10 version 1607.0 and higher.
How much memory does the Fitbit app have?
It saves detailed data for seven days and then daily totals for 30 days.
What's the difference between the Fitbit Inspire 3 and the Fitbit Inspire 2?
The Inspire 3 has an updated always-on display with a colored AMOLED screen and a new design overall, along with a better battery life. It also has added red and infrared sensors for SpO2 (blood oxygen) tracking. The Inspire 2 has a monochrome design, while the Inspire 3 has a color screen.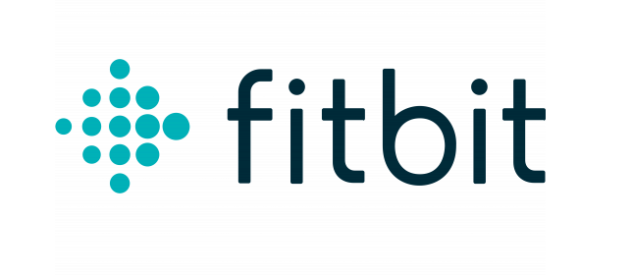 The Fitbit Inspire 3 is a wearable sleep, health, and fitness tracker that helps you boost your energy, get deeper sleep, and feel your best. 
Fitbit Vs.
Now that we've covered the Fitbit Inspire 3, let's compare it to another popular sleep, health, and activity tracker, the Oura.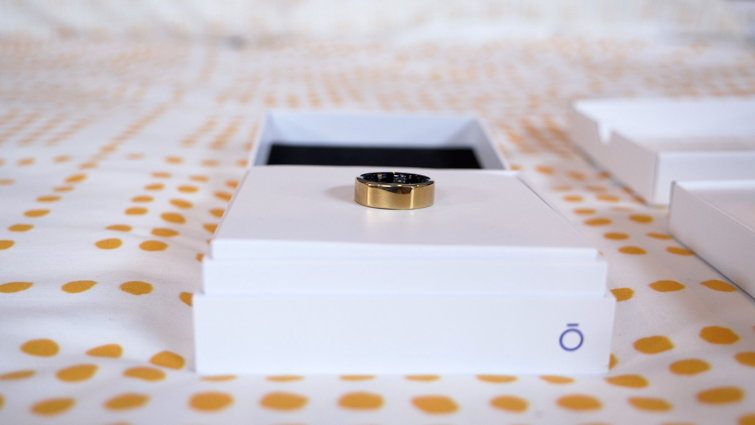 Oura
The Oura Generation 3 Ring is a tracker that you wear on your finger.

It's really all-encompassing with what it tracks. It has heart rate monitoring, health tracking, activity tracking, respiratory rate monitoring, temperature sensors, and more.

Both trackers have similar battery lives.

The Oura Ring starts at $299 and requires a monthly membership fee to see detailed tracking information.

Read our full

Oura Ring review

for more information.
Oura Ring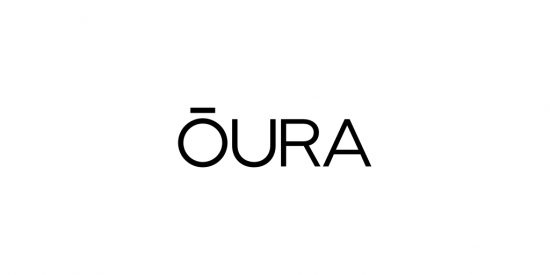 The Oura Ring is a wearable sleep and fitness tracker. Along with having a sleek ring look, it's all-encompassing with the data it tracks and resources it offers to help improve your sleep and overall health.