In this review, we're going to take a look at the suite of CBD products from Sunsoil. Made from organically farmed ingredients, these pills, capsules, and oils (oh my!) are designed to embody all the relaxing vibes of CBD. But do they actually, you know, work?
Well that's what we're here to find out. After testing all these products, I'm ready to give you the 411 on how they feel, how strong they are, and whether or not they're worth your money. So, without further ado, let's get into my full review!
Note: The content on Sleepopolis is meant to be informative in nature, but it shouldn't be taken as medical advice, and it shouldn't take the place of medical advice and supervision from a trained professional. Please talk to your healthcare professional before beginning any new supplement routine. If you feel you may be suffering from any sleep disorder or medical condition, please see your healthcare provider immediately.
Brand Snapshot
Based out of Hardwick, VT, Sunsoil uses a "holistic, whole planet approach" to produce CBD products that are as good for the customer as they are for Mother Nature. And how does the brand accomplish this? By putting a special emphasis on ethical pricing, transparent operating procedures, and verifiable third-party lab testing.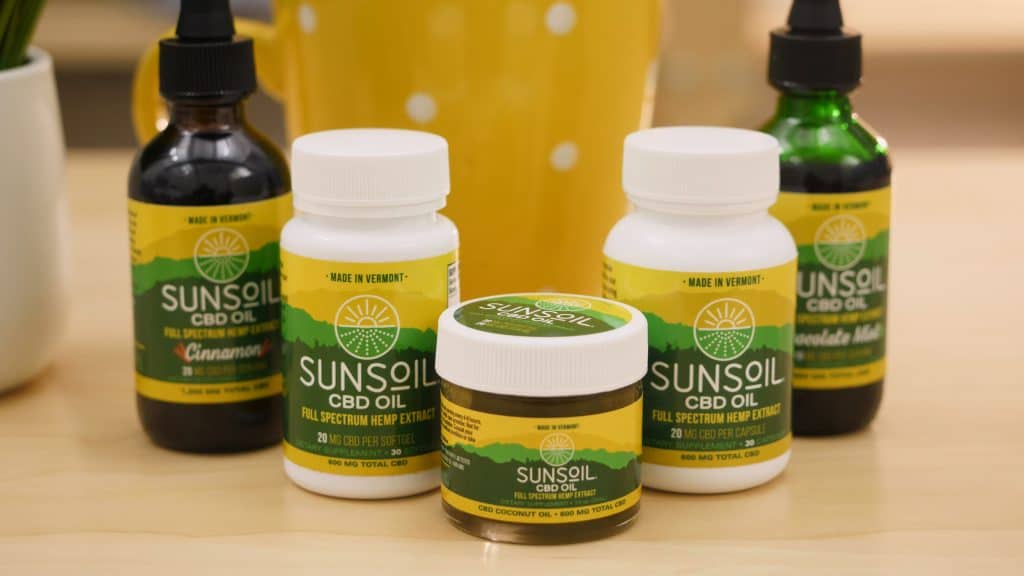 As far as products are concerned, the company sells an array of different CBD goodies, from soft gel pills, to oil tinctures, hard capsules, and CBD-infused coconut oil. While these items differ in physical from, they're all derived from USDA-certified organic hemp that's free of pesticides and GMOs.
Wanna go Full Organic? Check out our Favorite All-Natural Mattresses! 
Ingredients
No matter the Sunsoil product, the main ingredient at play is CBD. CBwho? CBD, silly, or cannabidiol, a natural compound found in the flower of the cannabis plant. Cannabis contains more than a hundred of these different phytocannabinoids (like the popular tetrahydrocannabinol, or THC), so CBD is just one of many cannabis compounds.
But unlike THC, CBD isn't psychoactive. Yes, you heard correctly, CBD does not trigger hallucinations or intoxication. Instead, it creates a cozy sense of calm that many people harness to treat everything from loss of appetite to joint pain, anxiety, and even poor sleep. I should also mention that it's totally legal to purchase and consume hemp-derived CBD in all 50 states.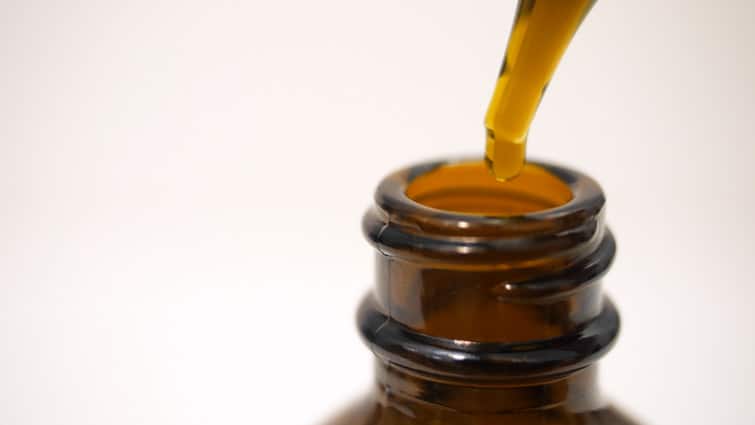 There hasn't been too much research done into the side effects of CBD, but the studies that do exist support is as a safe and well-tolerated compound. A comprehensive survey conducted in 2011, which aggregated results from numerous studies, showed CBD to be non-toxic, and safe in doses up to 1500 milligrams per day. (1) A 2017 study which sought to add new data to that survey further found that not only was CBD safe for chronic, long-term use, but that it had a better side effect profile than other drugs when treating certain medical conditions, like epilepsy or psychotic disorders. (2)
Though I tested out all the different products Sunsoil sent over, I found the oil tinctures to be the most effective for me, so that's what I'm going to focus on in this review. But, if you don't like the idea of taking oil, remember there are capsules and soft gel pills available as well.
Speaking of which, let's get into my experience with the Full Spectrum Oil from Sunsoil!
My Experience
The oil comes in either a 600 mg concentration for $30 or a 1200 mg one for $60. A higher concentration leads to more CBD per serving, so an entire dropper of the 600 mg bottle yields 10 mg of active CBD whereas the 1200 mg one has 20 mg.
Which one you go with will depend on your body size and weight and could require some experimentation to find the dosage that's right for you. For reference, I'm 6' tall, 165 lbs., and already pretty familiar with CBD, so I decided that a full dropper of the 1200 mg bottle was the right one for me.
Of course, the best way to figure out your perfect dosage is to speak with a medical professional. I'm not a doctor, so everything shared here is based solely on my personal experience, which I'm going to break down into three categories: Falling Asleep, Staying Asleep, and the Morning After.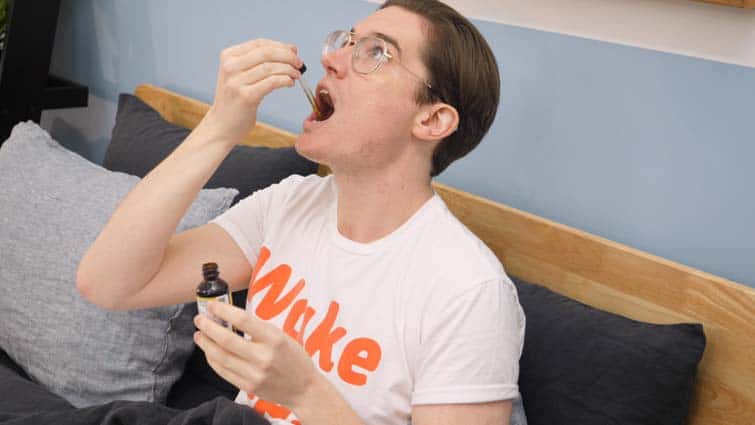 Falling Asleep
One of my biggest nighttime problems is falling asleep. Even if I'm exhausted, I find that as soon as my head hits the pillow, my mind gets flooded with a swirling eddy of thoughts, anxieties, and worries. So, when I'm trying out a new sleep aid, I need to find something that'll quiet all that noise so I can relax enough to get to sleep.
And thankfully, the Full Spectrum Oil from Sunsoil worked pretty darn well! I took a little bit more than a full dropper right before bed and experienced the effects almost immediately. It felt like a full body wave of relaxation rolling across my body, relieving tension at my hips and shoulders and lulling my pesky anxieties into submission.
Staying Asleep
Staying asleep is another huge issue for me, as I usually find it impossible to sustain my slumber over the course of an entire evening. Therefore, it's important for me to find a sleep aid that'll keep me dozing from dusk to dawn.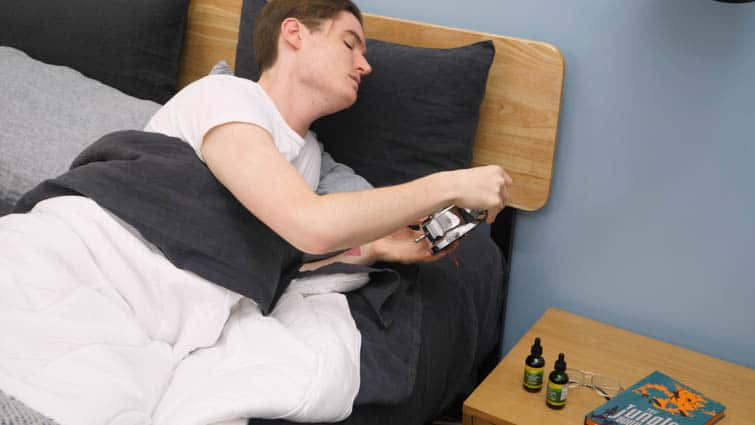 Unfortunately, the oil didn't really fit the bill. Though I was able to fall asleep relatively easily, I found that the effects wore off throughout the night. This isn't that surprising (after all, the oil wasn't specifically designed for sleep), but it could be an important factor for folks to consider if they're looking for a CBD product that'll keep'em snoozing all night long.
The Morning After
And now, the morning after. Usually when I take sleep supplements, I feel super groggy the next day, which can make it difficult to get up and go. But, with the Full Spectrum Oil from Sunsoil, I didn't experience any next day drowsiness at all! I suspect this has to do with the fact that the effects wore off by the middle of the night, but it's still a pro in my book.
Should You Buy the Full Spectrum Oil from Sunsoil?
Well folks, we've arrived at the end of my review of the Full Spectrum CBD Oil from Sunsoil. After going over the Sunsoil brand, digging into research around CBD, and chatting about my experience with the oil, there's only one question left: Is it the right sleep aid for you? Unfortunately, I can't answer that, but I can leave you with a few final thoughts.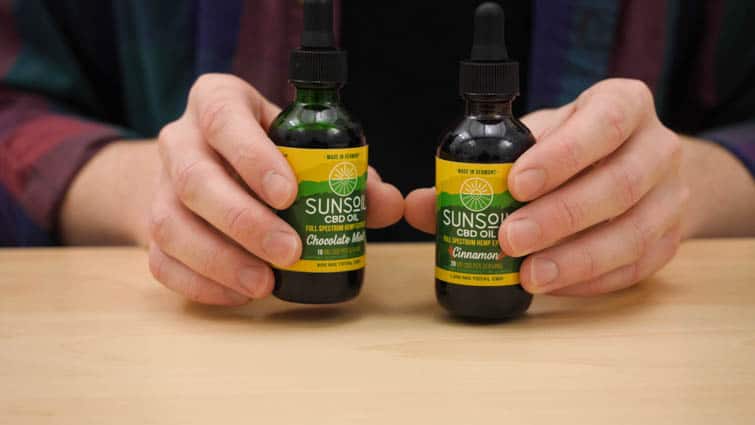 Pros
First and foremost, I thought this oil was excellent at getting me to fall asleep. After taking a full dropper of the stuff, I felt supremely relaxed and cozy.
I also really like that the oil is organic and third-party tested, which could be a big plus for those folks who like to keep things natural.
In my opinion, the CBD oil is also relatively affordable, especially when compared to other CBD products on the market.
Sunsoil's subscription service is a great way to ensure you always have CBD on hand. It's easy to use, shipped directly to you and you get a discount on every order.
Cons
Though the oil was pretty effective at getting me to sleep, it didn't help me to stay asleep throughout the night. This isn't necessarily a comment about this specific product, but rather one about the effects of CBD in general.
I'd also add that I wasn't a big fan of the available flavors (Chocolate Mint and Cinnamon), which are highly specific and may not suit everyone's palate.
And there you have it! You now know everything you need to know about the Sunsoil suite of CBD goodies. For more sleep-related content and resources, make sure to subscribe to the Sleepopolis YouTube channel and check us out on Facebook, Twitter, and Instagram.
References
Bergamaschi, Mateus Machado, et al. "Safety and Side Effects of Cannabidiol, a Cannabis Sativa Constituent." Current Drug Safety, U.S. National Library of Medicine, 1 Sept. 2011.
Iffland, Kerstin, and Franjo Grotenhermen. "An Update on Safety and Side Effects of Cannabidiol: A Review of Clinical Data and Relevant Animal Studies." Cannabis and Cannabinoid Research, Mary Ann Liebert, Inc., Publishers, 1 June 2017.
Cody Gohl
Cody is a former staff editor at Sleepopolis. His work has appeared online for Esquire, Next, LOGO TV, Fandom, Citylife, The Manual, and more.