This week I was introduced to the Baby Shusher: The Sleep Miracle. After subscribing to and using all the tips from "Happiest Baby On The Block" with my first son, I was curious to check out the sound machine for myself. Check out my thoughts on this highly popular newborn sleep tool below.
Looking for a quick read? Click here to jump to the summary.
Baby Shusher: The Sleep Miracle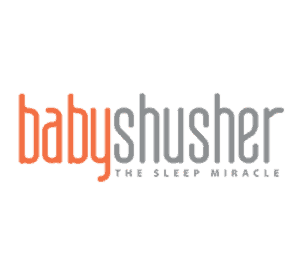 Baby Shusher: The Sleep Miracle
Small, portable, and soothing — the Baby Shusher is designed to calm your little one, wherever you may roam. 
Basics
The Baby Shusher is a small, portable sound inspired by the "shushing" noise parents use to help calm their newborns and put them to sleep. The "shush" is supposed to mimic the sounds of the womb and was one of the "5 S's" described in legendary baby book: "The Happiest Baby On The Block", by Dr. Harvey Karp. For those that are wondering the other "S's" are: swaddle, side, swing and suck (all pertaining to the position, movements and practices that helps soothe newborns, especially fussy ones).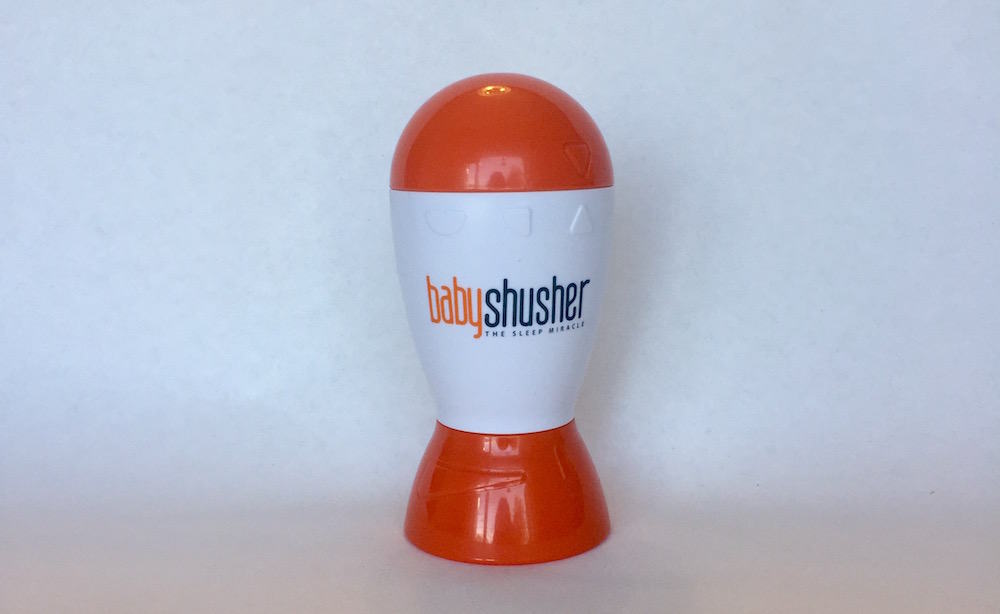 Rattle-like in appearance the Baby Shusher is a portable sound machine that makes the "shush" sound, includes a 15 and 30 minute timer and the two AA batteries required to power it. Also included is a strap for fastening to your wrist, strollers, car seats, travel beds, etc, though not necessary as this option small and easy to move and store.
With only one sound available, the Baby Shusher can be adjusted for volume but does not extend beyond the 30 minute timer in duration.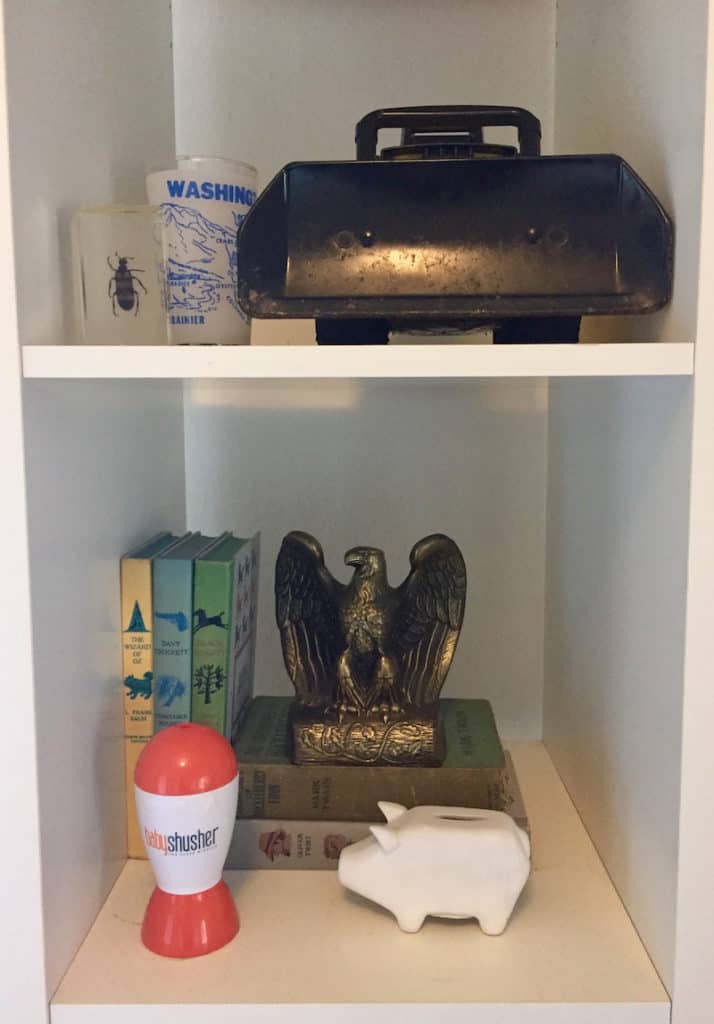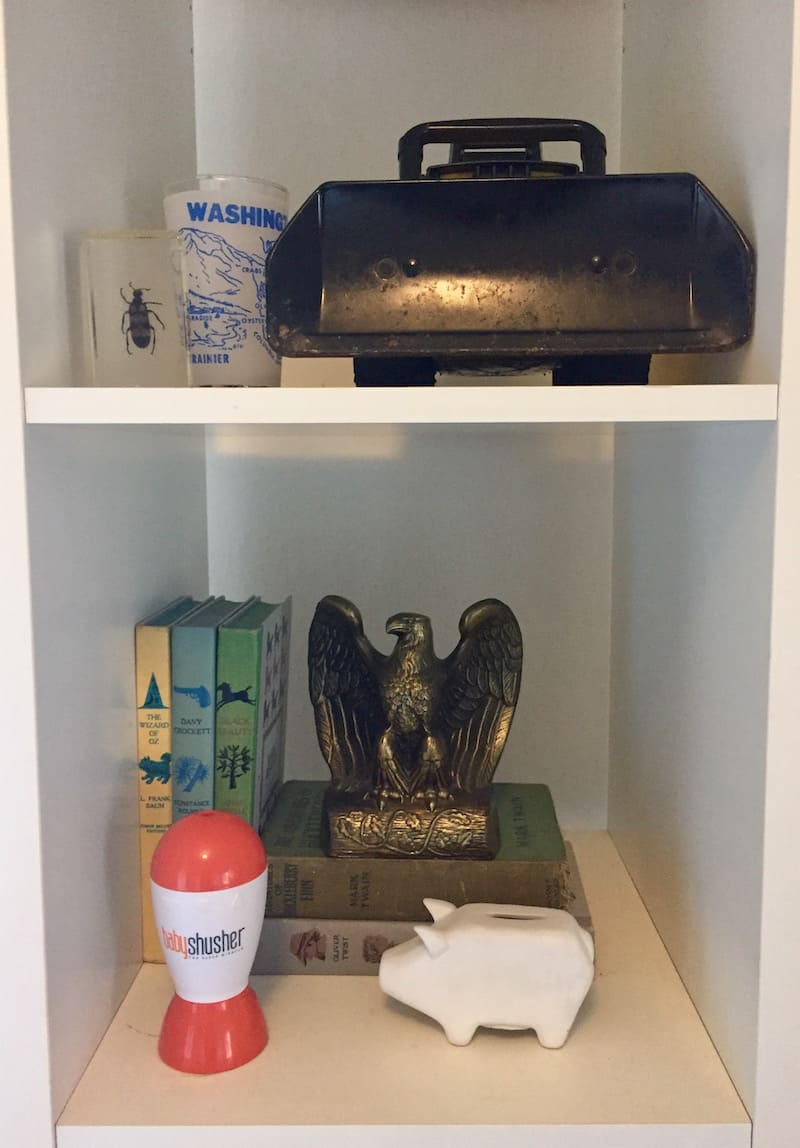 Instructions
Upon first inspection I thought that perhaps it was customary to shake this machine to get it to work, this was mostly due to its small size and again the rattle-like shape. However, the Baby Shusher is almost as simple to use.
Turn the top orange portion of the Baby Shusher to the right to turn on and select your timer, the first point is 15 minutes and the second one is 30. You rotate the bottom of the the machine to adjust the volume (turn to the right to increase and to the left to decrease). To replace the batteries, you unscrew the top of the Baby Shusher, unscrew and switch out the old for the new.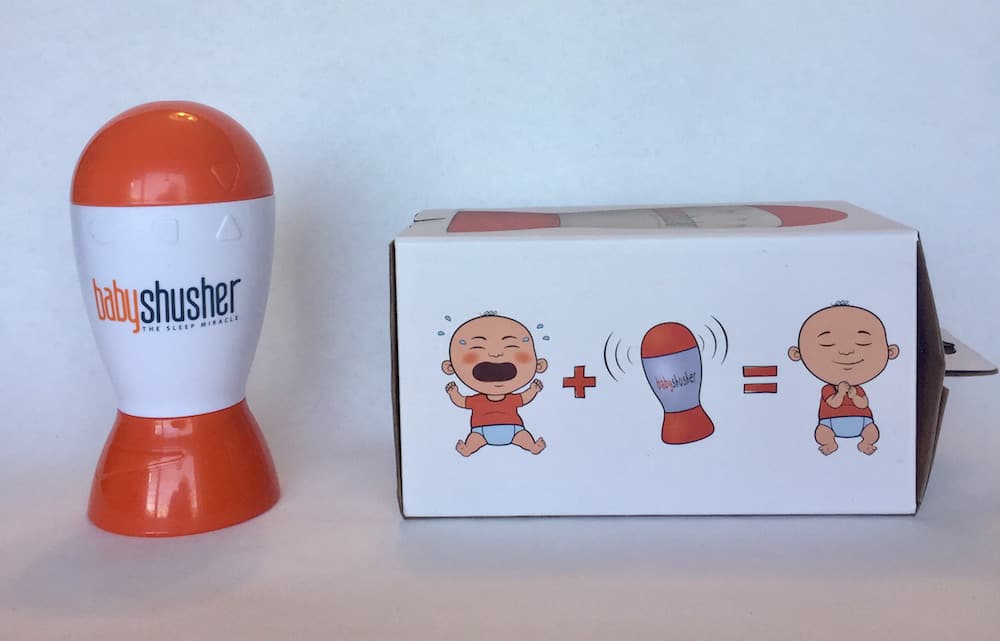 My Experience
It may be because my children are past the newborn phase, but this is not a sound machine I would use consistently due to my dislike of the sound. Perhaps this is why the Baby Shusher is really recommended for babies age 0-4 months and not for parents with children ages 3 and 8.
That said, the machine is easy, straightforward to use and a miracle worker for many. I will say that when my first born went through a two and a half month phase of not sleeping, I would have done most anything to get our family a good night's rest, so I definitely understand the appeal.
The one hiccup for those whose babies need extended shushing time would be the time allotments. The Baby Shusher will only work for durations of 15 or 30 minutes, generally enough time to calm a baby, but not enough to block out disruptive noises for an afternoon nap or overnight.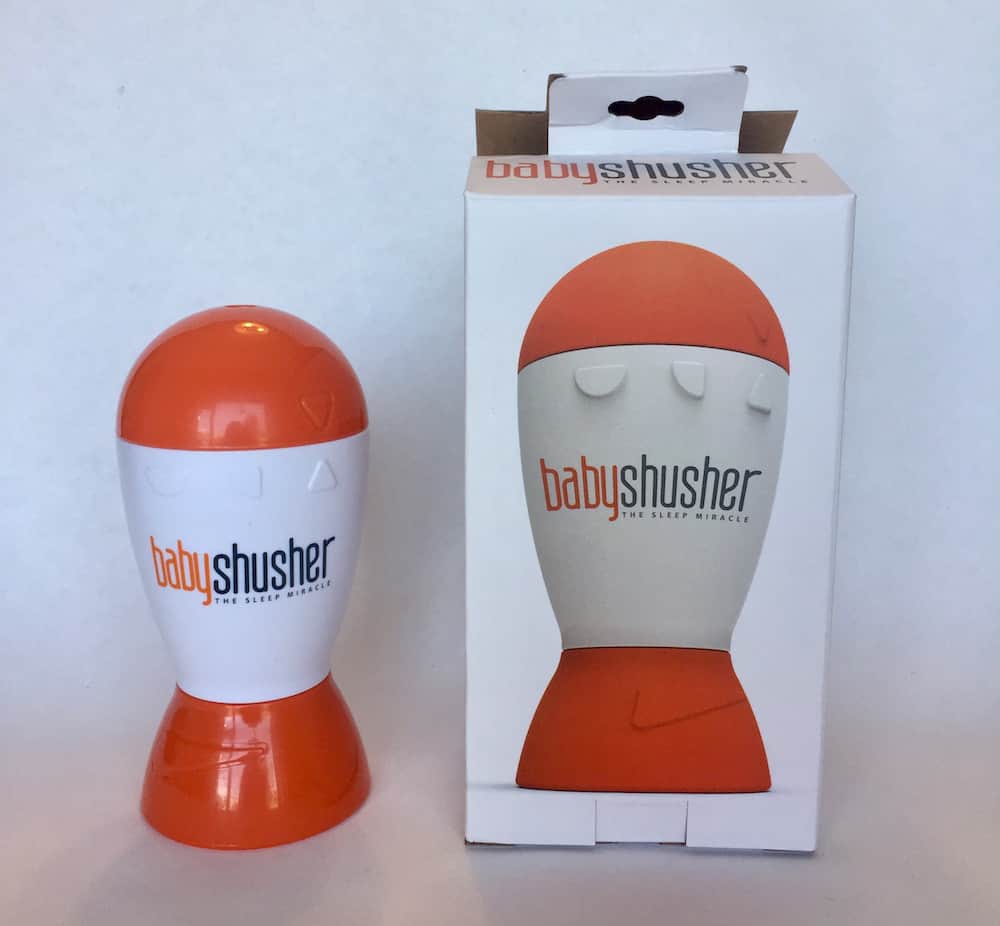 Pricing and Availability
The Baby Shusher is a very hot commodity among new parents, and therefore is readily available. You can purchase one on Amazon for $31.50.
Baby Shusher: The Sleep Miracle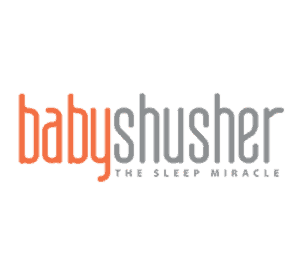 Baby Shusher: The Sleep Miracle
Small, portable, and soothing — the Baby Shusher is designed to calm your little one, wherever you may roam. 
Top Picks: Check out my best white noise sound machine page!
Common Praise and Complaints
With almost 1,000 5 star reviews on Amazon, the Baby Shusher: The Sleep Miracle is a favorite among new parents, especially for the early newborn months.
"I first saw this device when we had our newborn photo session for my daughter. It really seemed to soothe her and my husband made the purchase right away. This was a great product for soothing her and helping her fall asleep. It's definitely a luxury more than a necessity (she responded just as well to shushing from us) but it was great for the car or keeping her calm while we had to grab something from another room. The device has two settings- 15 minutes and 30 minutes. You have complete control over the volume."
In most part, those who found the Baby Shusher a poor fit complained of the time constraints or their baby not being one that responded to the school of "shushing".
"After reading other reviews I was expecting this to be some sort of miracle worker for babies, but mine has literally no reaction when I turn it on. I know all babies are different, so I'm sure it works great for some! But also, I find the sound kind of creepy….like there's a hidden person in the room."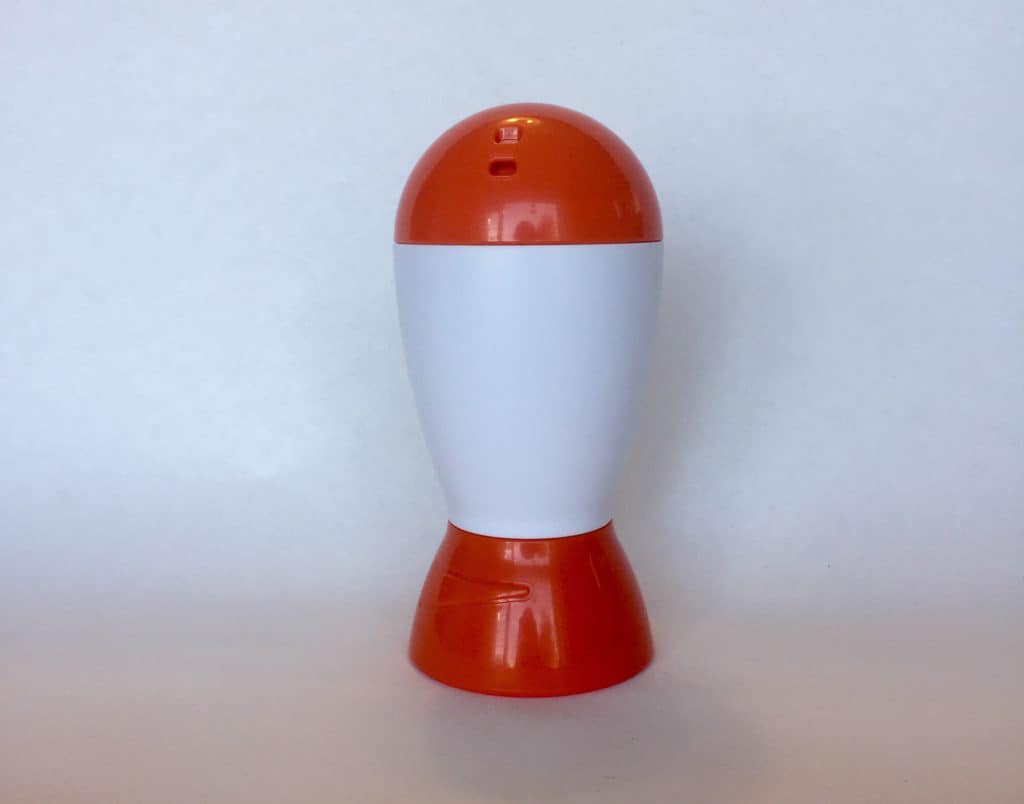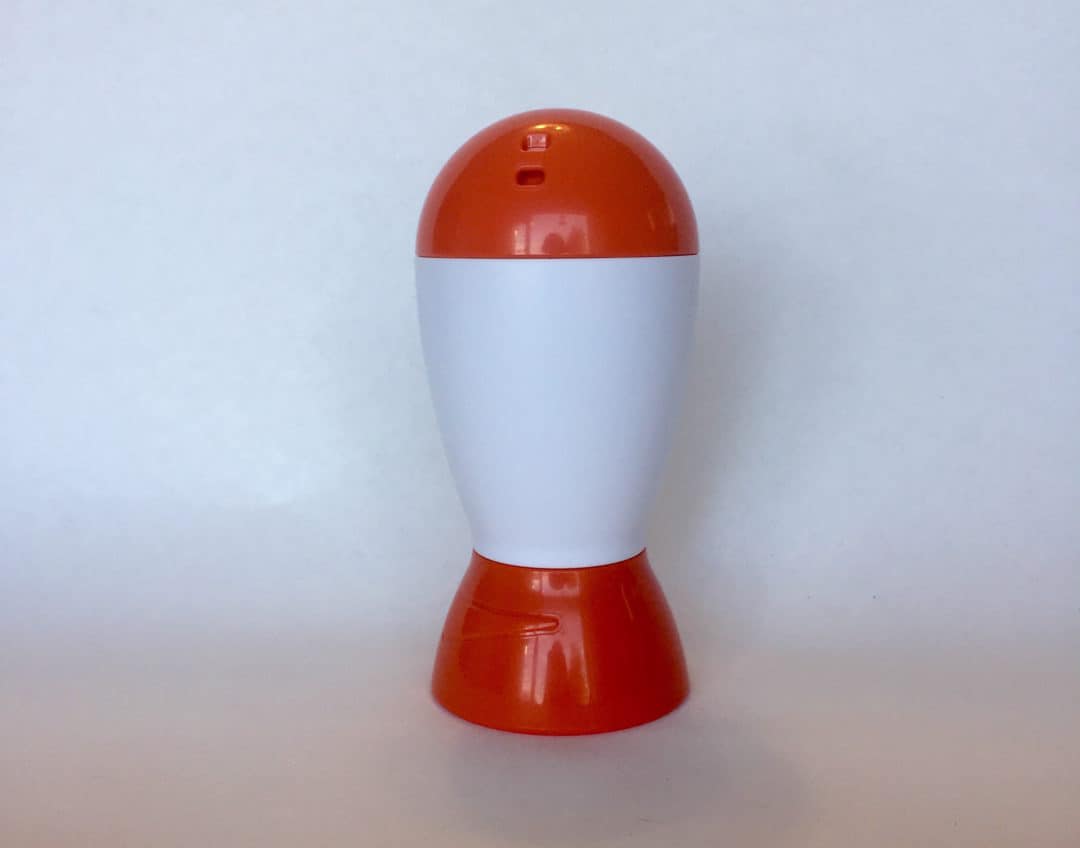 Final Thoughts
This is a product made for expecting or new parents. Specifically recommended for babies 0-4 months, this is not a sound machine for the long haul, though some reviews did state they used it up to 9 months.
If you don't mind the "shushing" noise, this is a good sound solution for parents struggling with a fussy newborn. Personally, I think most sleepless individuals will do whatever it takes to appease their baby, and this device may do the trick!
Small, easy to use and transport, the Baby Shusher is a good temporary fix. If you are looking for a sound machine that will go the long haul, in both usability and duration of sound, I would keep searching as this is not your permanent fix.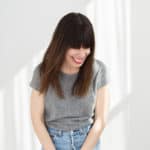 Amanda Gomes
Amanda Carter Gomes is a writer and editor living in Seattle. She spent much of her early career working marketing and as a creative consultant. Most recently Amanda launched and edits The Fold, an online publication for "women of an uncertain age and particular attitude" to fill the gap in content focused on women beyond the millennial age range.