The right box spring can extend the life of your mattress, increase air flow, and improve overall support. Unlike traditional box springs made from wood frames and internal coils, a metal box spring is constructed entirely from metal and is often an open structure. These types of box springs can last for many years without breaking down or developing cracks or other defects.
There are a wealth of metal box springs available for any budget and type of mattress. So how do you choose the right model for you? I've tested several options for quality, support, and durability to help you find a foundation that suits your needs and personal style.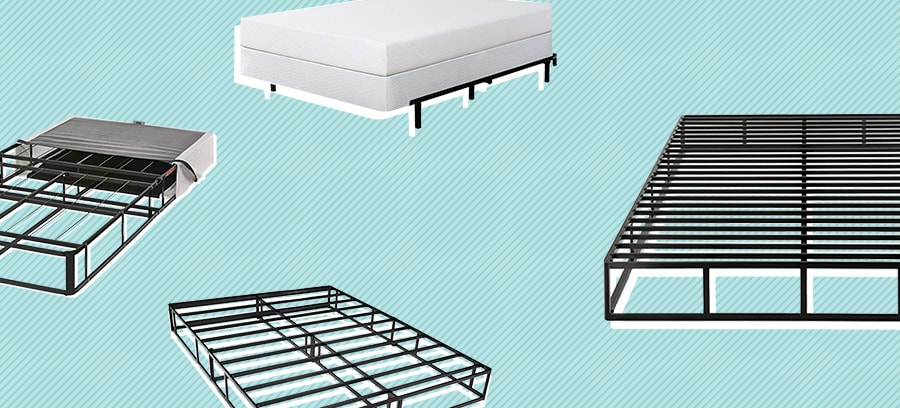 Editor's Pick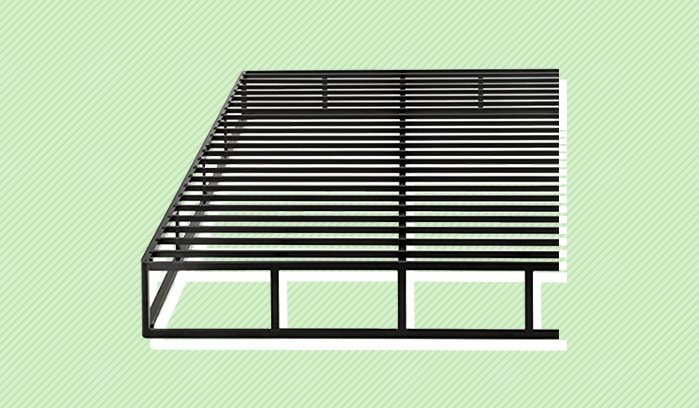 Zinus Victor Box Spring
My choice for editor's pick is the Zinus Victor 9 Inch Quick Lock High Profile Smart Box Spring and Mattress Foundation. This low profile foundation is constructed exclusively of brushed black steel and arrives ready to assemble. The Victor comes with a zippered fabric cover, assembly instructions, and a 5 year warranty. 
Pros:
Slats. This box spring's narrowly-spaced slats make it a great option for any type of mattress, including memory foam and latex

Steel construction. The Zinus Victor box spring is constructed from durable steel that felt solid and substantial under my memory foam mattress 

Quiet. I put the foam tape that came with the Victor to use during the (amazingly easy) assembly and enjoyed a blissfully quiet night of sleep 
Cons: 
Cover. I found the process of putting on the cover to be more than a little frustrating and chose to leave it off in the end

Feel. This box spring gave my mattress a hint of extra firmness, which may be a downside for folks who prefer a softer feel  
Best Low-Profile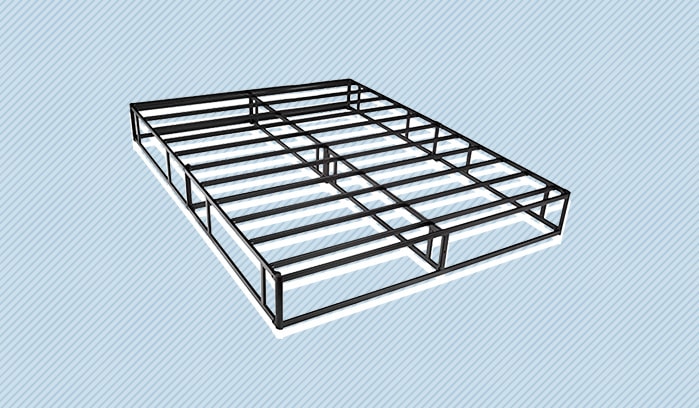 AmazonBasics Mattress Foundation
If you don't need a high-profile box spring but are looking for a little supportive boost, take a look at the AmazonBasics Mattress Foundation. This streamlined, all-steel model is my choice for best low-profile box spring. The 5 inch version offers a nice bit of lift without too much height. The foldable frame comes with a zip cover and is covered by a 5-year warranty. 
Pros: 
Height options. The AmazonBasics box spring is available in either a 5 or 9 inch model, giving those of us who like a low-profile two great options

Assembly. This box spring comes with easy-to-understand instructions and was a cinch for me to put together — such a cinch that no tools are required

Works for any mattress. The AmazonBasics foundation is sturdy enough and utilizes enough slats to make it appropriate for mattresses of all kinds, including hybrids and all-foam models
Cons:
Wide. This box spring was a tad too wide for my mattress. I suggest double-checking your measurements before purchasing 
Cover zipper. The optional cover is fairly easy to slide on but has a tendency to come unzipped
Best for Durability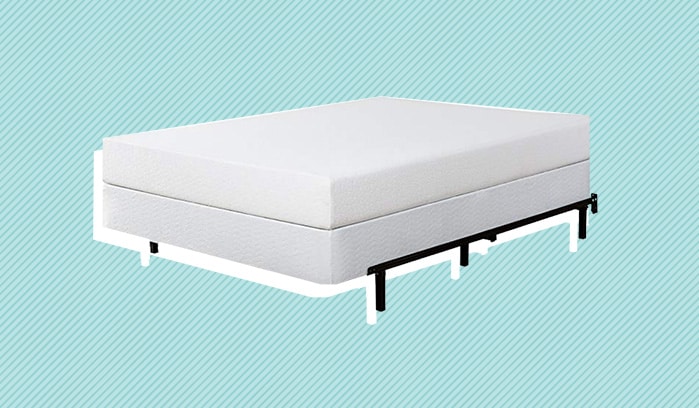 Sleep Master Smart Box Spring
The Sleep Master Smart Box Spring is my top pick for durability. This 7 inch steel-frame model comes in twin-king sizes and has a weight capacity of 500 pounds. This low-profile foundation can work for any type of mattress, including all-foam models such as memory foam or latex. The Sleep Master comes with a zippered cover and limited 5 year warranty. 
Pros: 
Solid. This model is constructed of sturdy steel that feels nice and heavy. I can imagine the Sleep Master Smart sticking around in a supporting role for my mattress for several years

Cover. The removable zippered cover was one of the easiest to put on and remove of any I tested

Quiet. The Sleep Master didn't make a peep over a week of nightly slumber. If quiet sleep is key for you, this box spring is worth a look
Cons:
Size. The Sleep Master wasn't quite long or wide enough for my memory foam mattress. Be sure to measure your mattress and check the Sleep Master's dimensions before buying

A bit wobbly. This box spring didn't feel quite as stable as I expected — time will tell if this is an issue of assembly or durability
Best Bargain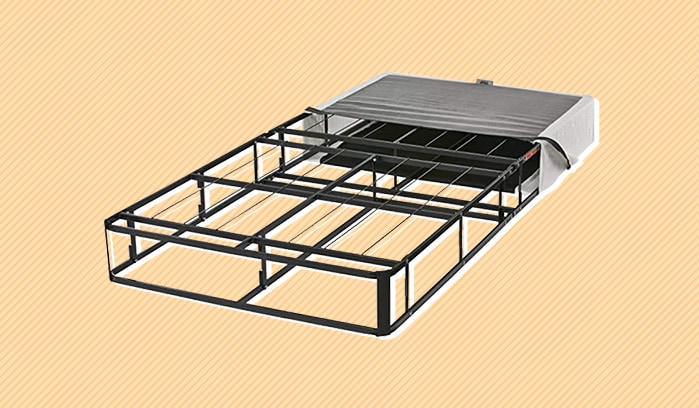 Mainstays Half-Fold Metal Box Spring
My pick for best bargain is the Mainstays Half-Fold Metal Box Spring. This 7.5 inch model folds in half for easy storage without sacrificing support or durability. The frame is constructed from heavy-gauge steel and comes with a 5 year warranty. 
Pros:
No assembly required. A metal box spring complete with cover that arrives ready-to-use? Believe it or not, yes

Price. The Mainstays box spring is one of the most competitively priced all of the ones I tried. Add in the cover, steel construction, and foldability factor, and this model stands out as a genuine bargain

Compact. Sliding this box spring away after a night of use was as simple as fold and slide into my closet 
Cons: 
Firm. This box spring could feel a bit stiff, especially if you use it with a travel mattress or other thin bedding. Fans of soft slumber may want to choose another foundation or adjust their choice of mattress accordingly

Durability. This box spring didn't feel as solid as some others I tested, no surprise given that it comes assembled and folded. Think twice if you plan to use this model nightly
How We Picked
When choosing a metal box spring, there are a few important factors to bear in mind. These are helpful to remember regardless of budget, manufacturer, or personal preferences. When checking out options, consider the following:
Materials
All-metal foundations forgo wood and other less durable materials and use steel for the frame and slats. Steel is less likely to bend or develop cracks, and may be a better choice for heavier sleepers and long-term use. When shopping for a metal box spring, look for welded steel that can stand up to the weight of your mattress and support you and a partner without warping or squeaking.
Durability
Most metal box springs can be expected to last around 5 years, but a well-constructed steel model may last significantly longer if used as intended. When you start the hunt for a metal box spring, research your top three options. Know the materials, read the reviews, and understand the fine print. Make sure you know the weight limit and warranty conditions before purchasing. Find out how long you can expect your new box spring to last, and how the manufacturer solves issues such as defects, damage, and missing parts.
Profile
Like traditional box springs made with wood and other materials, metal box springs typically range in height from 4-14 inches. When deciding whether to buy a high or low profile metal box spring, understand your sleep needs and physical abilities. Do you suffer from orthopedic pain that might make bending or sitting on a low-profile bed more difficult? How thick is your mattress? Will a high profile box spring create too much height? Think about your needs and the way you typically use your bed when narrowing down your options.
Price
Box springs constructed from metal are some of the most durable and cost-efficient models on the market. Browse a few options that fit your wish list and note how much they typically cost. Depending on your budget, you may need to compromise in a few areas. Is easy assembly a must for you? How about a generous weight limit? With so many choices available, most folks will be able to find a metal box spring that suits the majority of their needs as well as their budget.
Size
Metal box springs are typically available in twin to California king sizes, but dimensions may vary according to model and manufacturer. Be sure to measure your bedroom and mattress before committing to a new box spring to make sure fit won't be an issue after purchase.
Sleepopolis Tips
Still on the fence about choosing a new metal box spring? Try the following tips:
Understand how you'll use your box spring. The box spring you choose for a master bedroom may need to be more durable than one you buy for a guest room
Understand the warranty. Though box spring manufacturers usually offer a 3-5 year warranty, terms and conditions vary. Before purchasing, know the company policy for returns, exchanges, and repairs, as well as contact information in case you have questions or issues with your new box spring
Try it out. If you're not sure which box spring is best for your needs, give some a try. Traditional box springs may have a different feel from all-metal models. Most mattress stores also have box springs, which you may be able to test out and compare
Don't forget your mattress. Most mattresses are designed to be used in a way that extends their life and preserves their materials for as long as possible. Like a box spring, a mattress can be an investment. Be sure you know if your mattress requires a box spring or particular type of foundation for optimal performance
Last Word From Sleepopolis
A metal box spring is an essential bedding purchase that can help your mattress last and keep it from sagging. Those who prefer a higher or more supportive sleeping surface often turn to a box spring for durable structure and lift. A metal box spring can be an essential piece of your overall sleeping environment, and a great way to help improve your sleep and overall health.