So, you have a twin mattress that you love, but need a twin size bed frame to go with it. Well, then you've come to the right page, because we're about to explore some of the best twin bed frames on the market. And though they range in terms of style, price, and construction, they're all built to comfortably support a twin size mattress (which is around 39" wide by 75" long).
But we won't just be going over the frames themselves! We'll also dig into the methodology behind our picks so that you know exactly what to look for in your own search. Plus, we'll round things out with a few expert tips you can use to make your bed frame buying experience a breeze.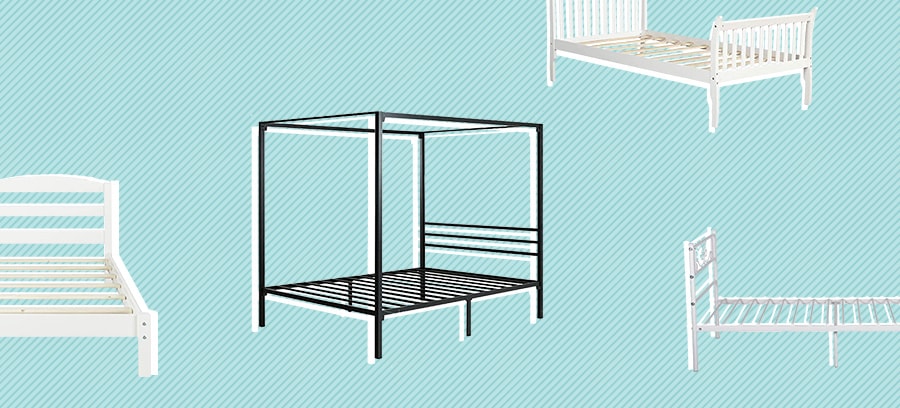 Best Canopy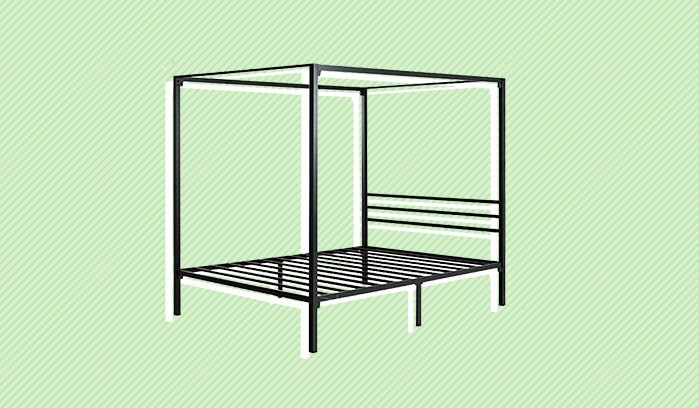 Zinus Patricia Bed Frame
If you're looking for a luxe canopy frame to make your bed a true statement piece, then look no further than this beauty from Zinus. Made of strong steel slats, this modern bed frame could make the perfect addition to any minimalist room. 
Pros
Folks with a lot of space could be well-suited to this frame, as it definitely takes up a lot of real estate. 

If you like the minimalist look of simple black steel slats, this frame could be a winner for you (and your aesthetic!) 

I'd also say this canopy is a fantastic value buy! Compared to other canopy frames on this market, this one is certainly affordable. 
Cons
The style here is very specific, so may not work for those in need of something a little simpler. 
Best Style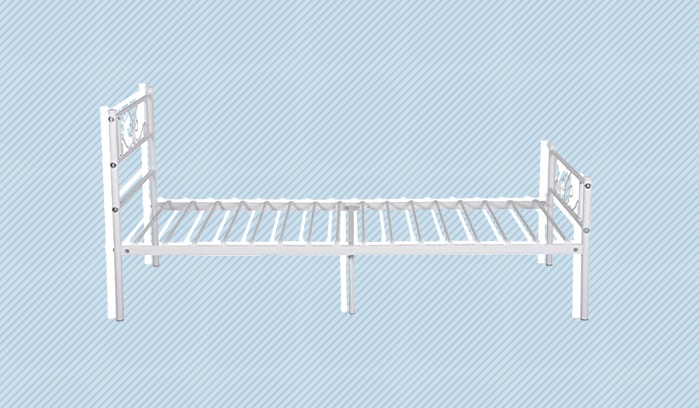 SimLife Platform Bed Frame
A delicate princess style makes this twin bed frame from SimLife a true standout. Wrought with white iron, this frame features both a headboard and a footboard, creating a nice, finished line from top to bottom. 
Pros
The white iron construction is both durable and aesthetically pleasing, so could be great for a kid's room where there's a lot of bouncing around going on. 

Additionally, I think this frame has a nice fairytale look to it, so could be good for folks who want something simple and dreamy.

I also like that there's a lot of underbed storage, which could be great for plastic tubs or suitcases. 
Cons 
This style isn't the most neutral, so may not work for folks who are looking for a frame that'll go with their existing furniture. 
Best Classic Look
Dorel Living Braylon Bed
If you're on the market for a classic twin bed frame, you may want to consider this option from Dorel Living. Outfitted with a sturdy headboard and wooden slats, this frame is about as traditional as it gets. Though it could work well anywhere, I think it could be particularly well-suited to an understated kid's room. 
Pros
This bed frame is super sturdy, so is sure to last for a long time, making it a great family piece to pass down from kid to kid. 

I also like how simple it is! This frame will go with almost any decor, so could be a nice fit for folks after a versatile look. 

Budget-conscious shoppers will also enjoy how affordable the frame is, especially when compared to other options on the market. 
Cons
If you don't like the look of a wooden frame, this pick may not be the one for you as it's made entirely of wood.
Best For Kids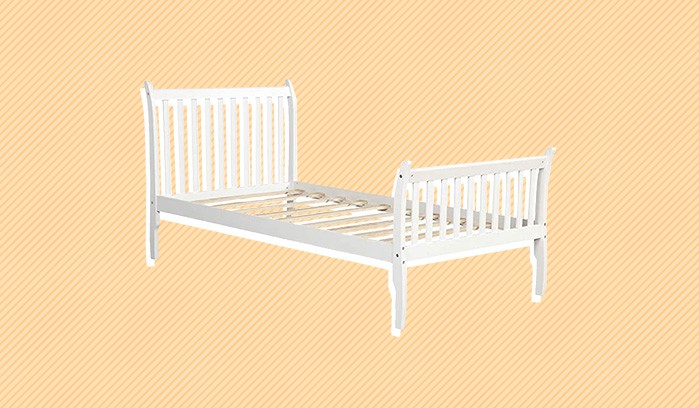 Merax Solid Wood Bed Frame
For those with kids, this twin bed frame from Merax could be an excellent choice. Built entirely of wood, this frame has a solid feel to it, which is accentuated by the pairing of both a headboard and a footboard. I think kids would especially enjoy the playful design, which is both traditional and whimsical. 
Pros
If you're looking to tuck your tyke into a high-quality wood bed frame, this pick from Merax could be the one for you. 

The frame is available in a wide range of colors and stains, so you can pick the hue that's right for you! 

I also like that it's a kid bed, but not overly cartoonish, making it a nice choice for a more mature room. 
Cons 
If you prefer the look of a metal frame, this probably isn't going to be the bed frame for you! 
How We Picked
Now that we've gone over the best twin bed frames, let's chat a bit about the methodology we used to pick them. In this section, I'm going to go over all the most important factors for you to consider when shopping for a bed frame of your own.
Frame Type
Though you might think that all bed frames are the same, there are actually a lot of different types of bed frames on the market. And they're more than just stylistically diverse — they can actually provide varying degrees of support and comfort. Some of the most common types of bed frames include:
Panel – A panel bed is made up of flat wood panels for the head and footboards of the frame. These types of beds also feature side rails, which allow the frame to support a mattress all the way from the center of the bed to its edges. They also tend to be on the taller side when compared to other frame types.
Platform – One of the most popular frame options on the market, platform beds don't require a box spring or foundation. Instead, they use wood, metal, or heavy-duty plastic slats to support a mattress. Some platform models even come equipped with underbed storage, which can be super useful!
Canopy – A canopy bed is a type of frame you'd see in a fancy hotel or period drama. It's got four posts linked by an overhead frame that's used to hang fabric, drapery, or mosquito netting. It's got an elegant finish to it, so could be great for those with a luxurious aesthetic. However, they do take up quite a bit of space, so aren't usually the most practical option.
Four-Poster – Though similar in design, four-poster beds differ from canopy beds in that they're not linked by an overhead canopy. These types of frames are distinguished by four tall posts at each corner of the bed (imagine the bed that the grandparents sleep on in the original Willy Wonka & the Chocolate Factory).
Sleigh – The aptly named sleigh bed looks like a curved sleigh, thanks to the slope of the head and footboards. These types of beds have more of a traditional vibe and are usually made of wood.
Materials
Most bed frames are either made of wood, metal, or some combination of the two, though there are upholstered models that incorporate foam and fabric into their designs. When buying a bed frame, it's important to understand exactly what kinds of materials are being used.
The most common woods used in bed frames are:
Pine – Pine is a soft wood used in frames and slats. It's light in color with a knotty appearance that gives off a rustic flair.
Maple – Maple is a little more durable than pine, and has a medium to hard feel. It can also be stained easily, though it's naturally light in color.
Oak – Oak is a dark, heavy wood used in high-quality furnishings.
Beech – Beech is about as hard as Maple, but is used mostly to make chairs and toys. It's light in color.
Mahogany – Mahogany is a very strong type of wood and is reddish-brown in tone. It's used mostly in expensive bed frames.
Metal is often used in bed frames for parts such as bolts, sltas, rails, or head/foot boards. Common metals include:
Steel – Steel is a common component used as rails and feet for headboards and footboards.
Wrought Iron – Wrought iron beds typically have curved headboards and a stately, traditional look.
Iron – Iron is a type of black metal used primarily in bed frame rails and various internal parts.
Foams and fabrics have become increasingly popular materials in bed frames, especially ones that are upholstered for plushness and style. Common foams and fabrics include:
Poly foam – Poly foam is a synthetic and spongy material used for cushioning. It's generally inexpensive, so doesn't offer a ton of comfort or support.
Memory foam – With a slow response to pressure and cushiony sink, memory foam provides a ton of pressure relief. It also happens to be much more expensive than poly foam.
Polyester – Typically used in headboards and side rail upholstery, polyester is an affordable fabric.
Velvet – Velvet made from cotton or polyester has a lush, elegant feel. It's soft to the touch and retains heat well.
Leather – Natural and faux leather are durable materials that create a rugged bedroom aesthetic. Both wear well, and many consider distressed leather to be just as attractive as newly tanned leather.
Mattress Type
Certain mattresses work best with bed frames. For example, a platform bed frame is going to be most appropriate for a mattress that doesn't have a foundation or box spring. On the other hand, a frame without slats will require a foundation in order to support the bed.
It's also important to consider how tall your mattress is before buying a frame. A low-profile mattress may not be high enough for certain frames, which can result in gaps between the head and footboards.
Sleepopolis Tips
Still not sure how to find the twin bed frame of your dreams? No problem! I'm going to share some expert tips you can use to improve your search.
Measure, measure, measure! Measure the size of your room and the size of your mattress before picking a bed frame. This will save you a huge headache in the long run.
Don't forget height! Many a bed frame buyer has set up a new frame only to realize it's too high or too low.
The bed is often the center of a bedroom, so don't forget to keep your personal style in mind. There are a ton of frames on the market, which means you'll definitely be able to find one that matches your design vibe.
Wrapping Up
And that's it for our guide to the best twin bed frames! When looking for one of your own, make sure to consider the size of your room, the materials you like, and the style that fits your personal aesthetic. Then, you'll truly be able to hone in on the frame that's 100% right for you.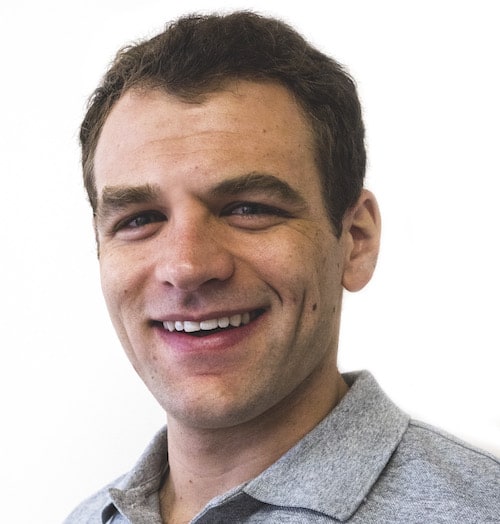 Logan Block
Logan is the former content director of Sleepopolis. As content director, he reviewed new mattresses every week and curated the comparisons, best of pages, and video guides on the site. Logan perfected his method by personally testing over 200 different mattresses, so he's not only able to discern the overall vibe of a specific bed, but to contextualize its feel within the bed-in-a-box market as a whole.