Metal bed frames have become a popular option for sleepers, particularly folks who value affordability. Unlike traditional bed frames made from wood and/or upholstery, a metal bed frame is constructed entirely from metal and may be an open structure with slats for mattress support. These types of frames can last for many years without breaking down or developing cracks or other defects.
A metal bed frame can increase air flow through your mattress and add style to your decor. There are a wealth of options available for any budget and individual taste. So how do you choose the right model? Check out my top 4 picks for metal bed frames below. I've tested several options for quality, support, and durability to help you find the perfect frame for you.
Best Metal Bed Frame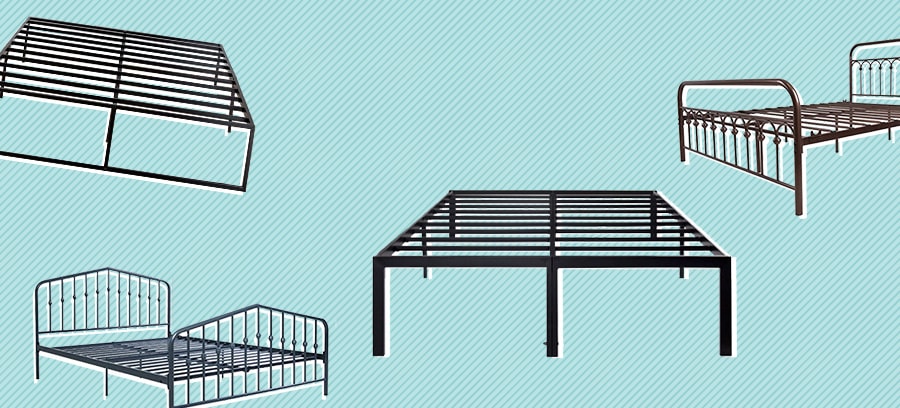 Editor's Pick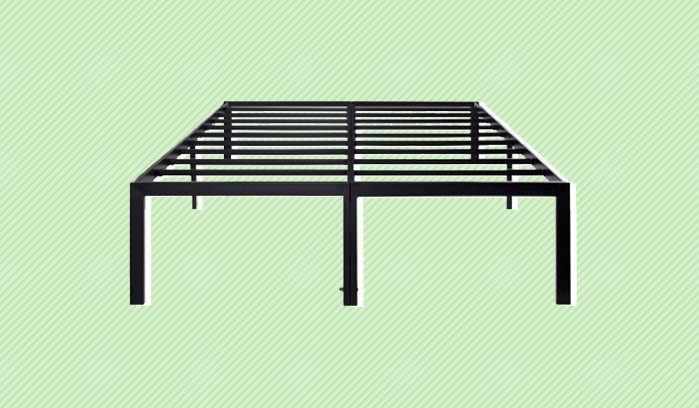 Olee Sleep
My pick for overall construction, value, and design goes to the Olee Heavy Duty Bed Frame. This 14 inch, high profile foundation is made exclusively of brushed black steel and arrives ready to assemble. The Olee Sleep bed frame comes with instructions for easy assembly and a limited 5 year warranty.
Pros:
Slats. This frame's slats are rock-solid and narrowly-spaced, eliminating the need for a box spring or foundation
Steel construction. If you're looking for a stable metal bed frame, this could be it. The Olee Sleep frame is made from durable steel that felt balanced and substantial under my memory foam mattress. No squeaks or wobbles here
Assembly. Putting this bed together was a quick and intuitive process, and all the necessary tools were included
Cons:
Width. This Olee frame was a touch too wide for my mattress. Make sure to check your measurements before purchasing this one
No headboard. Folks who like to choose their own headboard or go without one altogether will consider this a pro, but others may prefer another model
Best Budget Frame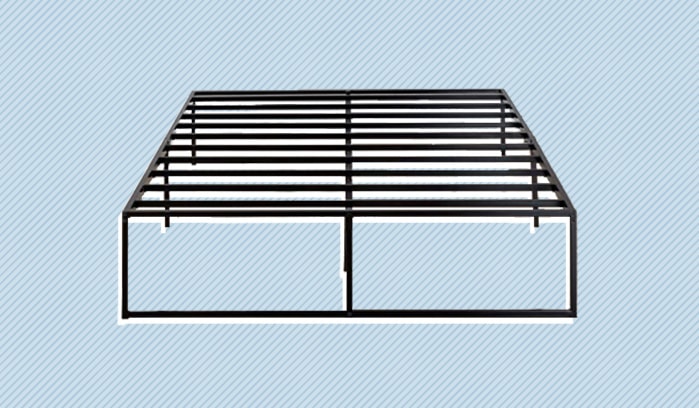 Zinus Lorelei Bed Frame
My choice for affordability is the Zinus Lorelei 14 Inch Platforma bed frame. This low profile foundation is constructed exclusively of brushed black steel and arrives ready to assemble. The Lorelei is available in twin-king sizes and includes a 5 year warranty.
Pros:
Design. If you're on the hunt for a contemporary metal bed frame with clean lines, this one should be at the top of your list
Price. The Zinus Lorelei is one of highest quality metal bed frames I tried, and one of the most reasonably priced
Quiet. I put the foam tape included with the Lorelei to use and my mattress didn't budge an inch over several nights of sleep
Cons:
High-profile. This bed frame may have a bit too much height for some sleepers, particularly those who use a thicker mattress or box spring
Firm feel. My mattress felt a little firmer on this frame, which may be a downside for folks who prefer a softer feel
Best Wrought Iron Frame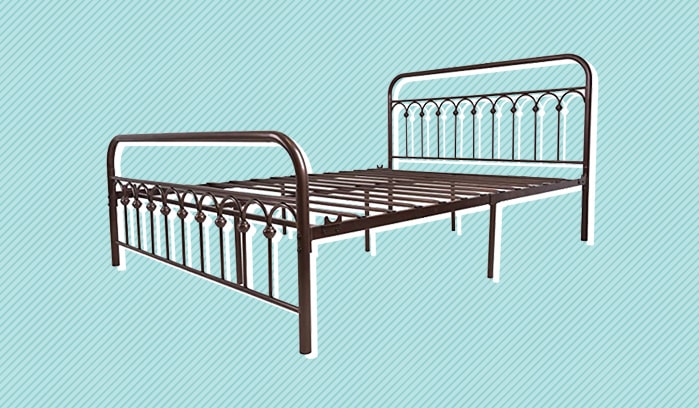 Tuseer
When many of us think of a metal bed frame, we picture a wrought iron frame with a great vintage look. If you're searching for a classic wrought iron bed that could last for years, look no further. The Tuseer Metal Bed Frame has the curved lines and sturdy metal structure wrought iron frames are known for. The Tuseer frame comes in two finish options and is covered by a limited 5 year warranty.
Pros:
Under-bed storage. The Tuseer bed frame has a full 13 inches of under-bed clearance, a plus for people who like a little extra storage space
Assembly. This bed frame comes with easy-to-understand instructions and took about 30 minutes to put together
No box spring required. The Tuseer frame is designed to accommodate mattresses of all kinds, including hybrids and all-foam models
Cons:
A bit creaky. The vintage look of this frame may extend to sound, as well. Make sure you tighten all bolts and other components well when putting this bed together
Headboard height. The headboard may be a little low for folks with thicker mattresses or those who use a box spring
Most Durable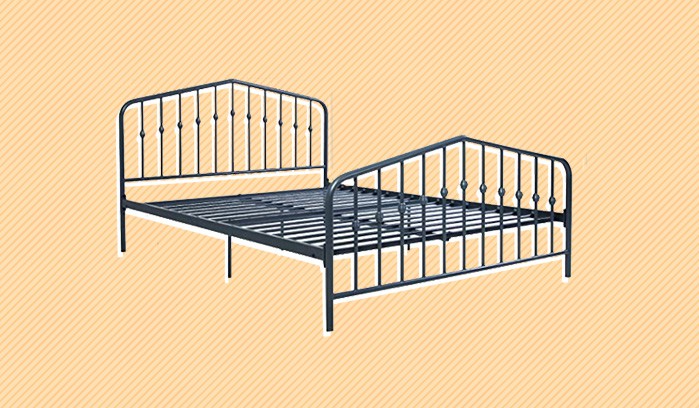 Novogratz Bushwick Metal Bed Frame
The Novogratz Bushwick Metal Bed Frame is my top pick for durability. This steel-frame model comes in twin-king sizes and has a sophisticated vintage look. The Bushwick frame can work for any type of mattress, including all-foam models such as memory foam or latex. This frame comes with a 5 year warranty and is also available in a trundle bed option.
Pros:
Solid. The Bushwick bed frame is constructed of sturdy steel that feels durable, secure, and well-made
Stylish traditional look. This bed frame put me in mind of whitewashed walls, wool blankets, and simpler times
Quiet. The Bushwick bed frame didn't make a peep on the nights I tried it out. If silent sleep is key for you, this bed frame is worth a look
Cons:
A hefty lift. This bed comes in a very weighty box — single folks, keep this in mind
Not for heavier couples. The total weight limit for this frame is 450 pounds, which may not be enough for heavier folks
How We Picked
When choosing a new metal bed frame, there are a few important factors to keep in mind. These are helpful to remember regardless of your budget or personal preferences. When checking out frame options, consider the following:
Materials
Metal bed frames were originally built in Europe as a way to minimize bed bugs and other insect infestations in frames made from wood. Unlike wood, metal is impervious to pests and requires very little maintenance.
All-metal bed frames utilize steel for the entire frame and slats. Steel is less likely than wood, plastics, or composite woods to warp or crack over time, and may be a good choice for heavier sleepers and folks who value durability. When comparing metal bed frames, look for high-quality welded steel that can support your mattress and your weight (and a partner's) without straining or creaking.
Metals vary by gauge. Lower-gauge steel is typically thicker and stronger, while higher-gauge steel is thinner and less durable. A bed frame made from lower gauge steel can be expected to last longer than one made from thinner steel that is more likely to bend or crack over time.
Profile
Like traditional bed frames made from wood and other materials, metal bed frames are usually between 7-14 inches in height. When choosing between a high or low profile metal bed frame, understand your sleep needs and physical abilities. Folks who suffer from orthopedic pain or disabilities may find bending or sitting on a low-profile bed difficult. Consider the thickness of your mattress and other bedding, as well. A thicker mattress or topper may add too much height to a high profile frame and make getting in and out of bed more challenging.
Stability
A metal bed frame can be one of the most stable options available. While wood and wood products are subject to cracking and warping from heat, cold, humidity, and prolonged pressure, metal can often withstand seasonal changes and increased weight. If stability is at the top of your list, a metal bed frame can help you achieve the solid and secure feel you're looking for. Look for a heavier welded frame with metal slats and high-quality components like steel bolts and brackets.
Durability
Most metal bed frames can be expected to last at least 5 years, but a well-constructed frame made from welded steel may last much longer. When you begin the hunt for a metal bed frame, know the materials you prefer, read buyer reviews, and understand each manufacturer's warranty conditions. Find out how long you can expect your new bed frame to last, and how the manufacturer addresses potential issues like damage during shipping, defects, and missing parts. And remember — most bed frames are designed for a certain weight limit. When considering a frame, check the total weight limit to be sure it will perform and last as expected.
Price
Metal bed frames are often some of the most affordable models available. Browse options that include your must-haves and see how much they typically cost. Depending on your budget, you may need to compromise in a few areas. Is sophisticated design on your wishlist? How about underbed storage? With so many choices available, most folks can find a metal bed frame that suits the majority of their needs as well as their budget.
Sleepopolis Tips
Still not sure which metal bed frame to choose? Try the following tips:
Know how you'll use your new bed frame. Your requirements for a master bedroom frame may be different from those for a guest room frame. A child's bed might not need to be as durable or sturdy as one used by two adults
Read the fine print. Bed manufacturers usually offer a 5 year warranty no matter what the primary frame material, but terms and conditions differ. Before you buy a bed frame, know the company policy for returns, exchanges, and repairs
Try before you buy. For some buyers, only an in-person try out will do. If you're not sure which bed frame is best for you, test some different options in a store. Wood or upholstered bed frames can have a different feel from all-metal models
Factor in your mattress. Like a bed frame, a mattress can be a significant investment that lasts for many years. Most mattresses perform best when used with a particular type of frame. Be sure you know which style of frame suits your mattress and if you need a box spring or foundation for additional support
Last Word From Sleepopolis
A well-constructed metal bed frame can offer years of stable support and comfort. Metal is known for its durability, affordability, and low-maintenance good looks. A metal bed frame can be an essential piece of your overall sleeping environment, and a great way to help improve your sleep and overall health.