Parents all want what's best for their little ones — and that includes the best night's sleep. For a lot of parents, transitioning from crib to bed can be an exciting milestone. However, it comes with a lot of uncertainty — what materials would feel the comfiest? How big should the bed be? How tall should it be? How do I ensure the bed holds up until they need a new one? And much more.
Looking for the best toddler bed for your child can be a chore, but don't worry — we did your homework for you by sifting through countless options, comparing specs and features, and curating our list of our top picks for the best toddler beds you can buy. Read on to learn more.
Best Toddler Beds 2023
Expert Opinion
This toddler bed ticks all of our boxes in terms of price, design, and function. At first glance, it flaunts a design that looks premium without burning a hole in your wallet. But practically speaking, the low-to-the-ground build makes it easy to climb in, while the guardrails on each side offer an extra layer of safety. We're also happy to report that customers say it's durable and holds up well. Safe to say, it should be sturdy enough for your kid's occasional bouncing. Assembly sounds easy and straightforward, although we did read some feedback about parents having a hard time. A slight hiccup to be aware of: a handful of users mentioned a temporary odor, so we recommend airing it out for a couple of days. Overall, we think the Delta Children Canton offers more than its price.
Pros:
This toddler bed should be sturdy enough for your kids to bounce around on.
Available in neutral colors, this toddler bed works well with different interiors.
This bed flaunts a premium design on an affordable price tag.
Cons:
Some customers had a hard time assembling the bed.
Some customers noted a strong odor from the bed that needed airing out.
Is this the right toddler bed for your child? Click here to get the best deal.
Expert Opinion
Much like its name, the Dream On Me Toddler Bed is a dream come true for parents on the hunt for both versatility and value. The standout feature of this bed is the wide range of color choices — from calm neutrals to vibrant shades — making it a great fit for any bedroom theme. With its low profile, it's a breeze for kiddos to hop in and out, and its spacious design ensures they can toss and turn comfortably.
It seems fairly easy to assemble, thanks to its easy-to-understand instruction booklet. Heads up, though: some customers noticed a faint chemical scent upon unboxing. All in all, we think the Dream On Me Toddler Bed is a great choice. However, we just wish the guardrail edges were a bit more rounded for extra safety.
Pros:
This bed doesn't break the bank with its affordable price tag, making it a great option for parents on a budget.
It comes in a wide selection of colors, making it an easy complement to most bedroom themes.
Customers didn't have any trouble assembling the bed. Plus, all the tools needed are included.
Cons:
Some said there was a slight chemical off-gassing out of the box (but it should clear up fairly easily).
Reviews mentioned that guardrails could've been more rounded off for those unexpected tumbles.
Thinking this might be the bed for your tot? Grab the best price with a click.
Expert Opinion
For parents with a penchant for clean, sleek lines, Gap's toddler bed is a great choice for a modern, minimalist kids' room. Its simple yet elegant design also should make it easy to assemble. Another note about the design: parents may really appreciate the bed's rounded edges, so they can worry less about their toddler getting hurt on a sharp corner.
The low stature also makes it very easy for toddlers to get on and off. It's available in three two-tone color options — pink, navy, and gray. Our only tiny gripe? A few more color options would be the cherry on top. Overall, this bed blends style and safety that both parents and tots will appreciate.
Pros:
It is easy to assemble (some reviewers said it took less than an hour).
We think parents will love how there are no sharp corners in sight, so no need to worry about snagging or injuries.
The bed is made with non-toxic, lead-free paint.
Cons:
The color options are gorgeous, but we wish it came in more colors.
It's a little bit pricier than the rest on this list, but we think it's still worth it considering the value.
Is this the dream bed for your toddler? Check out the best deal now.
Expert Opinion
While there's nothing really special about this toddler bed's design, you really can't go wrong with the classic wooden toddler bed look. With its natural colors and pine wood finish, it can be a simple yet elegant complement to most interiors. The wooden construction makes it more sturdy so the bed can withstand the movements of the most "active" toddlers. There are guardrails on the side to prevent any nighttime tumbles, each with rounded corners to prevent snags or injuries. It's worth noting that many reviews mentioned how tedious the assembly is.
Pros:
With a sturdy wooden construction, the Suite Bebe Toddler Bed can really take a beating from a super active toddler.
Its natural colors and wooden finish is a classic look that fits well with most decors.
The durable guardrails with rounded corners will give parents peace of mind at night.
Cons:
It can be tricky to assemble, so if you're not particularly handy, you may want to ask someone to help you.
Some users mentioned that it came with stickers that were hard to remove and required some alcohol to remove them.
Could this be the perfect toddler bed for your little one? Secure the best price here.
Expert Opinion
For those looking for a toddler bed that'll last (until the next bed transition), this toddler bed from Child Craft shouldn't disappoint. This bed has a sturdy wooden construction, which comes in four neutral colors. We definitely think it can withstand far more than just toddler antics. The bed's design also emphasizes safety with its elevated headboard, footboard, and built-in guardrails – ensuring peaceful nights for parents and toddlers. Some reviewers noted that assembling the bed was a bit of a challenge.
Pros:
It has a robust wooden construction that's built to last.
You can choose from four neutral colors, so it's easy to integrate into a range of room themes.
The low-to-the-ground design will keep parents at ease, knowing their kids are safe from unwanted nighttime falls.
Cons:
Some customers report that they found assembling the toddler bed a challenge.
We just wish it had more color options for bright, colorful decors.
Considering this bed for your young one? Click here for the sweetest deal.
Expert Opinion
The toddler bed from Costzon is as versatile as it is functional, switching seamlessly between a bed and two kid-sized chairs. This also makes it a great space-saving choice for smaller bedrooms. Reviews mention that the instruction booklet was easy to follow, so assembly seems fairly straightforward.
Most toddler beds only have one pair of guardrails, but the Costzon Toddler Bed has two pairs, one for the head and the other for the foot. Because of this, we definitely recommend it for restless toddlers. Lastly, it comes in two timeless shades: white and brown. While classic shades, a splash of variety in the color options wouldn't have hurt.
Pros:
We love that the bed's convertible design offers practicality and space-saving.
We think a lot of parents will appreciate having four guardrails to protect their young ones (especially the ones who toss and turn a lot).
Assembly seems easy since the instructions are straightforward.
Cons:
We love the color choices, but we just wish there was more variety.
Is this bed the comfy haven your toddler needs? Click here to get the best deal.
Expert Opinion
For parents keen on balancing classic charm with modern comforts, the "Olive and Opie Twain Toddler Bed" hits the sweet spot. 67.99
The bed height is just right, too, so no need to worry about accidental tumbles at night. There's also plenty of space for your young one to twist, turn, and sprawl, ensuring a good night's sleep. Assembly should not be an issue since many reviewers found it really easy. One minor gripe, though: there are stickers on some parts that some reviewers said were a hassle to remove, but rubbing alcohol could solve that.
Pros:
Reviewers found the bed to be super durable.
It comes in six stylish two-tone color options, so you can easily choose one that blends into your kid's bedroom.
The bed height is great, and the guardrails prevent your toddler from falling out of bed at night.
Cons:
Sticker placement could be better since no one wants to spend time and effort removing them.
Some customers complained of factory defects like chipped paint or wood, so make sure to check everything first prior to assembling.
Do you think this toddler bed is a great fit for your kid? Click here to get the best deal.
Expert Opinion
It's a rare sight to see a kid who doesn't brighten up at the mention of PAW Patrol, so we're pretty sure this bed is an immediate hit in many households. This bed only comes in one design — PAW Patrol's signature blue-and-red scheme — but it's the only design that matters. Putting the bed together was no challenge, according to most reviewers, only taking less than an hour for many.
We didn't expect much because of the super affordable price tag, but we were surprised to see that many people thought it was very high quality. It's made of durable plastic and very sturdy steel legs. Not only can it withstand the occasional toddler bounce, but it should also handle the weight of a grown adult. Additionally, it's just the right elevation for toddlers, and the guardrails on the side give parents extra peace of mind. In a nutshell, for PAW Patrol enthusiasts, this bed is an excellent pick.
Pros:
It's a cinch to assemble, making the setup hassle-free for parents.
With steel legs, the bed boasts durability, even enduring a bit of toddler gymnastics.
Features like the apt height and added guardrails ensure kids' safety and ease of use.
Cons:
The bed only comes in one design, which might be limiting for those seeking variety.
Plastic construction might raise durability concerns, but the steel legs counteract this to a significant extent.
Thinking if this bed is your toddler's dream bed? Click here to find the best deal.
Expert Opinion
Designed with small spaces in mind, the DHP Phoenix Twin Bunk Bed is a space-conscious parent's wish come true. It has a compact design that can be easily moved or shoved into a corner. Assembly seems mostly straightforward and easy to follow, but we do recommend looking for someone to help you since some parts may be heavy.
Construction-wise, reviewers seemed very impressed with how stable it was. Thanks to its low-to-the-ground design, the bunk bed seems quite secure, and many reviewers said they didn't notice any creaking when their kids were lying down or climbing up the bed. Speaking of the top bunk, the guardrail is high and long enough to prevent your kid from tumbling down. This bunk bed comes in four neutral shades, and for bigger families, DHP offers a triple bunk option. In essence, we think the DHP Phoenix is one of the best bunk beds for toddlers you can get right now.
Pros:
The bed's compact design makes it perfect for tight spaces and small households.
The low build, stable structure, and guardrails provide peace of mind for parents.
With a triple bunk version available, it's adaptable to the needs of larger families.
Cons:
You may need a helping hand for assembly, considering how heavy some parts are.
A wider range of color options would be appreciated.
Wondering if this toddler bed suits your child? Click here for the best deal.
Expert Opinion
Even when on the road and away from the comforts of your home, the Regalo Portable Toddler Bed ensures your young one still gets a good night's sleep. It has a very lightweight yet durable build, consisting of sturdy steel frames and a nylon sleeping surface. Reviews mentioned that the steel frames held up nicely, while the nylon surface appears to be very thick and comfy to the touch.
It comes in two sizes: one that's 48 inches long and another that's 54 inches long, so make sure to get the right size. There's not much else to say since it's a portable cot that appears to do its job well, but if we could add a tiny suggestion, it would be to include a storage bag for smoother travel.
Pros:
We appreciate how lightweight and sturdy this portable bed is, making it easy to carry around.
We were impressed with its sturdy build, especially the combination of a strong steel frame and the comfortable nylon sleep surface.
It's versatile enough for any scenario, whether overnight at grandma's or a camp out under the stars.
Cons:
We wish it came with a storage bag, since carrying it around on its own could be tedious.
Since it's basically a kid-sized cot, don't expect any safety features like guardrails.
Is this toddler bed a great match for your child? Click here to find the best price.
What to Look for In A Toddler Bed
Choosing the right toddler bed is more than just picking the first cute design you lay eyes on. It's about the balance of safety, comfort, longevity, and, yes, even style. Searching for the best toddler bed for your child can feel like a daunting task, but read our tips below, and you'll be ready to go bed shopping with your little one.
Size
Size matters — not only in terms of fitting into your child's room but also in terms of your child's comfort. It's essential to measure the available space and consider the growth spurt your toddler will go through in the next few years. You wouldn't want to be changing beds every year because your kid has outgrown it.
While some kids may prefer overly large beds, some may feel lost in them. The best way to go about it is this: find a bed that's cozy and suited to their current size to help them feel secure. Lastly, consider the bed's proportion to the room. A giant bed in a small room can make the space feel cramped and may restrict your child's play area.
Style & Material
When we think of style, we often lean toward what looks visually appealing, and with toddler beds, there's no shortage of adorable designs. From car-shaped beds to princess-themed ones, the choices are plenty. However, what's equally important is the material the bed is made of. Solid woods, like pine or oak, offer sturdiness and longevity, while engineered woods or particle boards might be lighter on the wallet but less durable in the long run.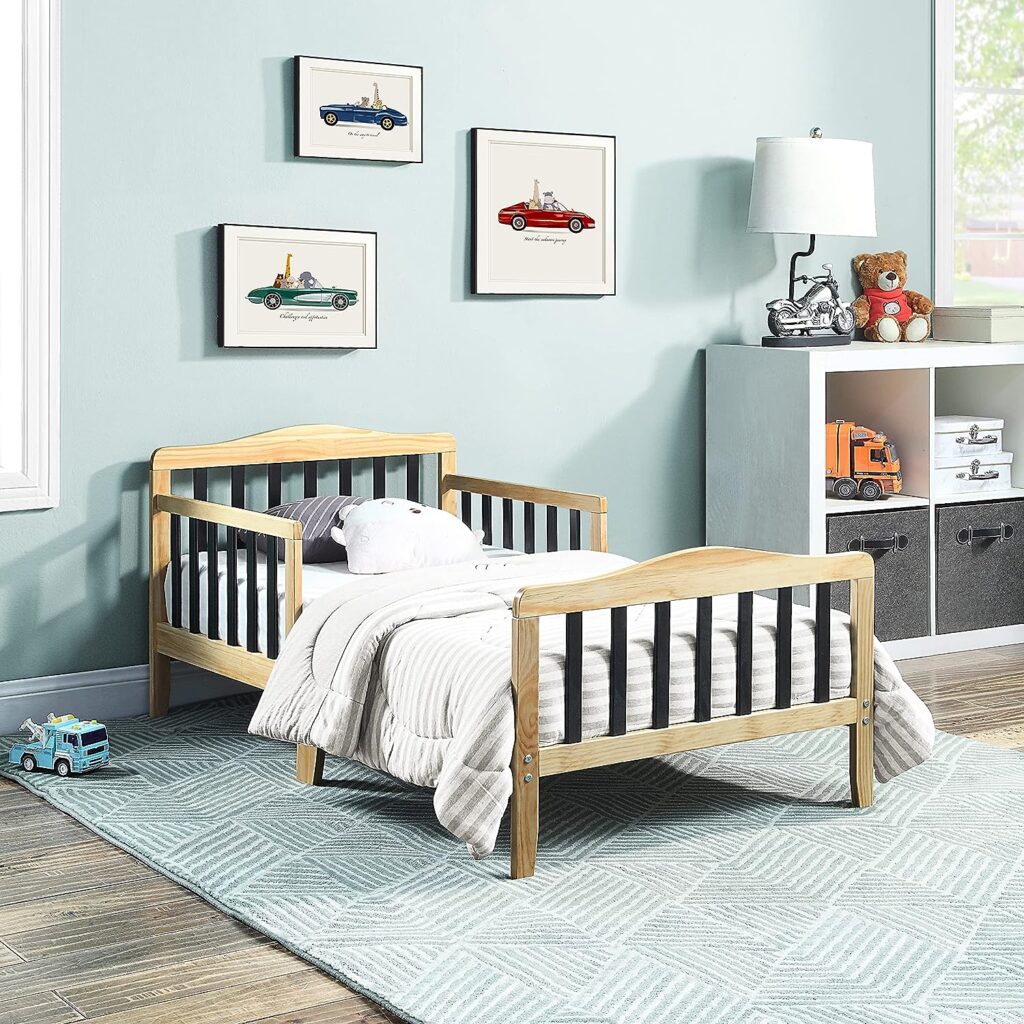 Weight Limit
The weight limit of a toddler bed isn't just about how much your child weighs now. It indicates the bed's durability, potential lifespan, and sometimes even its safety. Beds with higher weight limits are often more robustly constructed, meaning they can take the jumping, bouncing, and roughhousing toddlers are known for. This longevity means the bed can serve your child through their early childhood years without needing replacement.
Installation
No one enjoys spending hours deciphering complicated instruction manuals. Beds that are simpler to assemble not only save you time and frustration but also ensure a safer outcome. Improper installation due to complex instructions can pose risks.
You also need to think long-term. There may be times when you need to disassemble the bed for moves or storage. A bed that's user-friendly in its assembly and disassembly can be a major benefit.
Safety Features & Certifications
Safety is paramount when it comes to your little one's sleep sanctuary. Look for beds with rounded edges to minimize bumps and bruises. Guardrails are a must, especially for restless sleepers, so they don't roll off.
For certifications, always check to see if the bed has passed JPMA, ASTM, and/or the Consumer Products Safety Commission (CPSC) standards. Some woods or paints can give off VOCs (volatile organic compounds) that aren't ideal for your child's respiratory health.
Ladder Style & Options
This one usually just applies to bunk beds and the like. Make sure it's sturdy, with wide steps to accommodate those tiny feet. The ladder's rungs should be evenly spaced and not too far apart, making it easy for your child to climb up and down without straining. Additionally, some beds offer ladders with handrails or barriers, adding an extra layer of safety.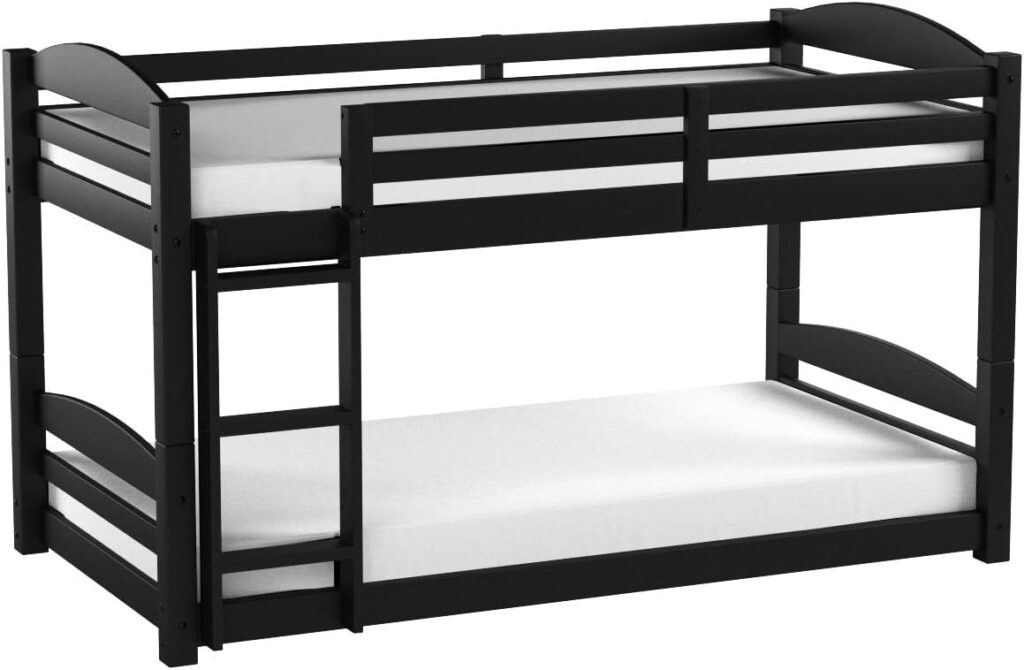 Sleepopolis Buying Tips
When zeroing in on the best toddler bed for your needs, consider:
How old is your child? Many of these toddler beds have weight limits, so different options may be more or less appropriate depending on your child's age and size. Before purchasing a bed, make sure you're aware of how much weight it can accommodate.
What are your functionality preferences? Do you want a bunk bed that can accommodate two children? Do you want a convertible bed that can be turned into other furniture when your child grows out of it? Consider your functional needs to narrow down your list of options.
What are your (and your child's) aesthetic preferences? Do you like the look of a sleigh bed? Is it imperative that the bed be a certain color? Strong stylistic preferences can help guide your decision.
FAQs
What type of bed should a 2-year-old be in? 

A 2-year-old should get a toddler bed that's low to the ground and has safety features like guardrails to prevent accidental roll-offs. The size should suit the toddler's size, similar to their crib's size, to ease the transition.
What is the best age to switch to a toddler bed? 

It varies. But usually, a child transitions from a crib to a toddler bed between 18 months and three years. There isn't a one-size-fits-all answer, as the decision hinges on the child's development and external factors. If your toddler starts climbing out of the crib or has outgrown it, it might be time to make the switch.
What type of bed is best for a 3-year-old?

By the age of three, many children have made the leap to a toddler bed. However, if they haven't, now might be the time, especially if they've outgrown their crib. As mentioned before, toddler beds should have a low build and come with safety features like guardrails.
Is a floor bed best for a toddler?

It depends on a number of factors, such as your child's preferences, the bedroom environment, and other factors like allergies. Some toddlers might feel more secure in a traditional bed, while others may prefer the "independence" they feel from a floor bed. As with all parenting choices, gauge what aligns best with your child's needs and your household's environment.
Best Toddler Beds 2023
| | | |
| --- | --- | --- |
| Toddler Bed | Best For | Price |
| Delta Children Canton Toddler Bed | Overall | $92.99 |
| Dream On Me Classic Design Toddler Bed | Best Colors | $99.00 |
| Gap Kids Toddler Bed | Best Modern | $129.99 |
| Suite Bebe Blaire Toddler Bed | Best Wood | $84.99 |
| Child Craft Hampton Arch Top Toddler Bed | Most Supportive | $119.90 |
| Costzon 2 in 1 Convertible Toddler Bed Frame | Best Convertible | $135.99 |
| Olive and Opie Twain Toddler Bed | Best Design | $109.99 |
| Delta Children Plastic Toddler Bed, Nick Jr. PAW Patrol | Best Fun | $69.99 |
| DHP Phoenix Twin Bunk Bed | Best Bunk Bed | $439.99 |
| Regalo My Cot Portable Toddler Bed | Best Portable | $34.99 |