Whether you need a bolster pillow for a little added neck support when you sleep, a bolster pillow for yoga poses, or a bolster pillow to boost your comfort during pregnancy, there are a number of form factors and options for you.
In our tour of this category, we're going to look at an array of high-quality pillows that will keep you comfortable no matter how you use them.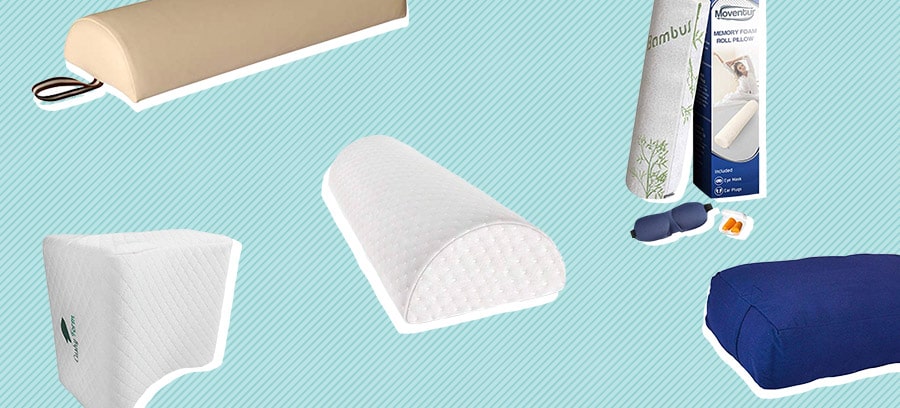 Editor's Pick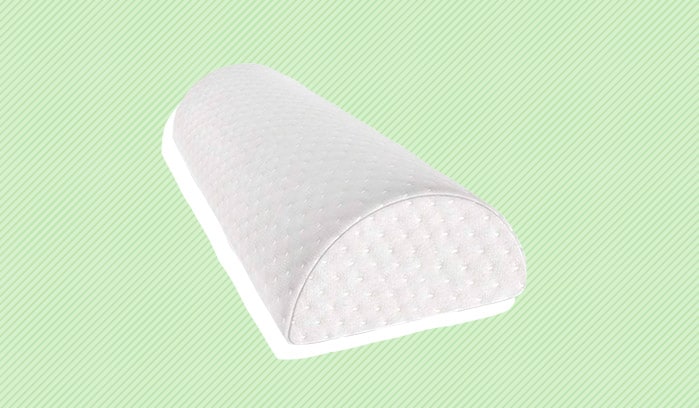 Cushy Form Half Moon Bolster Pillow
Pros:
This bolster pillow is made from 100% visco-elastic memory foam, which is designed for longevity and the right amount of firmness.
The pillow is lightweight and perfectly sized to be used as a knee pillow or a leg-elevating pillow without taking up too much bed space.
It features a breathable, washable cover so you can keep it clean with the rest of your bedding.
Cons:
While we found the pillow's 5.1-inch height to be ample for leg elevation, if you need a much higher elevating pillow, you may want to look elsewhere.
Best Bolster Pillow for Massage Tables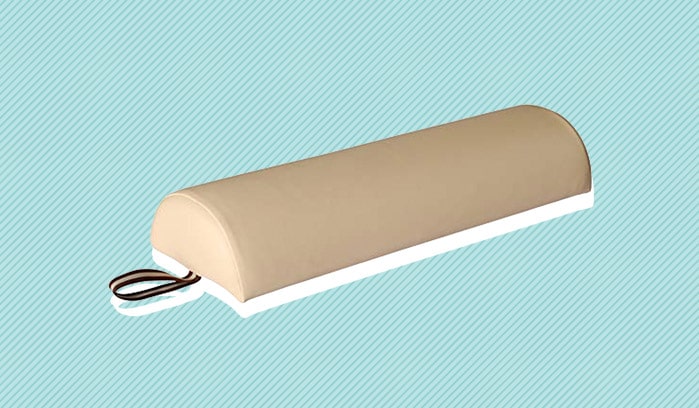 Master Massage Tables 9
Pros:
This bolster pillow's main draw is its versatile covering. The polyurethane cover repels water and oils, and can be easily removed and washed to maintain hygiene standards.
The pillow's half-moon design prevents it from rolling, which is great in massage settings.
Its 26-inch length makes it the perfect size for portability while also fitting most any massage table.
Cons:
While the pillow's foam interior is good enough for its purposes, we wish it would've been made of a higher quality memory foam-style material for added comfort.
Best Bolster Pillow for Pregnancy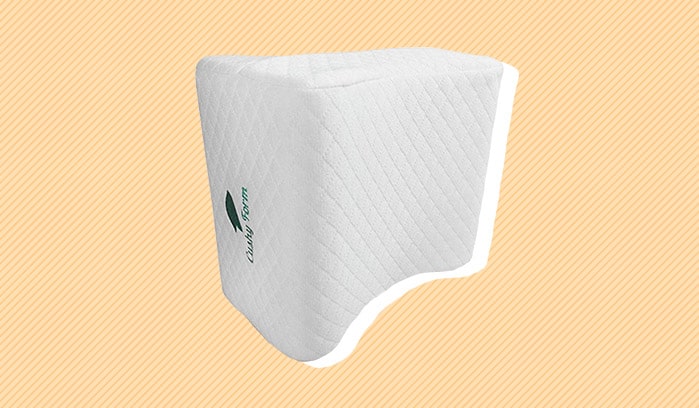 Cushy Form Knee Pillow
Pros:
This bolster pillow's main pro is its shape, which fits perfectly between the knees for ideal spine alignment during sleep.
The durable memory foam material provides ideal cushioning and support.
The pillow comes with a breathable and soft, easily removable and washable cover as well as a travel case to keep it protected.
Cons:
While many bolster pillows can be used in multiple applications, this primarily single-function pillow may not work for those looking to also get a neck or lumbar pillow in one.
Best Bolster Pillow for Yoga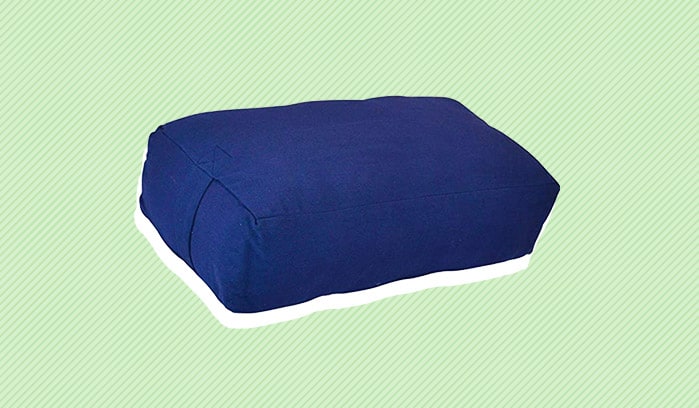 YogaAccessories Rectangular Cotton Bolster
Pros:
Weighing in at nearly six pounds, this 100% cotton-stuffed bolster is sturdy enough to hold position during your yoga routine.
The pillow features handles on both ends which helps not only for transport, but also for steadying yourself during stretches.
The removable and machine washable pillow case lets you stay hygienic in your fitness. You can also choose from more than a dozen color options!
Cons:
The off-gassing smell on the pillow was strong on first arrival. Over time the smell did dissipate, however.
What We Were Looking For
If you're in the market for a bolster pillow, odds are you're looking to alleviate some sort of pain or discomfort. Whether you're waking up with a sore neck, back, or knees, the right bolster can be a game changer for your entire daily routine. We took each type of use case for a bolster pillow into consideration in compiling our list. Some of these factors included:
Versatility:

Is the shape of the pillow designed with the sole purpose of relieving one type of pain? If that was the case, that bolster really needed to stand out for its specific use case. Besides that, we tended to favor bolster pillows that could be sued for multiple pain points.

Firmness and Durability:

Unlike a lot of other pillows, bolsters should have a fair amount of resistance to their design (without being overly hard or uncomfortable). If the pillows sunk in too far, they weren't serving their purpose of providing extra support.

Cover Design:

Since the bolster pillow you're getting is probably going to be irregularly shaped to where you won't be able to fit it to a standard pillow cover, the washability and softness of the bolster's cover weighed into our selection process.
Some Tips for Picking the Best Pillow
Choosing a bolster pillow can be a life-altering decision if done properly. Waking up every morning in pain is a truly miserable experience, so finding a solution that alleviates that hurt can make a world of difference. Some things to look out for when selecting a bolster pillow:
Dimensions and Weight:

Make sure you check the dimensions on the bolster pillow before you buy. Especially if you're using it for travel, choosing a pillow with a more compact or lightweight design can be essential for on-the-go use.

Materials:

If you're sensitive to certain types of fabrics and materials, some bolster pillows may cause a skin reaction. This is an object you're planning to have prolonged exposure to, potentially on bare skin, so double-check materials and potentially opt for something hypoallergenic if you have sensitive skin.
Best Bolster Pillows of 2021 Recap
So there you have it; between the knees, behind the neck, under your legs or behind your back, bolster pillows can be the perfect added support to your sleeping and lounging routine. When choosing the right bolster pillow for your unique needs, you can alleviate hours spent in pain, which can change your whole outlook on life!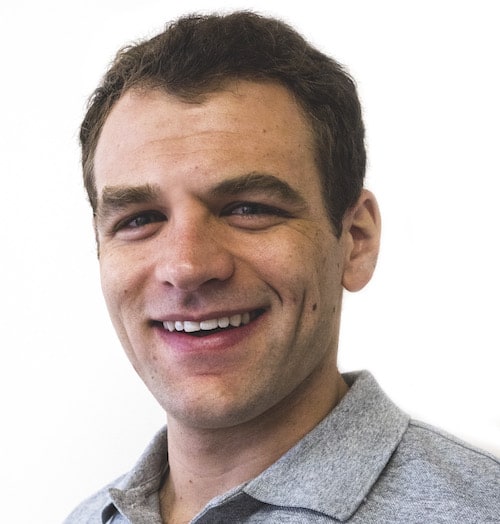 Logan Block
Logan is the former content director of Sleepopolis. As content director, he reviewed new mattresses every week and curated the comparisons, best of pages, and video guides on the site. Logan perfected his method by personally testing over 200 different mattresses, so he's not only able to discern the overall vibe of a specific bed, but to contextualize its feel within the bed-in-a-box market as a whole.