Once your child's second birthday rolls around, it might be time for their first pillow. The best toddler pillow shouldn't be just any pillow, though. These models must have quality materials and provide the proper comfort and support. That way, your child is not only sleeping soundly, but sleeping safely. To make it easier on you, we've compiled a list of the eight best toddler pillows on the market today.
Best Toddler Pillows
Best Organic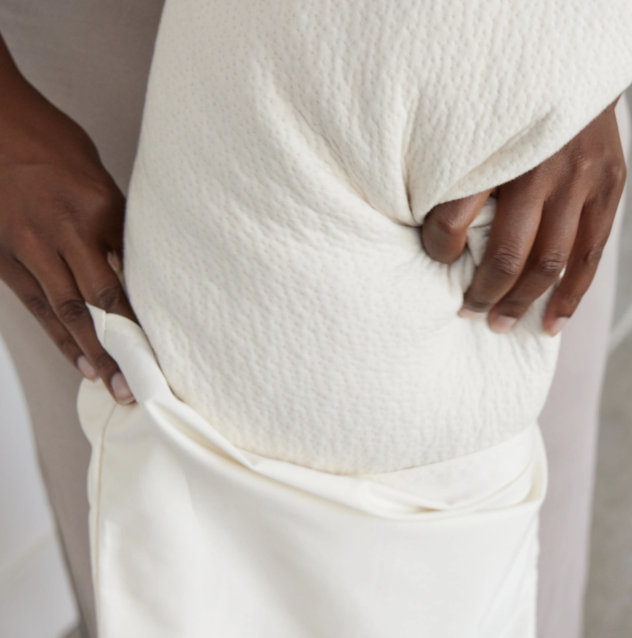 Avocado Organic Toddler Pillow
Avocado's toddler pillow helps parents rest assured that their child is not only comfortable, but safe. Materials in this pillow have a truly impressive amount of certifications. It's Global Organic Textile Standard (GOTS) certified, Global Organic Latex Standard certified (GOS), and OEKO-TEX Standard 100 certified, and GREENGUARD Gold certified. This means the Avocado pillow passes a number of tests for quality materials and low emissions.
Materials
This pillow has an organic cotton cover. Latex and kapok fiber serve as the pillow's internal fill. The latex is recycled, organic, and sustainable. The kapok fiber provides a down-like feel without the risk of allergens.
What We Love About the Avocado Organic Toddler Pillow
The quality materials should result in an extremely durable pillow.
A breathable cotton cover and naturally-cooling latex makes it ideal for cooling, so your child shouldn't sleep too hot on this bed.
Avocado is famously a carbon-negative business, so during manufacturing, they focus on preventing emissions and their contribution to climate change.
Price
$34, with a 100-night trial and 1-year warranty.
Best Cooling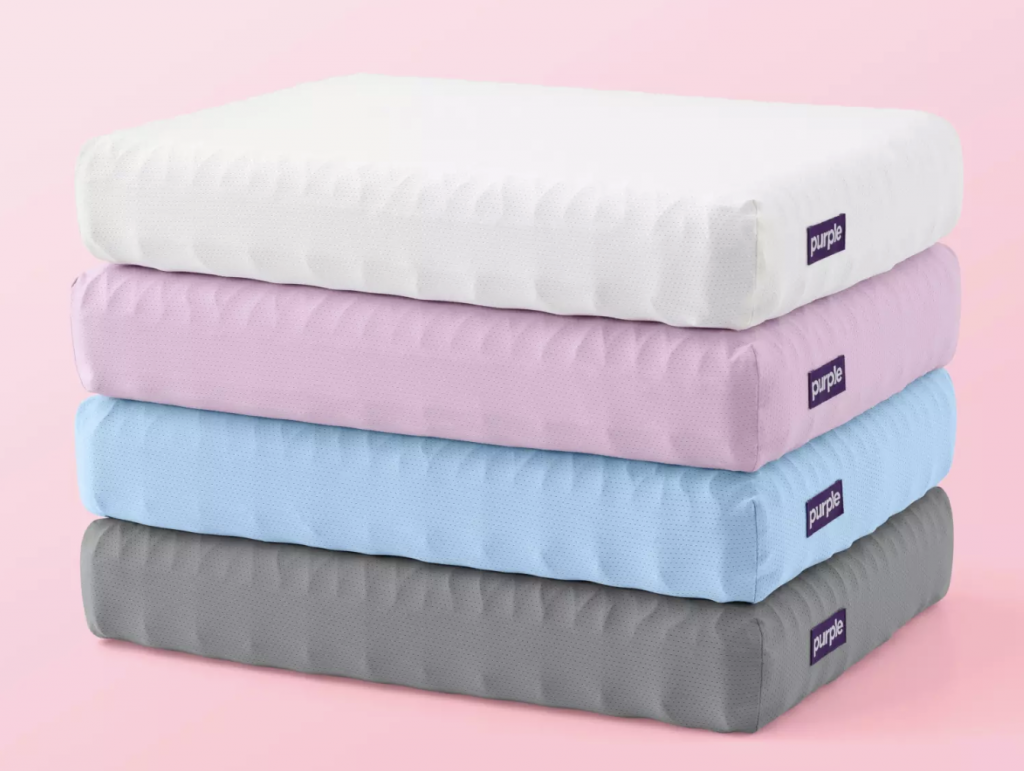 Purple Kid's Pillow
A kid-sized version of the Purple Pillow, the Purple Kid's Pillow maintains the same supportive, comforting GelFlex Grid technology. One of the most notable traits about the GelFlex Grid is its cooling abilities. Its aerated construction promotes breathability, while the mesh cover is designed to be light and moisture-wicking. With this pillow, your toddler shouldn't overheat and should get a good night's sleep. That means you should sleep well, too!
Materials
The pillow itself is a combination of hyper-elastic polymer and non-toxic polyethylene copolymer powder coating. As for the mesh cover, it's made primarily of polyester, but also includes nylon and spandex.
What We Love About the Purple Kid's Pillow Pillow
Many reviews state this pillow is portable and great for travel.
It comes in three different colors: white, pink, blue, and gray.
The Purple Kid's Pillow is made in the U.S.
Price
$79, with a 100-night trial and 1-year limited warranty.
Best Washable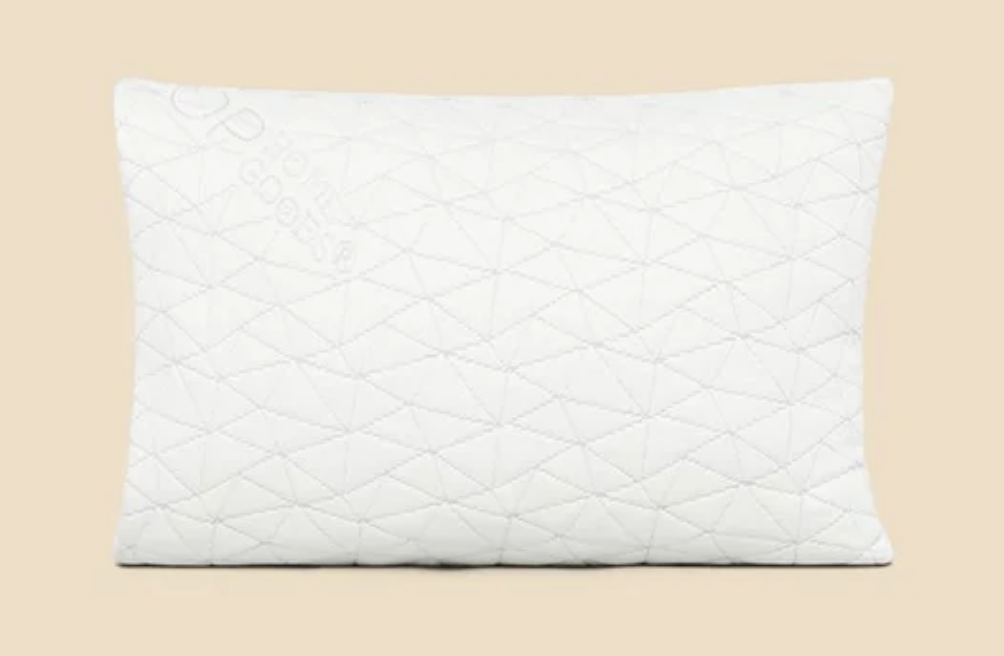 Coop Sleep Goods Original Toddler Pillow
With toddlers, accidents are bound to happen, and hand-washing a pillow after every spill and mess just isn't practical. Luckily, the Coop Sleep Goods Original Toddler Pillow is completely washable, saving parents both time and stress. Both the outer cover and inner pillow can be machine-washed in cold water. The pillow can also be dried. 
Materials
Its hypoallergenic, non-toxic fill consists of microfiber and memory foam. The case itself uses Lulltra fabric, made of polyester and bamboo-derived viscose rayon. Coop Sleep Goods also uses polyester in the pillow's liner.
What We Love About the Coop Sleep Goods Original Toddler Pillow
This pillow is GREENGUARD Gold and CertiPUR-US certified.
It's hypoallergenic, so you shouldn't have to worry so much about contaminants collecting on your kid's pillow.
Its shredded fill is protected by a childproof interlocking dual-case system
Price
$35, with a limited 5-year warranty.
Best Down Alternative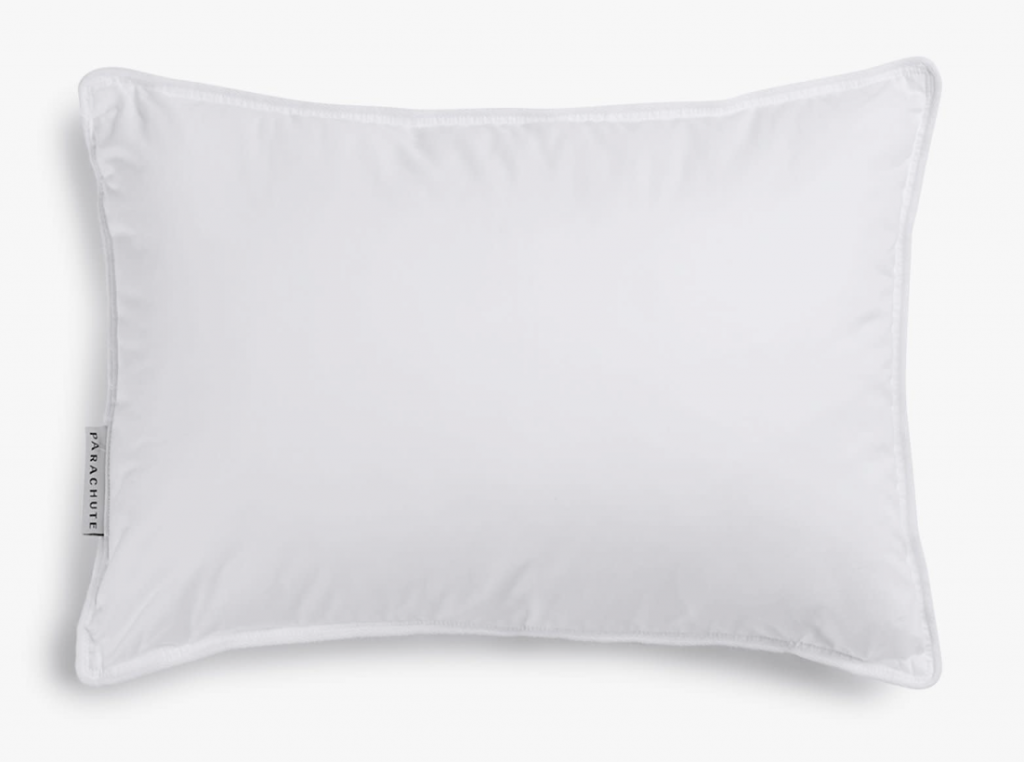 Parachute Toddler Pillow
The Parachute Toddler Pillow offers the feel of down without the allergens. This is important to keep in mind, especially when considering how sensitive a toddler's skin can be. The down alternative and hypoallergenic fill is made of microfiber. This material is very fine and should provide plushness and coziness for your toddler.
Materials
The hypoallergenic down alternative fill is covered by a cambric cotton shell.
What We Love About the Parachute Toddler Pillow
For added convenience, this pillow is machine-washable.
This pillow can also be handy for mothers. Parachute's site suggests using it to support the back while breastfeeding.
Parachute offers free carbon neutral shipping and returns
Price
$29, with a 3-year warranty.
Best Kapok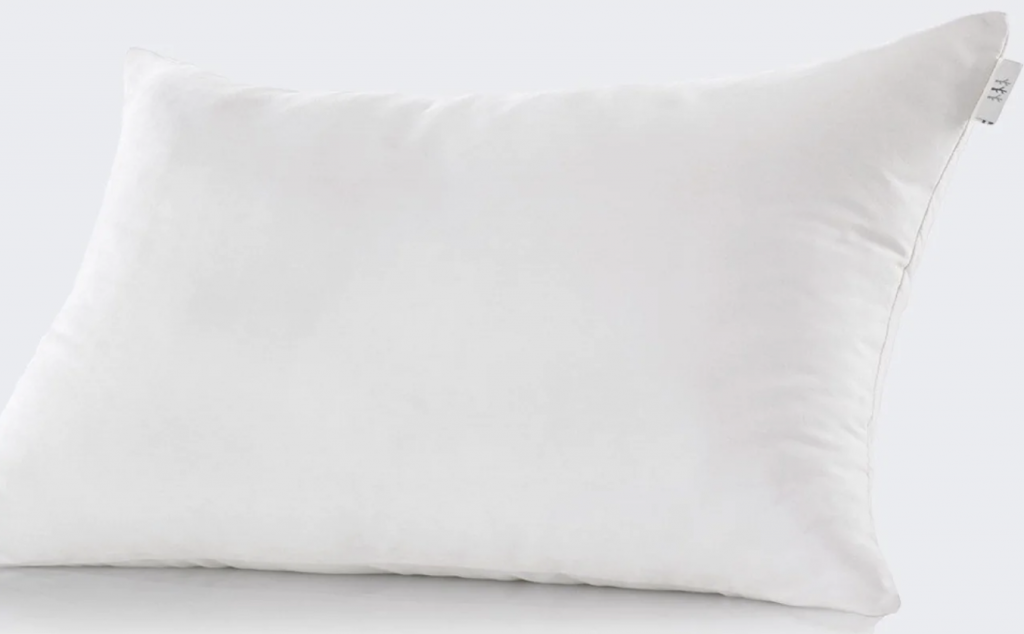 Brentwood Home Organic Toddler Pillow
Kapok is a fiber known for its durability, sustainability, and lighter weight. It's often used in pillows providing a balance of plush comfort and support. The Brentwood Home Organic Toddler Pillow is an excellent kapok option, as the company selected kapok as their toddler pillow's material because it's non-toxic and pesticide-free. Combine that with a Global Organic Textile Standard certification, and you've got yourself a safe sleeping surface.
Materials
The cover is made of 100 percent organic cotton, and the internal fill is made entirely of organic kapok fiber.  
What We Love About the Brentwood Home Organic Toddler Pillow
Kapok is a material famous for not only being natural, but also moisture-wicking. It should be an excellent cooling option for your toddler.
This pillow is made in the U.S.
As a company, Brentwood Home works to reduce their carbon footprint and is Climate Neutral Certified
Price
$35, with a limited 1-year warranty.
Best Online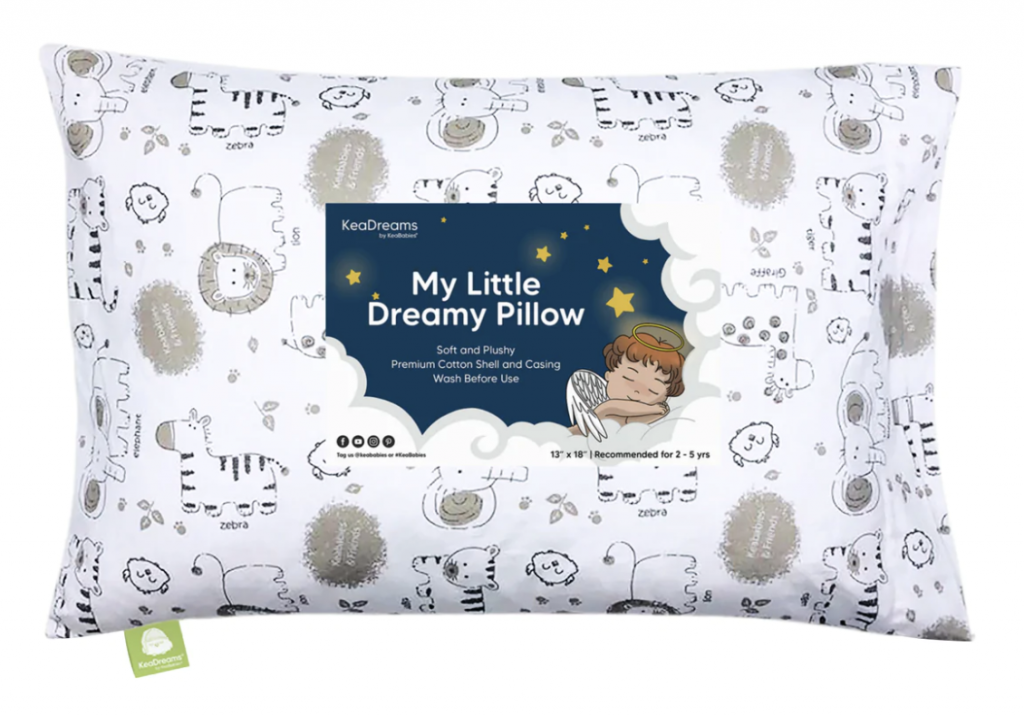 KeaBabies My Little Dreamy Pillow
If you want a quick and easy online purchase that's safe and comfortable for your toddler, try the KeaBabies My Little Dreamy Pillow. KeaBabies offers free shipping and free returns through Amazon, but this product can be purchased on the company's site. To top it off, KeaBabies offers a 30-night sleep trial and one-year warranty, so you have time to test it out and make sure it's best for your toddler.
Materials
The My Little Dreamy Pillow has a natural cotton pillow case and outer shell. For the filling, it includes plush fiber balls.
What We Love About the KeaBabies Toddler Pillow
It comes with a pillowcase, and there are a number of fun patterns and designs to choose from.
This pillow is machine-washable and dryable.
It's Climate Pledge Friendly, meaning it's Global Organic Textile Standard (GOTS) certified and made with at least 95 percent organic materials.
Price
$40, with a 30-night sleep trial and 1-year warranty.
Best Plush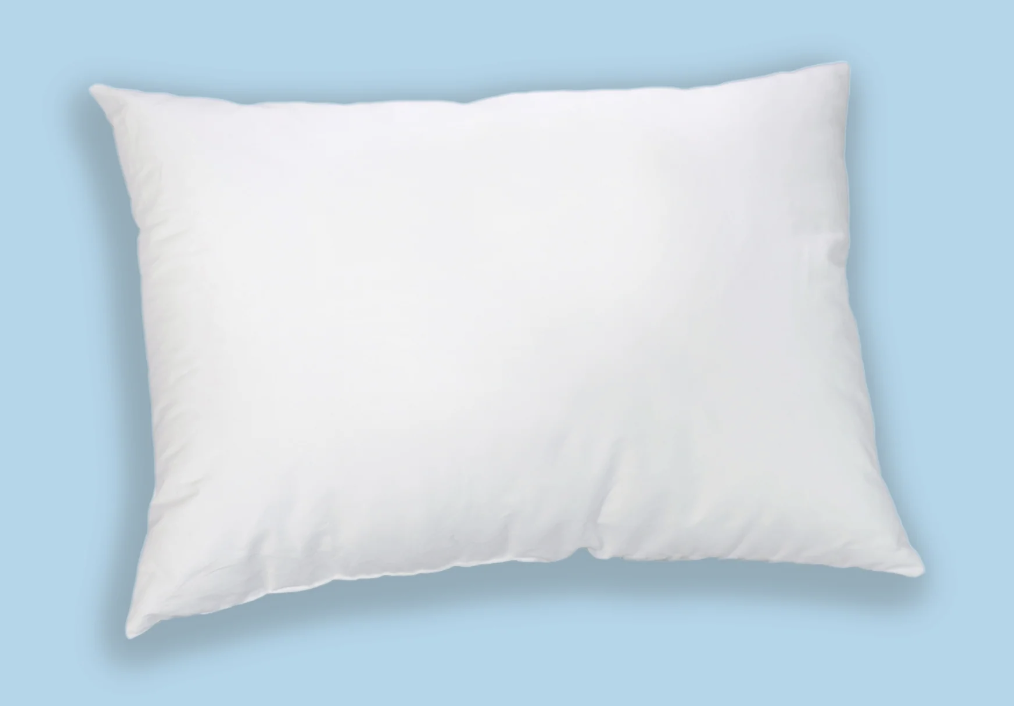 Little SleepyHead Original Toddler Pillow
If you're looking for a plush option, the Little SleepyHead Original Toddler Pillow should be a fantastic fit. Down alternative is known for offering a soft and fluffy feel, similar to that of true down. However, unlike down pillows, the Little SleepyHead is hypoallergenic. Customers seem to adore this pillow; it has 4.8 out of 5 stars on Amazon and is voted Amazon's Choice. 
Materials
An organic cotton shell surrounds the filling of this pillow, which is made of hypoallergenic down alternative.
What We Love About the Little SleepyHead Original Toddler Pillow
Little SleepyHead markets their toddler pillow as ergonomic, meaning it should be good for neck and spinal alignment.
This pillow is machine-washable.
It comes in a youth option (16 inches by 22 inches) that can be purchased once your child grows out of the toddler model.
Price
$26, with a 30-night sleep trial.
Best Hypoallergenic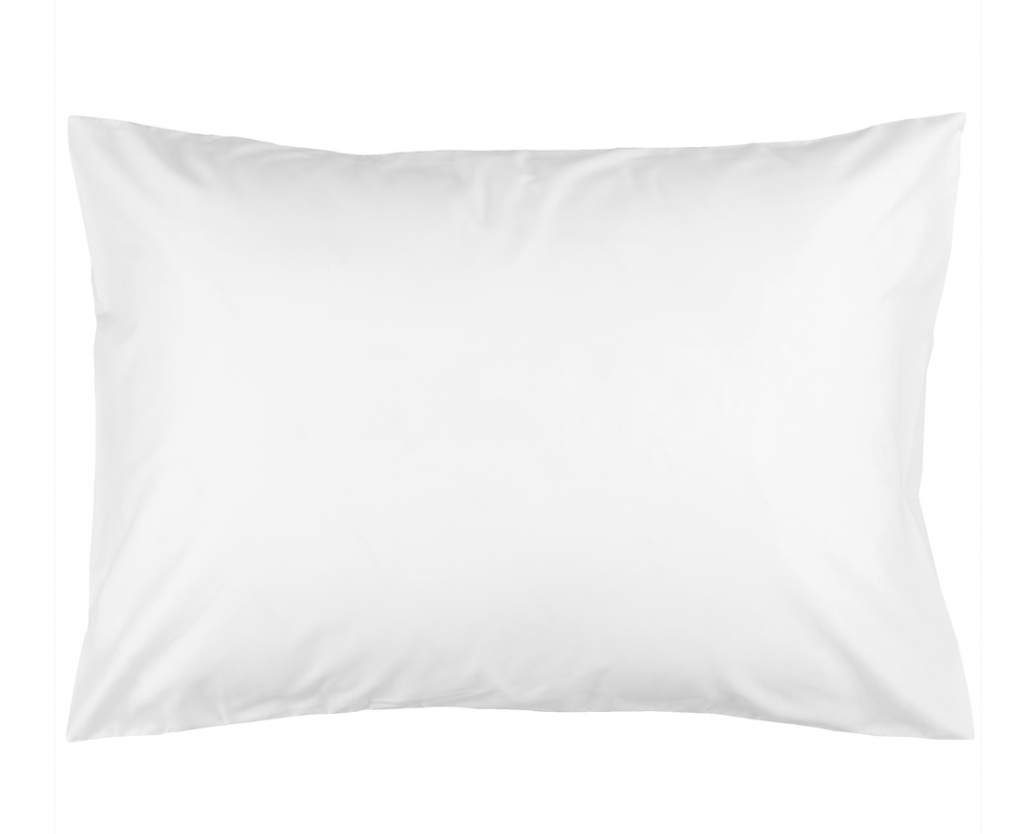 My Little North Star Toddler Pillow
A hypoallergenic pillow can make all the difference for your toddler. Models like the My Little North Star Toddler Pillow, which boasts a hypoallergenic cover, can prevent dust mites and other contaminants. This is great for toddlers with allergies, or toddlers in general, since young children tend to have sensitive skin. Consequently, your child should get a restful sleep without the disruption of a stuffy nose or endless sneezes.
Materials
Made in the USA, this pillow has a 100 percent organic cotton shell. It's filled with a polyester fiber cluster filling.
What We Love About the My Little North Star Toddler Pillow
My Little North Star markets their pillow as being great for travel, preschool, napping, and more.
A 100 percent organic pillowcase is included in your purchase.
The pillow and pillowcase are both machine-washable.
Price
$33, with a limited 5-year warranty.
What Is a Toddler Pillow?
Most are designed specifically (from the size to the materials) for kids between the ages of one and three. However, it's a good idea to check with the manufacturer, because different pillows have varying recommended age ranges. With that said, let's dive into some traits specific to toddler pillows.
Sizing
Most toddler pillows are about 13 inches by 18 inches, so roughly a foot by a foot and a half. This size makes these pillows great for travel, daycare visits, and even car ride naps.
Why It's Different From a Standard Pillow
A standard pillow typically measures 20 inches by 26 inches, almost doubling the size of a toddler pillow. Because this pillow is too big and lofted for toddlers to use, it can throw off their spinal alignment. Keep in mind that the materials in standard adult pillows may not be best for children. The safest toddler pillows have certifications confirming that materials were tested for toxins and emissions. 
Read: Toddler Sleep Schedules and Bedtimes
Using a Toddler Pillow Safely
Sudden Infant Death Syndrome
Sudden infant death syndrome is the sudden, unexpected death of a seemingly healthy infant. The risk is much higher for children under 12 months old. It's important to create a safe space for your child in order to prevent this.
That's why we don't recommend using a pillow for infants; a pillow could block movement or cause suffocation. Instead, you'll want to swaddle infants while they're lying on their back and keep the crib or bassinet completely empty of all toys and extra bedding (other than a tightly fitted sheet).
Read: Baby Sleep Safety
When to Start Using a Pillow
It's recommended that you wait to introduce a pillow until your child is at least 18 months old. Preferably, parents should wait until the two year mark, or 24 months. This is to prevent suffocation from the pillow or materials within the pillow.
However, it's different for every child. Some may seem perfectly comfortable without a pillow, in which case it may make sense to wait a little longer. If your child has transitioned to a toddler bed, this could be a sign they're ready for a pillow. Some toddlers may start bunching up a blanket or stuffed animal beneath their head at night, indicating it might be time to introduce a pillow.
Pillows in a Crib – Should You Use Them?
A popular guideline is to start using a pillow once a child has transitioned out of a crib. It's typically at this point that a child is past the higher risk of SIDS. Also, it's best to avoid having items in the crib that can affect a child's sleep (through blocking movement or suffocation).
Toddler Pillow Considerations
Washability
Messes happen. Maybe your child gets sick in the middle of the night, maybe they spill their juice. Investing in a washable toddler pillow can make these accidents much easier to handle.
Read: Your Ultimate Guide to Cleaning Your Pillows
Is It Hypoallergenic?
It's not a bad idea to search for hypoallergenic materials within a pillow, especially with a child's sensitive skin. These pillows can help protect your child from allergens. A pillow protector is also helpful for preventing contaminants.
Toddler Pillow Materials
Ideally, a toddler pillow will be on the firmer and flatter side, easing the child's way up from sleeping without a pillow. One with a lower loft and a firmer feel can be better for their spinal alignment. A pillow that's too soft and too high might cause suffocation.
In terms of the materials themselves, opt for a toddler pillow that won't create a choking hazard. A durable pillow prevents any rips or tears for the stuffing to fall out. If you get an internal fill that's more of a solid block than tiny pieces of material, this lessens the likelihood of your child swallowing the material.
As mentioned above, you'll also want to consider your child's allergens. If you're not sure, we recommend avoiding latex and down pillows, both of which might be materials your child is allergic to.
Perhaps the most important thing to think about when purchasing a pillow for your toddler is the quality of materials. You'll want materials low in VOCs, or volatile organic compounds, so they don't breathe in harmful emissions. Some of the most important certifications are listed below.
Read: Best Pillows
Mattress Material Certifications
A pillow that's CertiPUR-US certified is low in VOCs and doesn't include harmful chemicals, flame retardants, or heavy metals.
GOLS-certified pillows are made out of "organically grown natural rubber latex." This certification values sustainability, low emissions, and safe substances.
If you have a GOTS-certified pillow, this means the manufacturing and trading processes of textiles have been inspected and approved.
Greenguard certifications are given to pillows with approved emissions levels and the absence of harmful chemicals.
Pillows that have STANDARD 100 certifications are thoroughly inspected for harmful substances, down to each component of a textile.
FAQs
Do toddlers need special pillows?
If your toddler is ready for a pillow to begin with, we strongly recommend purchasing a pillow designed for toddlers. This ensures a smaller size that better helps with spinal alignment, and quality materials that don't have emissions or harmful chemicals.
Should a two-year-old have a pillow?
Not every two-year-old will be ready for a pillow, and they may not need one at 24 months. However, if your child has transitioned to a toddler bed, or if your child starts to use blankets or stuffed animals as makeshift pillows, this is a sign they're ready for one. The risk of sudden infant death syndrome (SIDS) decreases after 12 months. So, it's recommended that parents introduce a pillow after the child turns 18 months old.
Is memory foam safe for toddlers?
It depends. The safest way to determine if a pillow material is safe for toddlers is based on the certifications the product has earned. Certifications such as CertiPUR-US ensure the foam is high-quality and has low VOC (volatile organic compounds) emissions.