When thinking of traditional black out shades, the first thing that comes to my mind are the unattractive pull-down blinds we hid behind our window treatments when our first son was born. Luckily design improvements have been made since then and thanks to brands like Nicetown, black out curtains are available in a variety of styles, colors and sizes. Read on for my thoughts on grey black out curtains from Nicetown.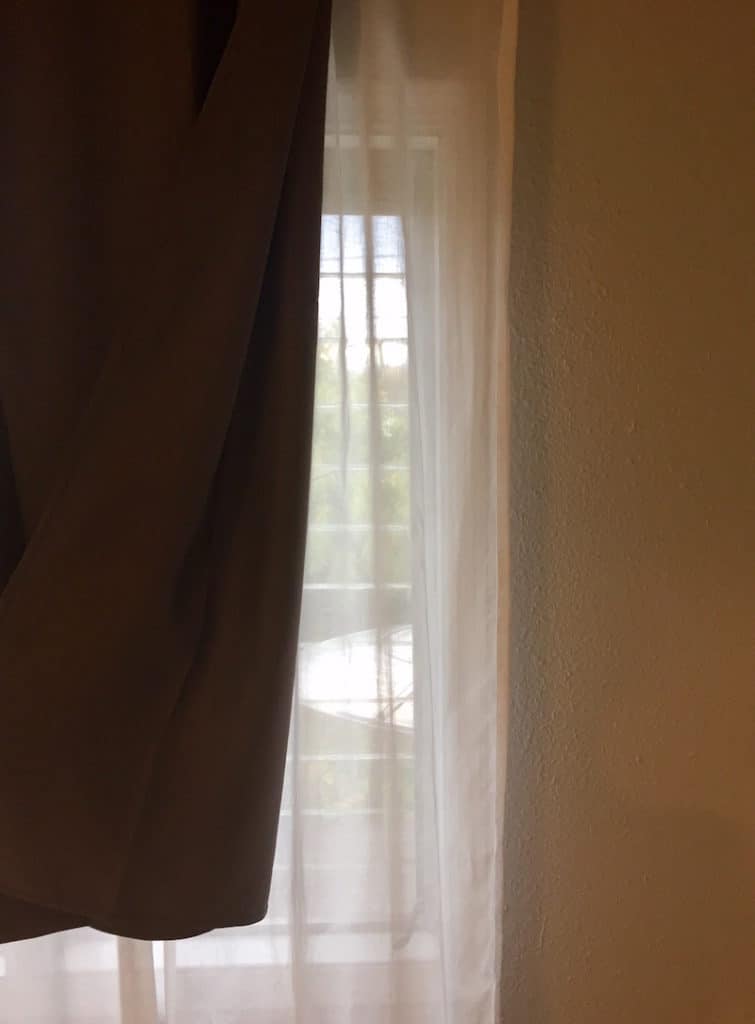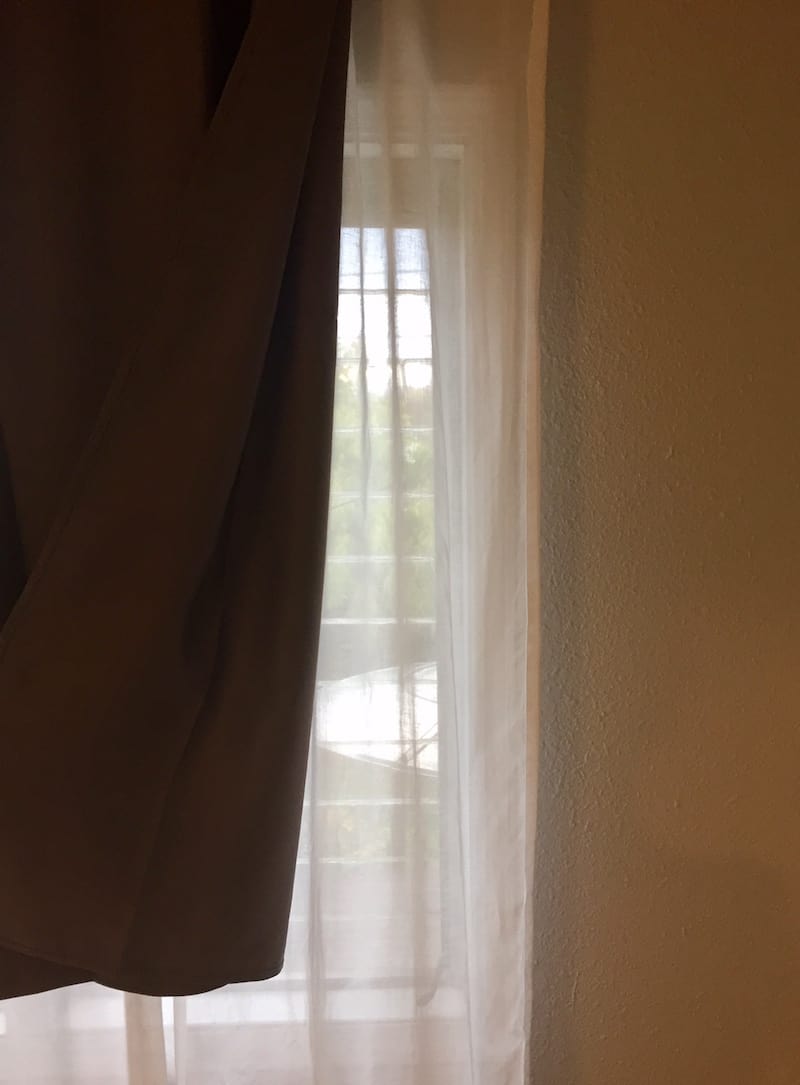 More info: Check out my full blackout curtain reviews page.
Basics
The Nicetown Thermal Insulated Grommet Blackout Curtains are a polyester set of curtains that are 42" wide and 63" long. Each panel contains 6 grommets at the top for easy installment. The curtains block 85-99% of light and UV rays and are noise reducing in part due to the triple weave fabric technology, this is the same technology that works to control temperatures in extreme temps and also provides noise control.
The curtains are available in two lengths, 63" and 84", and also come in 16 different colorways: baby pink, beige, black, blue, burgundy red, cappuccino, fresh green, gray, greyish white, navy blue, olive, platinum, royal purple, silver white, toffee brown, turquoise.
Instructions and Care
To install curtains, simply unwrap and weave grommets at top through curtain rod. This design was incredibly easy to hang and was up in no time – always a plus in my book.
The Nicetown Thermal Insulated Grommet Blackout Curtains are trimmed and wrinkle free. If you do decide to wash at home then machine wash in cold water and tumble dry on low. Iron on low or steam clean when necessary.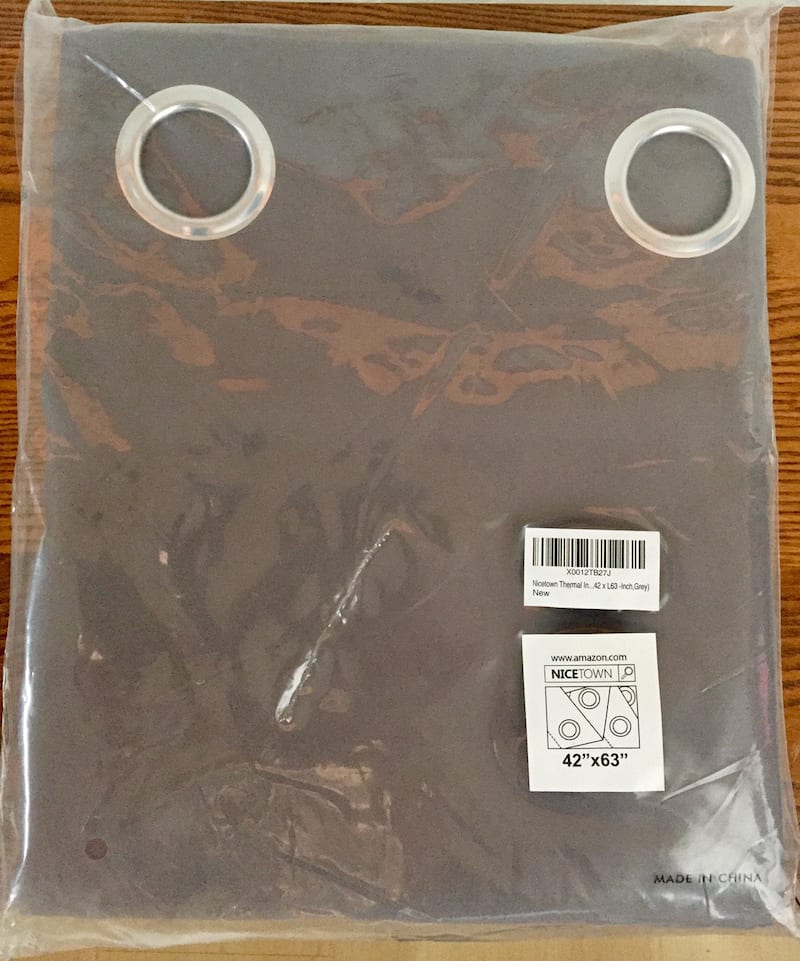 My Experience
I was immediately pleased upon opening the Nicetown Thermal Blackout Curtains. Their modern design and matte finish are a style that is representative of my aesthetic and something I would easily use in a child's room in my own home, in fact that is exactly what I did.
The curtains feel sturdy, but not overly heavy and the fabric looks of a designer home store quality. The length was perfect for my three year old's windows and the grey color is neutral enough to complement the color palette of any room. Added bonus: he is not constantly trying to hang from or hide in these curtains, which is what he does with our floor length variety.
These blackout curtains don't read typical black out curtains or shades, they maintain a sleek design and are effective at keeping out the light and maintaining the room temperature. I plan to keep these curtains and use them in my son's sometimes drafty and often bright (especially during the spring/summer months) room. I am a fan.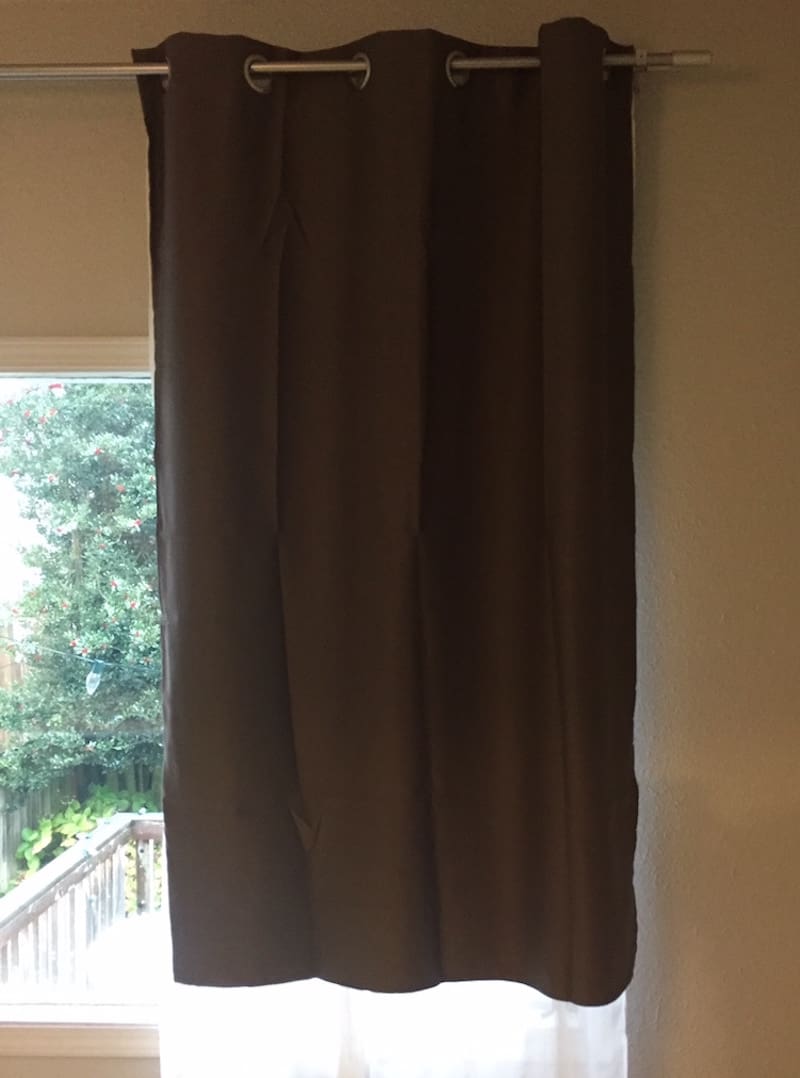 Pricing and Availability
An affordable option at only $18 on Amazon, they are also easily found online.
Common Praise and Complaints
The Nicetown Thermal Blackout Curtains are currently among some of the most popular on Amazon.
"These curtains are very nice curtains at a very good price. They are nice and heavy and black out the light. What I really like about them is that even though they're heavy they don't feel heavy and they don't have that inflexible white backing. Both sides are material and they're very soft and look very nice. I like them so much I ordered a set for my dining room."
The few negative reviews were due to the curtains arriving with inconsistencies.
"They were supposed to be 84 inches long. Mine were only 82 inches long. I had them paired next to another brand of curtains and it was a huge difference."
Final Thoughts
I would recommend these curtains to any design-savvy new parents. Their affordable price point make them a good option for either temporary or more permanent darkening needs, they have multiple color options and the length helps keep them out of reach for little hands.
The Nicetown curtains offer a lot of bang for your buck. While I did not specifically notice their being noise reducing, I know that any lining any windows can help with excess noise and maintaining the room temperature. However, the impact of these curtains is most notable in their ability to block light, that and their complementary design.
The Nicetown curtains are best suited for a few scenarios:
Black out curtains for a babe's room based on their success in blocking light and their length (easier to keep out of little hands).
For design-savvy parents who appreciate good design and like a lot of color options to choose from when selecting their curtains.
Ready to buy? Grab these curtains on Amazon!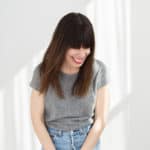 Amanda Gomes
Amanda Carter Gomes is a writer and editor living in Seattle. She spent much of her early career working marketing and as a creative consultant. Most recently Amanda launched and edits The Fold, an online publication for "women of an uncertain age and particular attitude" to fill the gap in content focused on women beyond the millennial age range.