If you're the type of person who needs total darkness to fall asleep (or stay asleep!), then an eye mask might be just what you need. There are tons of eye masks out on the market, from the flimsy free masks flight attendants give out on long flights to the super fancy, ergonomically designed masks. So how are you supposed to know which one to choose?
That's where I come in — I review sleep products here at Sleepopolis, and I personally tested the Ostrichpillow eye mask so I could give you all some honest opinions about it to help you along in your sleep mask shopping journey. I'll go over what this Kickstarter-funded eye mask is made of and tell you about my experience sleeping in it, as well as share some pros and cons based on my experience.
Short on time? Skip to the end for my review summary! Otherwise, let's get into the review.
Ostrichpillow Eye Mask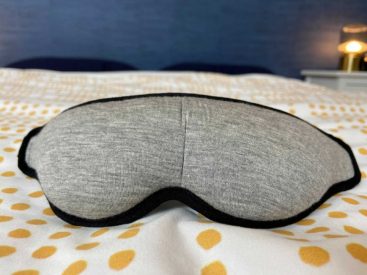 The Ostrichpillow is a comfortable eye mask that fits closely to the face and blocks out almost all light.
Sleepopolis Score
4.40 / 5
Read Full Review
What is the Ostrichpillow Eye Mask Made Of?
Ostrichpillow describe this mask as "the first truly 3D ergonomic eye mask." So what does that mean? Let's take a closer look at the materials used in this mask.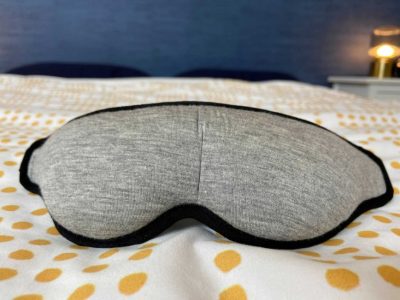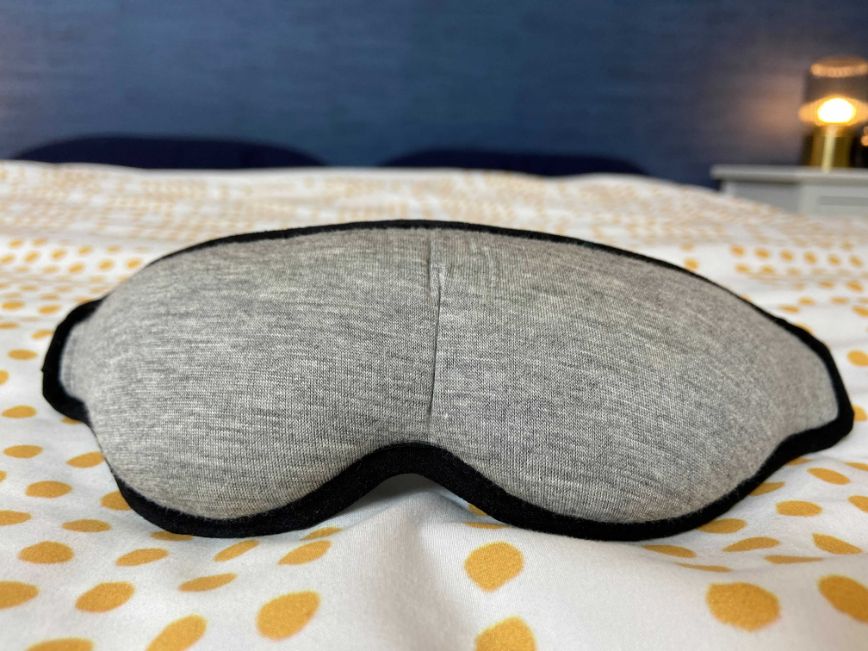 The Ostrichpillow eye mask is composed of foam, breathable modal fabric, and a strap with a hook and loop closure.
Six different layers of foam are used in the actual mask's construction to ensure total black out, as well as creating a soft and pleasantly thick feel. Around those foam layers is modal fabric, which is a semi-synthetic fabric made from beech tree pulp. This fabric has a similar feel to a jersey material. The mask itself has a molded shape that creates a little pocket for your eyes, as well as a space for the bridge of your nose.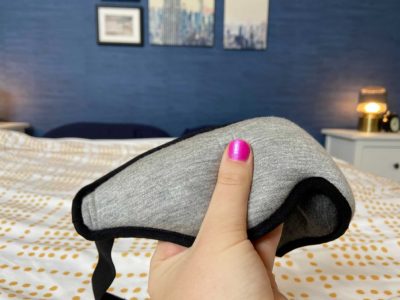 The strap is stretchy, so that it is adaptable to different head sizes, and the closure is a Velcro-style hook and loop closure that also allows for some adaptability.
The Ostrichpillow eye mask weighs 30 grams, or one ounce. It measures 11.8 inches x 3.4 inches x 1.1 inches. It's available in a light gray and a dark gray color.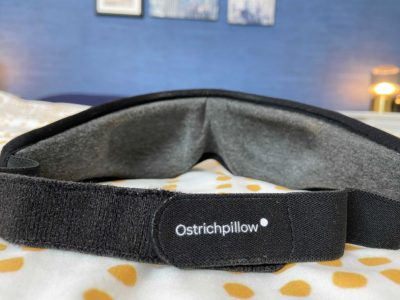 My Experience with the Ostrichpillow Eye Mask
When I first put on the Ostrichpillow eye mask, I was immediately immersed in darkness. I was seriously impressed with the blackout experience with this eye mask. No light was filtering in through the mask. When I took it off, I could tell that street lights outside my window and my alarm clock's screen were casting some light around my bedroom, so it was a stark difference between the complete darkness with the mask on and the semi-darkness without the mask.
I also really liked the way that the mask rested on my face. The foam is super soft and is perfectly molded around the three-dimensional features of the face. I particularly liked the hollowed out part of the mask around the eyes. It allowed me to be able to blink and even open my eyes completely without feeling the mask rub up against my eyelids, as it might with a more conventional face mask.
I appreciated that the strap was adjustable, as it allowed me to tighten it the right amount for the mask to stay on my head. However, if you're trying to maintain a hairstyle overnight, I think this strap would definitely leave a crease in your hair, as it is basically just an elastic band.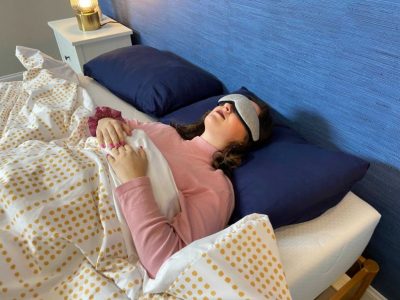 When going to sleep, I was lying on my back (as I usually do), which was no issue with the eye mask, but when I turned over on my side at one point, I found that the mask was squishing my face, which wasn't comfortable. The thick foam pushing into my cheek caused some pressure buildup and pretty quickly I switched back to sleeping on my back.
What I loved about the Ostrichpillow eye mask while I was back sleeping was that it didn't put any pressure on my face and actually left room for my facial features. But lying on my side, the mask squishing against my face made me much more aware that I had an eye mask on, as well as just causing the bit of claustrophobic discomfort that comes from having foam pushing into your face!
When I woke up, the mask had fallen off. But, I have to admit that I do toss and turn quite a bit at night and I hadn't noticed it coming off, so overall I wasn't too bothered by this. But if you're a night-thrasher like I am, just be aware that the mask may not stay super secure.
Ostrichpillow Eye Mask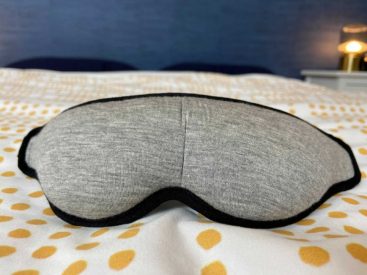 The Ostrichpillow is a comfortable eye mask that fits closely to the face and blocks out almost all light.
Sleepopolis Score
4.40 / 5
Read Full Review
Is the Ostrichpillow Eye Mask Good For You?
Now that we've covered what the Ostrichpillow eye mask is made of and my experience testing it out, let's go over my recommendations. I'll let you know who should and shouldn't consider buying this mask.
Who Should Try the Ostrichpillow Eye Mask
If you're looking for an eye mask that truly provides a total blackout experience

, I think you'll love the

Ostrichpillow

. It really delivers on blocking out any light — which is the primary purpose of an

eye mask

. The blackout effect helped me to fall asleep more quickly, because even if I opened my eyes as I was lying in bed, I was still immersed in darkness. Darkness is an important cue to your body that it's time to sleep!

If you've had trouble finding an eye mask that fits comfortably on your face

, I think the

Ostrichpillow

is a great choice. It's really adjustable to different

head sizes

and

face types

and I loved how the molded foam allowed space for your eyes, nose, and other facial features. The molded foam design means that this mask doesn't put any pressure on your face.

If easy cleaning is important to you

, you'll love that the

Ostrichpillow

is

machine washable

. Honestly, that's a huge pro in my book, especially for those of us who struggle with acne or other skin conditions. Who wants a mask that's trapping dirt and oil on your face night after night?

If you're a back sleeper,

I think you'll love the Ostrichpillow eye mask, as it rests quite comfortably on your face when lying on your back.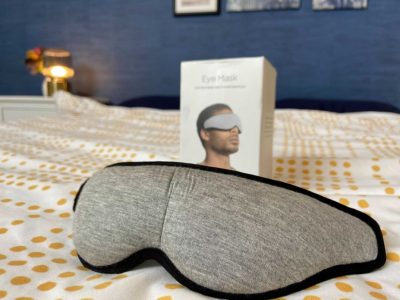 Ostrichpillow Eye Mask Complaints
Side sleepers, I'm not sure the Ostrichpillow is the best choice for you.

I found lying on my side with this puffy foam mask to be a little uncomfortable, as it caused my face to squish up a little bit. I think

stomach sleepers

will run into the same issue, as they tend to turn their neck and head to the side as they sleep.

If you want a mask that won't cause any creases on your hair overnight

, I also would steer you away from the

Ostrichpillow

. The adjustable, elastic strap has great

functionality

for fitting the mask comfortably, but not so much for preserving overnight hairstyles.

If you're shopping on a budget

, I also don't think the

Ostrich pillow

is the best choice. This

eye mask

is definitely made with

high-quality materials

and the price reflects that.
Ostrichpillow Eye Mask Prices and Policies
Price:

$45

Trial:

100 days

Warranty:

2-year warranty
Ostrichpillow Eye Mask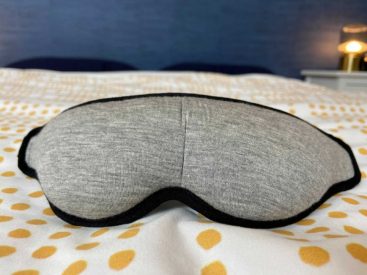 The Ostrichpillow is a comfortable eye mask that fits closely to the face and blocks out almost all light.
Sleepopolis Score
4.40 / 5
Read Full Review
Ostrichpillow Eye Mask FAQs
How do you wash the Ostrichpillow eye mask?
Ostrichpillow says that this mask is machine washable, but doesn't provide care instructions on their website. I'd recommend washing it with like colors on a gentle cycle.
What other products does Ostrichpillow make?
Ostrichpillow is a brand that's all about self-care and sleep hygiene, so they have lots of products that are intended to help you get better sleep. They include the Go Neck Pillow, the Original Napping Pillow, the Loop Eye Pillow, and more. To learn about all of Ostrichpillow's offerings, visit their website, ostrichpillow.com.
How can an eye mask improve my sleep?
Eye masks are a trending sleep product because they are very effective for shutting out light. If your sleep patterns are currently being affected by light — either preventing you from falling asleep or waking too early — an eye mask could help you get more shut-eye.