Sometimes, a sleep mask is just a sleep mask. And sometimes, a sleep mask looks like a sleep mask while promising much more. So is the addition of a cold/hot gel insert in the Simple Health Global Cold/Hot Eye Mask worth it? Find out below.
Looking for a quick read? Click here to jump to the summary.

Simple Health Sleeping Eye Mask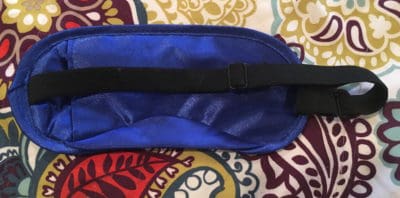 The Simple Health Global mask, which features an elastic band with a slide-style adjuster, looks like a traditional blindfold-style sleep mask, but it's stiffer than many of those, even without the gel insert in place.
Sleepopolis Score
4.00 / 5
Read Full Review
Looking to improve your sleep mask game? Check out my best sleep masks for every occasion!
First Impressions
There's a lot packed into the small cellophane bag the Simple Health Global Cold/Hot Eye Mask arrives in: the mask itself, a carrying case in the same blue fabric as the mask, a pair of earplugs, and the cold/hot gel insert that acts as the mask's selling point.
The Simple Health Global mask, which features an elastic band with a slide-style adjuster, looks like a traditional blindfold-style sleep mask, but it's stiffer than many of those, even without the gel insert in place. The gel insert, when in place, ads heft and thickness to the mask but doesn't make it any stiffer than it is without. The instructions that come with the mask explain that the insert can be heated by immersing it in hot water for 8-15 minutes before use, or cooled by placing it in the refrigerator for 30-60 minutes—but warn that you shouldn't fall asleep with the cool gel pack as extended cold compression against the eyes can cause short-term blurred vision.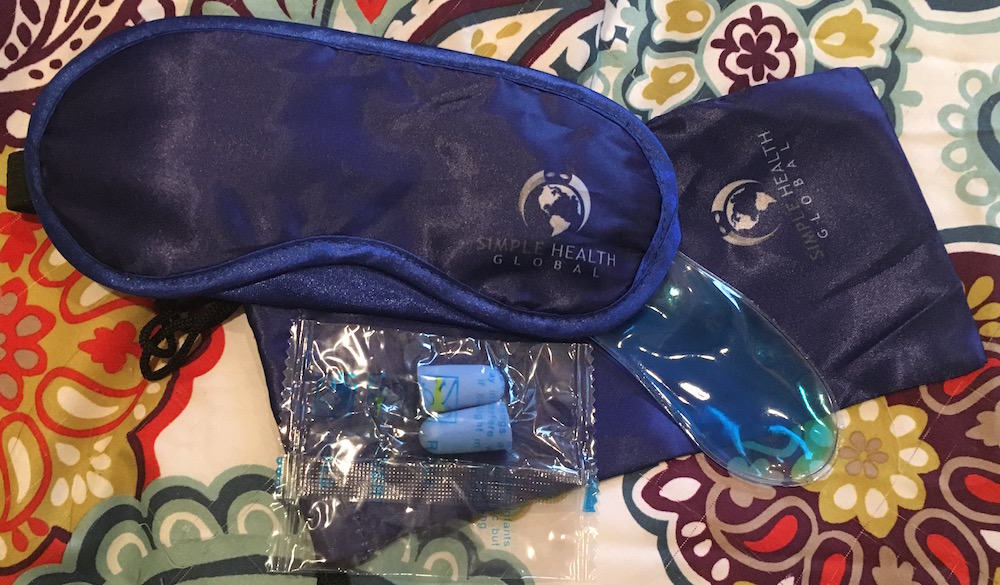 My Experience
Heeding the Simple Health Global Cold/Hot Eye Mask's instructions, I decided to forego cooling the gel insert before trying the mask overnight and instead warmed it in a glass of hot water as I finished getting ready for bed, and slipped it into place when I was ready to go to sleep. The mask adjusted easily and felt pleasantly warm against my eyes when I first put it in place. It didn't block out all of the ambient light entering my bedroom, but the mask's addition of a small piece of fabric over the nose did block out some of the light that sometimes comes into the mask in that portion of of other blindfold-style masks.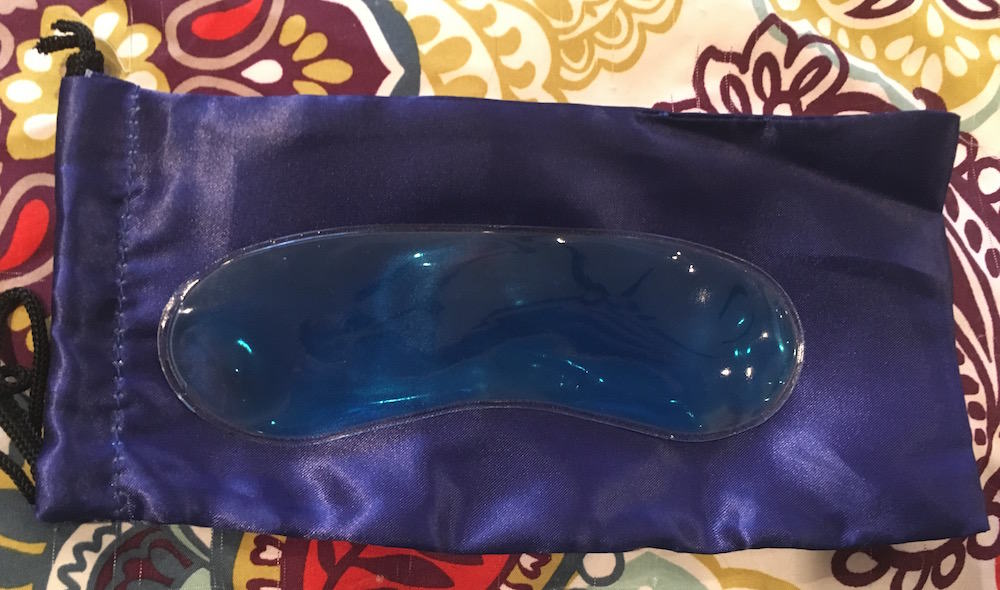 I was happy to note that I could easily lie on my side wearing the mask, but after a few minutes I began to get uncomfortable. The gel shifted so that it was largely pooled on the side of the insert nearest my pillow, and the pressure that it was putting on and around my eye began to get uncomfortable. And, not only that, but the mask's fabric did not feel pleasant pressed tightly against my face. While the Simple Health Global mask's listing on Amazon says that it's made from a "soft, breathable" and "rare, triple-weave silk fabric," I strongly suspect, based both on the way it felt against my skin and the fact that it was absolutely not breathable and I began to sweat underneath the mask, that it's really made using a synthetic satin.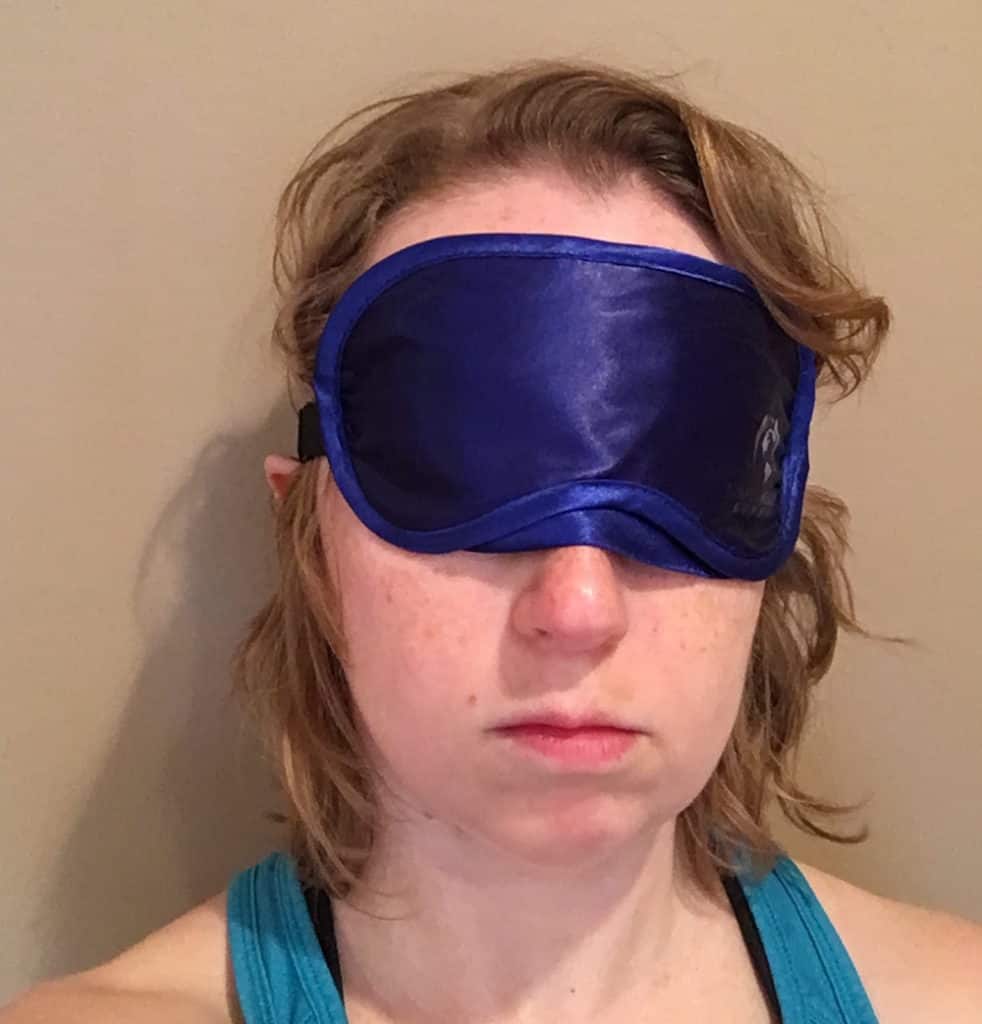 I was determined to make the mask work and get through a full night's sleep with it, so I performed some breathing exercises and eventually fell asleep. But when I woke up in the morning, it was because of the sunlight entering my room—evidently, I disliked the feel of the mask so much that I flung it across the room in my sleep. It was ten feet from my bed, being watched over by one of my cats, when I found it. But, to the mask's credit, any cat hair that was on it when I recovered it was quickly wiped away. Unlike almost every other mask I have tried, this one seemed to repel, rather than attract, cat hair.
Napping with the Mask
With all evidence suggesting that I hated sleeping with the mask and the warmed gel insert so much so that I threw it out of my bed, I decided that I probably wouldn't like it any better for a daytime nap. Instead, I decided to cool the gel insert and try using the mask for a midday relaxation session to see if my experience was any better.
Lying on my back while listening to a podcast, I inserted the refrigerator-cooled gel pack into the Simple Health Global mask, then put the mask on. I stayed in this position for the duration of that podcast episode (about 25 minutes) and had mixed feelings about the experience. On the one hand, the cool temperature of the gel pack was soothing, and because I was on my back, the gel within didn't all collect on one side. But on the other hand, the mask fit tightly across my face, and the weight of the gel inserts on my eyelids, combined with the cool temperature, became occasionally unpleasant, especially if I would flutter or blink my eyelids. I got up feeling a bit more relaxed than I had been when I laid down, but no more so than I would have if I had simply closed my eyes for the same amount of time. Plus, because the mask sat directly over my eyes, I had to do a lot of makeup reapplying before I was ready to face the world and the rest of my day.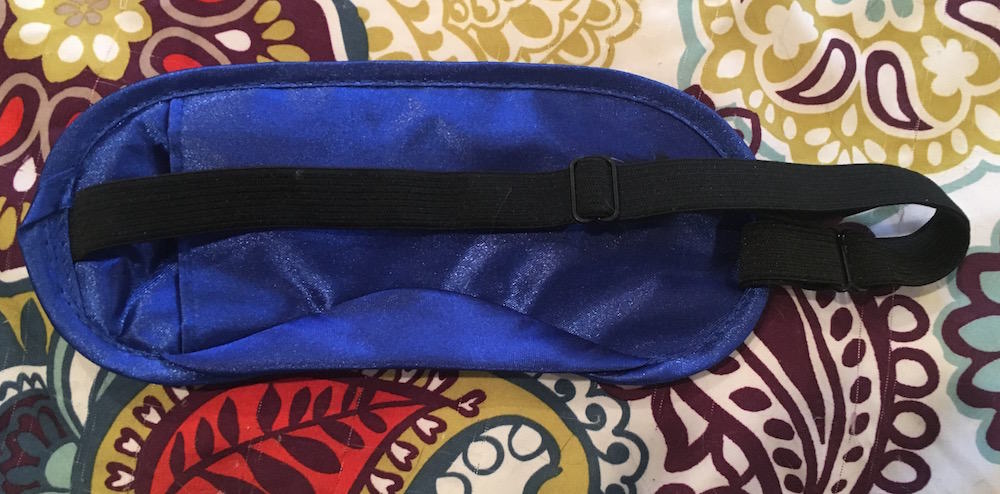 My Ratings
Comfort: 4/10
Adjustable strap: 9/10
Blackout: 5/10
Good for side-sleepers: 5/10
Wear with makeup: 2/10
Price: 8/10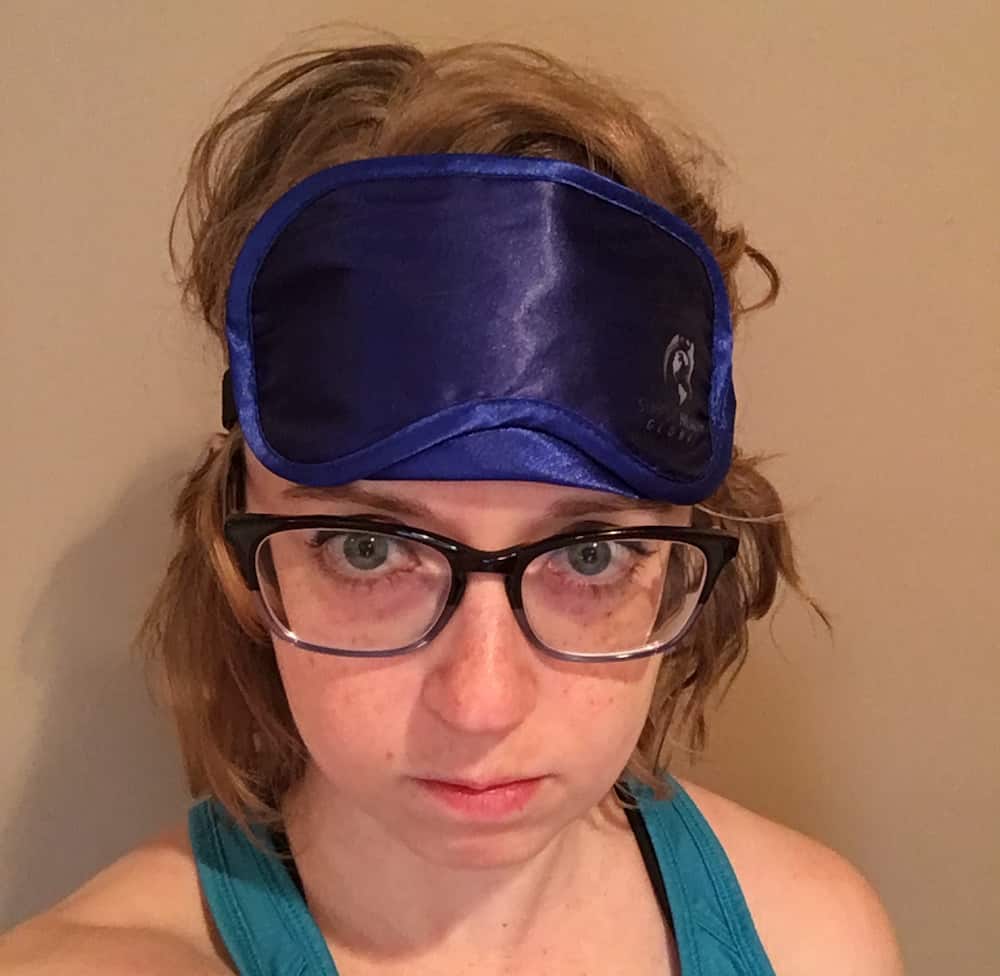 Common Praise and Complaints
Five Star Review: "Eye mask is super soft against skin. The straps are adjustable and durable compared to other eye masks we have purchased."—Yes, the fabric is soft, but it feels very synthetic. When I picked up the mask before I had put lotion on my hands the fabric clung to my dry skin, which is usually (in my experience) a sign of cheap, synthetic fabric. The fabric also felt warm against my face after a while, even when I was using the cooled gel insert. And while I do really appreciate the easily adjustable strap and its lack of Velcro closures, I found that it wasn't really strong enough to support the weight of the mask with the gel pack inserted, and I had to make several adjustments before the mask felt secure.
One Star Review: "I don't like the fit nor the fabric. Not comfortable to wear."—I didn't find the mask explicitly uncomfortable, but it wasn't exactly comfortable, either. Numerous reviewers point out the fit (which was fine in my case) and fabric (which I mentioned above) as their top complaints, and it's worth poking around to see what their specific problems were.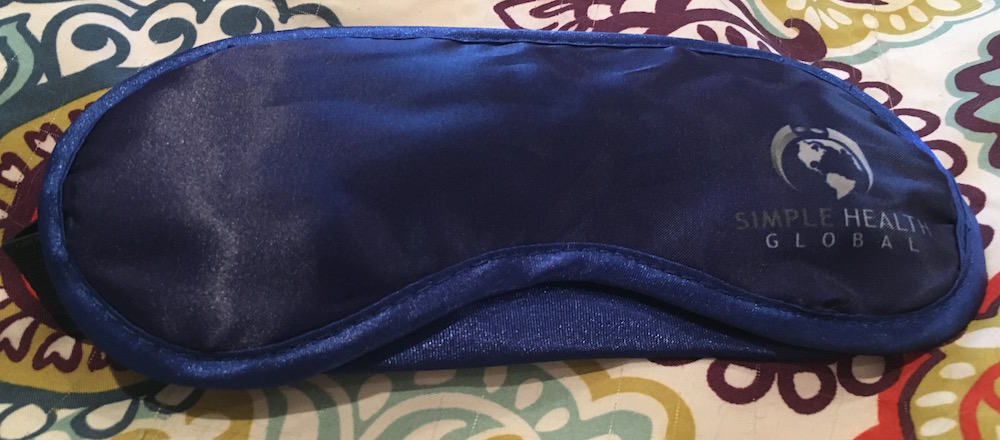 Basic Information
Price: $10.99 on Amazon
Sizing Options: one size fits all
Color Options: Blue, Black
Materials Used: "Triple-weave silk" that feels like a synthetic fabric; gel insert; elastic strap
Comes With: carrying pouch, ear plugs
Other Options: Can purchase a two-pack on Amazon for roughly 50% off the price of the second mask
Return Policy: Standard Amazon policy; however, Simple Health Global also guarantees satisfaction or they will issue a full refund.
Manufactured In: China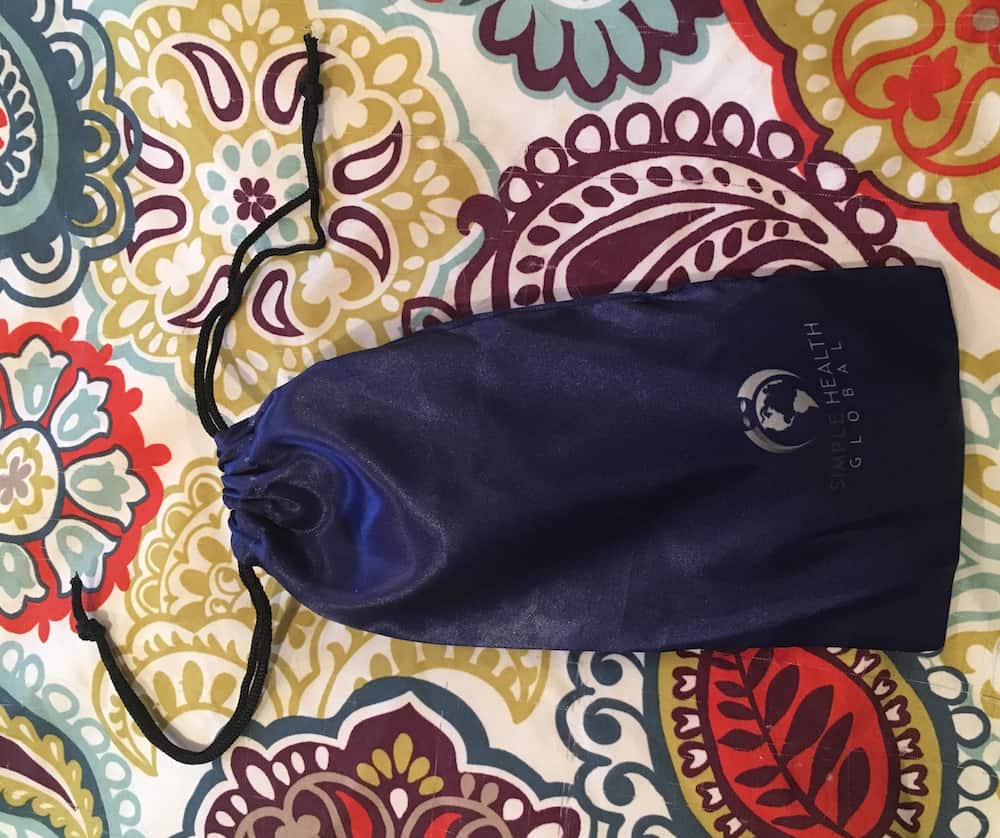 Final Thoughts
I've tried a lot of sleep masks and this was the first that I hated so much that I took it off without waking up and, in my sleep, threw it as far away from me as I could. That being said, it wasn't terrible to relax with in the middle of the day.
If you buy this mask, be sure to keep it in its carrying case. The gel insert slides out of the mask very easily and you could lose track of it; better to keep everything consolidated in the bag so that if the insert falls out, you'll know where to look.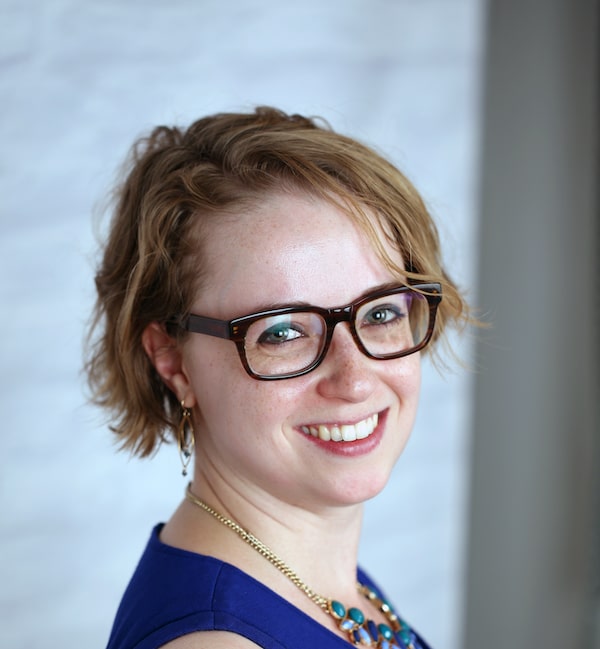 Jillian Ashley Blair Ivey
Jillian Ashley Blair Ivey is a Philadelphia-based writer, editor, and communications strategist. She has a BA in English from the University of Pennsylvania, an MFA in Creative Writing from Rutgers, The State University of New Jersey at Camden, and has published under her own byline at publications including DAME Magazine and The Frisky.