Editor's Note: The mattresses in this collection are no longer available as they were part of a limited edition sale. If you are still looking for a luxury collection, check out Stearns & Foster Lux Estate Collection which has a few models to choose from.
A 120th bedding anniversary is not something to ignore. That's why in February of 2018, King Koil created an entire mattress collection that celebrates over a century's worth of mattresses in the making. It's a limited edition, meaning the beds won't be around forever. Let's dive in so you can see if one of the beds in this special collection is up your bedroom alley.
The Company: King Koil
Before we get into all the nooks and crannies of the mattresses, you might be stuck thinking — 120 years?! How long has King Koil been around? If you don't want to do the math, don't worry. King Koil was founded way back in 1898, though under the name United States Bedding. After a few decades of mattress manufacturing, the company focused on its unique innerspring and coil system (we'll get to that!) and renamed itself to King Koil. Today, you can find King Koil mattresses in 90 countries around the world. The company is headquarters outside of Chicago, Illinois.
King Koil Limited Edition 120th Gold Collection: Construction
The King Koil Limited Edition 120th Gold Collection features a contour® reaction coil system (we'll explain this), pressure relieving natural Talalay latex, moisture-wicking Tencel fibers, and an International Chiropractors Association (ICA) Gold endorsement, which basically means this bed promises to support correct spine alignment.
The mattress comes in three comfort levels: firm, plush, and euro top. Let's look into the construction of the bed now!
Limited Edition 120th Gold: Firm, Plush, and Eurotop
Cover:
The top quilt of this mattress features eco-friendly Tencel fibers, which are produced from wood and is said to enhance breathability while deterring the growth of bacteria. Tencel is also known for its longevity; it's durable yet soft to the touch while keeping you cool. The cover also utilizes AdvantaGel, which is an infusion of gel and resilient foam that helps to keep the body cool. Lastly, there is an Excellent Edge™ Foam Encasement, which supposedly provides a firm seating edge (so you don't feel like you're going to roll off the bed) along with a larger and more usable sleeping surface.
Comfort layer:
The biggest differentiator between the three models in this collection is how thick the comfort layer is. However, they're all constructed with the same material: a natural latex with a cushion-firm feel that's known for pressure-relieving support. Moreover, latex is derived from a rubber tree (fun-fact!) which means it may help prevent bacterial buildup, as well as mold and mildew growth.
Coil system:
The "King" in the King Koil Limited Edition 120th Gold collection is the Perfect Contour® Reaction (PCR) Coil System, which features over 1,000 coils that are designed to support all body shapes and sizes while improving posture and isolating motion. This coil system is also designed to relieve pain points by increasing support at the lower back while providing comfort to the hips and shoulders. King Koil coins this technology "pressure equalization." This coil system also, according to King Koil, allows for better blood circulation and muscle relaxation to reduce tossing and turning at night.
Base:
The base of this mattress is made from Everlast® Base Foam and also includes a natural wood foundation.

King Koil Limited Edition 120th Gold Feel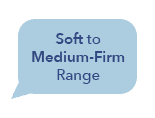 If you're looking for a soft or medium-firm mattress, all of these models could be a good fit for you. The plush and euro-top options are about a 3 out of 10 on the firmness scale (10 being the most firm), so it'll feel pretty soft. The euro-top will feel slightly different than the plush version, since the extra layer of padding, which lines up with the edges of the mattress, will give you slightly more cushion. Despite the name, the "firm" version of the Limited Edition 120th Gold is still about a 5 out of 10 of the firmness scale (based on King Koil's firmness scale), meaning it won't be too hard or too soft.
Furthermore, this bed focuses on these characteristics: coolness, pressure relief, motion control, and edge support. The Tencel fibers, AdvantaGel infusion, and coil system will all allow air to circulate throughout the mattress, while the Excellent Edge™ Foam Encasement will help you feel sturdy, even towards the end of the bed. The latex foam and Perfect Contour® Reaction Coil System help to promote pressure relief in key areas of the body — back, hips, and shoulders — while the coils help reduce motion and prevent you from feeling a partner roll around in the middle of the night. The coils, too, are also said to help keep your spine in proper alignment so you stay still while catching Zzz's.
Lastly, all three mattress models are classic hybrid mattresses, meaning they are constructed with both an innerspring system with layers of foam above it. Hybrid beds are known to bring the "best of both worlds" to your mattress. You typically receive the bounce and coolness from the coils, along with the comfort and hugging qualities of foam.
King Koil Limited Edition 120th Gold Collection Vs. Others
Let's compare how these beds stack up with other well-known mattresses so you can get a better taste of what they really feel like.
For a comparable hybrid mattress, you might find similarities in both feel and price with the Brooklyn Bedding Aurora Mattress. This bed is known for excellent motion control (great for sleeping with a partner) while keeping cool and comfortably supporting the lower back and spine.
For a comparable hybrid mattress that also focuses on keeping cool, check out Helix; it'll be a bit more affordable and is known to be a great option for people who sleep hot and are in desperate need for some pressure relief.
Lastly, if you're looking for an eco-friendly mattress that also features Latex foam, check out the Cedar mattress. This bed has a medium-firm feel and would be closest in comfort level to the King Koil Limited Edition 120th Gold Firm model.
Save 20% with code SLEEPOPOLIS20

Brooklyn Bedding Aurora Mattress

Up to $200 Off

Brentwood Home Cedar Mattress

Uses natural materials
Sleeps cool
Additional Need-to-Know's
How to buy: You can purchase a King Koil mattress are exclusively at a brick-and-mortar retail near you.
Old Mattress Removal: King Koil does not offer mattress removal. Customers should defer to the mattress removal policy of the retailer where they purchase their King Koil mattress.
Built and designed in the USA.
Warranty: 10 years


King Koil Limited Edition 120th Gold Collection: Pros and Cons
There are no reviews for this King Koil collection, yet based on its construction and design, here are some general pros and cons you should expect!
General Pros:
Solid pressure relief. Depending on how high-quality, natural latex can provide some pressure relieving qualities. That, coupled with the "pressure equalizing" effects of the Perfect Contour® Reaction Coil System means that this mattress is designed to relieve pressure in keys areas of the body that need some extra love.
Cool properties. If you sleep hot, this mattress could become your new best friend. Breathable Tencel and cooling AdvantaGel will help air circulate throughout the foam.
Motion control and edge support. The coil system coupled with the edge-encased foam means you'll feel supported and cradled in the bed while not feeling like you're going to fall off the edge.
General Cons:
Limited information. This King Koil collection is fairly new to market, so the jury might still be out around how well it's being received. We also don't know how long this collection will be offered.
Weight. In general, hybrid mattress are especially heavy since they incorporate both springs and foam. Since delivery information is unknown for this mattress, it might become a hassle to move around yourself.
Price. Hybrid beds are typically a little more expensive than other mattresses of a similar quality. Specifically, this collection starts at a little over $1,000 and goes up to $2,789.99 depending on model and size.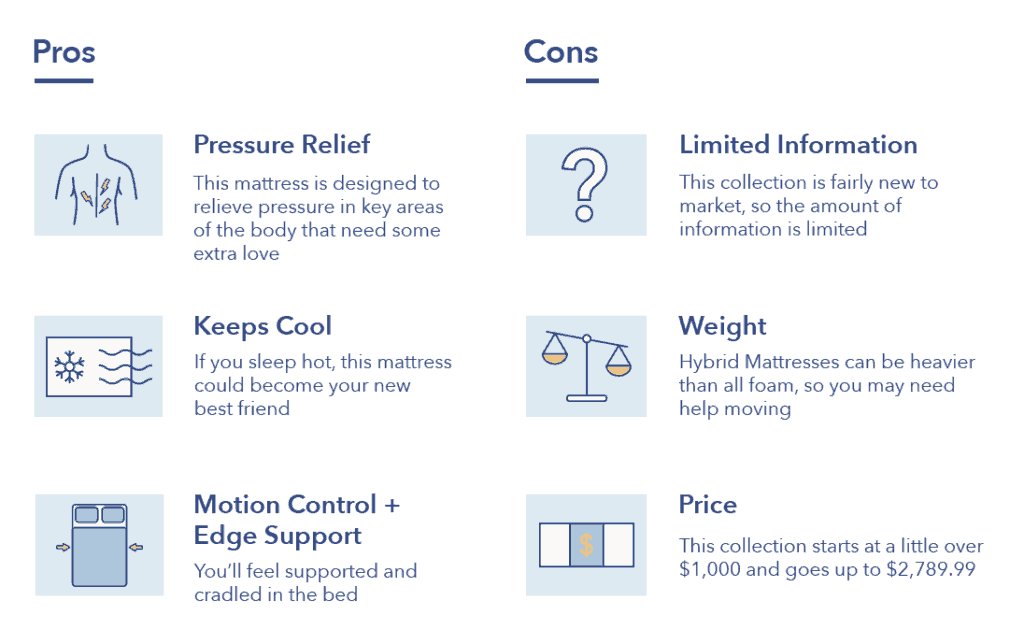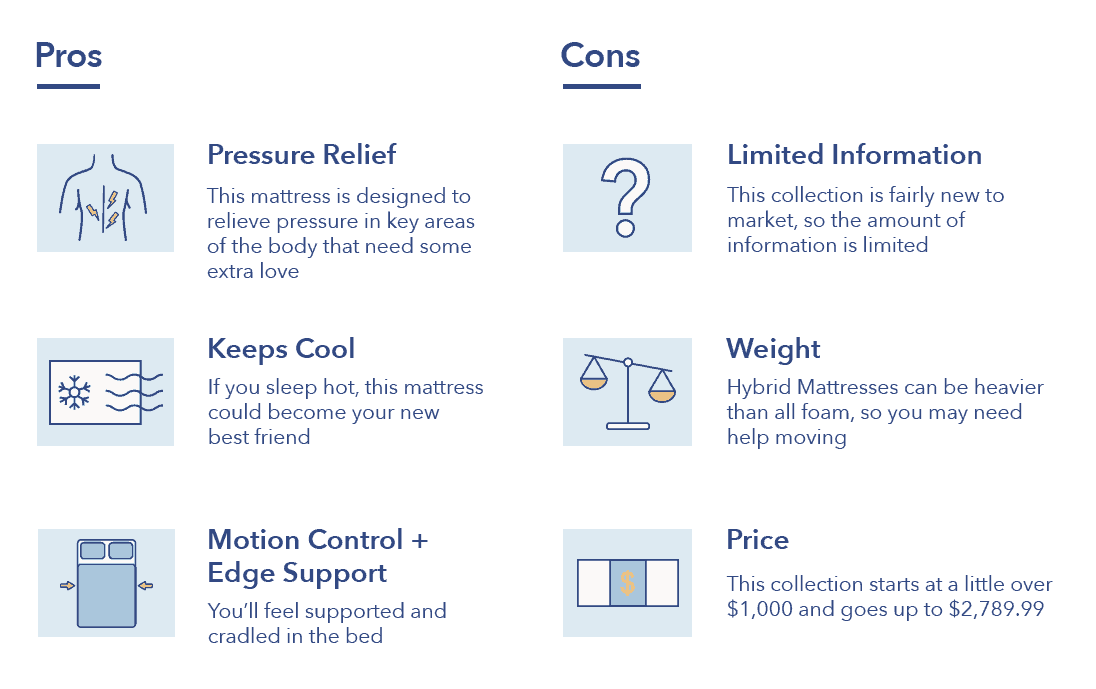 King Koil Limited Edition 120th Gold: Sizing and Pricing Information
| Model | Twin | Twin XL | Full | Queen | King | California King |
| --- | --- | --- | --- | --- | --- | --- |
| Limited Edition 120th Gold Plush | $1,309.99 | $1,399.99 | $1,399.99 | $1,489.99 | $1,789.99 | $1,789.99 |
| Limited Edition 120th Gold Firm | $1,309.99 | $1,399.99 | $1,399.99 | $1,489.99 | $1,789.99 | $1,789.99 |
| Limited Edition 120th Gold Euro-Top | $1,609.99 | $1,799.99 | $1,799.99 | $1,999.99 | $2,789.99 | $2,789.99 |
Is the King Koil Limited Edition 120th Gold Collection Right for You?
For a quick look as to who should look more closely at a King Koil Limited Edition 120th Gold Collection bed, scroll no further than right here:
You like 'em soft. Soft mattresses are great options if you sleep on your side (especially in the fetal position), can help support the lower back, and are generally cozy. If you prefer something on the softer side, all three beds could be good fits. Remember: Even the "firm" version is still a 5 out of 10 on the firmness scale.
You want to work on your posture. King Koil's coil system puts an emphasis on body alignment, specifically for the spine. According to the company, King Koil is the only mattress manufacturer endorsed by the International Chiropractors Association.
You sleep hot. If you wake up in the middle of the night feeling super warm, you most likely need a bed that won't trap heat. The King Koil Limited Edition 120th Gold Collection emphasizes that its breathable materials and the innerspring system will keep you cool.

King Koil Limited Edition 120th Gold Collection Summary
King Koil is celebrating its 120 years of "innovation, quality, and excellence" with this Limited Edition 120th Gold Collection. If you want to get in on the festivities and are looking for pressure relief, cool technologies, no-nonsense motion control, and sturdy edge support, then one of the models within this King Koil collection might just have your name on it.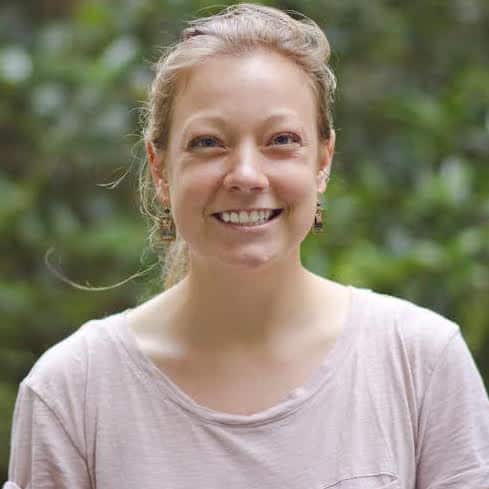 Laura Schwecherl
Laura is a journalist with nearly a decade of experience reporting and covering topics in the health, fitness, and wellness space. She is also a marketing consultant, where she works with impact-oriented startups to build marketing and editorial strategies. Outside of work, you can find her reading Murakami novels, writing amateur poetry, or trail running in her hometown, Boulder, Colorado.