Editor's Note: The Love Bed by Nest is no longer available, but check out the Quail mattress for a similar alternative!
Nest Bedding is a mattress company with a bit of a different mission. Beyond creating just comfortable mattresses, bedding, and other sleep products, they aim to create products that are organic, natural, and non-toxic. All at a price that's reasonable and fair for shoppers.
I had my first experience with Nest with my sleep test of their all natural latex pillow. In a word? Incredible. I now sleep with the Nest natural latex pillow every night. The quality and comfort of the Nest pillow has put fairly high expectations in my mind for the Love Bed. Can Nest Bedding's Love Bed live up to these expectations? Continue reading my full mattress review to find out or if you're in a rush click here to jump to the review summary.
Layers
The Nest Bedding Love Bed mattress is constructed from 4 layers of foam.
Top layer (padding + comfort) – this is a 2″ soft quilted foam (1.5 PCF). It's less of a standalone layer and more simply part of the cover itself. Gives the cover extra immediate softness and a traditional look.
2nd layer (comfort + support) – this is a 2″ layer of Energex foam (2.7 PCF). Energex foam is similar to latex foam in its characteristics. It provides great bounce, comfort, cooling, and fast response.
3rd layer (transitional support) – this is a 1″ layer of transitional foam (1.8 PCF). It is a transitional layer between the comfort and base layers and helps to more evenly manage the supportive transition. Especially important for heavier sleepers who require more deep compression support.
Bottom layer (foundation) – this is a 6″ layer of high-density support foam. This layer acts as a foundational support for the mattress.
The above layer breakdown is based on the Love Bed medium. The Luxury Firm version of the Love Bed differs slightly in construction in order to give it a firmer feel.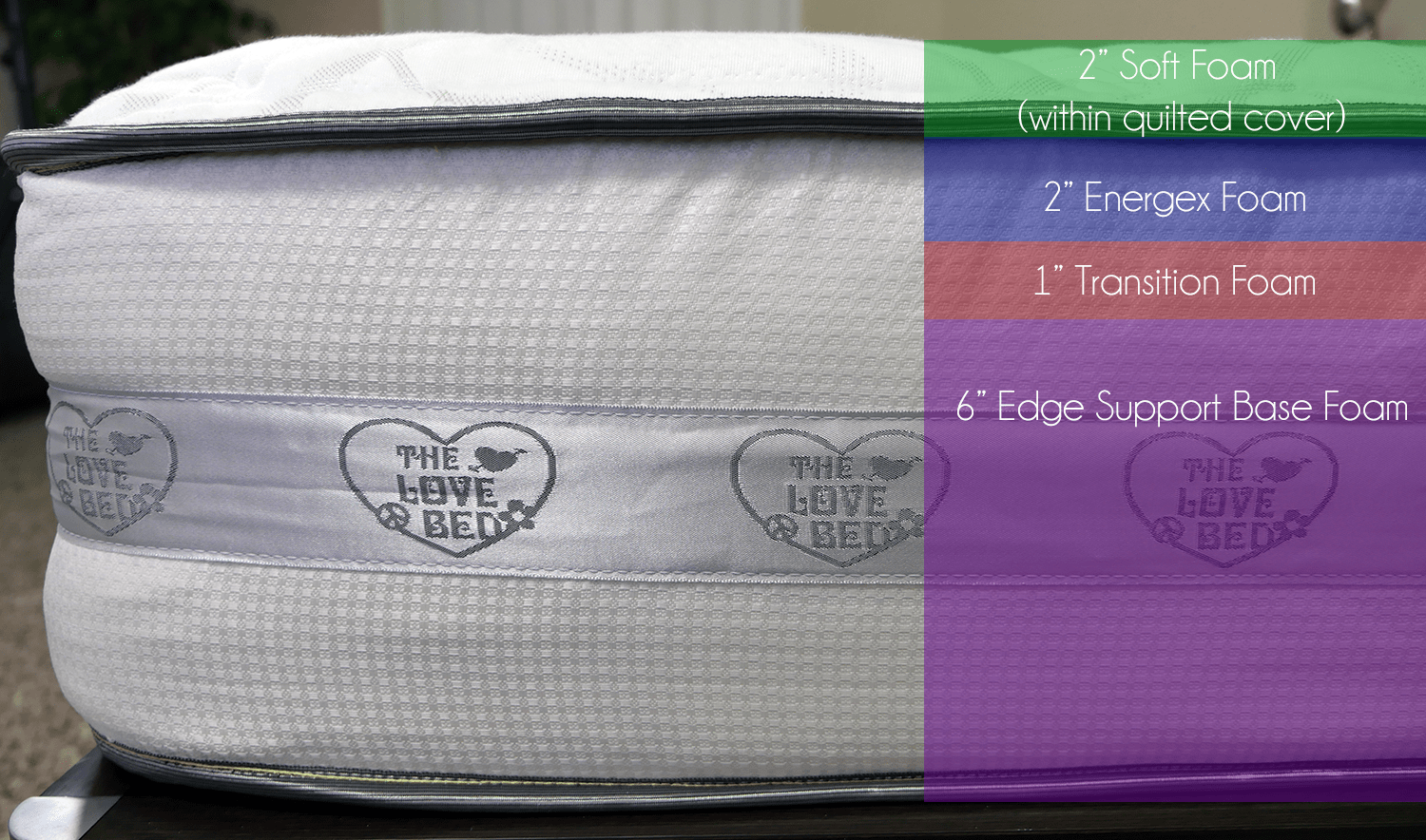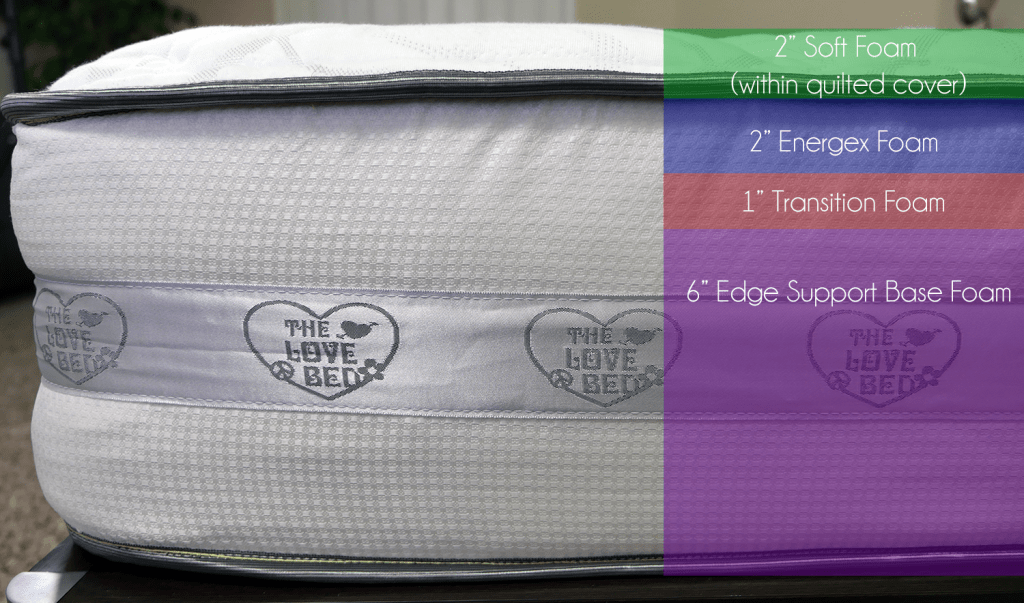 Cover
The cover is a quilted polyester infused with bamboo fibers. The cover is designed to naturally dissipate moisture from your body and from the sleeping surface, improving cooling. The cover isn't super thick, but it's not thin either. It has a soft and stretchy feel to it. The cover is 35% bamboo and 65% polyester. Quilted within the cover is 1.5″ of soft visco foam. This acts almost like a mini-pillow top, providing great softness for the mattress (note: this foam is not present in the Luxury Firm version of the Love Bed, which is what gives it a firmer feel).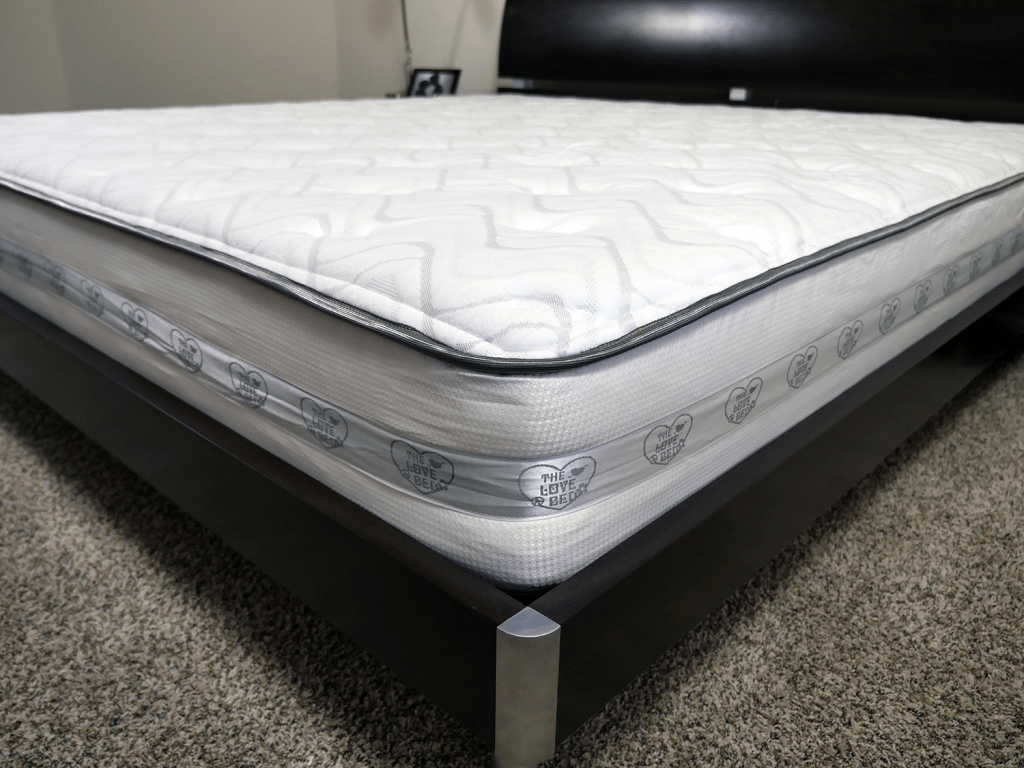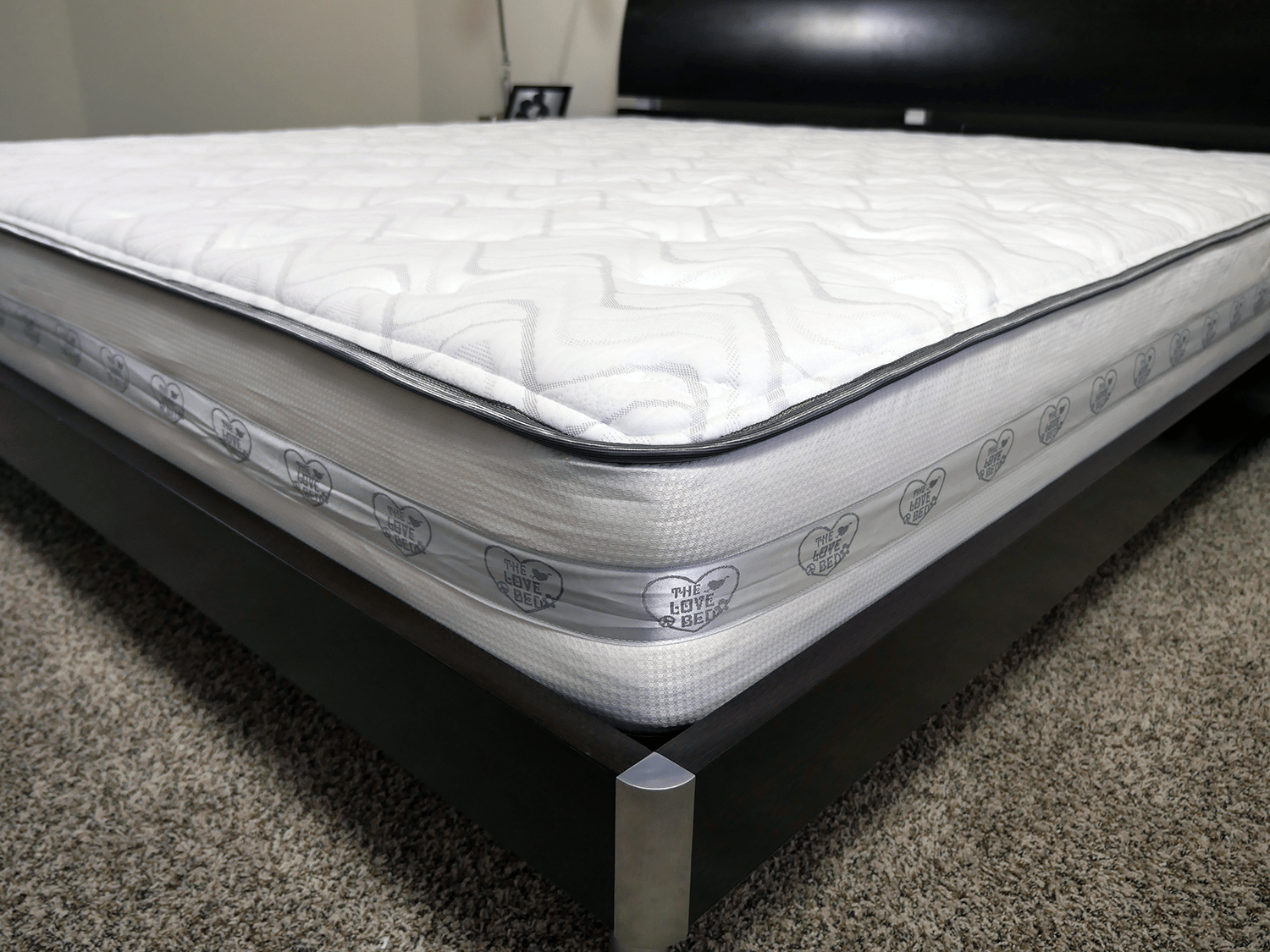 Aesthetically, the cover is fairly simple. It's mostly white / cream with minimal style touches. The side panel has a smooth ribbon-like style touch that adds a nice pop of the modern. Your style preferences may vary, but personally I really like designs that are more subtle like this.
Firmness, Comfort, Support
The Nest Love Bed is available in 2 firmness levels: medium, and firm. For this review I slept on the medium option. The medium was a 6.5 out of 10 on the firmness scale. Which puts the firm at an 8-8.5 out of 10, where 10 is the most firm.

The two attributes that were the more pronounced with Nest Love bed mattress are bounce and responsiveness. Both of these are directly driven by the 2″ layer of Energex. The bounce is of course extremely enjoyable for sex (see below for more details), but also provides a nice sleeping experience as well. Some foams (especially memory) can have a tendency to be extremely slow to change their shape once it's contoured to your body. However, the Love Bed's Energex quickly adapts and changes to your movements.
The Love Bed mattress has average hug and body contour. Energex foam doesn't have quite the same level of hug / body contour as memory foam, but it still makes for a comfortable feel. I'm normally a stomach sleeper and will occasionally sleep on my side. With this mattress I slept almost the entire night on my side directly on the edge (to really see how the edges would perform under maximum pressure). I was pleasantly surprised by the results. I slept great, good side body contour, and the edge performed adequately for sleeping purposes.
The mattress provides good support in every sleeping position.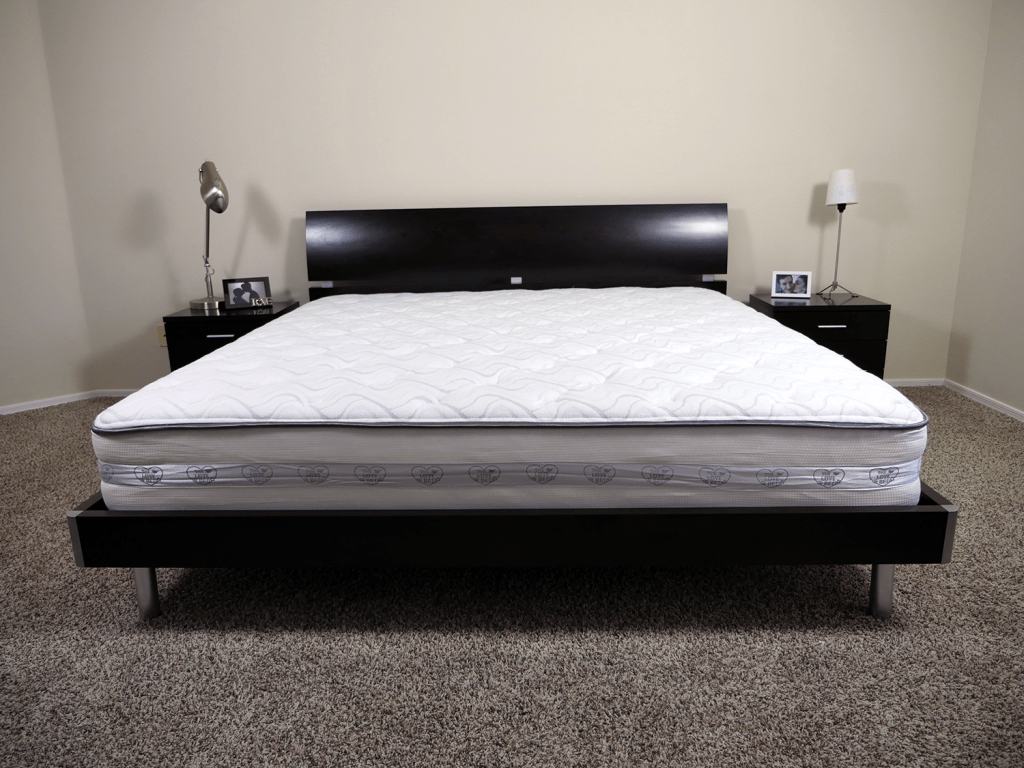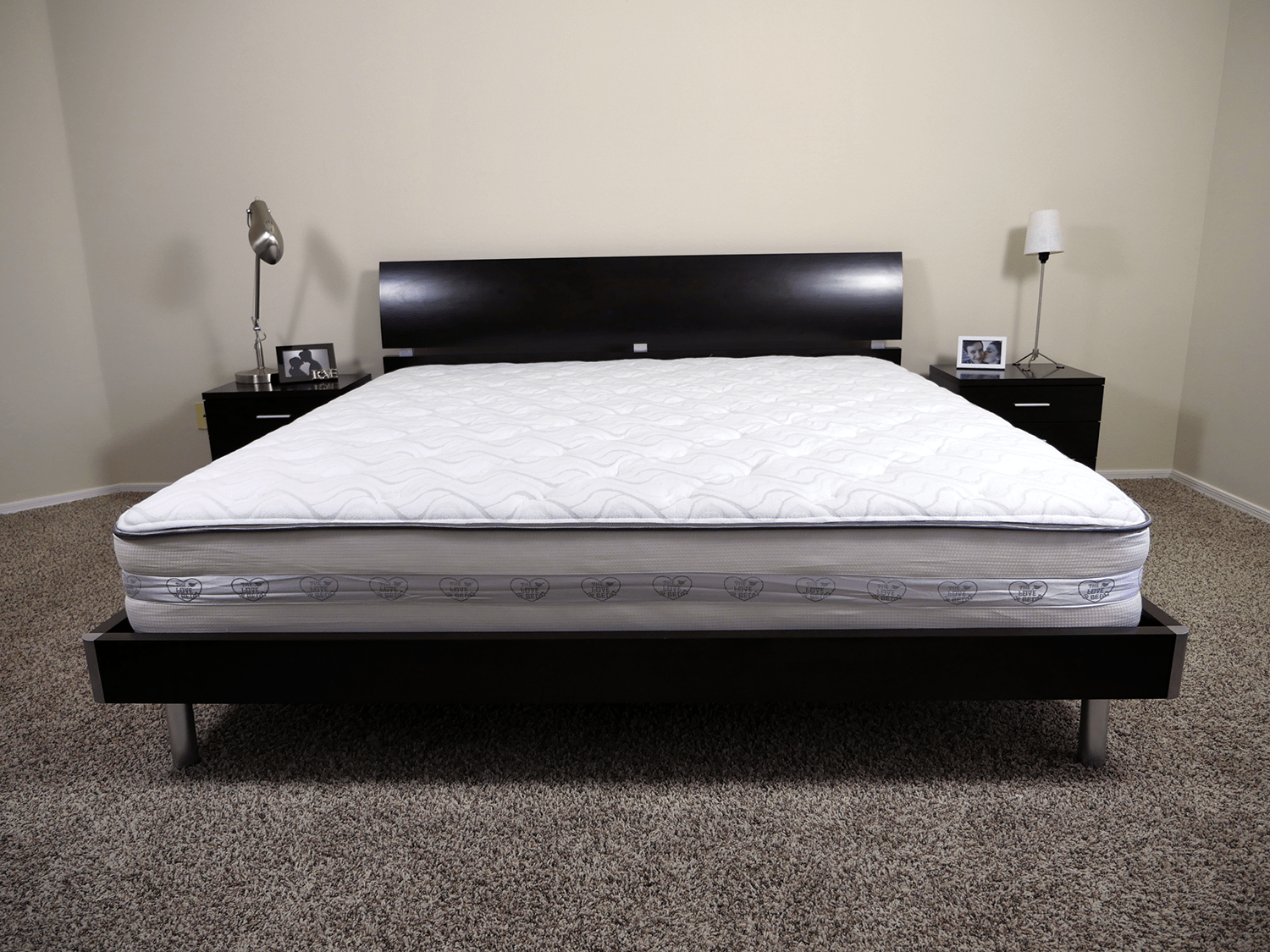 Sinkage Tests & Motion Transfer
All mattress reviews on Sleepopolis goes through a short series of sinkage tests. I run these tests to show you how the mattress performs in various conditions and to also give you an idea of the type of softness, contour, and hug you can expect when you sleep on the mattress. As a reference point, I am about 150 pounds.
Lying position – in a normal lying position where weight is evenly distributed across the mattress I saw 1-1.5″ of sinkage.
Sitting position (conservative) – in a more balanced sitting position, where I was sitting a bit further back on the mattress I saw 3-3.5″ of sinkage.
Sitting position (aggressive) – in a more aggressive sitting posture, where all of my weight was placed directly on the edge of the mattress I saw 4-4.5″ of sinkage.
Standing position – lastly, in order to see how the mattress performs under maximum pressure I stood directly in the center with all of my weight on a single point. In a standing position I saw 4.5-5″ of sinkage.
Motion transfer was pretty good. There's a little more motion transfer than what you'd get with a hybrid or memory foam mattress (as the Energex is naturally just a little bouncier), but it's not at the same level as you'd see with an innerspring.
Sex Performance
If you're uncomfortable reading about sex, please skip this section. It is not explicit, but it does discuss mattress sexual performance.
So…it's a mattress designed specifically for great sex, but how does it actually perform for sex? All in all, pretty good. I would say it's above average when compared to most foam mattresses in terms of overall sexual performance.
The bounce of the mattress is the real story. The layer of Energex pushes back a certain degree, much in the same way an innerspring mattress would, especially when deeper compression is used (partly being helped by the foundational layer of convoluted foam). It's not at the same level of bounce / push back you'll get with an innerspring, but it's quite a bit better than traditional memory foam. The bounce makes it an enjoyable experience for most positions that take place in the center of the mattress.
Mattress edges aren't just for sitting, they are also great for sex! But in order to be great for sex, they need to be strong. This an an area the the Love Bed 1.0 model really struggled with and was one of my biggest complaints. The new Love Bed design (which launched April 2016) makes a nice improvement in this area. Is it perfect? No, but it is better. The biggest performance increase on the edge support is apparent when under heavy pressure. The Love Bed allows a few inches of sinkage, but does a good job of pushing back at the 3-4.5″ depth and holds its support and shape there. The result is an edge that can be fully utilized in love making.
MATTRESS GUIDE:  What's the best mattress for sex?
Lastly, if you have kids or roommates you may consider noise to be an important factor. This is an area the Love Bed (and all foam mattresses) excel in. There's very little noise created during sex by the mattress. :)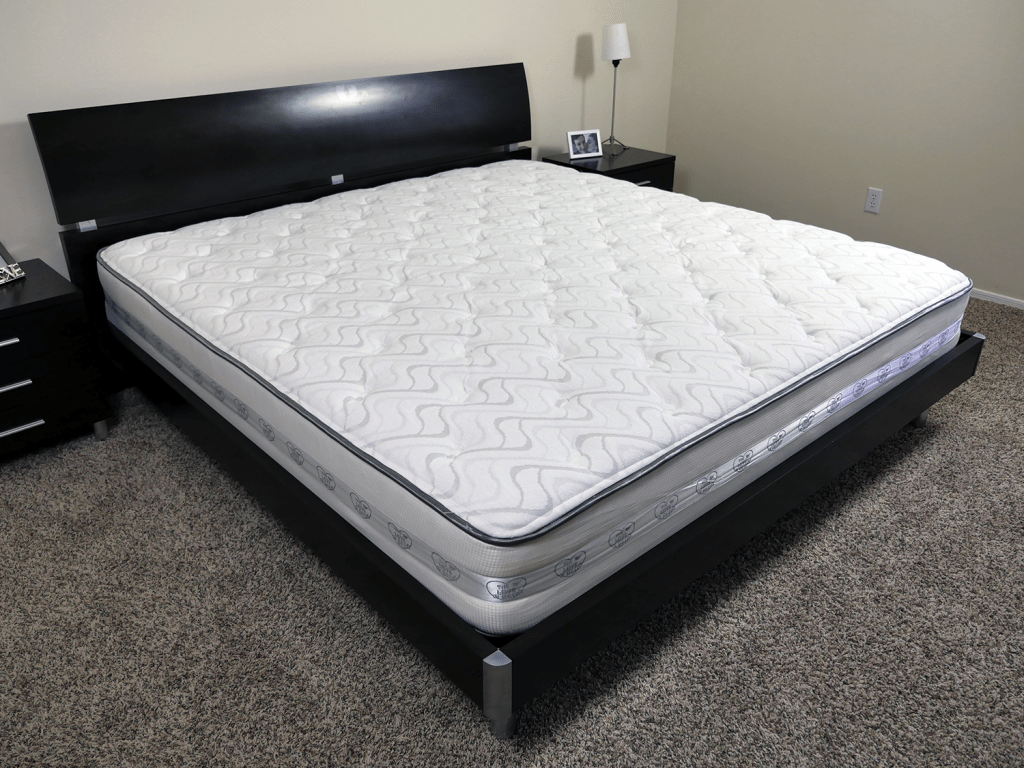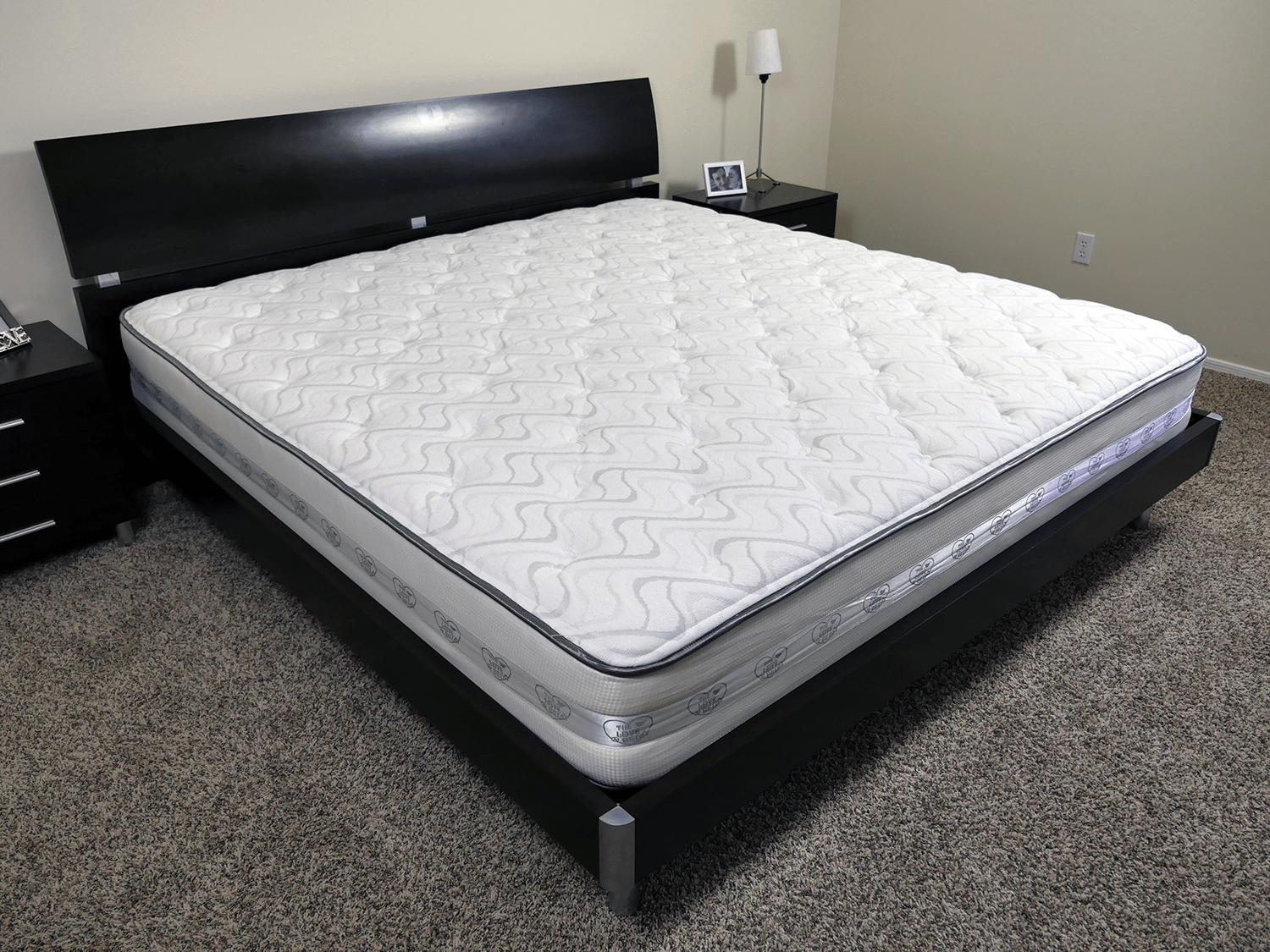 April 2016 Update – in April of this year the Love Bed went through a major re-design. The biggest change of the design is simply the replacement of latex with Energex foam. Energex shares many of the same attributes of latex, including great cooling, bounce, and response. The Love Bed's bread and better, which has always been great bounce and response were fully preserved through the re-design.
In addition, the Love Bed gets a great facelift in the support department. It's slightly firmer also, which helps create a more consistent support for a wide variety of sleeper weights and body types. The combination of Energex, transition foam, and an improved base foam all help to improve support, deep compression support, and edge support in the re-designed Love Bed.
Pricing
| Size | Price |
| --- | --- |
| Twin | $599 |
| Twin XL | $649 |
| Full | $749 |
| Queen | $799 |
| King | $899 |
| California King | $899 |
Other Information
Shipping – free shipping anywhere within the continental United States
Trial Period – 100 days
Refunds / Returns – 100% money back guarantee within the 100 day trial period
Built in the USA
Warranty – 10 years
Should you buy the Nest Bedding Love Bed mattress?
The Nest Bedding Love Bed mattress is a good all-around foam mattress option. It performs well for both sleep and sex. The all Energex comfort layer on top is a fairly unique attribute that you don't see as much of from online mattress companies (especially at a price as reasonable as this).
I would recommend the Love Bed mattress if you fall into the following categories:
You want a mattress with great bounce, but don't want innerspring – the Love Bed's Energex top layer gives it great bounce and responsiveness. This makes sex very enjoyable, without adding excess noise and still providing a comfortable mattress for sleeping.
You want a slight hug / body contour – the Love Bed does not have a deep contour or body hug. The Energex + quilted top layers are quite comfortable, but don't expect a memory foam type of a body contour.
You want more firmness options – many online mattresses only come in one firmness. The Love Bed's 2 firmness levels give you more choice for those sleepers who need something in a medium or firm option.
For more information on Nest Bedding's Love Bed visit NestBedding.com.
Nest Love Bed Mattress
Materials

Comfort

Support

Value

Cooling

Edge Support

Sex

Smell

Company

Refunds

Trial

Warranty
Summary
When it comes to bounce the Nest Bedding Love Bed mattress nails it. Great bounce equates great sex in the sleep world. However, the Love Bed combines great bounce with responsiveness, cooling, and comfort, resulting in a great overall sleeping experience. Comes in 2 firmness options, making it a good choice whether you like it firm, soft, or in the middle.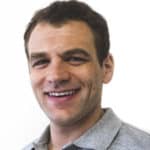 Logan is the former content director of Sleepopolis. As content director, he reviewed new mattresses every week and curated the comparisons, best of pages, and video guides on the site. Logan perfected his method by personally testing over 200 different mattresses, so he's not only able to discern the overall vibe of a specific bed, but to contextualize its feel within the bed-in-a-box market as a whole.