Smartphones, smartwatches, and now…smart beds. Sleep Number isn't the first to come out with a smart bed, but it's certainly the largest bed company to do so. Sleep Number is owned by the public company Select Comfort Corporation, which has thousands of employees who work at their multiple distribution centers all over the U.S.
Sleep Number first became known for their mattresses, which are technically airbeds. These airbeds can inflate or deflate with a remote, so you can find the exact level of firmness that works for you. This level of firmness is a number between 1-100, appropriately named your "Sleep Number."
Sleep Number recently came out with their 360® smart bed series, which include features like responsive air technology so your mattress will move to your movements, automatically, throughout the night. In this article, we'll specifically be looking at the Sleep Number 360® p5. Keep reading as we dive into all the features included in the smart bed, and why the p5 model might be a good fit for you.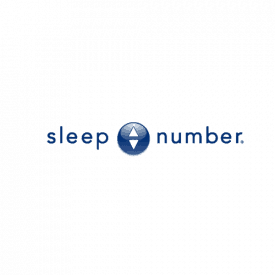 Sleep Number is a bedding company that sells bed, mattresses, and various bedding products. However, the company is best known for its signature product, the Sleep Number bed, which comes with an adjustable air mattress and various add-ons like a smart system, adjustable bases, and different types of comfort foam mattress pads.
Sleep Number 360® p5 Smart Bed Mattress Construction
The "p" in this model's title stands for "Performance" and the "5" stands for the number of body zones the mattress targets. The performance series is different from other Sleep Number models because their mattresses are "pillowtop style," meaning there's an added layer of soft padding stitched to the mattress top. Sleep Number calls this their "comfort layer," which is specifically designed to relieve pressure points. The most popular model in the Performance series is the P-5, thanks to its reputation for balancing firmness and contoured cushion to a T, along with having a reasonable price point. (It's the most affordable Smart Bed option.)
The Sleep number 360® performance series also includes the p6. Small differences include things like the p6 having one extra inch of the foam comfort layer, and the mattress itself being one inch higher. The main difference is the p5 does not include cooling, temperature-regulating materials, making this a risky purchase for people who sleep hot.
Here's the exact breakdown of a Sleep Number 360® p5 Smart Bed:
The mattress: The 360® p5 mattress has a 10" profile (measured from the base of the mattress to the highest loft). This makes this one inch shorter than the p6, and two inches shorter than the 360® i8.
The material: The mattress, like all Sleep Number beds, is comprised of a rayon/polypropylene fabric blend.
Above the airbed: This is where the pillow-top comfort layer comes in. Right above the air chambers is four inches of PlushFit foam, which features five zones on the body (head/neck, shoulders, lower back, hips, and feet) to promote pressure relief. Four inches may sound like a lot, but compared to other Sleep Number mattresses (excluding the c4 and c2) this is on the lower end of the cushion-spectrum, making this mattress feel pretty firm.
Air chambers: The bread and butter of Sleep Number focus on these air chambers. Every Sleep Number mattress comes with one or two of them, depending on what size you buy. These are sturdy, 24 vulcanized rubber chambers that can inflate so you can sleep on the exact level of firmness you want. Sleep Number calls this their DualAir technology. The chambers hook up to a 4" hose and pump, which are hidden inside the mattress with easy access through a zippered opening. The air chambers also have pressure sensors inside that can detect where your body is and make according to adjustments, hence making the bed "smart." The air chambers also pick up on vibrations, which indicate both snoring and general movements.
The base: Sleep Number bases are sold separately, yet are known to enhance the sleep experience—especially when it comes to the 360® series. The options for bases include the FlexFit™ Adjustable Bases or their modular base. The FlexFit™ comes in three options, the FlexFit™ 1 being the most basic (just allowing the head of the bed to raise) and the FlexFit™ 3 having the most bells and whistles, including a massage and foot warming component. A happy middle ground would be the FlexFit™ 2, which allows you to raise the head and foot of the bed, and gives off the "feeling of zero gravity" so you feel like you're "sleeping like an astronaut." It's a little more exciting than the FlexFit 1 but more affordable than the FlexFit 3. If you don't want a technical base, you could also purchase Sleep Number's Modular Base, which starts at $199.99. If you already own a base or want to find something outside of Sleep Number, it's recommended you have a basic platform base, and to stay away from using a bed frame with slats or a traditional box spring base (which won't provide enough support).
The extras:The Sleep Number 360® p5 comes with SleepIQ® technology to track how you sleep at night, including your breathing, heart rate, and movements. This technology comes with an app so you can wake up and look at your SleepIQ® score, and see how you slept throughout the night.
Sizes: The 360® p5 mattress comes in six sizes, from Twin Long to California King. Continue reading to see all of the sizes and how much they cost!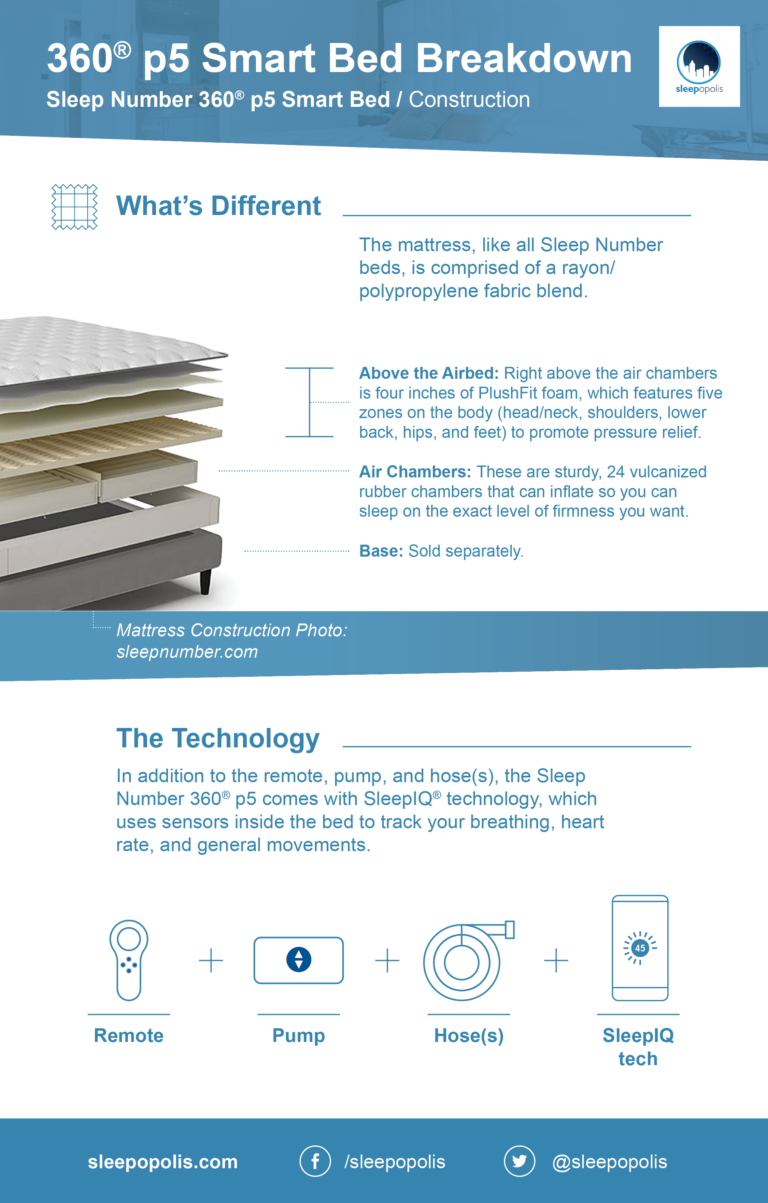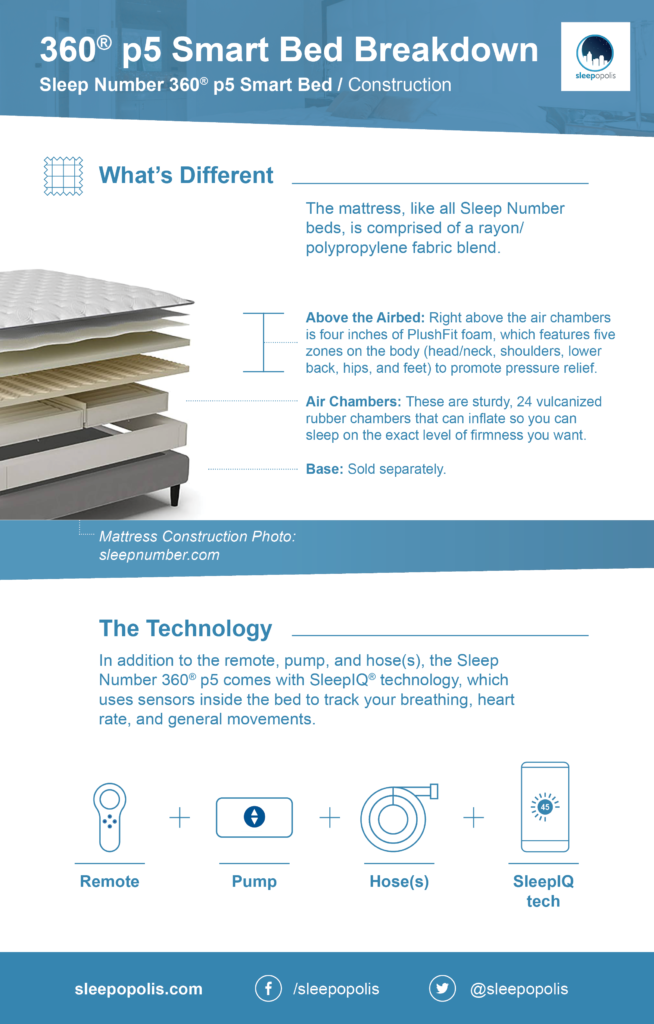 What Makes the p5 a Smart Bed?
When these smart beds first hit the market, Sleep Number was calling them "the future of sleep," explaining how they sense your every move and will automatically adjust on both sides. Here's a more detailed look at what makes the p5 a smart bed:
Responsive Air technology. Sleep Number's Responsive Air™ technology does what it sounds like—the mattress can sense your movements and respond to them, automatically adjusting the bed's level of firmness and support. The technology works thanks to the pressure sensors in the air chambers that we explained earlier. There is also a sensor at the end of the bed that collects all the data and sends it to the Sleep Number app.
Integration with SleepIQ® technology.Speaking of the Sleep Number app, every mattress in the 360® line includes SleepIQ technology, which uses sensors inside the mattress to track movement, heart rate, and more, so you can better understand how you're sleeping and make important adjustments if needed. You find this out through your "Sleep Score," which will be one of the first things you see when you wake up. This SleepIQ® technology also connects to other Smart devices, so you can track your sleep alongside other health data. Currently, SleepIQ® can connect to  Apple® Health, Fitbit®, Microsoft® Health, Nest Learning Thermostat™, MapMyRun™, Withings Health Mate™.
Here's is a step-by-step guide so you can connect your SleepIQ to other apps:
Open & log into the SleepIQ app
Tap Settings in the bottom right-hand corner
Select "Sleeper" under Sleeper Profiles
Select "Connected Apps"
Select the app/device you would like to connect and login using those credentials when prompted
Authorize SleepIQ technology to access their data through the third party app/device
Snore-support! If you purchase any of the FlexFit™ adjustable bases, your bed base can detect if you or your partner begins to snore, and will adjust the angle of the bed upwards to help it stop. I wasn't able to find any comments from people who actually said this features works, but if it does…that's a really nice perk.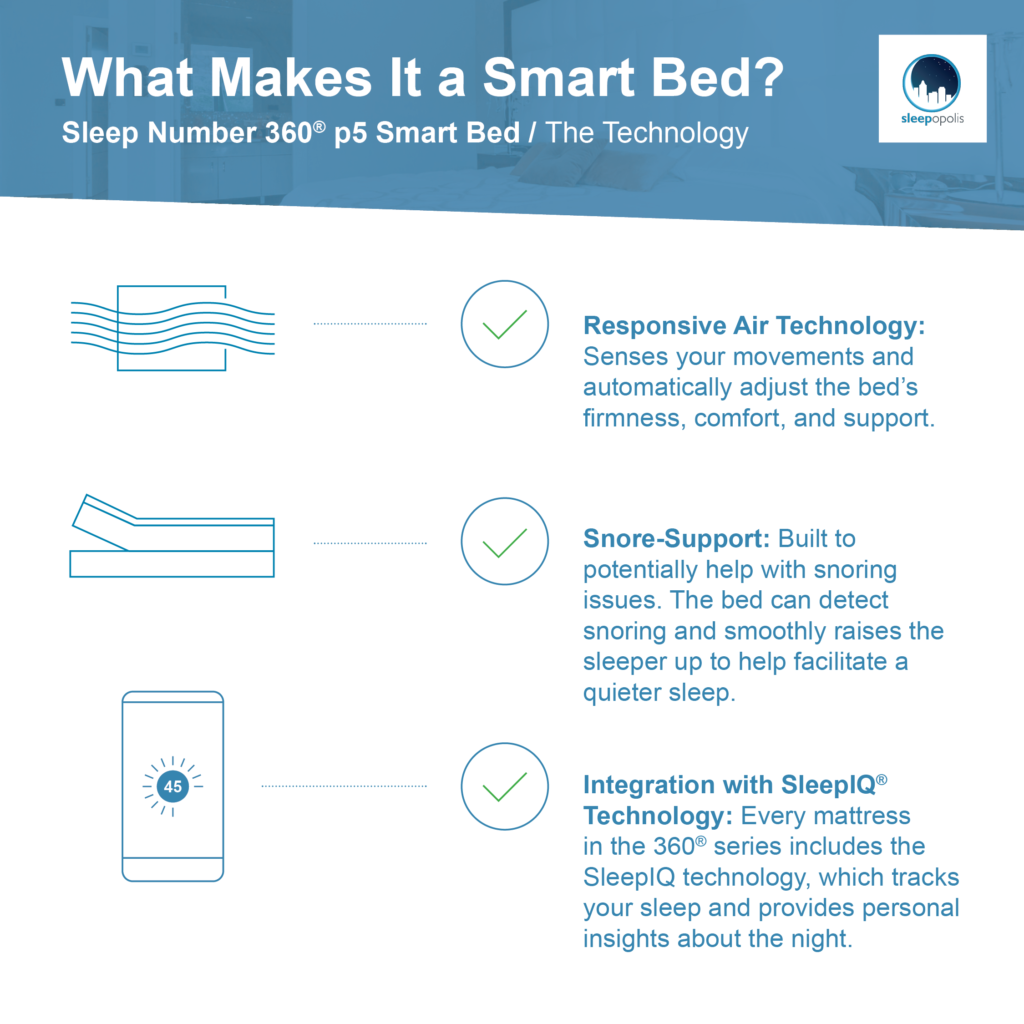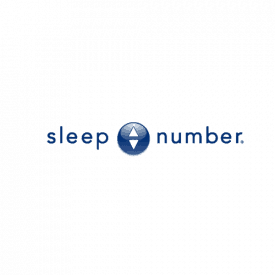 Sleep Number is a bedding company that sells bed, mattresses, and various bedding products. However, the company is best known for its signature product, the Sleep Number bed, which comes with an adjustable air mattress and various add-ons like a smart system, adjustable bases, and different types of comfort foam mattress pads.
How Do I Find My Sleep Number?
It might be an all-too-obvious play on words, but every Sleep Number mattresses come with a "sleep number" for their customers. This number is an actual digit between 1-100 that indicates what level of firmness you want your bed to be. If you choose 1, you would feel like you're sleeping with practically no support, and if you choose 100, your bed would be incredibly hard. These extreme sleep numbers are pretty much non-existent for users; most people have a sleep number between 30 and 60.
You can find your sleep number at one of their retail store showrooms, or do it at home. Either way, you can always adjust your sleep number, so it never becomes a permanent thing. If you're doing it at home, follow these instructions:
Lie on your mattress in your preferred sleeping position
Press any button on the remote to activate it, and press the up or down arrow to increase or decrease air pressure, hence adjusting your number.
If you're in a dual-chamber bed, the screen will say either left side or right side. Follow the screen prompts to change sides if you need, and use the arrows on the remote control to activate the pump from the left or right side of the mattress.
As you can tell, this bed won't adjust with the snap of a finger. There are some assembly and accessories needed to set it up, so be warned: This could also lead to tech issues and troubleshooting. Sleep Number's Firmness Control™ System is needed to operate your bed and find your sleep number. This whole system includes the remote, air hose(s), and pump. (If you have a Full-sized bed or larger, then you have a dual chamber bed, meaning there are two separate air chambers so you and your partner can adjust each side separately). There will be one or two hoses that pass through an opening in the mattress cover which will connect to the air chamber. Each hose will either say L or R (left or right) to indicate which hose is for which side of the bed. (Right is indicated as though you are lying on your back on the bed, looking toward the foot of the bed.)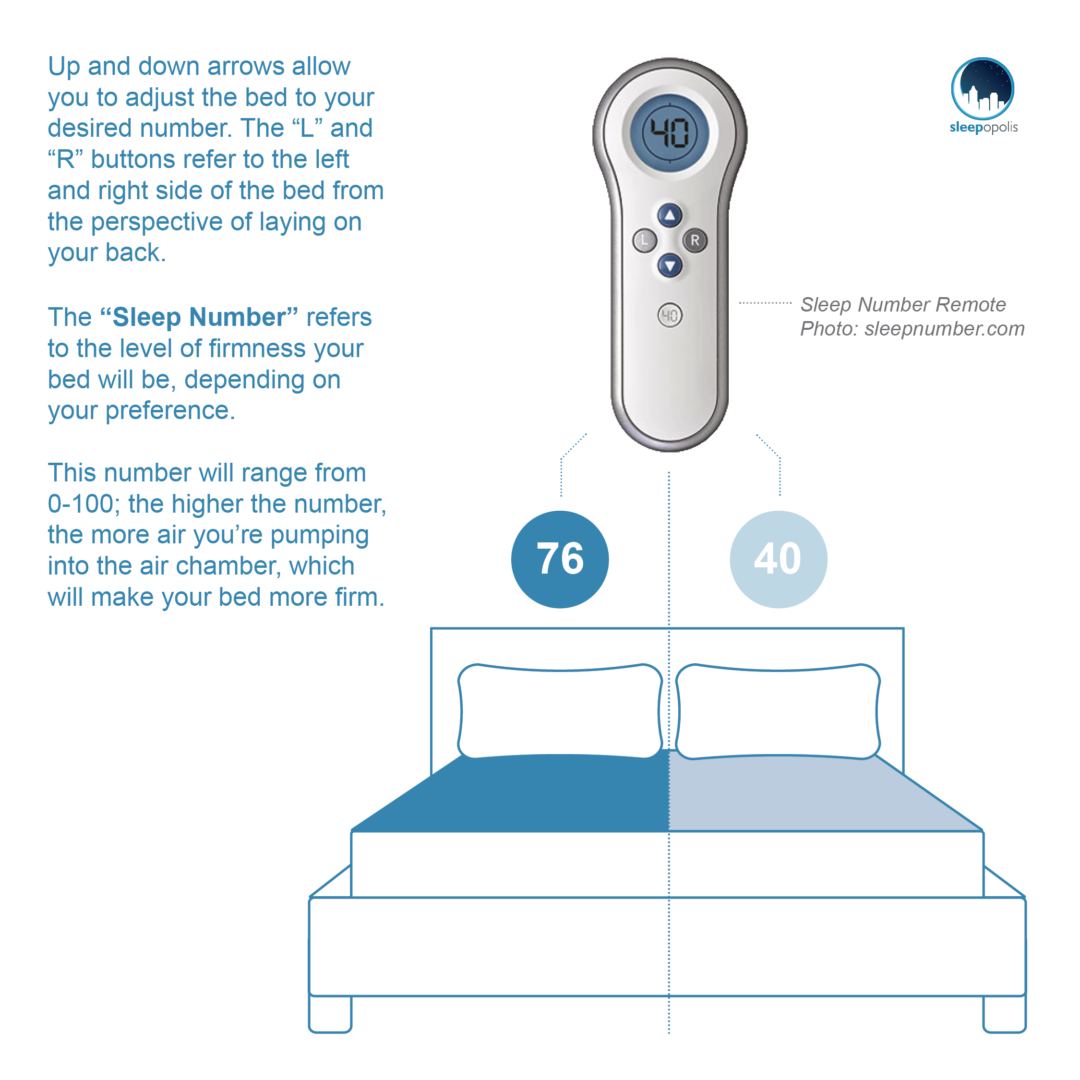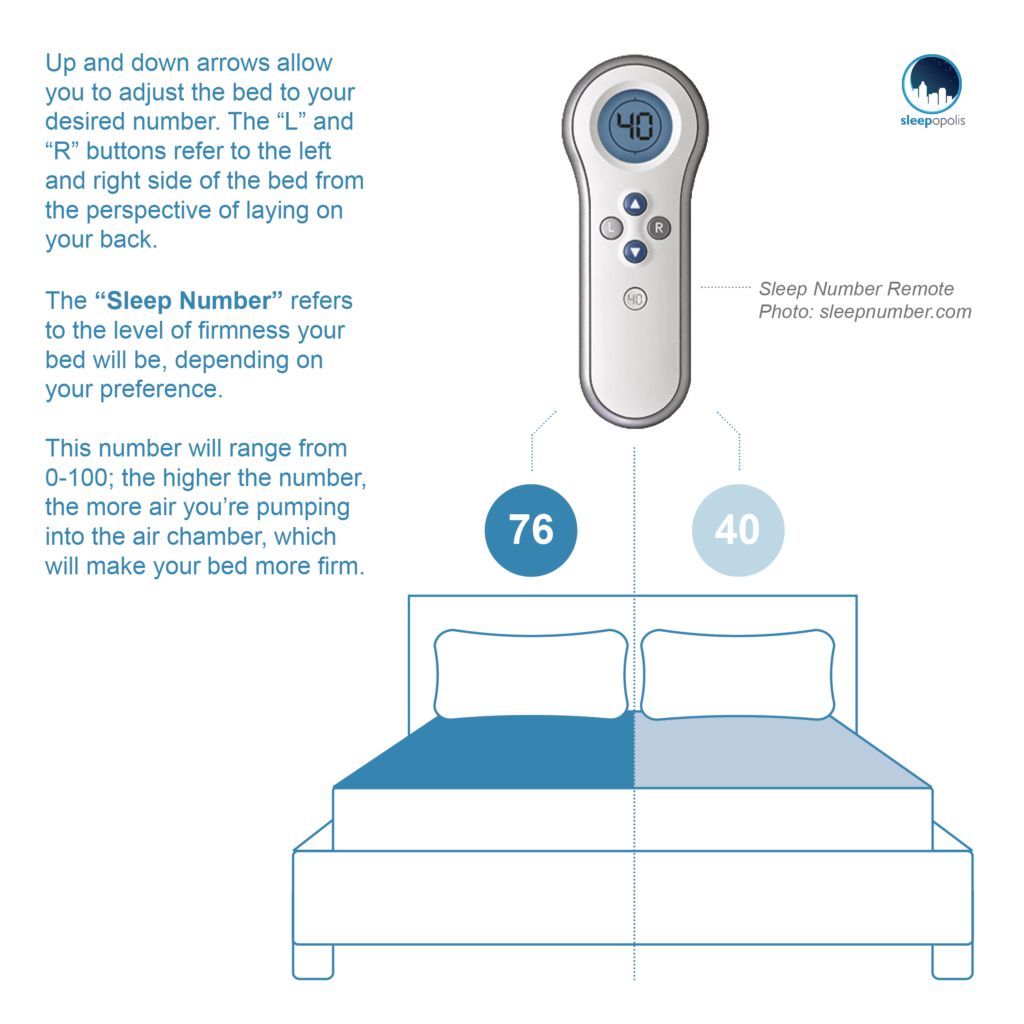 360® p5 Smart Bed Mattress Feel
As for the mattress itself, the 360® p5 is on the "medium" firm scale. It's softer than the c2 and c4 models, but has more support than the p6 and i8. An easy way to determine firmness is by simply looking at the model's number; the higher the number, the softer the bed will be. (Of course, you can adjust your mattress to make the bed more firm or soft if you want a little more, or little less, support.)
The reason for this mid-level firmness is the pillow top comfort layer. Coming in at four inches of foam, your body will get a good amount of plush support, but it's not so thick as to start feeling really soft and cushiony. Medium-firm mattresses are generally good options for back sleepers.
Many reviewers and testers rated the 360® p5 relatively high due to its good balance of firmness and support. Many people said "not too hard, not too soft," and spoke to back and hip pain that was generally relieved by the bed and its contouring qualities. A Sleep Number representative also said the p5 is one of their most popular models, due to it being a well-balanced bed that can accommodate many sleep styles, with the added perk of it having a luxurious, comfy pillow top.
However, since this Sleep Number bed doesn't come with self-cooling technology, there's a chance it will feel hot.A handful of people said they woke up in the middle of the night feeling super warm, and even sweaty. Another thing to watch out for is the "trench effect," a common complaint heard through all Sleep Numbers. This is when the middle of the bed sags, due to the DualAir chambers which let each side of the bed be at its own firmness level.
If you purchase one of the FlexFit™ adjustable bases, you'll also experience added advantages, whether that's "zero-g" sleep positions, or a nice, gentle massage as your drift off to sleep. The smart auto adjusting of the bed also seemed to be a hit, as many people wrote things like "the p5 accommodated whatever ails me to ensure I sleep well."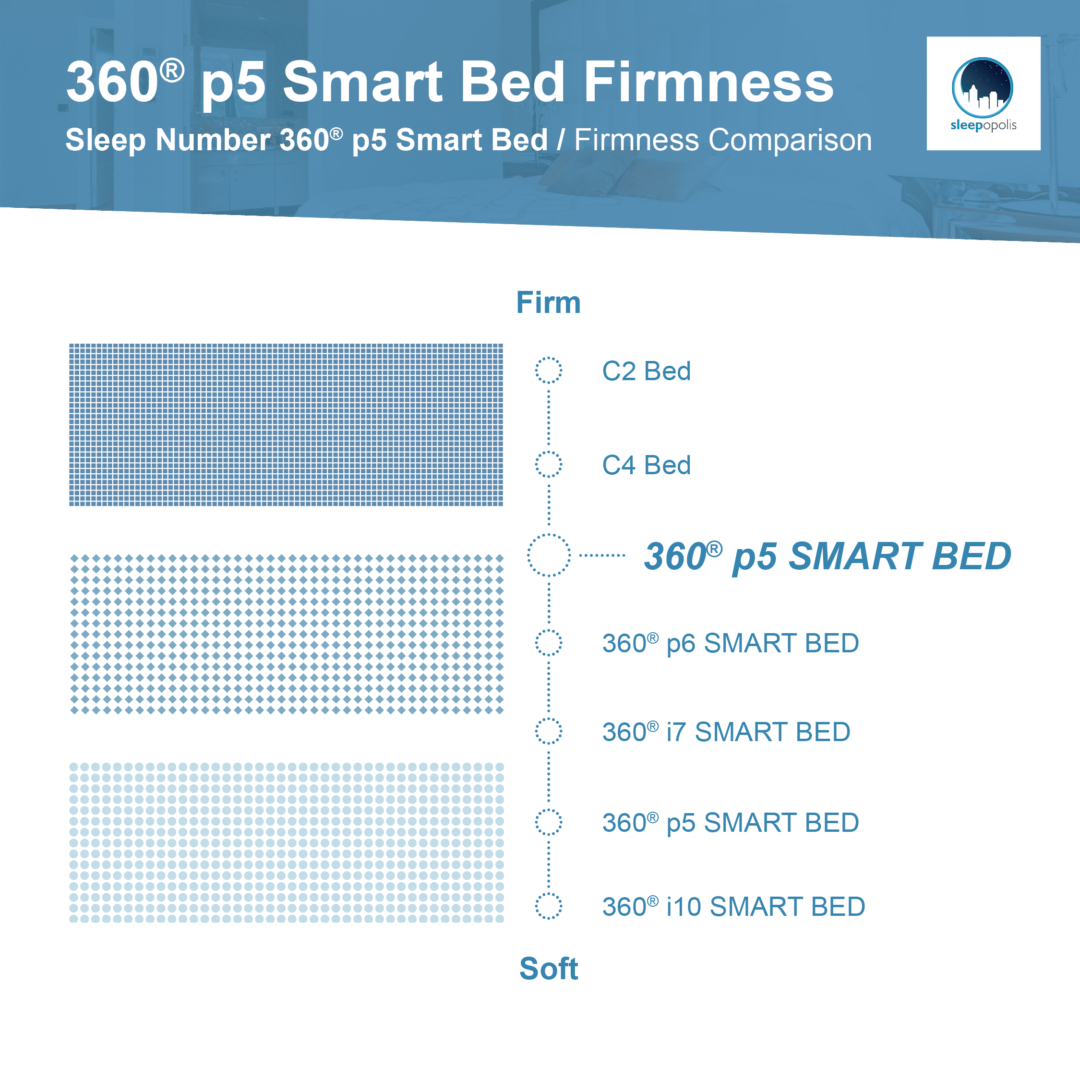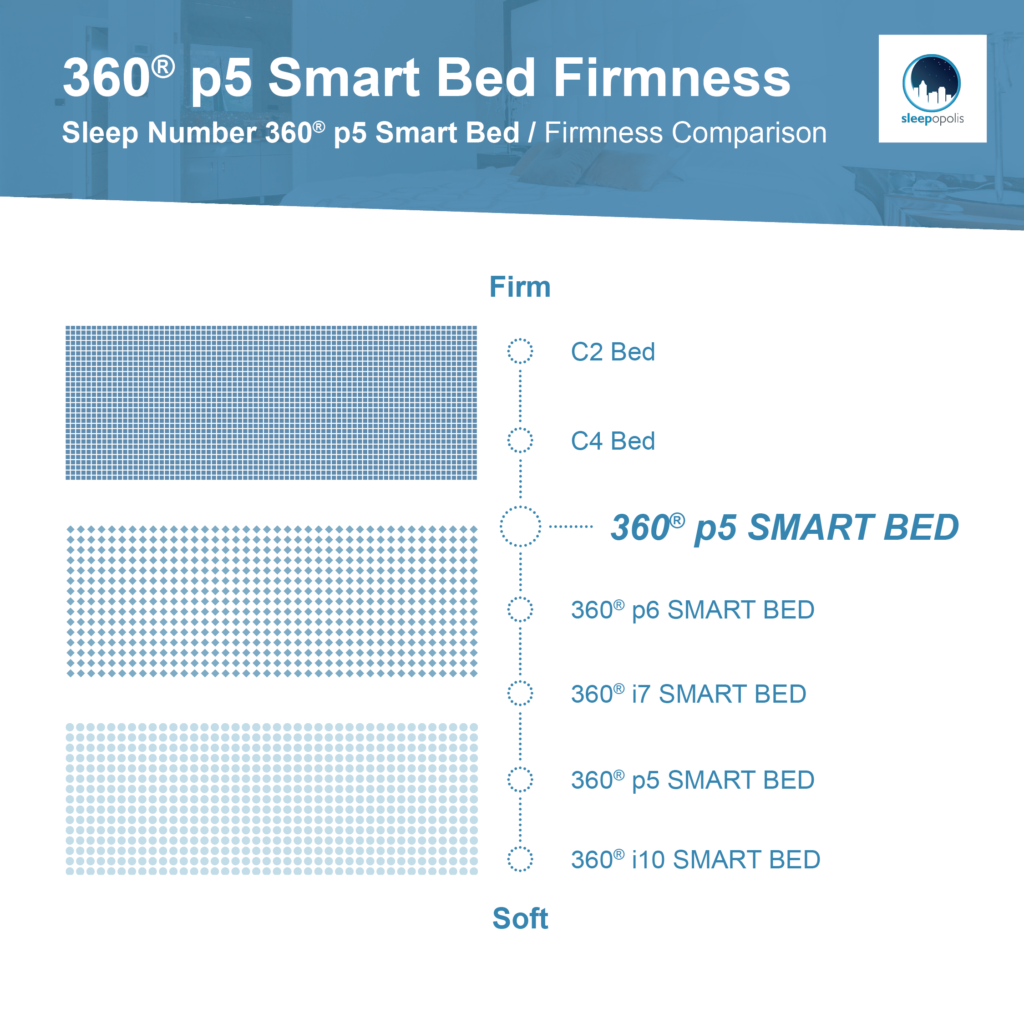 360® p5 Smart Bed Mattresses Vs. Others
You may be wondering how the 360® p5 compares to other types of beds.
As far as the mattress goes, the p5 will provide a medium-level of firmness with specific contouring zones to relieve specific pressure points. This is similar to a mattress like Casper, which has what they call Zoned Support Technology, meaning its foam is firmer in certain parts of the mattress where the body tends to apply more pressure.
The pillow-top comfort foam makes the p5 also feel similar to other beds that focus on cushioned support, specifically hybrid mattresses like Purple, or a memory foam mattress like Leesa.
As for the smart bed function, there are a few other beds like this on the market that provide similar features. There's Eight Sleep, which has features like sleep tracking, bed warming, smart alarms, and smart home integrations. It's a lot cheaper than Sleep Number but doesn't have the ability to sense your movements and auto-adjust. Another comparable smart bed is ReSt, which is more similar to Sleep Number, given it includes what they call a "Whisper air system" where the bed adjusts the air to five different body zones. (Sound familiar?) This is a touch more expensive than the Sleep Number model. There is also HiCan, which is advertised as a "personally crafted space," including a sound system, HD projector, and Configurable Touch Board.
Save $130!

Leesa Mattress

Click link to enjoy $130 off your purchase of a Leesa mattress
Nice Bounce
Sleeps Cool

Save $100!

Casper Mattress

Take $100 off your purchase with our exclusive discount!
Zoned support is nice for spine alignment
Great choice for combo sleepers

Free Sheets!

Purple Mattress

Great Bounce
Sleeps Cool
Get a free set of Purple Sheets when you buy a Purple mattress
Biggest Need-to-Knows
The p5 is one of the most popular Sleep Number models. Sometimes it makes sense to follow the crowd. In this case, I've heard time and time again that the p5 mattress is one of the most popular Sleep Number beds, given it isn't too soft or too hard, and works for people with different sleep positions and preferences.
There is no self-cooling technology. A lot of Sleep Number beds include temperature regulation technology, but the p5 is not part of this club. Take note, since a lot of people complained about being too hot in this bed. If this is a worry for you, the p6 includes this feature (and costs around $500 extra dollars).
You'll (most likely) have to troubleshoot issues. Remember: This bed is technically an airbed. And since the 360® p5 comes with the Firmness Control™ System, there's a chance you'll run into tech issues or air loss. Be prepared to troubleshoot issues or call in a repair if something goes wrong.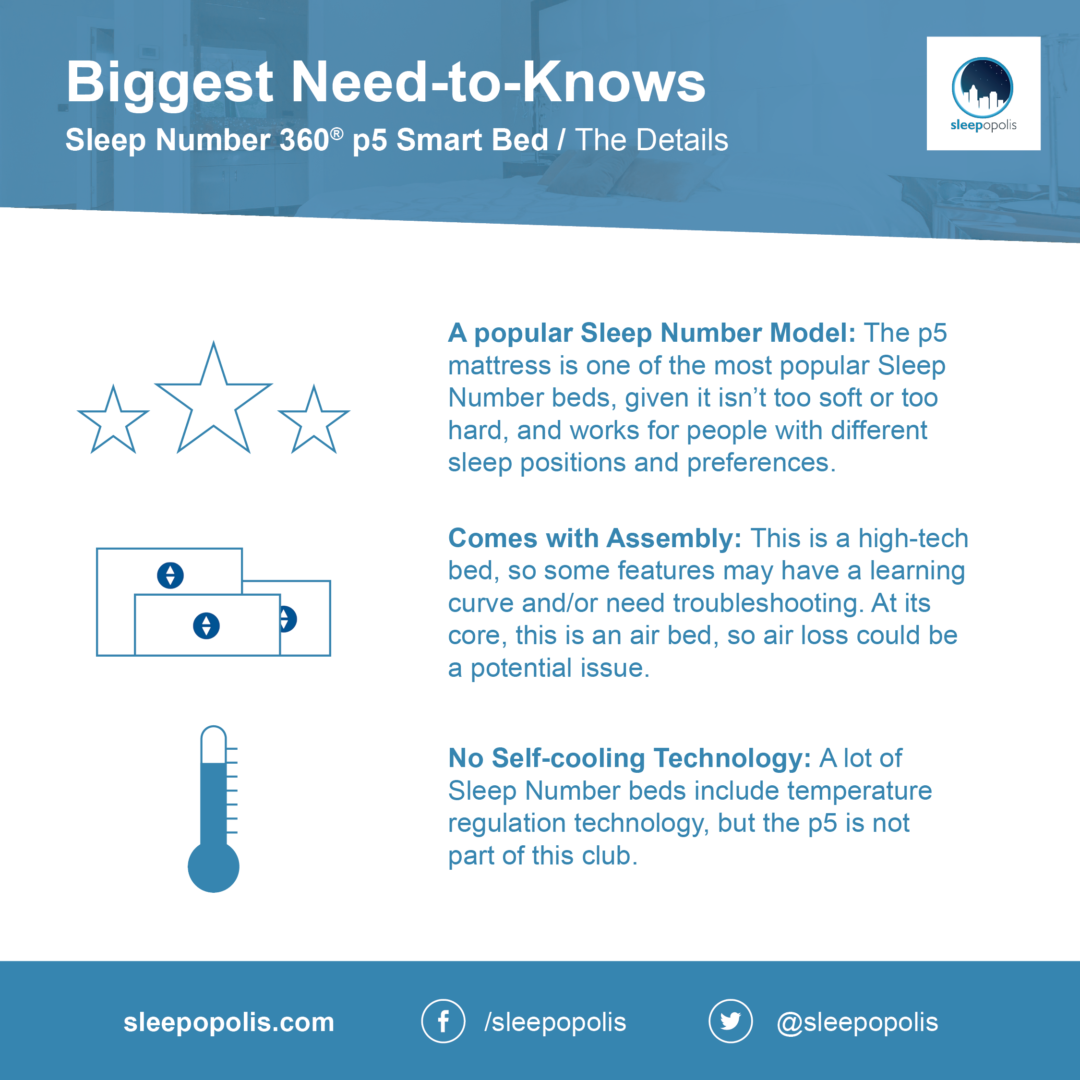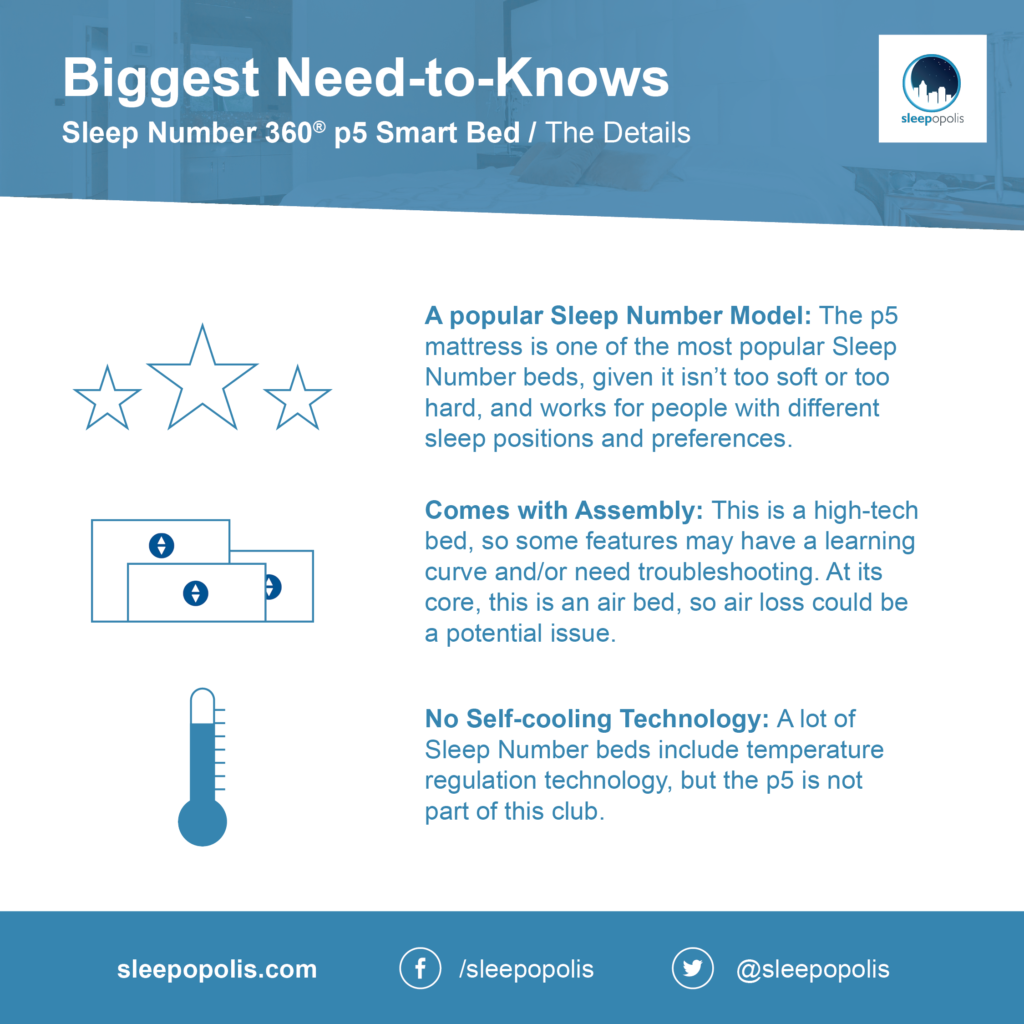 Common Praise & Complaints
Here are the main and most prominent reviews of the Sleep Number 360® p5 bed, both good and bad:
Those who loved it said:

It was great for chronic pain. Many people with chronic pain, specifically in their back, said this bed did the trick, feeling a substantial decrease in pain after sleeping on it. Having the bed adjust in the middle of the night upon movement also seemed to help here.
It worked well for back sleepers. While this bed targets a great middle-ground and generally seems good for all types of sleepers, it's especially a fit for back sleepers who need a medium-level of firmness. A lot of back sleepers identified themselves when leaving reviews, saying it was a great choice for them.
It provides solid pressure relief. The 4" of foamy, pillow top goodness (aka the PlushFit foam that contours to five zones on the body) was said time and time again to provide reliable relief for pressure points.
Those with didn't love it said:
It got hot. Remember: The p5 does not have a special temperature-regulation technology embedded into the mattress cover, so you're at risk for overheating (if you tend to sleep hot in the first place). Many people complained about this.
It is high maintenance. Like other Sleep Number models, the 360® p5 broke down quite often, from the remote not working to the air-chambers starting to deflate, to issues with the FlexFit base not moving correctly. While this won't happen to every bed every single night, know that once you add a lot of technology to your bedding, you're more at risk for breakdowns.  
It simply felt like an air mattress. There are simply some people who think the p5 is just a really expensive air mattress. While the four inches of pillowtop support should help provide extra comfort, some reviewers noted they swapped it for a thicker mattress pad or wished they purchased a Sleep Number model with a higher number—meaning it provides extra cushion and helps reduce the "this feels like an air mattress" issue.
Sizing and Pricing Information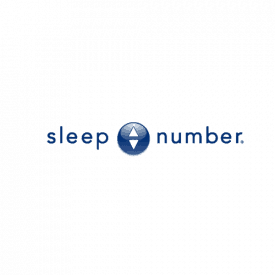 Sleep Number is a bedding company that sells bed, mattresses, and various bedding products. However, the company is best known for its signature product, the Sleep Number bed, which comes with an adjustable air mattress and various add-ons like a smart system, adjustable bases, and different types of comfort foam mattress pads.
| Mattress Size | Size Dimensions | Number of Air Chambers | Original Price |
| --- | --- | --- | --- |
| Twin | 38" x 75" | 1 | $1,799.00 |
| Twin Long | 38" x 85" | 1 | $1,949.00 |
| Full | 54" x 75" | 1 | $2,224.00 |
| Queen | 60" x 80" | 2 | $2,299.00 |
| King | 76" x 80" | 2 | $2,799.00 |
| California King | 72" x 84" | 2 | $2,799.00 |
Sleep Number also has financing options if you don't want to pay for this all in one go. For purchases that range from $3,000-$5,999.99, there is a 24-month finance plan you can opt into. The other financing options include 48-month financing on purchases $8,000 or more, or 36-month financing on purchases $6,000–$7,999.99, which would work well if you purchased a base, and/or other Sleep Number products
Is the Sleep Number 360® p5 Smart Bed Right for You?
Now that you've learned everything (and more) about the 360® p5, here's a handy summary to understand if it's a good choice for you:

You're a back sleeper. The p5 is one of Sleep Number's most popular bed, and for good reason. While its medium-firmness makes this bed alluring for different types of sleepers, it's especially a good fit if you sleep on your back, striking a great balance of comfort and support, especially due to the five zones of contouring support.
You experience chronic pain. If you're someone who has dealt with chronic pain, this might be a good bed option for you since many reviewers said it helped alleviate ongoing aches and ailments. >
You don't typically sleep hot. If you get hot in the middle of the night, it's probably best to stay away from this bed since it doesn't include any features that help the bed self-cool. That said, if this is a non-issue for you, the p5 could be a safe purchase.
You appreciate technology. This goes for all Sleep Number beds in the smart series, but if you're someone who appreciates and wants to take advantage of technology to sleep better, this is a great option. And since the p5 is the cheapest of the smart bed series, it could be a great place to start.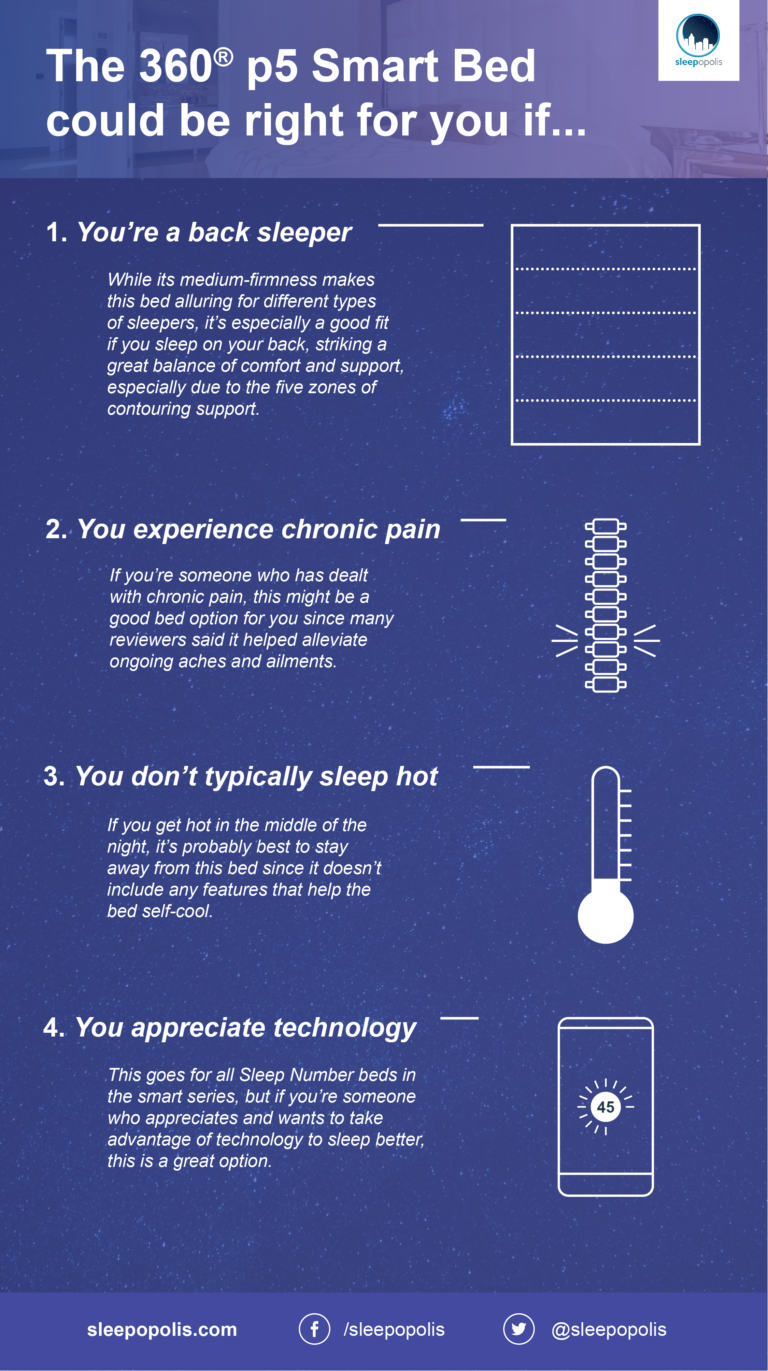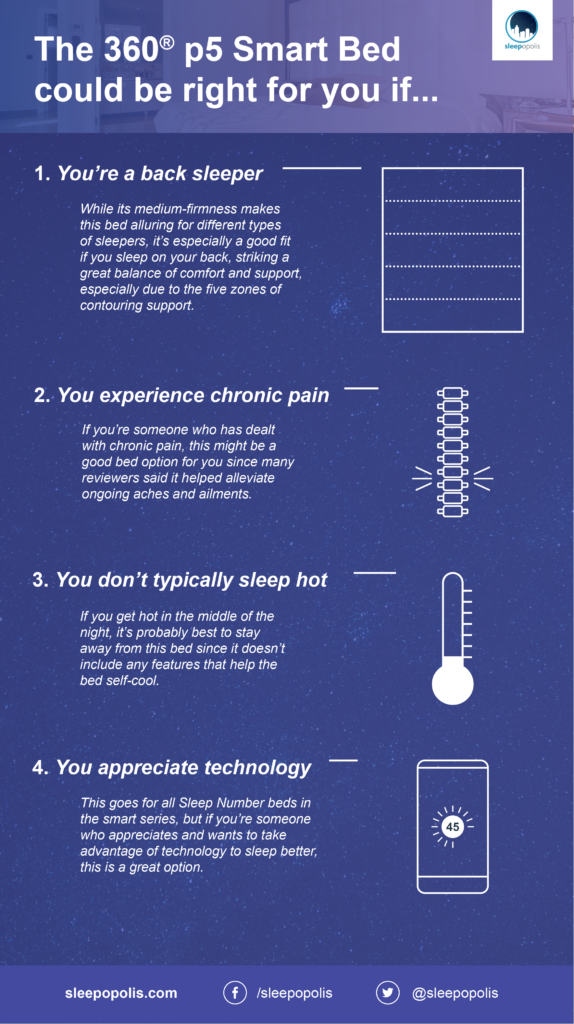 Sleep Number 360® p5 Summary
All in all, The Sleep Number 360® p5 is one of the most popular Sleep Number models due to its fluffy pillow-top cover coupled with a firm and supportive mattress to provide soft and sturdy support. The added Sleep IQ tech and auto-adjustable mattress make this smart bed especially intriguing for data geeks who want to better understand how they sleep, and the relatively lower price-point makes this less of a risk than some of the fancier Sleep Number 360® models.
The following two tabs change content below.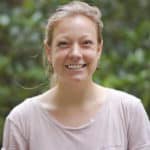 Laura Schwecherl
Laura is a journalist with nearly a decade of experience reporting and covering topics in the health, fitness, and wellness space. She is also a marketing consultant, where she works with impact-oriented startups to build marketing and editorial strategies. Since joining the team at Sleepopolis, she quickly learned how critical sleep is, and enjoys researching how certain sleep products and techniques can improve our lives. Outside of work, you can find her reading Murakami novels, writing amateur poetry, or trail running in her hometown, Boulder Colorado.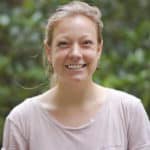 Latest posts by Laura Schwecherl (see all)