Sleep Number beds are well known for their adjustable air beds that allow users to find the perfect level of comfort they need in a mattress. These airbeds inflate or deflate with the click of a button, so you can find the exact level of firmness that works for you — depending on your preference, sleep position, and more. This level of firmness is a number between 1-100, appropriately named your "Sleep Number Setting."
Sleep Number isn't just an air bed, however. There's lots more going on. From different combinations of comfort foam layers above the air chambers, to cooling technology in the material, to app-integrations, there are many innovative and interesting Sleep Number features to learn about.
However, there's more! If those things aren't enough, Sleep Number recently came out with their 360® smart bed series last winter, adding on another laying of smart technology. The feature most well known in this series is the responsive air technology, which records your body's movements and automatically adjusts your mattress throughout the night.
Before we give it all away, we're going to hop into the Sleep Number 360® p6. Keep scrolling to learn all the ins and outs of this bed and see if it could be a fit for you.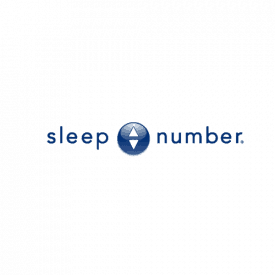 Sleep Number is a bedding company that sells bed, mattresses, and various bedding products. However, the company is best known for its signature product, the Sleep Number bed, which comes with an adjustable air mattress and various add-ons like a smart system, adjustable bases, and different types of comfort foam mattress pads.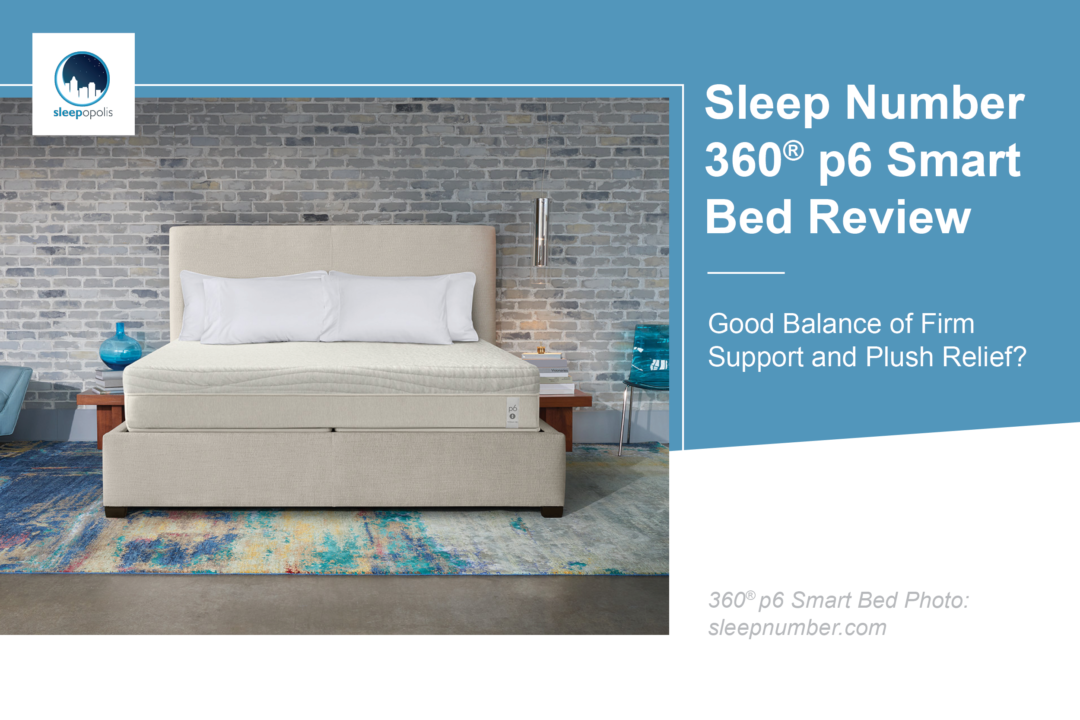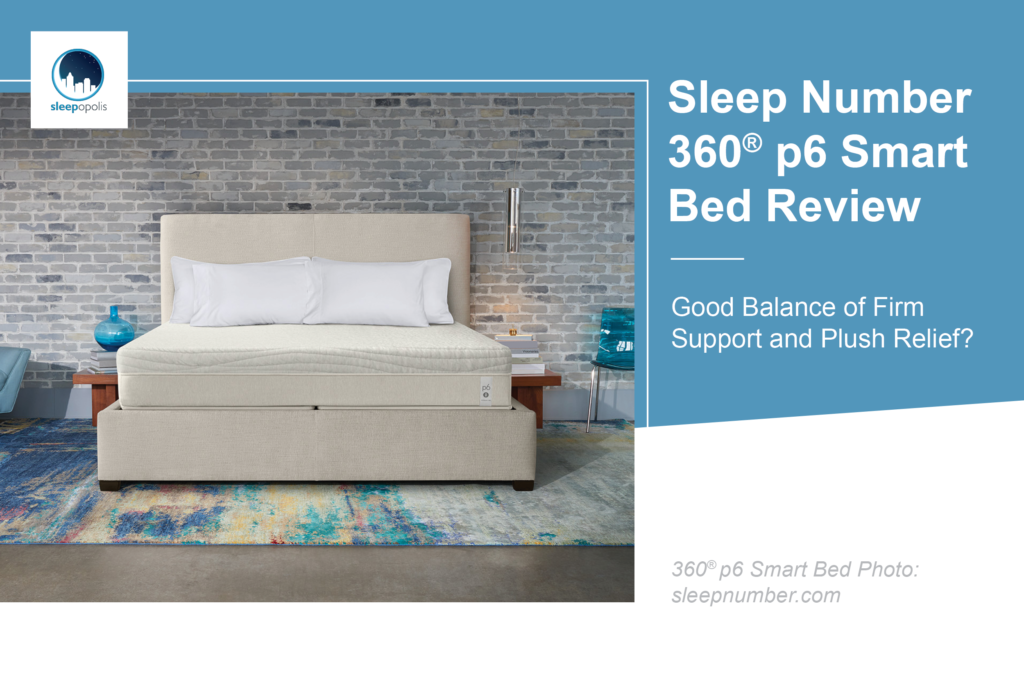 Sleep Number 360® p6 Smart Bed Mattress Construction
"P6" isn't some weird code name or inside joke among Sleep Number staff. There's actually a method to their model naming! The "p" in "p6" stands for "Performance," pointing to the cooling technology and pressure relief features of this bed. The "6" stands for the number of body zones the mattress targets. In this case, Sleep Number claims the mattress will contour to your head, neck, shoulders, lower back, hips, and knees.
The performance series also includes the p5, which is said to be one of the most popular bed choices because of how it balances comfort with a decent price tag. While the p6 is a little more expensive, you get a little more bang for your buck: It comes with five inches of comfort foam (vs. four in the p5) and the mattress is one inch thicker. Moreover, the p6 includes a temperature regulating technology in the foam itself — the p5 doesn't. 
Here's the exact breakdown of a Sleep Number 360® p6 Smart Bed:
The mattress: The 360® p6 mattress has an 11" profile (measured from the base of the mattress to the highest loft). This makes this one inch taller than the p5.
The material: The mattress is made of a rayon/polypropylene fabric blend.
Above the airbed: The comfort layer is 5″ of foam that aims provide a plush feeling with pressure relief and a cooler feel. The types of foam are called Coolgenex and Ergonomex. The Coolgenex is the part that is infused with graphite to draw the heat away from your body and behaves a lot like memory foam with contouring support and proper spinal alignment. The Ergonomex is a gel infused material that adds some extra support beneath the Coolgenex foam and a bit of extra comfort.
Air chambers: The air chambers are made of 24 gauge vulcanized rubber with a cotton fabric adhered to its exterior. These hook up to a 4" hose and pump so you can easily adjust the bed's firmness with your remote. The hose is hidden inside the mattress; you can get access to it through the zippered mattress cover. Every Sleep Number mattress includes one or two air chambers. The p6 only comes in four sizes (Twin XL, Queen, King, and Cal King) so the only bed with one chamber will be the Twin XL. Once you move up to Queen and above, your bed with have two air chambers, what Sleep Number likes to call its DualAir technology. This feature allows you and your partner to adjust each side of the bed to your exact liking. No more needing to compromise on how your bed should feel!
The base: Sleep Number bases are sold separately. Hopefully, there's a good chance the base you need is already in your bedroom. However, these bases are known to enhance the sleep experience—especially when it comes to the 360® series. Here is a breakdown of your different options:
FlexFit™ 1:

The most basic (yet still adjustable!) Sleep Number base. It allows you to raise the head of your bed, making it a great option if you're someone who likes to read or watch TV in bed before going to sleep.

FlexFit™ 2:

Here, you can raise the head

and

foot of your bed, and you can also gently raise your partner's head if he or she starts snoring. The movement of the base also provides a special "zero-gravity" feel, as if you're weightlessly floating. You can set a timer so the bed automatically returns to your favorite sleeping position at a certain point in the morning or night.

FlexFit™ 3:

The FlexFit 3 adjustable base includes all the bells and whistles of the FlexFit 2. It also includes massage feature, under-bed lighting, and a foot warming feature. (Sleep Number says you fall asleep faster if your feet are warm.)

Modular base:

For a more affordable base option, Sleep Number also provides a modular base that takes the place of a normal box spring. It's extra firm and durable to hold the weight of a Sleep Number mattress.

Your own: If

you use your own base, make sure you own (or purchase) one that has a firm and non-spring foundation, like a platform bed or bunkie board. The bases Sleep Number does

not

recommend include a bed frame with slats or a traditional box spring base since these don't provide enough support.
The extras: The Sleep Number 360® p6 comes with the ability to integrate with an app. The SleepIQ® can track your sleep by measuring things like breathing, heart rate, and general movements. When you wake up, you can look and look at your SleepIQ® score to see how you slept throughout the night and if you need to make any adjustments.
Sizes: The 360® p6 mattress comes in four sizes, from Twin XL to California King. Continue reading to see how much they cost.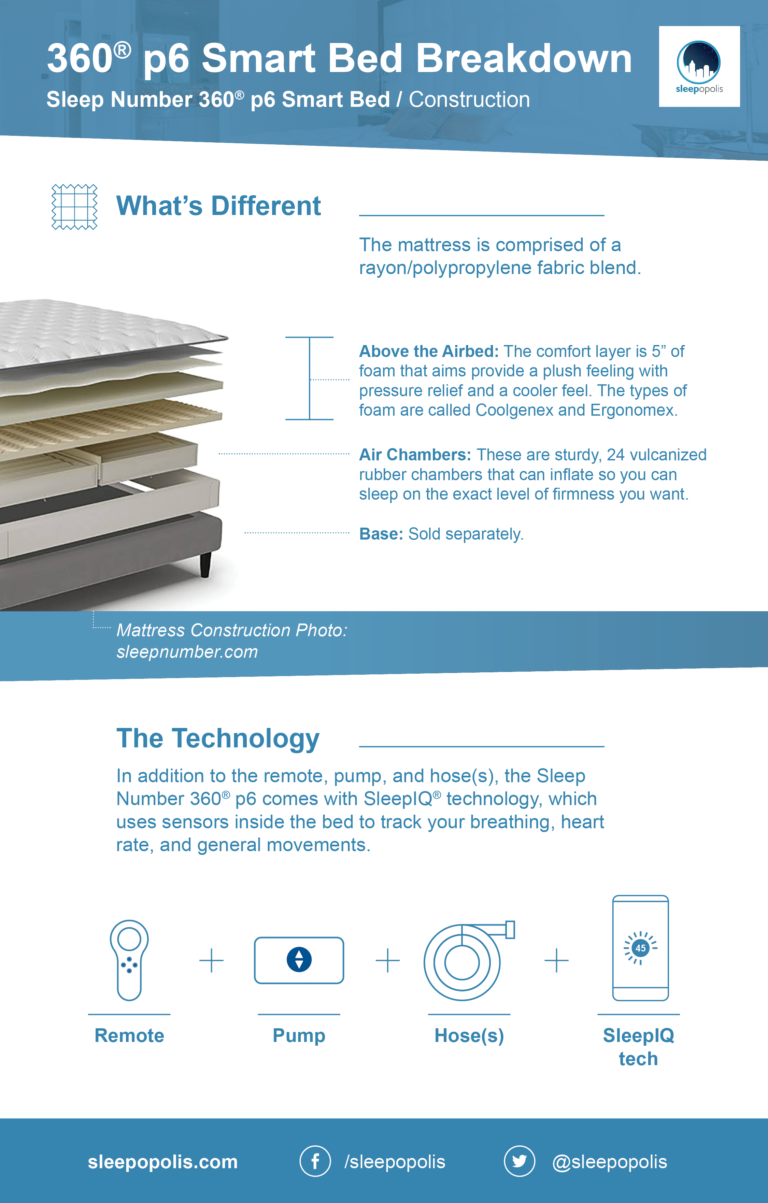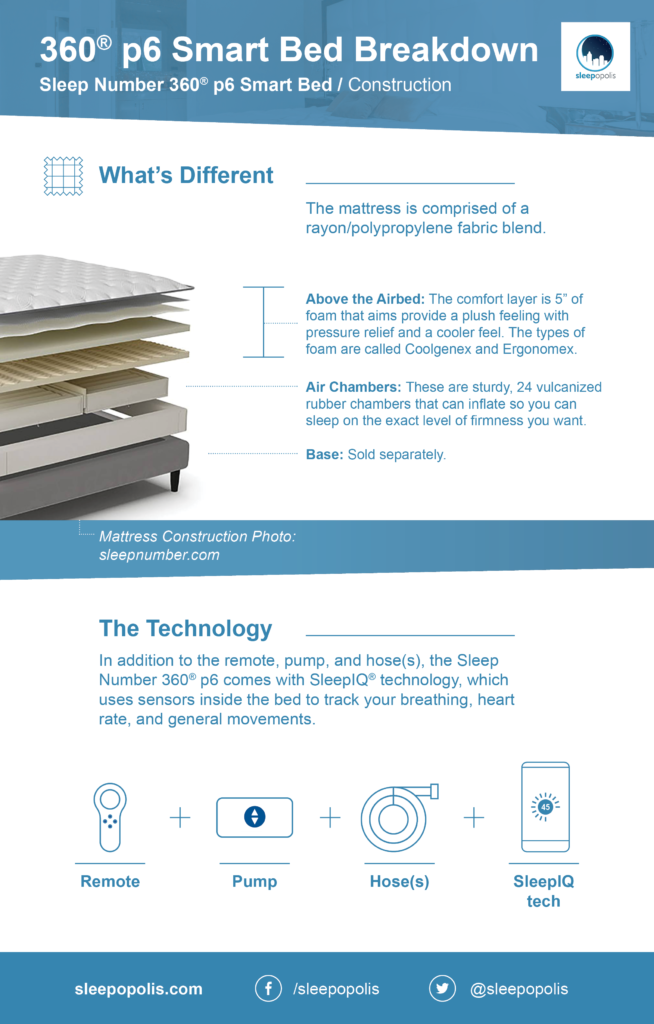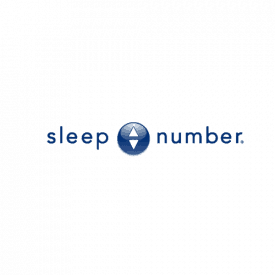 Sleep Number is a bedding company that sells bed, mattresses, and various bedding products. However, the company is best known for its signature product, the Sleep Number bed, which comes with an adjustable air mattress and various add-ons like a smart system, adjustable bases, and different types of comfort foam mattress pads.
What Makes the p6 a Smart Bed?
We started mentioning it before, but now we'll go into the details. The Smart Series offers an extra suite of technology integrations so it can operate (to some extent) interactively and autonomously — hence "smart." The main feature is the Responsive Air technology, which we'll go over first. There are additional features as well, but these typically come with the FlexFit bases and are not included with the purchase of a mattress.
Responsive Air technology. Sleep Number's Responsive Air™ technology senses and responds to your movements, automatically (and gently, I am told!) adjusting the bed's level of comfort and support. There are pressure sensors in the air chambers to detect these movements, which then collect all of your data and send it to the Sleep Number app.
Snore-support!  This one is an example of a cool feature if you purchase the FlexFit™ 2 or 3 adjustable bases. With your base, the bed can detect if you or your partner starts to snore, and it will automatically adjust the angle of the bed upwards to help it stop. The jury is still out if this feature actually works (I can't find anyone commenting on it!) but the lack of complaints about snoring partners makes me wonder if it indeed is doing the trick.
Integration with SleepIQ® technology. We spoke a little bit about this app, but here is more of the nitty-gritty. Every 360® bed includes SleepIQ technology (you can purchase it as an add-on in the c4) which uses mattress sensors to measure movements, heart rate, and breathing, so you can understand not just how long you slept, but how well you slept. You find this out through your "Sleep Score," which will be one of the first things you see when you wake up. This technology connects to other Smart devices, so you can add your sleep data to other things you may track, like your fitness regime or eating habits. Currently, SleepIQ® can connect to  Apple® Health, Fitbit®, Microsoft® Health, Nest Learning Thermostat™, MapMyRun™, and Withings Health Mate™.
Here are basic instructions on how to connect your SleepIQ to your other tracking apps:
Open & log into the SleepIQ app

Tap Settings in the bottom right-hand corner

Select "Sleeper" under Sleeper Profiles

Select "Connected Apps"

Select the app/device you would like to connect and log in using those credentials when prompted

Authorize SleepIQ technology to access their data through the third party app/device




How Do I Find My Sleep Number?
Your Sleep Number setting will be a number between 1-100; the higher the number, the more firm the mattress. Most people have a sleep number between 30 and 60.  You can find your sleep number at one of their retail store showrooms, or do it at home. Either way, you can always adjust your sleep number, so it never becomes a permanent thing.
If you're doing it at home, here is how to exactly do it:
Lie down. Get into bed (bring your Sleep Number remote or SleepIQ app!) and lie down on your side. Make sure your pillows are propped as they would if you were actually sleeping.
Find your setting.
If you have your remote:
Press the Home button

Select Sleep Number

Use the up and down arrows to explore the different settings
If you're in the SleepIQ® app:
Open your Bed Controls

Select the Sleep Number tab

Tap Help Me Find My Sleep Number®
Pay attention to how the bed feels. Sleep Number recommends bringing your setting up to 100 to understand what that feels like. Then, as the number goes down you'll feel the bed get more and softer. Pay attention to how your body feels and reacts as the air chamber deflates.
Choose a setting and stick with it for a few days. The moment your body feels like it hit that sweet spot, press Enter or Stop on your remote or app. The setting will automatically save so you don't need to adjust anything. From there, try it out for a few days. If you're finding that after a few days something still doesn't feel totally right, you can try adjusting your number 5 or 10 notches.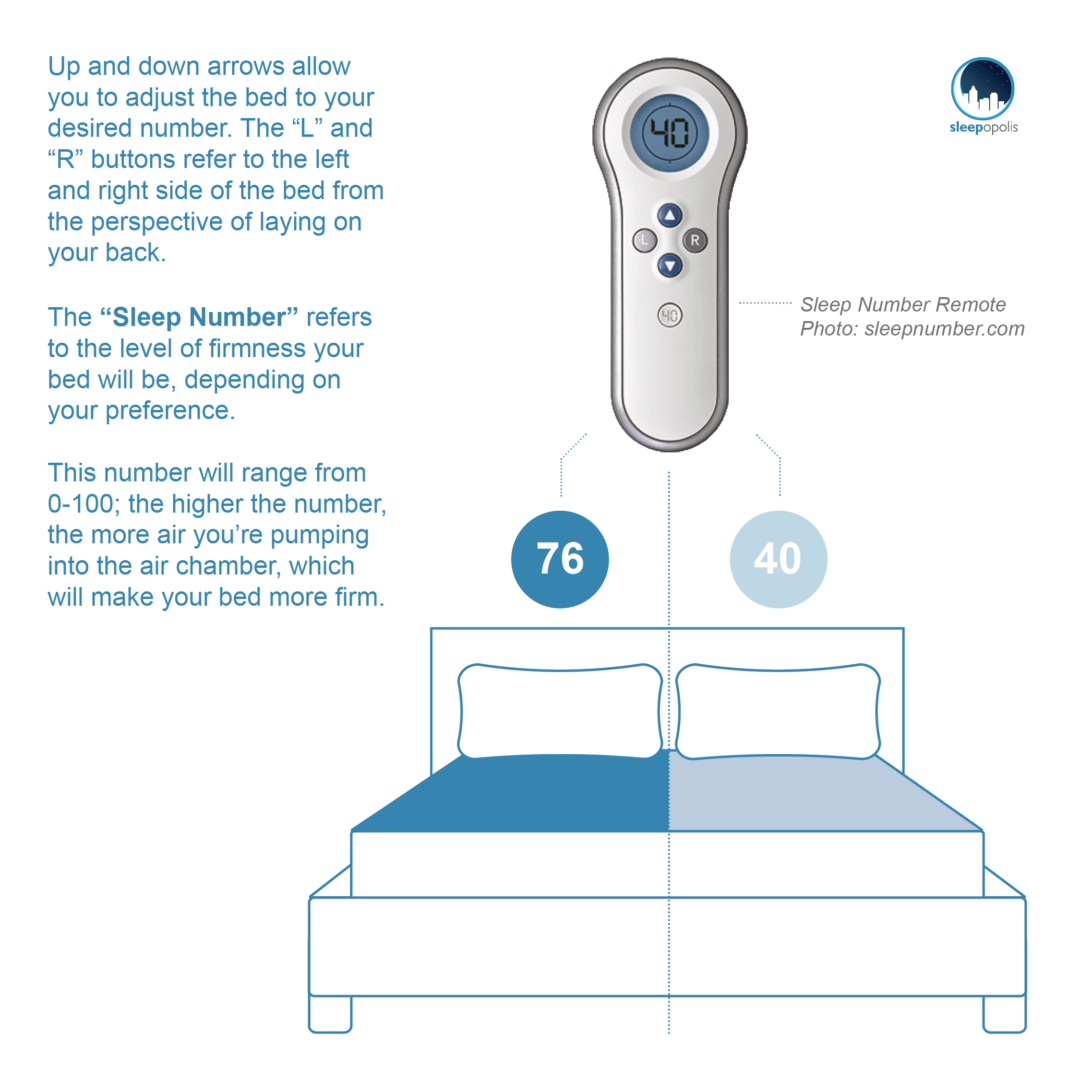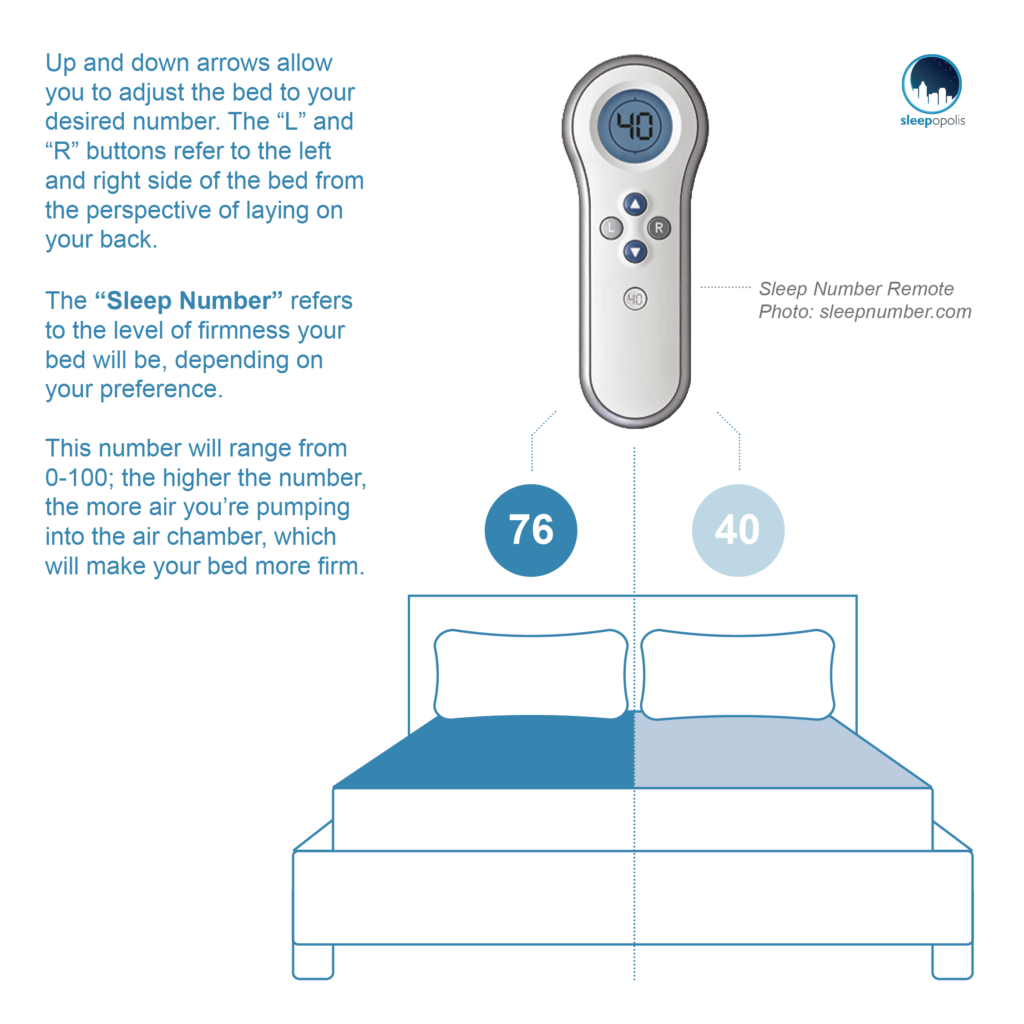 360® p6 Smart Bed Mattress Feel
The 360® p6, similar to the p5, will have a medium-firm feel. The 5 inches of comfort foam make it more plush and comfy than the c2 or c4 models, but it's definitely not going to feel like you're "sinking into a supportive cloud," which is the way some customers describer the softer models — i8 and i10.  
Of course, you can adjust your mattress to make the bed more firm or soft if you want a little more, or little less, support, but this comfort layer really dictates how you're going to feel.
The reason the p6 lands in mid-level firmness territory is five inches of foam support is just enough to feel soft, but isn't too thick where you feel like you're sinking. Medium-firm mattresses are generally good options for back sleepers or side sleepers who want a little extra cushion.  
Many reviewers and testers rated the 360® p6 well for its "flexibility." They could feel the difference of the Responsive Air technology adjusting their mattress as their bodies craved different levels of support. That adjustment with the five inches of pressure-relieving foam seemed to make many people happy. Others also spoke of shoulder and neck pain going away after sleeping on the p6, which might mean the bed does a great job of balancing firmness and safe support.
This bed will most likely feel cool as well, since its combo foam in the comfort layer is designed to pull heat away. Many people said they could feel the difference with the temperature regulating technology, so if you sleep hot, this could be an option!
However, an interesting red flag is that this bed will feel weird if you sleep with a partner sometimes, but not always. Unless you get the Twin XL, you'll be choosing a Queen, King, or Cal King, which all comes with two air chambers. This is great if you always have someone on the other side of the bed, but if you're regularly sleeping solo in a bed with two air chambers, people said it felt weird and uneven, even if the Sleep Number setting was the same on both sides.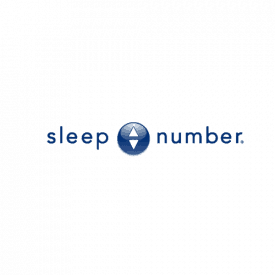 Sleep Number is a bedding company that sells bed, mattresses, and various bedding products. However, the company is best known for its signature product, the Sleep Number bed, which comes with an adjustable air mattress and various add-ons like a smart system, adjustable bases, and different types of comfort foam mattress pads.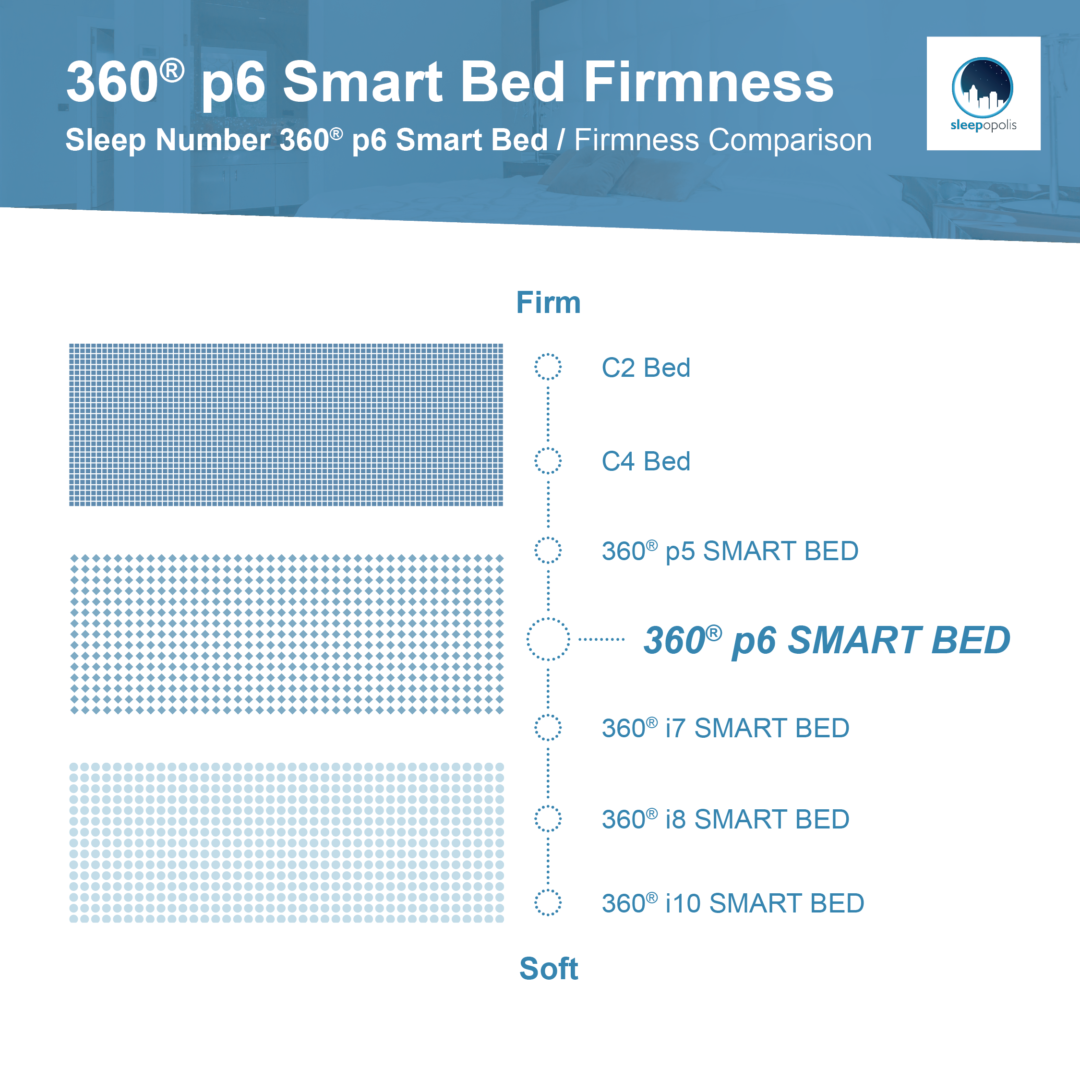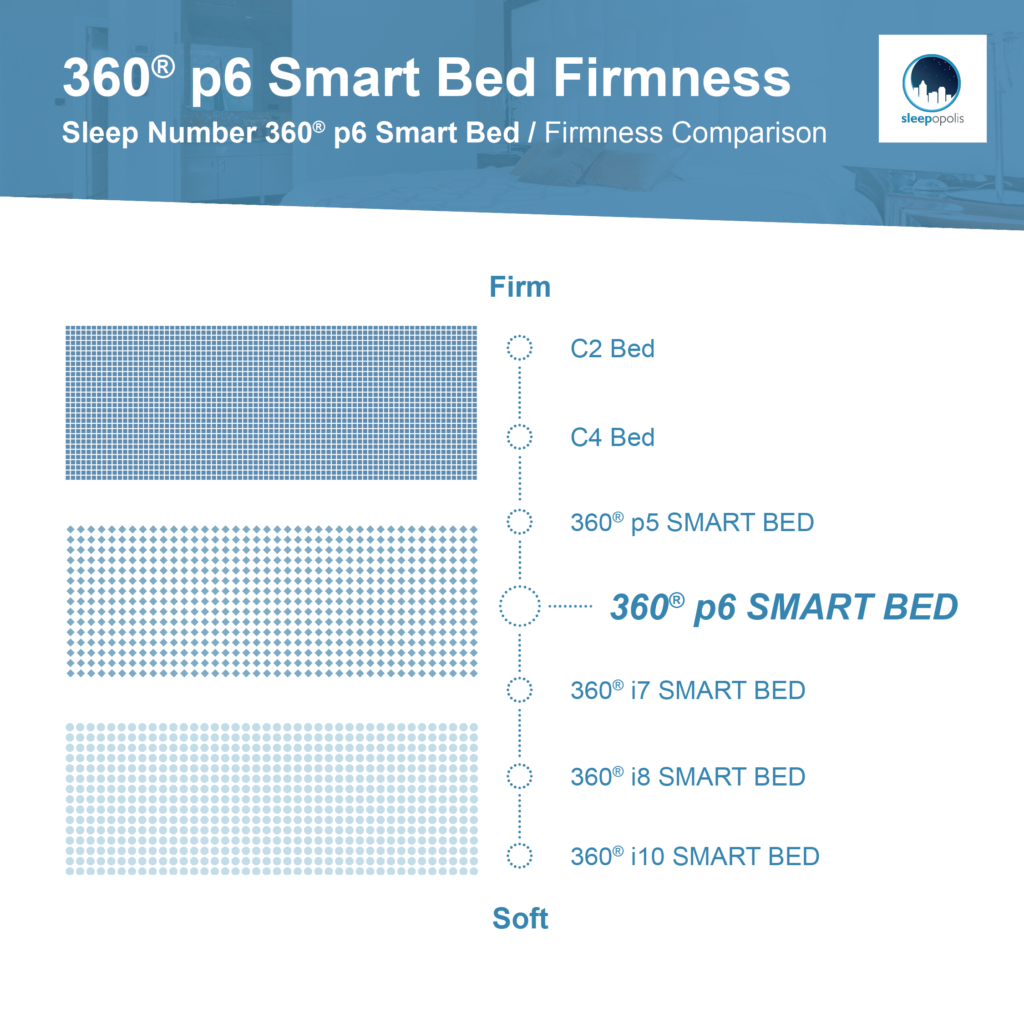 360® p6 Smart Bed Mattresses Vs. Others
You may be wondering how the 360® p6 compares to other types of beds.
The p6 provides a medium-level of firmness with contouring zones in its comfort layer to relieve six pressure points. Right off the bat, this reminds me of Casper and their Zoned Support Technology. If you know you want foam that is firmer in certain parts of the mattress where the body applies more pressure, the p6 (or Casper!) could be good fits.
Additionally, the two types of foam (which mimic memory foam without trapping heat) will provide a feel similar to something like Layla, which is also adjustable and can provide different levels of support. The p6 might also mimic the likes of Novosbed, another memory foam mattress that provides medium-firm support with temperature-regulating technology baked in.
If you've slept on smart beds before, the features with the Sleep Number 360® p6 will be most similar to ReSt and its "Whisper air system" this automatically moves air to five different zones in the body. There are some other more affordable options like Eight Sleep, which has features like sleep tracking, bed warming, smart alarms, and smart home integrations. The big-ticket item — automatic mattress adjustments — isn't included here, which is the biggest difference between this bed and the Sleep Number smart series.
Novosbed Mattress

Classic memory foam feel
Great for side sleepers
Click the link to check current pricing

Save $110 on your order!

Layla Mattress

Memory foam that sleeps cool
Dampens motion transfer
Get $110 off your purchase using code SLEEPOPOLIS.

Save $100!

Casper Mattress

Take $100 off your purchase with our exclusive discount!
Zoned support is nice for spine alignment
Great choice for combo sleepers
Biggest Need-to-Knows
There's a 100-night sleep trial and a 25 Year Limited Warranty. If you're not sure you want to make the full leap, Sleep Number offers a helpful 100-night sleep trial. This only includes the mattress, however, so is best for people who already own a platform bed and don't need to buy a base (which you wouldn't be able to return). There is also a 25-year limited warranty, but I like to think of it as a two-year warranty with some helpful perks thereafter. During the first two warranty years, any covered repairs or replacement parts will be free (if it's a Sleep Number issue, not a user error), yet after that, coverage depends on the issue, and only a certain percentage will be covered.
There is self-cooling technology! The biggest difference between the p5 and p6 is that this bed has materials that are designed to keep you cool. This is thanks to the Coolgenex foam in the comfort layer, which is infused with graphite to draw the heat away from the body.
You can have your bed delivered. Sleep Number offers a Comfort Service™ Home Delivery, where their professionals will install your Sleep Number® bed and show you how everything works. They'll also take away your old mattress and box spring or move them to another room in your home. (This will cost extra, so if you're tech and mechanically savvy, you could always set it up yourself.)
You might need to troubleshoot some parts. Sleep Number's Firmness Control™ System is needed to operate your bed and find your sleep number. This whole system includes the remote, air hose(s), and pump. While this will be set up for you if you choose the Comfort Service Home Delivery, if anything breaks down, you might need to go in yourself to see if you can fix it. (Sleep Number offers many helpful to-dos on their website, or you can call to see if an issue is covered under your warranty.)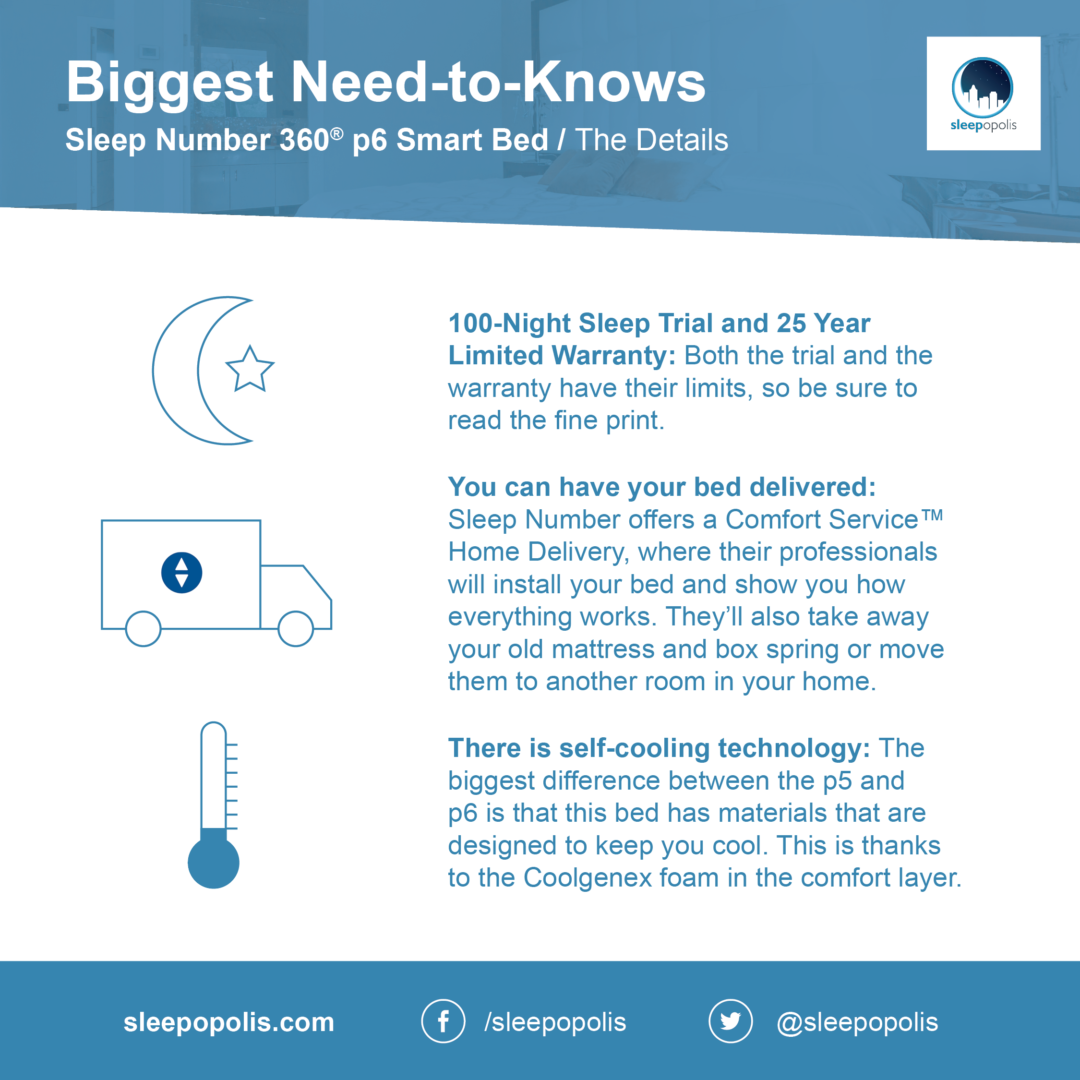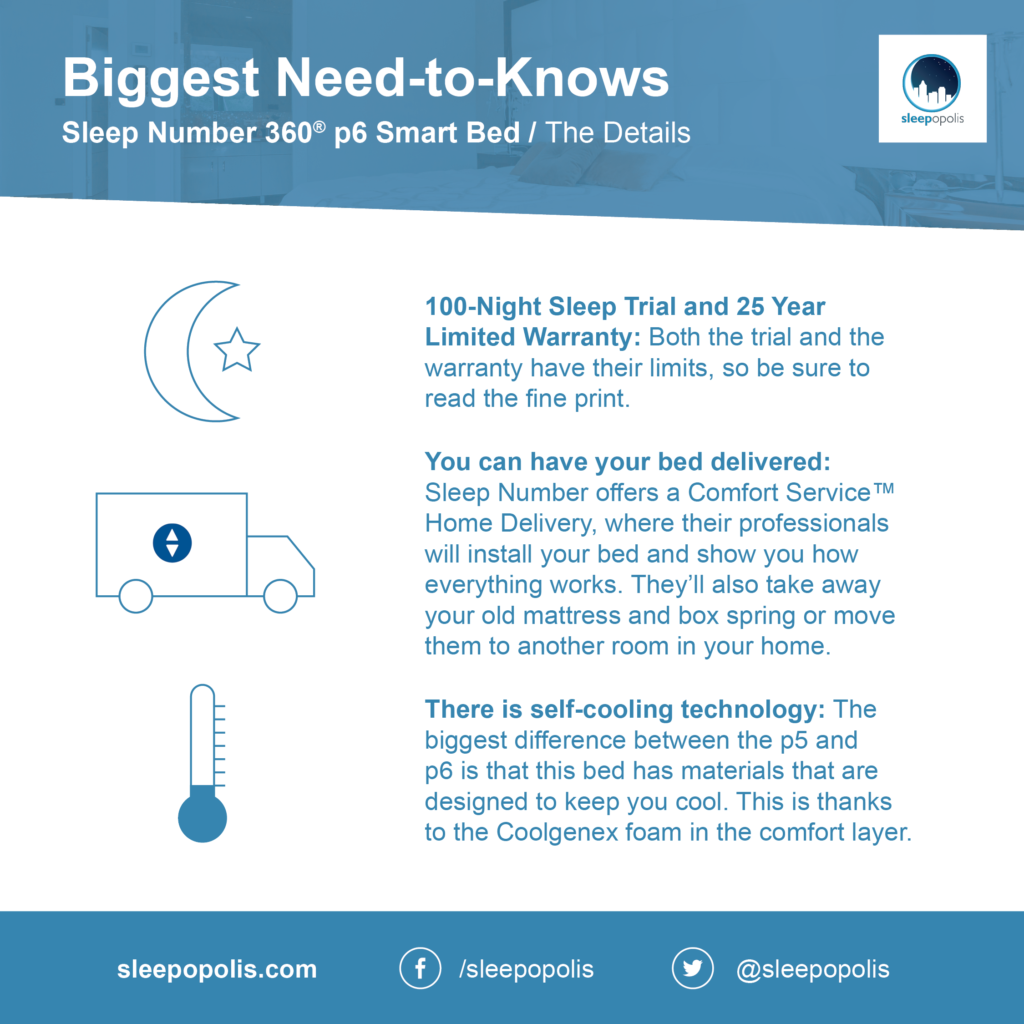 Common Praise & Complaints
Here are the main and most prominent reviews of the Sleep Number 360® p5 bed, both good and bad:
Those who loved it said:

It really kept cool.

People were happy with the cooling technology and really felt a difference with it as part of their mattress. Users also said the cooling cover helped the sleep better throughout the night.

It's good for aches and pains.

Many happy customers wrote about waking up pain-free from issues that used to keep them up all night. For example, one person said: "I did not wake up this morning with my usual hip and sciatic leg pain that I usually wake up with in the morning!"

The add-on base features make it worth it.

Being able to elevate your feet and head really can take your sleep experience to the next level. The FlexFit bases also have small lights on them, so if you get up to use the bathroom in the middle of the night, you no longer need to stumble back into bed. The p6 mattress with these extras seems to have made for many happy sleepers.

Those with didn't love it said:

It takes time getting used to. This bed isn't so simple. It might take a few days to find your Sleep Number setting, and then you need to connect your Sleep IQ app and adjust to the Responsive Air technology. If you're someone who doesn't like a lot of bells and whistles or isn't great with tech, this might not be the bed for you.

It had a weird smell.

A few people complained about the p6 having a chemical-like smell. I'm not sure what would cause it, but one person said: The bed had a horrible chemical smell for weeks, go to find out afterward it was from the fire retardant spray they use on the bed that they did not mention. The smell gave us headaches and nauseous.



The bed sags in the middle.

Since most of the p6 beds come with two air chambers (unless you get the Twin XL) you're most likely going to be dealing with a slight sag in the middle of the bed — especially if you and your partner have different sleep numbers.
Sizing and Pricing Information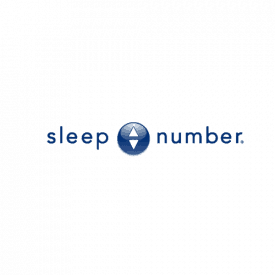 Sleep Number is a bedding company that sells bed, mattresses, and various bedding products. However, the company is best known for its signature product, the Sleep Number bed, which comes with an adjustable air mattress and various add-ons like a smart system, adjustable bases, and different types of comfort foam mattress pads.
| Mattress Size | Size Dimensions | Number of Air Chambers | Price |
| --- | --- | --- | --- |
| Twin XL | 38" x 80" | 1 | $2,349.00 |
| Queen | 60" x 80" | 2 | $2,799.00 |
| King | 76" x 82" | 2 | $3,399.00 |
| California King | 72" x 84" | 2 | $3,399.00 |
Sleep Number also offers financing options. For purchases that range from $3,000-$5,999.99, there is a 24-month finance plan you can opt into. The other financing options include 48-month financing on purchases $8,000 or more, or 36-month financing on purchases $6,000–$7,999.99, which would work well if you purchased a FlexFit base, and/or other Sleep Number products
Is the Sleep Number 360® p6 Smart Bed Right for You?
Now that we've delved into the p6, here are some reasons it might be right for you:

You're a back sleeper.

The p6 and its medium firmness level (just like the p51)makes it a great choice for people who sleep on their backs. If you know you like a little more support, the extra inch of comfort foam make it especially good for people who enjoy a bit of plush with their firmness. The six zones of contouring support also help

side sleepers

, too, who might have finicky hips or shoulders.



You sleep with a partner.

The p6 doesn't come in a Full or Double size, so unless you're going for a Twin XL, you most likely will have a Queen sized bed or larger. These will all have two air chambers, so will work best if you share your bed with someone else.
You sleep hot.

The self-cooling foam on this mattress received rave reviews, so is definitely a great perk if you know you want to feel extra cool throughout the night.



You want to analyze your sleep.

The integration with the Sleep IQ app doesn't just tell you how well you slept — it helps you figure out how to sleep better. If you want to dive into the numbers and use Sleep Number's technology to your advantage, the p6 could be well worth it.
Sleep Number 360® p6 Summary
If you're looking for medium-level firmness, smart-bed features, pressure relieving foam, and a bed that stays cool, the Sleep Number 360® p6 could be for you. The bed strikes a good balance of firm support and plush relief, and it hits six pressure points in the body to hopefully reduce aches and pains. Plus, the FlexFit bases make for an even more innovative night's sleep if you're willing to spend the money.
The following two tabs change content below.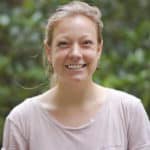 Laura Schwecherl
Laura is a journalist with nearly a decade of experience reporting and covering topics in the health, fitness, and wellness space. She is also a marketing consultant, where she works with impact-oriented startups to build marketing and editorial strategies. Since joining the team at Sleepopolis, she quickly learned how critical sleep is, and enjoys researching how certain sleep products and techniques can improve our lives. Outside of work, you can find her reading Murakami novels, writing amateur poetry, or trail running in her hometown, Boulder Colorado.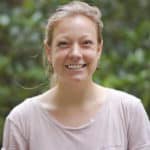 Latest posts by Laura Schwecherl (see all)