With hybrid mattresses, some say you get the best of both worlds: the bouncy coolness of a spring mattress with the contouring comfort layers of foam provide. Today, we're going to look at the hybrid mattress collection offered by Therapedic, a mattress company that offers an array of innerspring, hybrid, latex, and memory foam mattresses. While Therapedic offers nearly 20 mattresses in total (and that's not counting its international collection), there are just two different options to choose from within its hybrid offerings.
Though both mattresses feature different types of coil and foam construction, they both utilize orthopedic bedding that is designed to provide support for people who experience aches and discomfort. While no mattress can replace medical recommendations, it's a nice focus for folks who are on the market for a mattress with this specific design in mind. Let us take a look together at the Therapedic Hybrid mattress review.
The Company: Therapedic
If you haven't heard of Therapedic, it's not because its a new brand. Therapedic International was actually founded back in 1957 in New Jersey. The company started off with just a single mattress option but soon began licensing to other factories, producing various bedding products — from sheets to pillows and pads — under a Therapedic label. Now, Therapedic licenses its brand name internationally and offers an array of products designed to help you sleep more comfortably.
Therapedic Hybrid Mattress Collection: Construction
Therapedic's hybrid mattress collection is one of three main collections the brand provides. If you're curious about other offerings, you can also browse its innerspring collection, specialty collection, or even venture to the international collection to see what they produce overseas. However, we're here to talk hybrid, so let's look at the two mattresses we'll be exploring more:
These hybrid mattresses include the Bravura model, and the Tommy Bahama Hybrid model. The latter one comes in two heights: 13" and 15".
Bravura: If you recognize the Bravura name, that's because this hybrid mattress is also offered in the innerspring collection. However, instead of focusing just on coils, the hybrid version includes an enhanced perimeter coil-encased unit with specialty foam (for comfort), talalay latex (for support), and Energex™ foam (for pressure relief). The mattress also has micro pocket coils and a Quantum Edge Coil Unit for extra base support and overall durability.

Tommy Bahama: Starting in 2015, Therapedic partnered with Tommy Bahama to provide a handful of higher-end mattress options. The collection, in their words, "represents the spirit of relaxation with a healthy dose of fun." The hybrid options come in two heights — 13" and 15" — and use an edge-to-edge pocketed coil unit for support. The construction includes a plush "Floating Foam," core, marketed as a non-toxic, eco-friendly and comfortable foam for any sleep position. The bed also uses BioH Gel Latex and features nested wrapped coils for hip and lumbar support.

Be sure to read our best hybrid mattress list to learn more about the top hybrid mattresses on the market!
Therapedic Hybrid Mattress Feel
Since every mattress is constructed a bit differently, you're going to get a different feel. That said, hybrid mattresses are known for these features:
They can offer a lot of support, particularly for heavier people or those with back ailments

There is a lot of bounce, meaning it will rebound as opposed to simply absorbing your impact

These mattresses are also typically cool, given air can flow freely through the coil system
There are a few main differences between these two mattresses. The Bravura features micro pocket coils, which are known for providing durability and maintaining their form and integrity for a long time. The Bravura also has an edge coil unit for solid edge support to prevent sleepers feeling like they're going to fall off the bed. The mix of foam all focus on durability and pressure relief; this bed will provide a medium-firm feel and is generally good for folks who like mattresses on the firmer end that focus on longevity and support.
The Tommy Bahama is constructed with nested wrapped coils, which is when two nested coil springs are in each pocket, instead of just one.  They tend to conform accurately to the shape of the human body and allow for maximum flexibility, giving a sleeper comfort in varying sleep positions. However, the Floating Foam is the star of this mattress and provides a plush and cozy support while making this a softer mattress option.
In general, hybrid mattresses will provide a comfortable feel similar to that of memory foam, but the coil system will help keep the bed cool while offering that bouncy-like sensation from the springs. Additionally, hybrid mattresses are known for providing stability and comfort, and for some people, they can be helpful in reducing back pain, though that will very much depend on the individual sleeper and isn't a universal experience Choosing the right bed for your needs typically depends on what you feel is most comfortable, so if you're interested in a Therapedic, head to the closest retail store to test them out and see what works for you.  


Therapedic Hybrid Mattress Vs. Others
If you want to know how this mattress collection stacks up against the others, look no further than below. Here are some comparable beds when it comes to look and feel.
As we mentioned before, some of the best bed mattresses to alleviate back pain and provide strong support are hybrid beds. Nest Bedding's Alexander Hybrid Luxury mattress is comparable in support and also focuses on backache relief, though it will have a higher price tag.
The eLuxurySupply mattress is more comparable in value, and also provides a medium-firm feel close to that of the Bravura mattress model. Both mattresses will focus on higher levels of bounce, more motion transfer, better edge support, good cooling, and a decent level of hug and contour — qualities the Therapedic hybrid line are also known for.
25% Off with Code SLEEPOPOLIS

eLuxurySupply Hybrid Mattress

Medium firmness
Sleeps cool
Code: SLEEPOPOLIS

10% Off!

Nest Bedding Alexander Hybrid Mattress

Pressure relief without feeling stuck
Sleeps cool

Additional Need-to-Know's
How to buy:

If you want to test out a Therpedic hybrid mattress and know its exact cost, you're going to have to head to a retail store. If you don't need to test 'em out, some third-party mattress companies offer them online, too.



Warranty depends on the model:

Therapedic's site notes that each mattress comes with a warranty, however, the exact details depend on the model. Regardless of warranty length, it will cover you for any defaults in the manufacturer's workmanship and materials, but any normal wear and tear or use error will be up to you to fix.

Trial period:

Unknown
Therapedic Hybrid: Pros and Cons
There are limited online reviews for the various Therapedic mattress selection, but here are general themes we found for all types of Therapedic beds. Remember that the true tester will be yourself, so head to a retail store and see what you think, too!
Common Praises:
Helps with aches and pains. Most of the positive reviews for Therapedic beds were around its design — many folks said something along the lines of "I woke up well rested and my normal aches and pains were gone." While no mattress can magically help all your pains subside, it's helpful to know that Therapedic and its orthopedic bedding is constructed with people in mind who experience stiffness and soreness.
"Not too hard, not too soft." Reviews of these hybrid mattresses included people appreciating a good balance of hard support and soft comfort. It's often hard to strike that balance, and a handful of Therapedic sleepers were happy with Therapedic's level of firmness.
Stayed cool. Those of us who sleep hot know how challenging it can be to wake up, typically on a foam mattress, feeling super warm. Many people were pleased with how this bed circulated air throughout and kept them cool, regardless of the layers of comfort foam present above the coil system.
Common Complaints:
Longevity:

This complaint is the most common throughout the entire Therapedic line. While many people were happy with their mattress for the first few months, they found it to wear down quite quickly, losing its support and spring. Others said they had issues replacing newer mattresses, even with a warranty.

Rolling off the edges:

A handful of Therapedic customers talked about these beds lacking edge support, and felt like they were rolling off the bed. This was especially apparent for folks who slept with a partner.



Slumpy:

Many people said the Therapedic mattress would slump down in the middle. One person mentioned that the bed was a poor investment because

"the center slumps in considerably and sleeping anywhere but there causes back pain."
Sizing and Pricing Information
Prices for the Bravura and Tommy Bahama hybrid mattresses will vary, so you should go to a retail store to get information on exact prices for each model. However, if you want to know before you go, we did some digging to find price ranges. For the Tommy Bahama model, you can expect to pay an "upper-mid" price — something in the $1,000-1,500 range. For the Bravura, the range is a little lower, going from 599 to $1,299.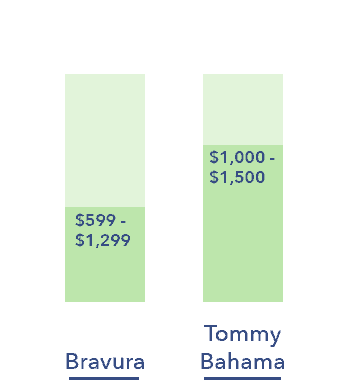 Is the Therapedic Hybrid Mattress Collection Right for You?
After all is said and done, here are the main three reasons the mattresses from the Therapedic Hybrid collection could be a good fit for you and your bedroom.
You are a hybrid mattress lover. There are some people who simply appreciate a good hybrid mattress that consists of both bouncy springs and contouring comfort. All beds in this collection are constructed with interesting coil systems and various layers of foam.
You're interested in something a bit more luxury. The Tommy Bahama line is a nice addition to Therapedic's typical mattress collection. If you want to level-up your mattress but not throw yourself into all the luxury options, Tommy Bahama is a happy medium: the materials are on the higher end, it's attached to another well-known brand, but it's still not crazy pricey.
You sleep hot. These beds are known to keep cool — an important detail for people who generally sleep hot or just love it feeling chilly in the bedroom. Therapedic's mattresses are known to circulate air well throughout the coil system so you can stay comfortable throughout the night.



Therapedic Hybrid Mattress Collection Summary
The Therapedic Hybrid mattress collection is smaller than the other collections but still provide two beds with various levels of comfort and support — both using springs, coils, and layers of foam throughout. If you prefer hybrid mattresses, want to keep cool, and are looking for the right balance of support and comfort, definitely try to get your hands (err, the whole body) on a Therapedic to see how it feels for you.
FAQs
What models are the Therapedic hybrid mattresses offer in?
Therapedic offers many models of mattresses, however, these hybrid mattresses include the Bravura model and the Tommy Bahama Hybrid model. The Tommy Bahama model comes in two heights: 13" and 15".
What is the differences between the Bravura and the Tommy Bahama models?
The Bravura features micro pocket coils and an edge coil unit for solid edge support, while the Tommy Bahama is constructed with nested wrapped coils, which is when two nested coil springs are in each pocket, instead of just one.
Are the Therapedic hybrid mattresses expensive?
Prices on these models vary so check with a local retail store for exact pricing. For an average cost, the Bravura model runs $599-$1299 while the Tommy Bahama runs $1000-$1500.