Therapedic prides itself on manufacturing a variety of innerspring, hybrid, latex, and memory foam mattresses at a good value. The company is by no means the most trendy, but an interesting value-add to their products is the use of orthopedic bedding that is designed to provide solid back support.
This article is going to specifically look at Therapedic's innerspring collection, which includes nine mattresses in total. We'll examine construction and cost, look and feel, and pros and cons, to help you decide if a Therapedic innerspring mattress is in your near future.
The Company: Therapedic
Before we jump into all the juicy details surrounding the mattress line, here's a little bit about the brand. Therapedic International was founded back in 1957 in New Jersey, where it originally manufactured one type of mattress and foundation. Soon thereafter, the company began licensing to other mattress factories and producing product under their Therapedic label. The Therapedic brand — which focused on customers finding the exact fit for them while offering orthopedic bedding — starting catching steam, and soon enough Therapedic became one of the first mattress companies to license its brand name internationally. Now, Therapedic has over fifty worldwide licensees, manufacturing an array of bedding products under the Therapedic brand.
Therapedic Innerspring Mattress Collection: Construction
Therapedic's innerspring mattress collection is one of three main collections the company provides. In general, innerspring beds are a traditional mattress style that consists of metal coils suspended in other materials (usually foam) of the mattress. They offer a lot of bounce and regulate heat well.

There are nine different mattresses in Therapedic's innerspring collection. These include:
Backsense

Bravura

Innergy 2

Medicoil HD

Therapwrap

Tommy Bahama

Tommy Bahama Euro Top

Tommy Bahama Pillow Top

Tommy Bahama Innerspring Plush
Since these names probably mean nothing to you, let's look a little deeper at the materials used for each mattress.
BackSense: This mattress uses Therapedic's HourGlass Back Support® feature, which is a common technology used inside the mattress to help the body lie in its natural, hour-glassed shape. Supposedly, this will increase support firmness by 18% at the shoulders and hips and 13% around the lumbar.
The BackSense uses encased innersprings at its core and includes extra-firm comfort foam and base foam for durability and support. If you like firm mattresses and want extra back support, this might be a good option.
Bravura: If you want something that has a medium-firm feel, Bravura hits the mark. This bed features a perimeter coil-encased unit which aims to provide a stronger edge and fuller sleeping surface. The springs consist of a bolsa edge coil unit for added edge support and durability, along with layers of gel, memory, and latex foam for comfort and a touch of softness.
Innergy 2: The Innergy 2 features a unique coil alternating unit for deep, inner support. There is also a layer of HD gel support for coolness, comfort foam for softness, and 5-zone plush foam for targeted support on the body. For durability, you can flip this two-sided mattress.
Medicoil HD: For heavier sleepers or those who definitely want deeper support, then take a look at Medicoil HD. The mattress includes the heaviest coils out of the Therapedic bunch, features dense HD, latex, and thera foam, and has a super-strong foundation constructed with extra base foam.
Therapwrap: The coil construction for the Therawrap mattress features pocket coils, which reduce side-to-side motion transfer on the mattress. The individually wrapped innerspring coils include a comfort layer of gel-infused memory foam above them for added comfort.
Tommy Bahama (Normal, Euro Top, Pillow Top, and Innerspring Plush): Therapedic partners with Tommy Bahama to provide higher-end, innerspring mattresses that feature quality pocketed and micro-coils that aim to provide support from the hips to the shoulders. The mattresses also utilize non-toxic, eco-friendly "Floating Foam" for increased airflow and comfort. Choose from four different styles, including a standard version, one with a euro-top (an extra layer of padding on top that lines up with mattress edge), pillow top (an extra layer sewn underneath the cover to keep it in place), or innerspring plush (a layer of comfort foam for a super-soft feel).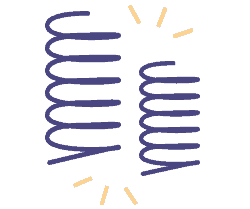 Therapedic Innerspring Mattress Feel
Since every mattress is constructed a bit differently, you're going to get a different feel. That said, innerspring mattresses are known for these features:
They can offer a lot of support, particularly for heavier people or those with back ailments

There is a lot of bounce, meaning it will rebound as opposed to simply absorbing your impact

These mattresses are also typically cool, given air can flow freely through the coil system
That said, innerspring mattresses come with some general complaints. Common, negative characteristics of innerspring mattresses include difficulty getting pressure applied equally across the body, poor motion control, and a shorter lifespan due to coils giving out over time.
Based on limited online reviews, we found that Therapedic innerspring customers enjoyed the initial comfort from these mattresses, and even found some immediate back relief from the combination of the coil system with varying layers of comfort foam. Moreover, they enjoyed good edge support, meaning they never felt like they were going to fall off the bed.
However, others typically had issues with the durability of many of these mattresses, and found that after a handful of years, the support gave out and their bodies started to sink too far into the bed's materials.
The best tester of feel for these various models will be you. All mattresses are sold in retail stores across the country, so find one that is close to you and give it a test run in the showroom.
Therapedic Innerspring Vs. Others
The supporting core of each mattress in the Therapedic Innerspring Collection is, well, innersprings. They also use layers of foam above and below the springs, and feature technology that supports the back. So — how would this mattress feel compare to other mattresses on the market?
We're no medical experts and you should consult a doctor if you're experiencing back pain. However, certain mattresses are designed to provide extra love to the lumbar, to help alleviate typical aches and pains on the backside. One great example of another bed that aims to do this is Saatva, which is constructed with innerspring coils and layers of foam that may help relieve back pain for some sleepers. However, do note that Saatva is a more expensive mattress than Therapedic.
Interestingly, some of the best mattresses that are designed to help alleviate back pain are hybrid and foam beds. While these beds won't feel truly similar to Therapedic, mattresses like Purple, and Helix, will also focus on support aimed at the lower back. For other innerspring mattresses similar in overall feel to Therapedic, look into the Aviya mattress, which is similar in price to Therapedic and also offers a traditional innerspring feel.
Save $225

Aviya Mattress

Recommended for couples
Traditional innerspring build
Get $225 off your purchase with code SLEEPOPOLIS

$200 off $1,000 Purchase!

Saatva Mattress

Traditional innerspring build
Great support and bounce
Additional Need-to-Know's
Retail only:

Therapedic mattresses can be found in many retail stores across the United States and internationally, but you can't purchase them directly from Therapedic's website.

Warranty depends on the model:

The warranty covers manufacturer's workmanship and materials, but the number of years you'll be covered depends on which one you purchase, with details available at a retail store.

Trial period: Unknown

Therapedic Innerspring: Pros and Cons
Here are general themes we found when it came to the most common praises and complaints about the Therapedic Innerspring collection:
Common Praises:
Model variety:

Customers appreciate the variety that comes with the Therapedic brand, allowing them to choose from a handful of beds in order to find what works based on their specific preferences and needs.

Value:

The exact price of these mattresses is unknown (and typically varies by retailer) but most are in the $600-1500 range. For the materials used and comfort provided, folks were satisfied with the value.

Immediate comfort:

Most people enjoyed the comfort and support provided as soon as they laid down on their Therapedic innerspring mattress.
Common Complaints:
Sagging:

Perhaps the most common complaint came down to durability and sinkage. Most people said that after just a few short years, the bed would break down and they would sag in the middle of the mattress.

Noisy:

A handful of Therapedic customers said the mattress springs would creak and squeak, causing an unwelcome distraction while they were trying to catch some shuteye.

Motion control: Unsurprisingly, people said that these mattresses didn't isolate motion that well, and sleeping with a partner often led to feeling them toss and turn throughout the night.

Sizing and Pricing Information
As we alluded to earlier, prices vary depending on which retail store you go to. While beds range from traditional twin to king, it's best to go to a store directly to see what size and price is available. All of that said, you can expect a mid-range price, with beds ranging in the mid to high hundreds, up to $1,500.
Is the Therapedic Innerspring Mattress Collection Right for You?
Now that we've broken down the ins and outs of the Therapedic Innerspring Mattress collection, here are the main reasons one of the beds might be a great fit for you:
You prefer traditional innerspring mattresses. Some people simply love the bounce and feel of an innerspring bed. With Therapedic's line, you'll get just that — bounce, spring, and cool comfort.
You're looking for value, not discount nor luxury. The Therapedic line is definitely a mid-range mattress, meaning it uses above average materials that aren't luxury, nor are they discount or lower-quality. The price will be fair and the quality good.
You experience back discomfort. Therapedic designs each bed with the back in mind. While there weren't many reviewers who spoke about their back pain specifically, they are designed with a particular type of back support in mind, which can be positive for some sleepers. Again, back pain should first and foremost be discussed with a medical provider.



Therapedic Innerspring Mattress Collection Summary
All in all, the Therapedic Innerspring Mattress collection is a good option for folks who want an innerspring feel with options when it comes to levels of comfort and support. They are fairly priced and available across a wide variety of retail stores. Our best advice is to test them out for yourself to see if it's the next best thing in your bedroom!