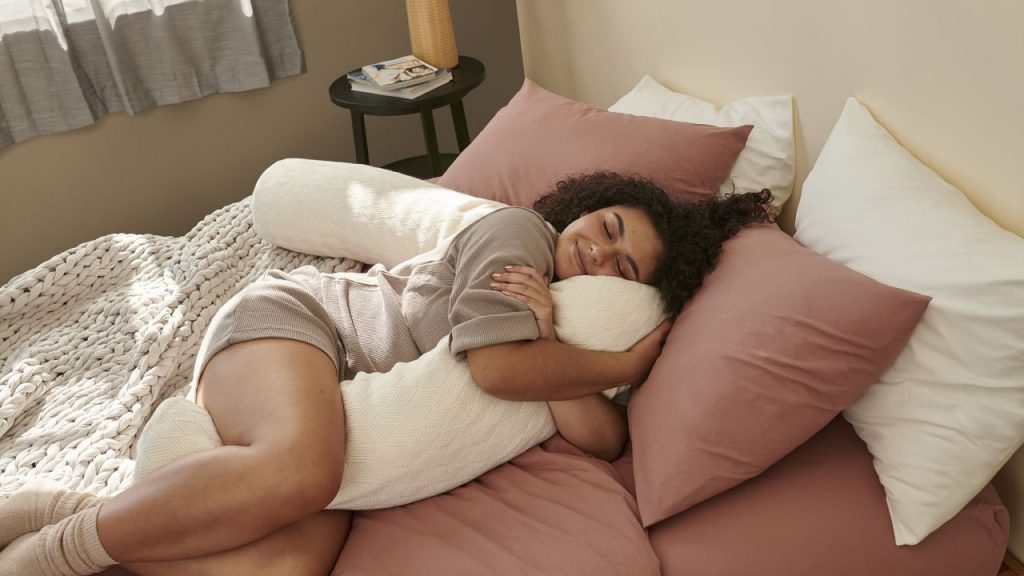 Bearaby is known for their sustainable weighted knit blankets, but earlier this year the company announced their expansion into weighted pillows. The company just released The Cuddler, their second line of weighted pillows. 
Bearaby was founded in 2018 by Kathrin Hamm whose personal struggles with insomnia lead her to launch her company to help everyone get a good night's sleep. On the Bearaby website she claims, "After napping for a few hours under a weighted blanket on a Saturday afternoon, I fell in love with the feeling of sleeping under weight." She learned the benefits of weighted blankets and knit the first Bearaby blanket, launching the business from there.  
Bearaby has developed a sustainable material, Melofoam, made from rubber tree sap that can be molded into all kinds of shapes. Hamm stated, "We discovered that we could create different molds for the Melofoam, which opened up a wide range of possibilities." This material is used in both pillow lines they carry, the Cuddler and the Hugget. 
The Cuddler is a supportive body pillow that allows your body to mold to it. Their website states, "It's an ideal full-body pillow for side sleepers, a perfect pregnancy pillow, and a dream spooning partner for anyone looking to relieve stress or alleviate joint, neck, or back pain."
The Hugget is a stress relieving knot pillow, launched earlier this year in three different sizes. Each size is intended to help realize stress and tension in different ways. The small size, retailing for $29, is meant to help you squeeze away your stress, working similar to a stress ball. The medium size, retailing for $79, is meant to help with anxious hands, allowing you to squeeze, hug, or squash away tension. The large size, retailing for $129, can be used to activate pressure points, helping to relieve stress.  
Weighted pillows aren't a new concept, but Bearaby has envisioned them in a new way. 
Hamm explained, "These products exist on the market, but they aren't made with sustainability or design in mind. My thought was that by making them beautiful and eco-friendly, more people would want to use them, and they would promote relaxation and sleep."