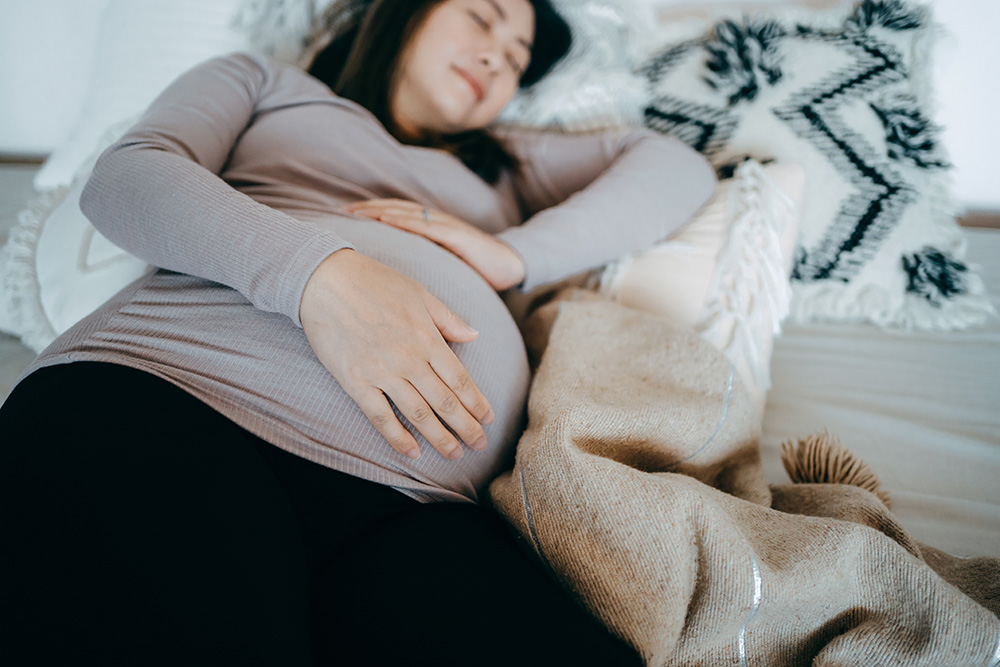 The Internet is loving the ingenious new sleep invention that one father-to-be created so his wife could get a good night's sleep.
Tony Lopez posted a TikTok showing off his mattress creation that allows his pregnant wife to sleep on her stomach. He starts the video with a voiceover saying, "When your pregnant wife wants to lay down," then cuts to a shot of their bed. One side has just the normal mattress, while the other has a mattress topper with a hole cut into it.
"This is a mattress topper," Lopez explains. "I just cut a hole in it; that way she can lay down."
And don't worry – he explains the topper is just foam so there's no pesky fiberglass to deal with.
Lopez's video immediately went viral, racking up more than 40.3 million views. Commenters raved about his idea.
"Omg I needed this. I'm a tummy sleeper and it was hell not doing it," one commenter wrote.
"Wish I would have thought of that, good job hubby! Lucky mommy to be," another responded.
Lots of commenters urged him to make this a real product. "This should be a product on Amazon," one commenter noted. "You, sir, have an amazing product there," someone else said.
In a follow-up TikTok, he updated his viewers on how he got the idea and what his plans are for the future.
"I came up with the idea one night laying in bed with her and she told me she wanted to sleep face down," Lopez explains. "I saw a problem there so I created a solution."
A solution that the internet is here for!
Lopez has already gotten a provisional patent on the mattress topper idea and is trying to turn his idea into a reality.
People are ecstatic about the news, writing comments, "This is incredible, I can't wait to see you succeed, then brag to everyone I know that I watched this be born on TikTok lol," or "Great idea, go to Shark Tank with this."
He is currently accepting pre-orders on his e-Bay page, charging $250 per mattress. And who knows? You may see him on Shark Tank sometime soon!
How to Sleep Comfortably While Pregnant
In the meantime, before this becomes a must-buy pregnancy item, here's some tips on how to sleep comfortably while pregnant.
Try Sleeping on Your Side
Sleeping on your side can help combat snoring, while also keeping your baby safe. Research has shown that sleeping on your left side can help with any symptoms you may have relating to sleep apnea by encouraging blood flow.
Find the Right Sleep Pillow
During your first trimester is a great time to test out various different pregnancy pillows that can help make your sleep more comfortable. Not sure where to start? Check out our favorite pregnancy pillows here.
Put a Pillow Between Your Knees
The more pillows, the merrier, right? Many a pregnant woman has found relief by placing a pillow between her knees at night – this can keep your spine aligned and take pressure off the rest of your body. A regular pillow works, or you can try a pillow specifically designed to be placed between your knees.