IKEA has released a new print ad intended to lull you into a peaceful night's slumber.
The Scandinavian furniture retail company debuted the drowsy advertisement in the April issue of Good, a lifestyle magazine based out of the United Arab Emirates. While the full-page advert seems simple enough (featuring what appears to be a speaker above text promoting the brand's Sömnig bedding line), looks in this case are definitely deceiving.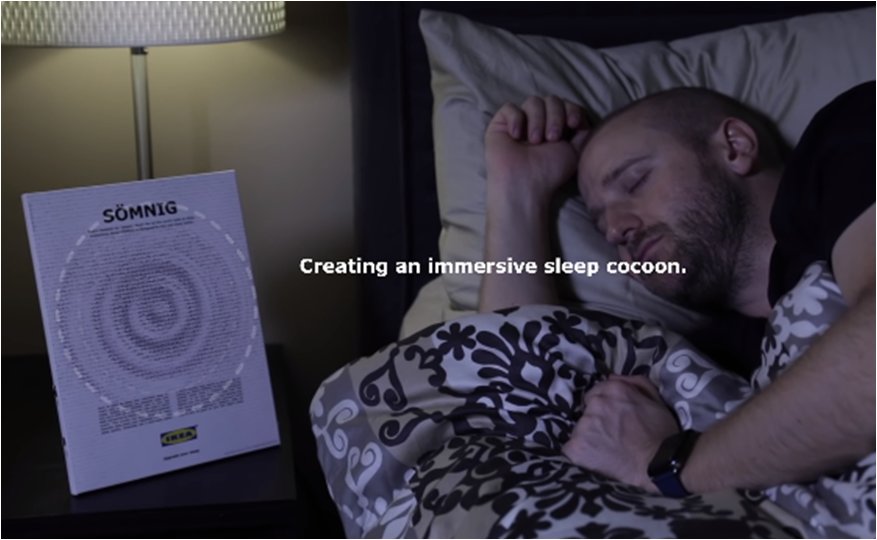 Upon closer inspection, the user realizes that the page is printed with lavender ink, perfuming the ad with the flower's evocative, sleep-inducing scent. In answer to why, the copy answers: "[Lavender is] known to relax muscles, slow down your heartbeat and improve sleep quality."
Can't sleep at night? Try writing a quick to-do list before bed. 
As if that weren't enough, the ad is also totally removable and can stand up on its own thanks to a pair of winged tabs in the back. Thus propped, you can place the sturdy 8×11 write-up by your bed and, get this, plug the entire thing into a USB port to charge and then use it as a white noise machine. 
The innovative advert was developed in tandem between the folks at IKEA and the design team at Memac Ogilvy Dubai. Just as "everything about Sömnig is designed to help you sleep better," so too with the fun and interactive promotional material.
This is the second sleep-focused advertisement to come out of IKEA this spring. In April, the brand teamed up with Netherlands-based advertising firm CZAR Amsterdam to create a shareable social media video that's as soothing as a classic children's bedtime story.
Want to learn more about what kinds of mattresses and bedding the Swedish company has to offer? Check out our full breakdown of IKEA's most popular options, from gentle memory foam beds all the way to traditional innersprings.
Featured image provided courtesy of IKEA.