Super-famous pop star Justin Bieber recently took to social media to show off his unique sleeping quarters — a hyperbaric oxygen chamber.
Those who tuned into Justin Bieber's Instagram story last night might now have a lot of questions about the celebrity's bedtime routine. Throughout his career as a young pop sensation, Bieber has garnered a reputation for his wild and kooky antics. But his most recent social media post has fans buzzing about his sleep habits rather than his new sports car or his latest tattoos.
Bieber posted an Instagram story featuring a snapshot of himself (from the perspective of his wife, Hailey Baldwin), holding a device between his lips as he snugly nestled inside a futuristic-looking chamber. In the following story, Baldwin is shown zipping the chamber up with the accompanying caption, "Sleep tight, lover." I think I speak on behalf of everybody when I ask: What is he sleeping in?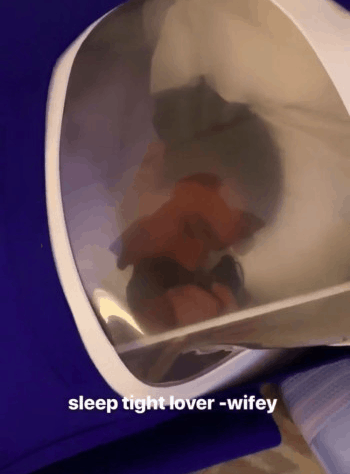 Well, as it turns out, Justin Bieber has his very own HBOT — a medical-grade therapeutic device most commonly known to treat decompression sickness. HBOT stands for "hyperbaric oxygen therapy," and Bieber is far from the first celebrity to give it a try. Dr. Oz, Taryn Manning, Tim Tebow, and a slew of other high-profile influencers have all praised HBOT for its healing powers. But how does it work, exactly?
So… What's A Hyperbaric Oxygen Chamber?
Essentially, HBOT works by pumping oxygen into a tube (or chamber), causing the air pressure to rise three times higher than it normally is. In turn, the amount of oxygen in the user's blood will increase, which is said to help fight bodily infections, soothe inflamed muscles, and heal injured tissue. Sounds useful, right?
Well, if you're interested in trying hyperbaric oxygen therapy, it's probably more cost-effective to be seen by a doctor for a one-time treatment than to spend the 25k is costs to purchase your own HBOT. In the mean time, an old-fashioned REM session has also proven to boost immunity, and do your body some general good.
Related: Looking for a thrifty way to get deeper sleep? Check out our guide to the Best Mattresses for Your Money.
According to the FDA, one HBOT session typically takes about one to two hours, and most patients repeat these sessions dozens of times over the course of many months. So, we sure hope that Justin Bieber is taking the proper precautions as he preps for his hyperbaric snooze!
Images courtesy of @haileybieber and @oxygeninternational on Instagram. Featured image courtesy of @justinbieber on Instagram.  
Sarah Riccio
Sarah is the former senior writer and bedding expert at Sleepopolis. She received her degree in Creative Writing from Brooklyn College and spends her free time doing stand-up, making pasta, and hanging with her cats.