The circadian rhythm is a 24-hour biological cycle that governs when we fall asleep and wake up. A vital part of health and wellness, the circadian rhythm also influences other essential bodily functions such as hormone release, eating habits, digestion, and body temperature. (1)
A synchronized circadian rhythm can promote better physical and mental health while helping prevent conditions such as obesity, diseases of aging, and sleep disorders. (2)
Note: The content on Sleepopolis is meant to be informative in nature, but it shouldn't be taken as medical advice, and it shouldn't take the place of medical advice and supervision from a trained professional. If you feel you may be suffering from any sleep disorder or medical condition, please see your healthcare provider immediately.
How A Healthy Circadian Rhythm Functions
The master biological clock is located in the hypothalamus in the brain, and controls the many "local" clocks spread throughout the body in organs and muscle tissue. This vast circadian network plays a crucial role in physiological and psychological functions, as well as short and long-term health.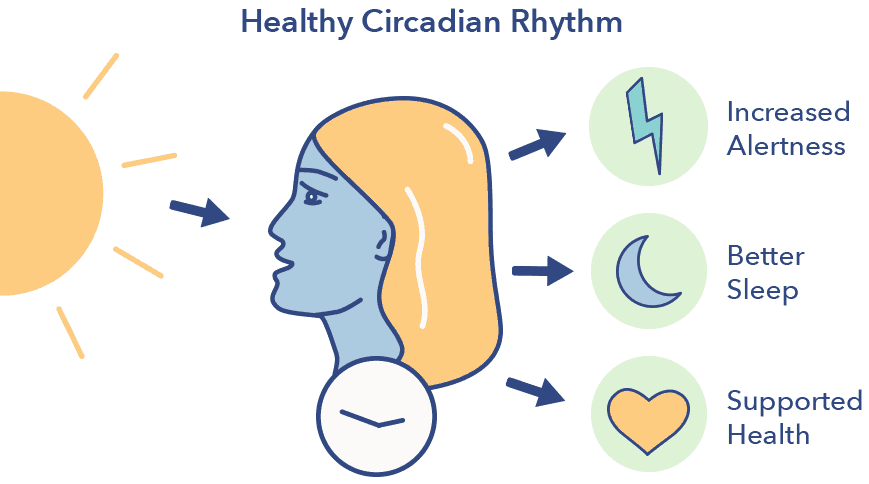 In addition to regulating sleep, internal clocks synchronize biological processes and allow the body to function properly. A healthy circadian rhythm can improve alertness, memory, and cardiovascular efficiency (3) (4) (5), and over time, reduce the risk of chronic diseases and cognitive impairment. (6)
An optimized circadian rhythm helps support:
Regular sleep patterns (7)
Healthy melatonin, insulin, and cortisol release
Stable core body temperatures
A strong immune system
FAQ
Q: How does cortisol impact sleep?
A: Cortisol, also known as the stress hormone, may delay or prevent sleep if levels are too high, and make waking up difficult if levels are too low. A healthy circadian rhythm helps keep cortisol levels balanced.
Out of Sync: A Disrupted Circadian Rhythm
The circadian rhythm depends on consistent signals from the brain to maintain a healthy sleep-wake cycle. Lifestyle choices such as staying awake all night, eating a large meal before bed, or flying across time zones may disrupt the circadian rhythm, leading to numerous short-term health effects. (8) (9). These effects include:
Elevated blood pressure
Poor appetite control
Fluctuating blood sugar levels (10)
Fatigue
Irritability and anxiety
Short-term disruption to the circadian rhythm may be mitigated by a return to consistent bedtimes and normal light-dark exposure. If disruptive behaviors persist, however, the circadian rhythm may become chronically disorganized or even damaged. This type of dysfunction may be caused by: 
Social jet lag
Regular travel to different time zones
Working non-traditional hours
Use of certain drugs or medications, such as stimulants
Insomnia disorder
Sleep disorders, such as sleep apnea and restless legs syndrome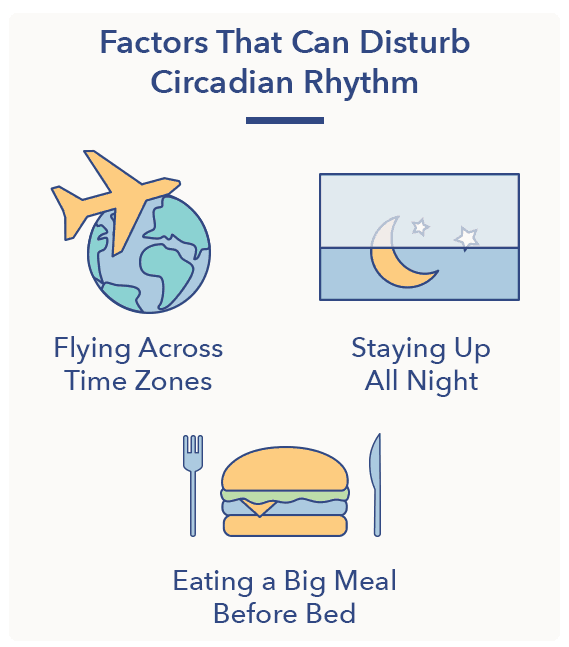 In addition to effects like daytime sleepiness, difficulty falling and staying asleep, and increased stress, chronic circadian rhythm disruption may cause long-term health conditions. Growing scientific evidence ties a damaged circadian rhythm to serious diseases including diabetes, heart disease, and cognitive decline. Depression and other mood disorders may also result, particularly if the dysfunction begins earlier in life.
Social Jet Lag

A syndrome that occurs when the body's biological clock and sleep schedules don't match up, usually due to sleeping and waking up later on the weekends.
Circadian Rhythm Disorders
Persistent misalignment between the internal body clock and external surroundings may result in a circadian rhythm disorder. This type of disorder can cause insomnia and excessive sleepiness, and increase the risk of certain physical and psychological conditions.
The most common circadian rhythm disorders include:
Delayed Sleep Phase Disorder. This disorder is more prevalent in adolescents and young adults. People in these age groups tend to feel tired later at night and go to sleep at least two hours past a typical bedtime, around 2:00 a.m. Though they may still require 7-9 hours of sleep, work, early school start times, or other demands may force some young people to forego sleep
Advanced Sleep Phase Disorder. Advanced Sleep Phase Disorder is most common in older people who fall asleep and wake too early. Sufferers generally fall asleep between 6 and 9 pm, and wake between 2 and 5 am. People with this disorder may complain of early morning insomnia, as well as sleepiness in the late afternoon or early evening
Shift Work Disorder. Shift work disorder may affect people who work at night or frequently rotate work shifts. Because of the misalignment between sleep/wake and dark/light cycles, shift work disorder sufferers may complain of insomnia, excessive sleepiness, microsleep episodes, or depression
Untreated circadian rhythm disorders and chronic sleep loss may lead to the development of certain diseases. Some of the diseases linked to circadian rhythm disorders include:
Obesity
Diabetes
Sleep disorders
Depression
Certain cancers
Dementia
Work schedules, meal times, and light exposure all influence the functioning of the body's clocks, which in turn impact important physical and cognitive processes. According to scientists, decades of social and lifestyle changes have had widespread effects on circadian rhythm, and may be related to significant increases in cardiovascular and metabolic diseases.
Circadian Disturbance Example: Eating At Night
Using cues from the light-dark cycle, the internal master clock governs the local clocks spread throughout the body in organs and muscle tissues and signals the body to rest at night. (11) Eating around bedtime can override this signal, forcing the pancreas to "wake up" to release insulin. (12) This may create an imbalance between the pancreas and master clock, leading to delayed or disrupted sleep.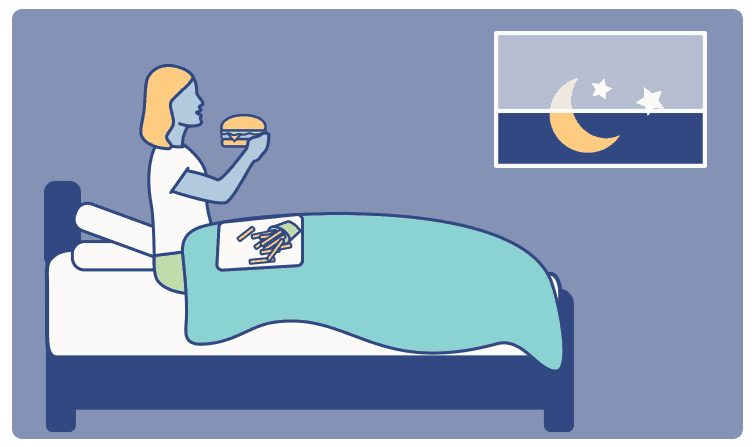 According to circadian scientists, the body's metabolism, hormones, enzymes, and bacteria are optimized for food consumption in the morning and afternoon. Metabolic health may be improved by confining meals to an eight-to-ten-hour time period, and consuming more food earlier in the day.
One study compared the effect of eating a large breakfast versus a large dinner, and discovered the large breakfast-eating group lost more weight than the group that ate a large dinner. Additionally, the dinner group experienced a release of insulin and an increase in blood pressure, which normally decrease at night. (13)
FAQ
Q: When is a reasonable time to eat dinner?
A: Many experts say to eat a lighter meal at least two hours before bed.
Circadian Disturbance Example: Working the Night Shift
The body's master clock evolved to follow natural light cues, which signal the brain to wake during daylight and sleep at night. (14) Night shift workers and others who work non-traditional hours may miss these signals, resulting in sleep difficulties and a desynchronized circadian rhythm.
At night, the body's core temperature drops, blood pressure decreases, alertness wanes, and the production of the hormone melatonin increases (15), promoting deep rest. Remaining awake once these processes begin may work against the body's sleep signals and throw off key biological functions.
Shift-workers often experience extreme fatigue and are at risk of developing a circadian rhythm disorder. As many as 40% of shift-workers in the U.S. suffer from Shift-Work Sleep Disorder (SWSD), a result of habitual conflict between a sufferer's circadian rhythm and work schedule. Due to the lack of alignment between the sleep/wake and dark/light cycles, SWSD sufferers are at increased risk for insomnia, excessive daytime sleepiness, and cardiovascular and gastrointestinal problems. (16) (17)
Shift work

Work that takes place outside the traditional 9 am to 5 pm time frame, including early morning and night shift work as well as work with a rotating schedule.
How To Improve A Circadian Rhythm
Circadian rhythms vary from person to person, and are influenced by age, genetics, and environmental factors. Every organism has a specific chronotype, also referred to as a biological clock. Individual chronotypes are determined by genetic predisposition, as well as the circadian gene known as period circadian protein homolog 3, or PER3. (18)
Chronotype controls the circadian rhythm as well as sleep, eating, and exercise patterns. Each chronotype is considered a "circadian rhythm personality," and helps distinguish early risers from night owls. (19)
There are four main chronotypes, each named after an animal:
Bears. Bears tend to sleep and wake according to the sun. They typically feel most energetic during the day, and fall asleep easily at night
Wolves (Night Owls). Wolves generally sleep and wake later than others. They are often most productive in the middle of the day and in the evening
Lions (Early Birds). Lions wake up early and are most productive in the morning. Due to early wake times and daytime energy expenditure, they are usually tired by evening
Dolphins. Dolphins are light sleepers who have difficulty following a regular sleep routine. They are most productive in the mid-morning to early afternoon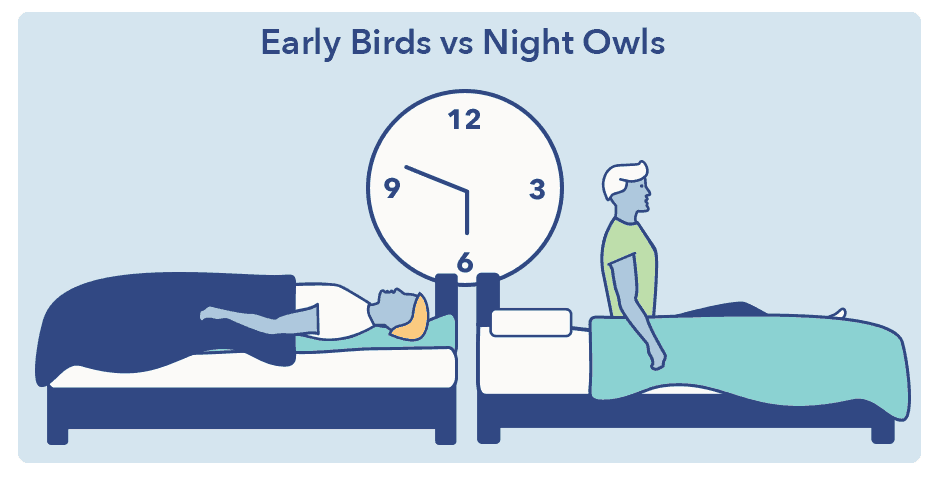 Once an individual's chronotype is identified, a healthy and consistent routine can be established to cater to the body's natural rhythm. This may mean maintaining consistent bed and wake times, and eating meals and exercising around the same time each day, including weekends. The circadian rhythm can become disrupted when sleep and meal times differ on the weekends, creating social jet lag. (20)
Additional healthy habits can help to support a healthy rhythm. These include:
FAQ
Q: What is the most popular chronotype?
A: Sleep researchers say "Bears" represent 50% of the population, while "Dolphins" represent 10%.
Last Word From Sleepopolis
A synchronized circadian rhythm may help diminish the risk of numerous health conditions, particularly over time. Non-traditional work hours, travel, and later sleep and wake times can disrupt the body's rhythms and increase the risk of high blood pressure, obesity, and other potentially serious diseases.
Though the typical modern lifestyle may not always harmonize with the body's biological clock, a disrupted circadian rhythm can be restored. Maintaining a consistent sleep schedule, rethinking meal times, and timing exercise properly can encourage a healthy rhythm, and in turn, a healthier life.
References
Bell-Pedersen D, Cassone V, et al. Circadian rhythms from multiple oscillators: lessons from diverse organisms. Nature Reviews Genetics, July 2015
Brainard J, Gobel M, et al. Health implications of disrupted circadian rhythms and the potential for daylight as therapy. Anesthesiology, May 2015
Fisk A, Tam S. et al. Light and Cognition: Roles for Circadian Rhythms, Sleep, and Arousal. Frontiers in Neurology, Feb 9, 2018
Chen, L and Yang G. Recent advances in circadian rhythms in cardiovascular system. Frontiers in Pharmacology, Apr 1, 2015
Kiessling S Dubeau-Laramée G, et al. The circadian clock in immune cells controls the magnitude of Leishmaniaparasite infection. Scientific Reports, Sept 7, 2017
Richards J, Diaz A, et al. Clock Genes in Hypertension: Novel Insights from Rodent Models. Blood Pressure Monitoring, Oct 1, 2015
Reddy S and Sharma S. Physiology, Circadian Rhythm. StatPearls, Oct 27, 2018
Redfern P, Minors D, et al. Circadian rhythms, jet lag, and chronobiotics: an overview. Chronobiology International, Aug 11 1994
Asher G, Sassone-Corsi P, Time for food: the intimate interplay between nutrition, metabolism, and the circadian clock. Cell, Mar 26, 2015
Eckle, T. Health impact and management of a disrupted circadian rhythm and sleep in critical illnesses. Current Pharmaceutical Design, Dec 8, 2015
Buhr E and Van Gelder R. The Making of the Master Clock. eLife, Aug 20, 2014
Kajimoto J, Matsumura R, et al. Potential role of the pancreatic hormone insulin in resetting human peripheral clocks. Genes Cells, May 23, 2018
Sae, T. Insulin Levels Wax and Wane Daily. ScienceNews
LeGates T.A., Fernandez D.C., et al. Light as a central modulator of circadian rhythms, sleep and affect. Nature Reviews Neuroscience, Jun 11, 2014
Okamoto-Mizunocorresponding K and Mizuno K. Effects of thermal environment on sleep and circadian rhythm. Journal of Physiological Anthropology, May 31, 2012
Roth, T. Shift work disorder: overview and diagnosis. The Journal of Clinical Psychiatry, Mar 2012
Schwartz JR, Roth T. Shift work sleep disorder: burden of illness and approaches to management. Drugs, 2006
PER3 period circadian regulator 3. Gene ID, Mar 5, 2019
Fischer D, Lombardi DA, et al. Chronotypes in the US – Influence of age and sex. PLoS One, Jun 21, 2017
Wittmann M, Dinich J, et al. Social jetlag: misalignment of biological and social time. Chronobiology International, 2006
Tosini G, Ferguson I, et al. Effects of blue light on the circadian system and eye physiology. Molecular Vision, Jan 24, 2016
Kaneshi Y, Ohta H, et al. Influence of light exposure at nighttime on sleep development and body growth of preterm infants. Scientific Reports, Feb 15, 2016
Mead N. Benefits of Sunlight: A Bright Spot for Human Health. Environmental Health Perspectives, Apr 2008
Schroeder A, Truong D, et al. Voluntary scheduled exercise alters diurnal rhythms of behaviour, physiology and gene expression in wild-type and vasoactive intestinal peptide-deficient mice. The Journal of Physiology, Dec 1, 2012
Laura Schwecherl
Laura is a journalist with nearly a decade of experience reporting and covering topics in the health, fitness, and wellness space. She is also a marketing consultant, where she works with impact-oriented startups to build marketing and editorial strategies. Outside of work, you can find her reading Murakami novels, writing amateur poetry, or trail running in her hometown, Boulder, Colorado.