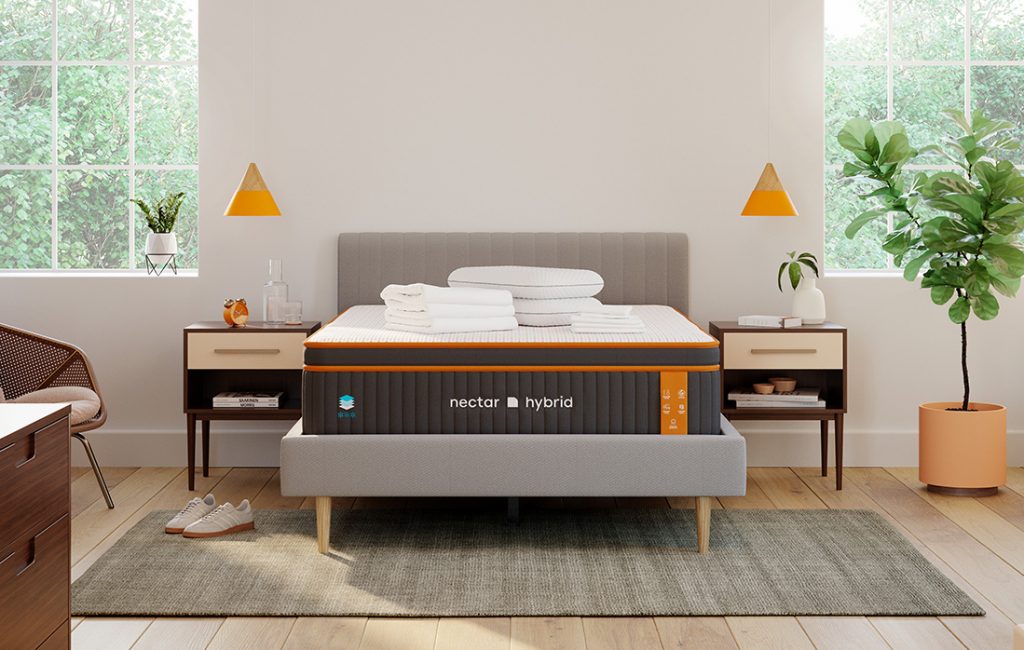 Hybrid mattresses are one of the most innovative developments to have happened to the mattress industry in the last decade.
Boasting a combination of coils, springs, memory foam and even smart technologies, mattress makers are able to really dig into consumers' need for very specific and disparate comfort demands with hybrids. The beds also allow companies to get really descriptive and detailed about what exactly is in their beds – fulfilling shoppers' desire for more transparency and better allowing people to make the right buying choice for them.
"When people go shopping for mattresses they start online and they pretty much know what they are looking for," according to Resident co-founder Eric Hutchinson. "They often know exactly what they are after."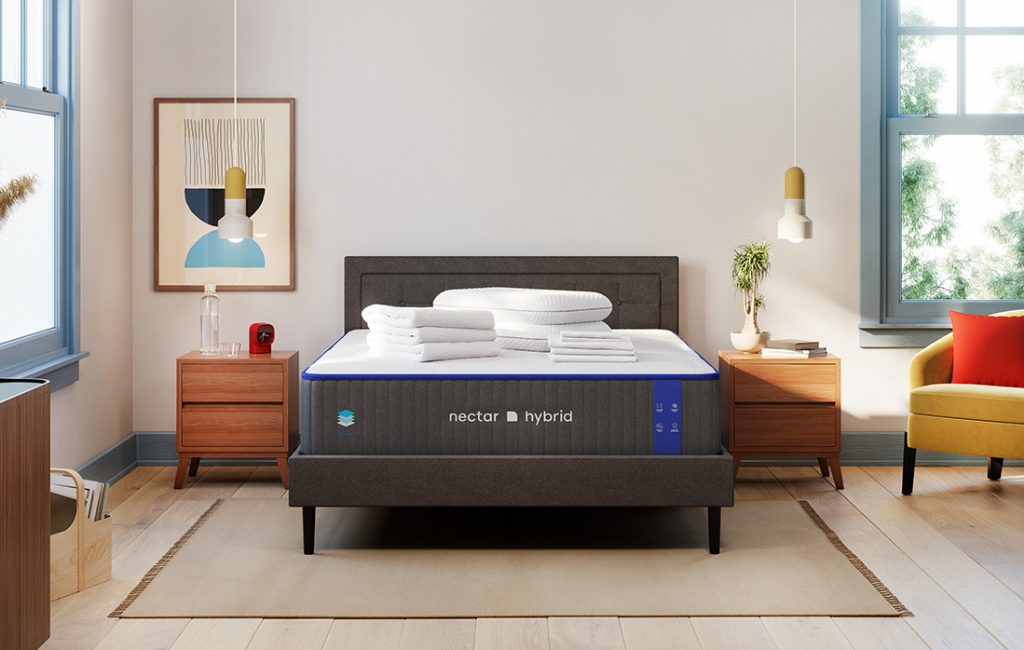 Increasingly, Hutchinson said, consumers are looking for "hybrid" models. Resident, which owns Nectar, Dreamcloud, Siena, Awara and Cloverlane, is adding to the hybrid mattress world with three new hybrid models for Nectar set to launch August 16.
Founded in 2016, Nectar is known as the brand that changed the mattress-in-a-box industry and even managed to modify the way we shop for bedtime necessities with white glove services and an unprecedented 365-night-trial for their mattress.
Hybrid mattresses at the Nectar price point and market point was one of the demands the company knew they wanted to fulfill. (The company already offers a high-end hybrid mattress with the Dreamcloud.) The way they knew it was simple: They just surveyed their customers to see what they're buying online and what else they wanted from Nectar.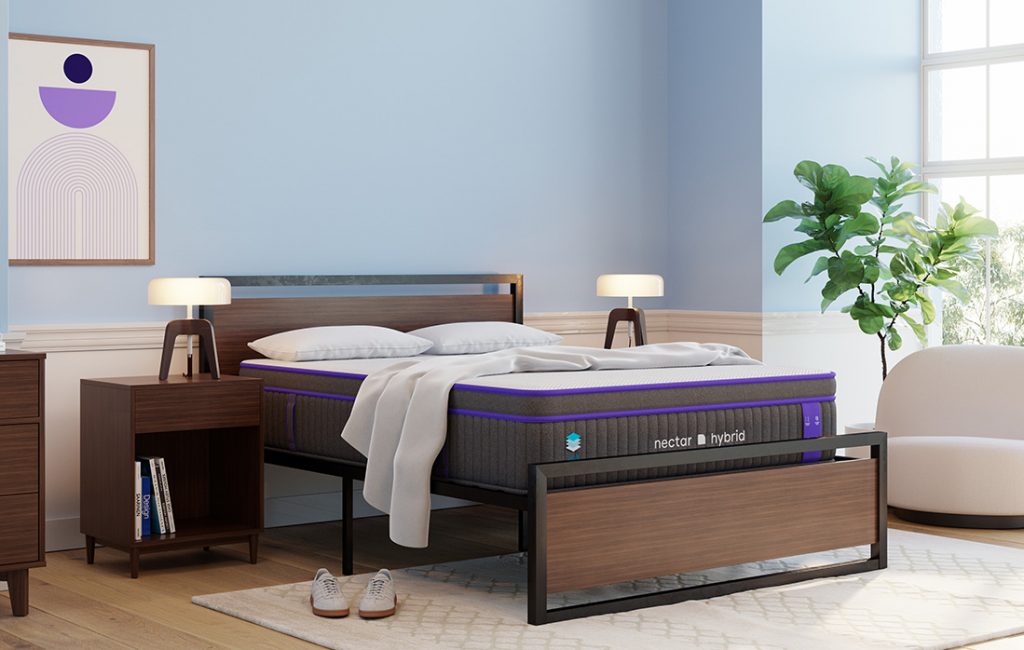 The global hybrid mattress market is expected to post a CAGR (Compound Annual Growth Rate) of more than 8 percent from 2019 to 2023, according to the latest market research report by Technavio. The report also noted that online sales have fueled the growth of hybrid mattresses. Between 2016 and 2017, the number of online mattress sales skyrocketed by 60.6 percent. In 2018, a whopping 45 percent of mattress sales happened online. That number has grown in the wake of the Covid-19 pandemic, and the increasing popularity of bed-in-a-box mattresses shows no signs of slowing down.
That said, the 'hybrid' name, for some companies, is just "a marketing term," as our sister site Mattress Nerd reports. Regular coil mattresses also use a combination of coil with memory foam or latex on top. But the new ideal of hybrid mattresses is one that contains more foam and a little less of the other comfort materials than is used in traditional innerspring mattresses.
Related: Hybrid Mattress vs. Memory Foam
The Nectar Hybrid launch (which includes three models– the Nectar Classic Hybrid, Nectar Premier Hybrid and the Nectar Premier Copper Hybrid) was announced at the Las Vegas Market Show, on July 26. Sleepopolis spoke to Resident founder Eric Hutchinson about why the company decided to expand into the hybrid market with Nectar.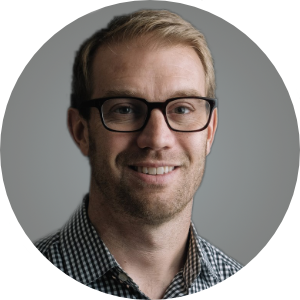 Sleepopolis: What made you decide to launch these three hybrid lines for Nectar?
Hutchinson: It is one of the top requested things from our customers. They kept saying they wanted something a bit more traditional but still with the support and comfort of the Nectar mattress.
It's a different positioning than our DreamCloud hybrid which is in the luxury space. It's a more affordable, accessible hybrid option.
But simply because of customer demand and request, we are really excited to launch this product. We waited and focused Nectar on memory foam for a few years. But we found that consumers requested hybrids nearly half the time online, so with the demand, this was the obvious next step.
Sleepopolis: Is this the same as the hybrid available in the UK?
Hutchinson: There are some similarities from a product perspective. But we have customized this line for our American customers.
Sleepopolis: Can you share with us the most challenging part of the last two plus years of the pandemic for your company?
Hutchinson: Over the last two years, the logistics side and the supply chain has been most challenging. I give our team a lot of credit in navigating those waters. The supply chain issues were the biggest challenge, really. Our team built a hybrid sourcing model to combat the challenge…where we work with overseas and domestic manufacturing and now we have our own manufacturing facility in Indiana.
Also, we started shipping out of ten different distribution centers so we have been able to have a lot of redundancy and stock so we could stay ahead of the supply chain issues.
Sleepopolis: What's next for Resident?
Hutchinson: Coming out of the pandemic, as a company, we have really seen close up how we can truly engage our consumer online. We have a great network of partners with retail but 96 percent of mattress search is online.
And as we get to this new normal, we are in this unique space where we can continue to grow our business.