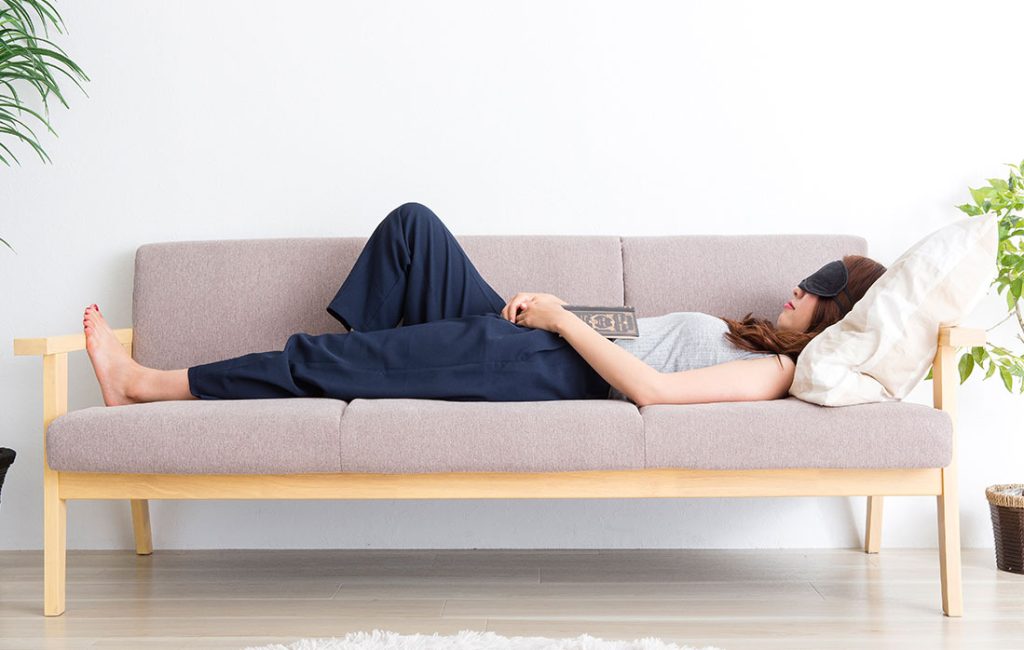 Creative solutions are a must when living in a small space and TikTok creator Danniella Joy has done just that with her bedroom. Joy lives in a studio apartment in San Francisco and found herself wanting a conventional living room.
Her solution? Replace her bed with a sleeper sofa in hopes of having the best of both worlds – and document the whole thing on TikTok (she's currently on day 12).
On day two she said she would try this out for two weeks before deciding if this is her permanent set-up. Her initial takeaway was to invest in a good mattress topper, with her least favorite part being putting the mattress away in the morning.
Throughout the 12 days, Joy has tried multiple different sleeping arrangements. On day four she wanted to wake up to her aesthetic living room, so she slept directly on the couch. While her couch is comfy, she said it was too hard to sleep an entire night on.
On day five, she had a friend sleep over. They slept on the pull-out mattress with a mattress topper. Her friend rated her sleeping experience a 9/10 with the mattress topper being a game-changer for their sleep comfort. While Joy's friend did enjoy her sleeping experience, she said she wouldn't get rid of her bed to just have a sleeper sofa.
On day six, Joy started to experience back pain from consistently setting up her bed, putting it away upon waking up, and moving her coffee table back and forth. A lot of the commenters following, suggested a daybed or a Murphy bed as alternatives, but Joy explained that a Murphy bed wouldn't fit and she loves how cute her couch is.
On day eight and nine, everything changed. Joy took the mattress from the sofa bed and placed it on the floor with her mattress topper. This has been her most successful set up, she says, leaving her wanting to keep the couch.
On day 12 Joy slept with just the mattress topper on the floor. She explained it wasn't the worst experience and would be better with a thicker mattress topper. Overall she rated it 7.5/10 and thinks it could work for lazy nights when just wants to go to sleep quickly.
To follow along with the rest of Joy's sleeper sofa journey, find her daily updates on TikTok. Will she keep the sofa or go back to a traditional bed? Stay tuned!
How to Optimize Your Small Space for Better Sleep
If you want to follow in Joy's footsteps, here are some things to keep in mind.
Keep Your Space Organized
This doesn't just include remembering to vacuum and dust, but also organizing to ensure everything has a place. You can also Marie Kondo your place and only leave things that spark joy to reduce clutter.
Create a Cozy Sleep Environment
If you are going to be using a space as both a living room and bedroom, there are things you can do to continue practicing good sleep hygiene. To keep your space dark, try using a sleeping mask or blackout curtains to help.
Use Mirrors to Maximize Your Space
Mirrors can help you style your small space, while also making it appear bigger. Try slanting it against a wall – it will elongate your space, plus the natural light bouncing off it will create an illusion of a bigger room, UK-based home expert Richard Petrie told Sleepopolis in a previous interview.
Julia Medina
Julia is a Staff News Writer for Sleepopolis. From sleep news and education to the latest sleep trends, her goal is to keep you informed about what's going on in the world of sleep, dreams, mattresses, and more. Julia graduated from Wake Forest University with a degree in communications and minors in film and sociology. In her free time she loves exploring new cities, relaxing with a good tv show, and getting some good quality sleep.