Your Complete Guide to Styling Small Bedrooms
It doesn't matter if you've just moved in or you've lived there for years – optimizing space in your home and bedroom are not only efficient, but in some cases, a necessity. Whether you're a recent graduate, on a budget living in a large city with a housing crisis, have painfully high rent in a shoebox apartment, or anywhere in between, this one's for you. It's time to hack that space!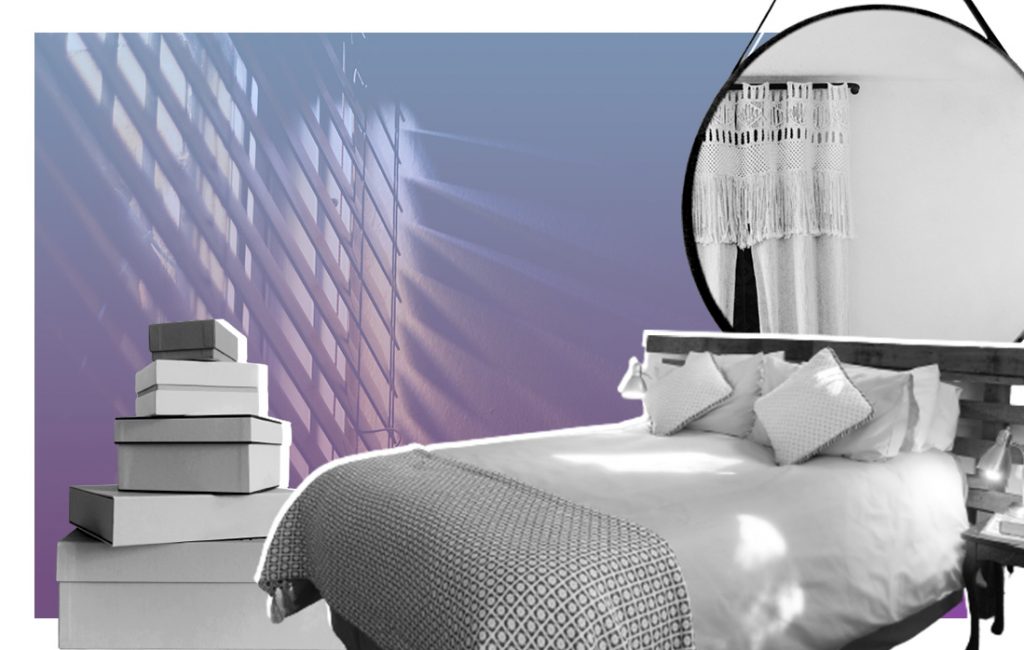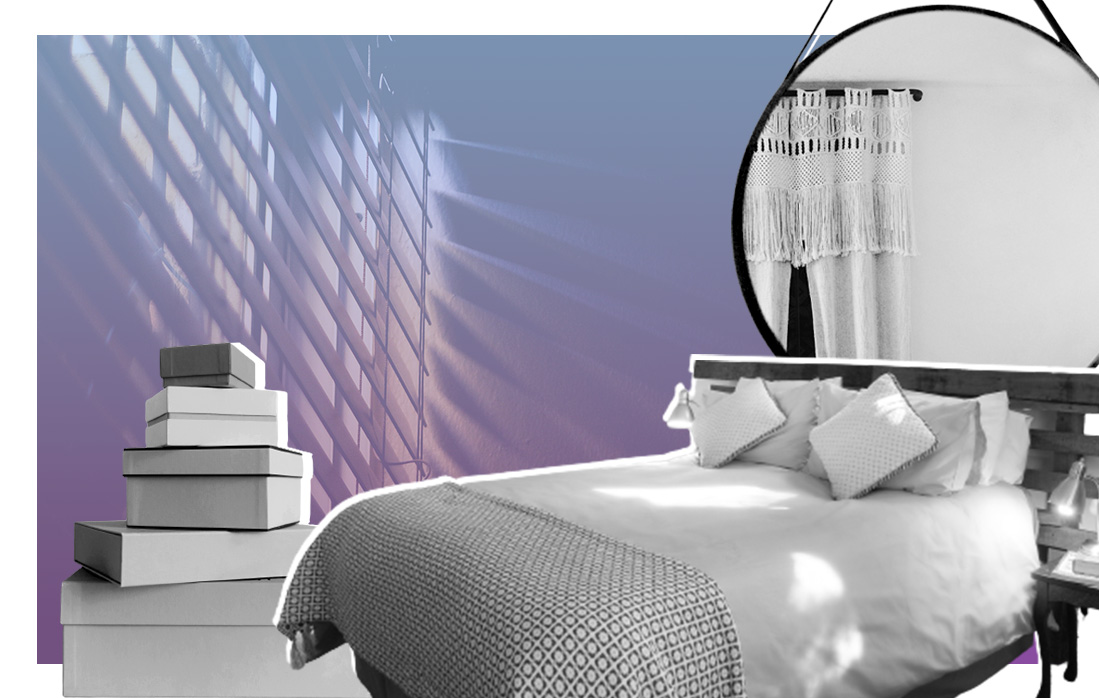 The Importance of Your Bedroom Environment for Sleep
Before we get into the space-hacking, it's important to touch on the optimal environment for sleep as well. The National Institute for Occupational Safety and Health (NIOSH) recommends sleeping in complete darkness. This means removing sources of white and blue light, blocking out light that may enter the room, and having a clear path to the bathroom. They also recommend room-darkening shades or heavy, lined draperies, which we will further expand on in our blinds vs curtains debate.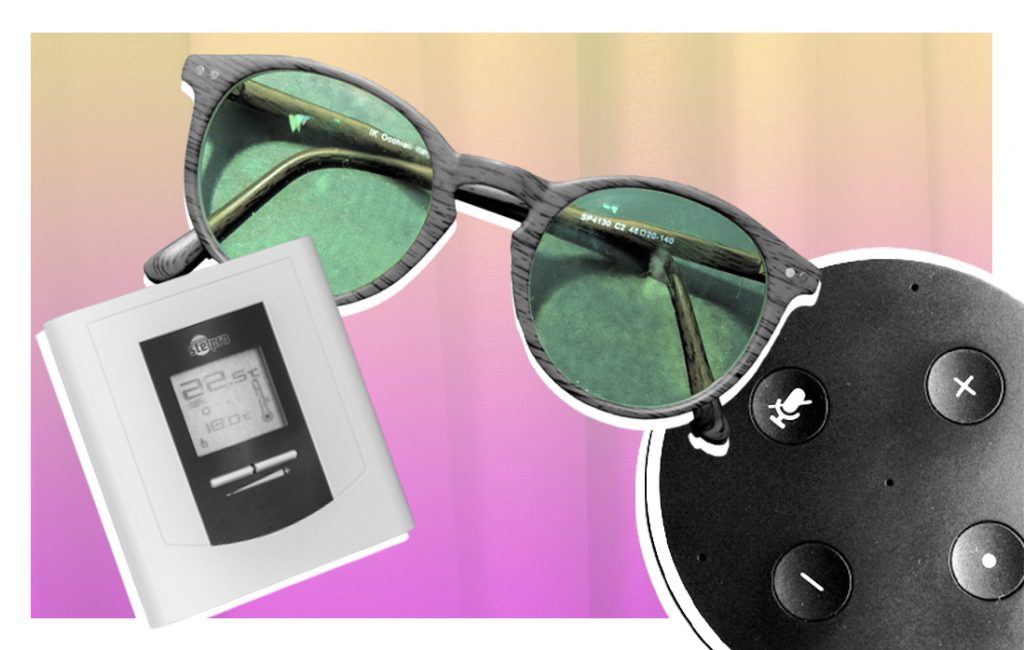 The NIOSH also recommends keeping the space cool, blocking out noise, and avoiding additional activities besides sleep in the bedroom. All of these combined will create a good, quality sleep environment. (1)
Here are some additional sleep hygiene recommendations:
Reserve the bedroom for sleep and sex only (if possible).
When it comes to blue light, you can block it out with blue light blocking glasses or blackout curtains. Try to avoid blue light exposure at least one hour before bedtime to help your melatonin production.
For best results, try totally unplugging and leaving the cell phone in another room.
Keep your bedroom at a comfortable cool temperature. You can ramp it up even further with cooling blankets, mattresses, and pillows.
If there is background noise keeping you awake or if sleeping silent negatively impacts your serene environment, try a sound machine!
Now, let's get into some ways you can get to optimizing that bedroom for the best space utilization and sleep possible!
7 Tips for Optimizing Space in Your Bedroom (From Industry Experts)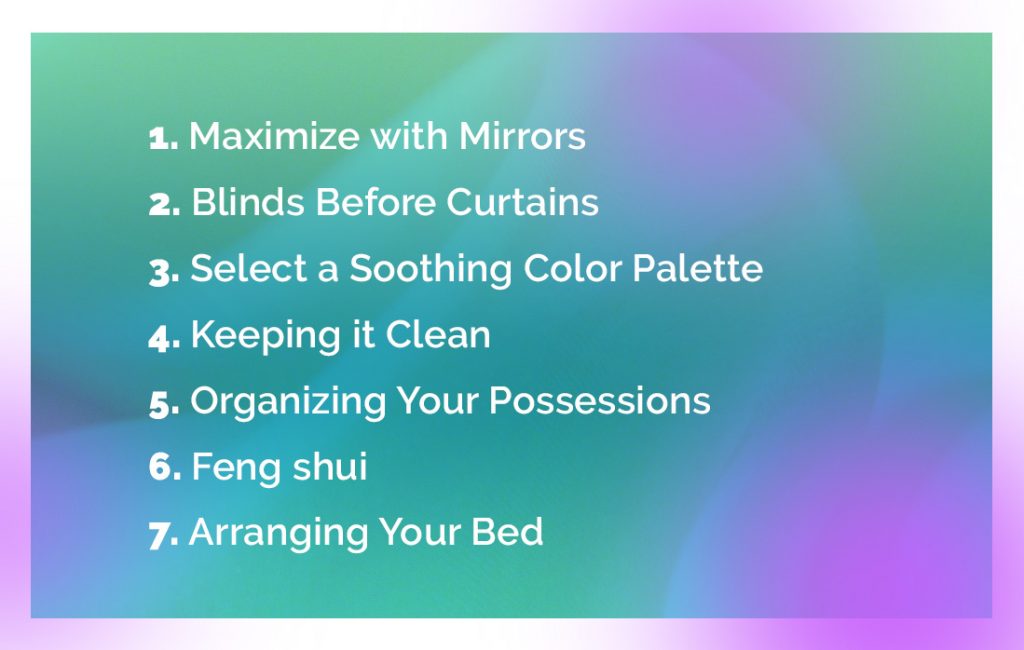 Maximize With Mirrors
Home expert, Richard Petrie at Thomas Anderson window furnishings in the UK, says mirrors have the ability to "instantly create the illusion of a larger space." He added that introducing a mirror into your tiny space will give the illusion of a bigger room, because the mirror will reflect natural and artificial light. (2)
KLG Glass, a UK glass supplier, suggests high placement of mirrors in rooms with low ceilings. Why? Because slanting a mirror between the wall and ceiling will help elongate the area and make it feel taller. (3)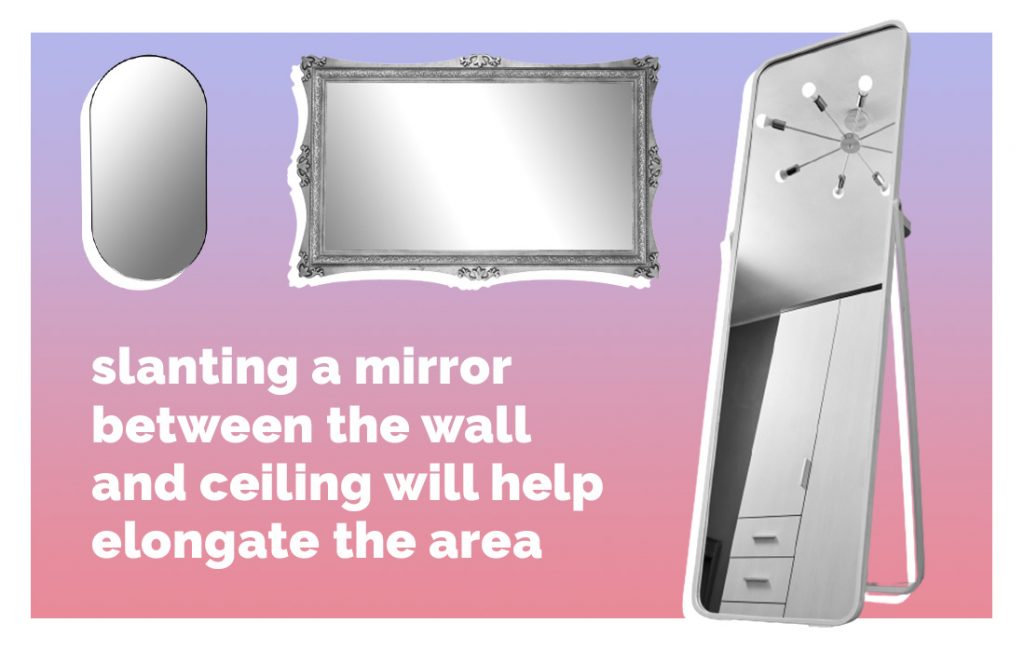 The Spruce, a home and garden site, offers some home-staging tips to make your home feel bigger, and they agree with the mirror effect. They suggest expanding spaces that have limited windows with a mirror wall. (4)
Pro Tip: Everyone online has been loving Anthropologie's Gleaming Primrose Mirror this year. However, it's super expensive. Try looking to them for inspiration instead, and maybe you can score a dupe from stores like Wayfair, Hobby Lobby, or Urban Outfitters.
Blinds Before Curtains
UK company, Barlow Blinds, states that while larger curtains can provide a luxurious feel, they can make a room feel smaller because of the space they take up. (5)
Our advice? Try blinds blinds instead of curtains in your small space. Architectural Digest (AD) says that blinds give a clean look to the space, being modern and minimalistic, and credits them with being a better choice for compact spaces. (6)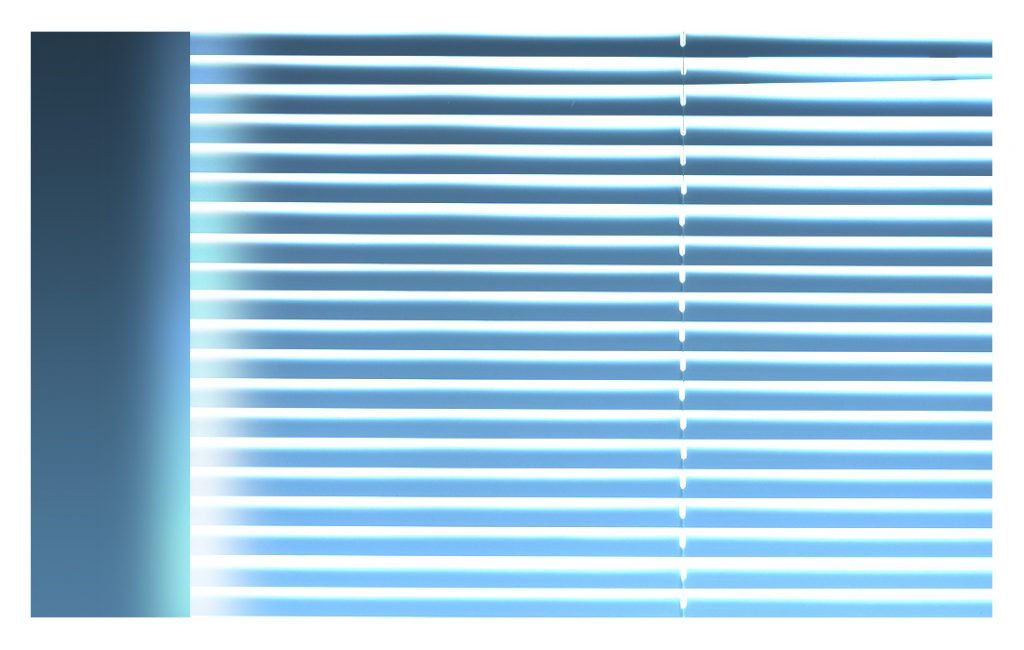 One downside is that they will be a little more tedious to clean dust-wise. Another, curtains do have some benefits for sleep too. Even if they're not the greatest for a small space, something like blackout curtains, for example, can really help block out any extra light and help people sleep better.
Pro Tip: Check out Apartment Therapy's article: 10 Great Sources for Window Blinds at Any Budget for some solid blind options.
Select a Soothing Color Palette
Romanza Interior Design says the color has "the unique ability to transform a room." Pale blues specifically can make an internal bedroom or baby room feel bigger. While already soothing, you can make the room even more calming by adding something like pale pink or white. (7)
Richard Petrie advises against dark wall colors and statement wallpaper, but instead "soothing shades of creams, light pistachio and blush" which will help to reflect the natural lighting within your bedroom. He also says a "small lighter coloured rug full of texture" can brighten up the space quite nicely.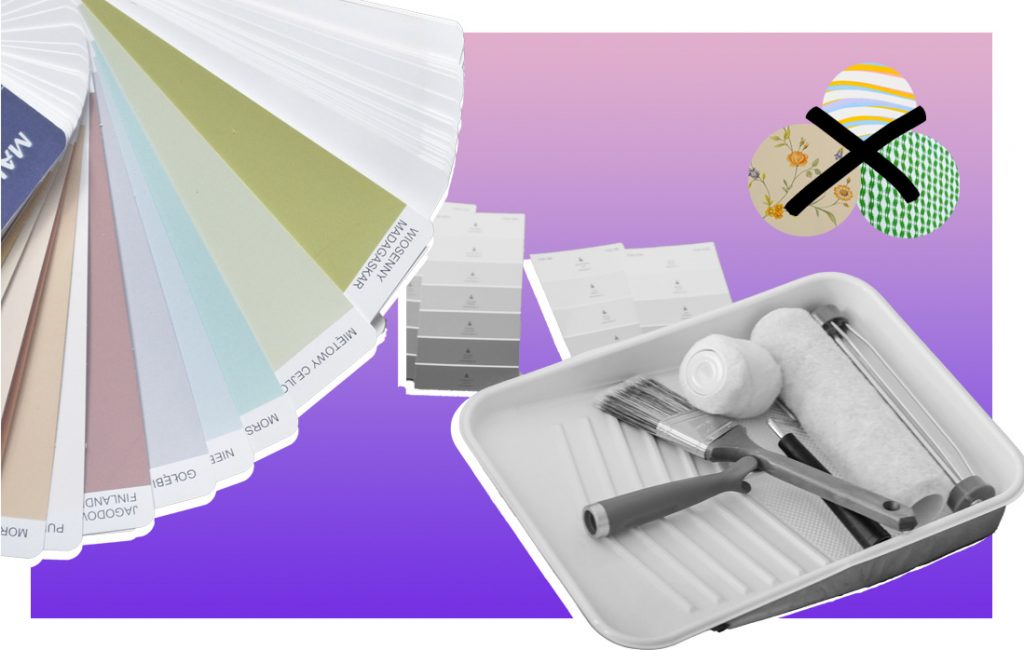 Another go-to color for expanding a smaller room is taupe. While tans and whites are more often used for making a room look larger, taupe offers a more vibrant alternative.
Pro Tip: A bright shade of blue-green, cyan, has shown to be a bad pick for sleep. Read more in our article on the study, here.
Keeping it Clean
Petrie also believes in minimal furniture and going light on unnecessary items, as they'll take up precious space in your room. He suggests "Begin with a deep clean in each room by choosing which items you no longer need so you can donate or recycle these items."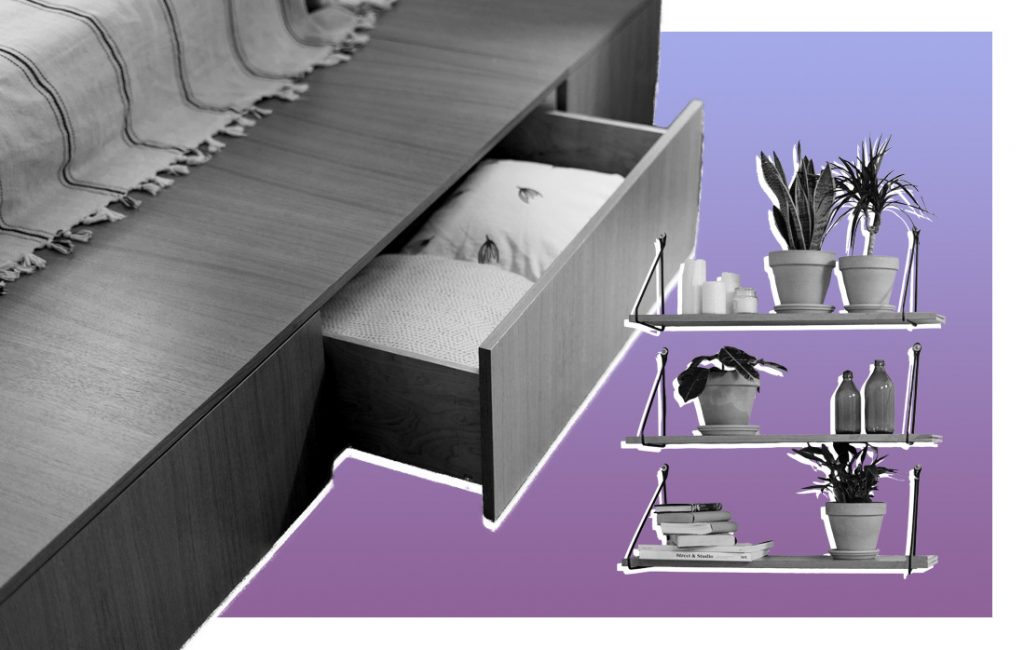 Keeping an area clean is more than sucking up the dust bunnies – it involves smart storage too! Petrie recommends the following, "Hang up some floating shelves to store the items you want to keep, to free up floor space. Integrated storage under the bed is also perfect for keeping your belongings tucked away."
Pro Tip: Find great storage solutions at places like Target and The Container Store, or try selling your items via online consignment, like thredUP.
Organizing Your Possessions
While this definitely goes along with keeping it clean, organization of your personal items is well deserving of its own section.
Here are some Marie Kondo tips we covered in a previous Sleepopolis article:
Try the bag-in-bag method. This works great with putting small purses inside of larger ones and storing reusable shopping tote bags inside of one another.
Keep only the clothes that "elicit joy." If it sparks happiness, keep it. If it doesn't, kindly toss or donate it.
For miscellaneous items, use clear bins. We all have those pesky collections of random cords or knick knacks. Why not put them in a translucent bin where you can see what's going on in there.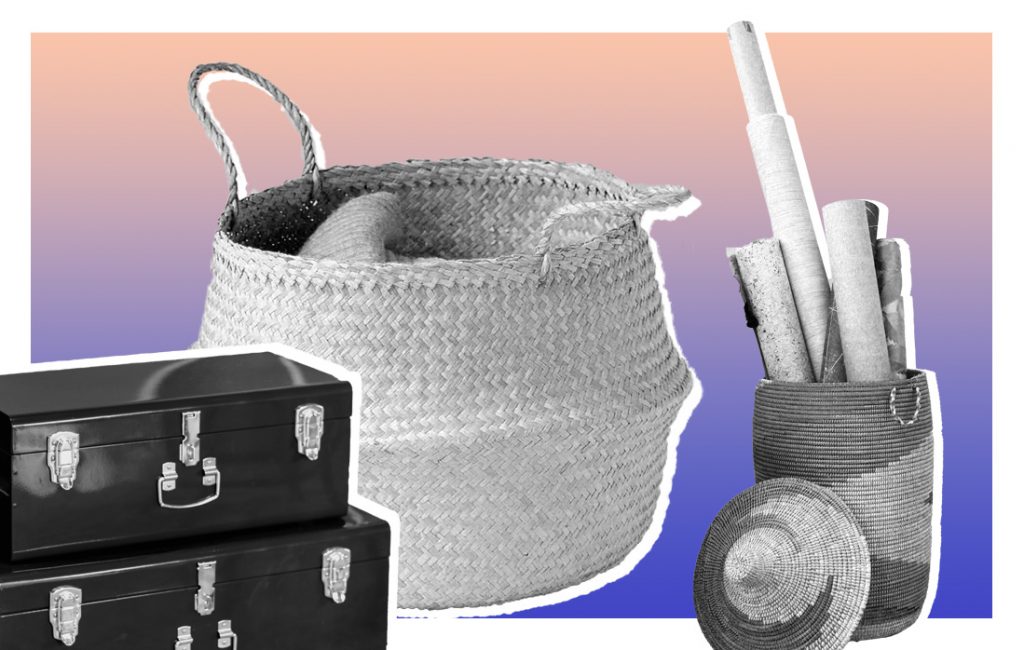 Not only will these tips free up space and get rid of clutter, but it could make you happier too.
Pro Tip: For more from Marie Kondo, check out our article: Marie Kondo's 9 Best Tips for Organizing Your Bedroom.
Feng Shui
Merriam-Webster defines Feng Shui as "a Chinese geomantic practice in which a structure or site is chosen or configured so as to harmonize with the spiritual forces that inhabit it." (8)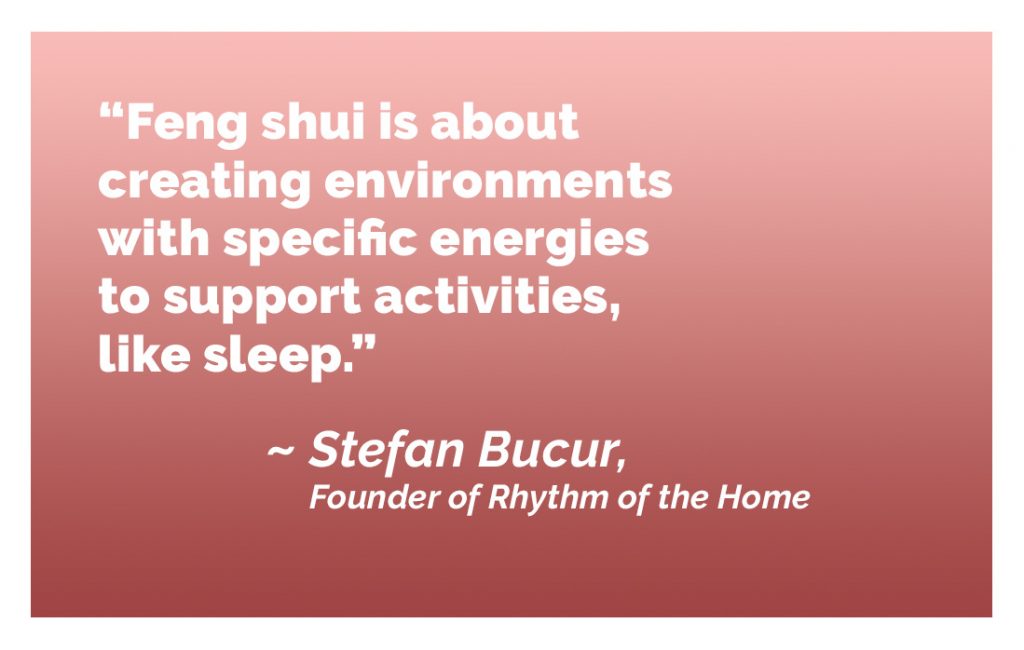 Stefan Bucur, Founder of Rhythm of the Home, a site dedicated to sharing home improvement ideas, finds feng shui to be a great practice, stating, "As opposed to what most people think, feng shui is not about designing a zen home, but rather creating environments with specific energies to support activities, whether it's a living room to relax in, or a bedroom to have quality sleep in." Feng shui encapsulates many of the tips and suggestions we offer above, so it's important to learn how it works, so you can execute it properly. (9)
The art of feng shui does agree with using mirrors, but not in front of front doors. This is all about it being uncomfortable seeing your reflection right when you enter your home, according to Decor Tips. Perhaps this could translate to not placing a mirror across from your bedroom door as well.
Decor Tips also recommends a minimalist decor approach to your bedroom, because this will promote rest. An oversaturation of decor not only distracts, but it takes up precious space! (10)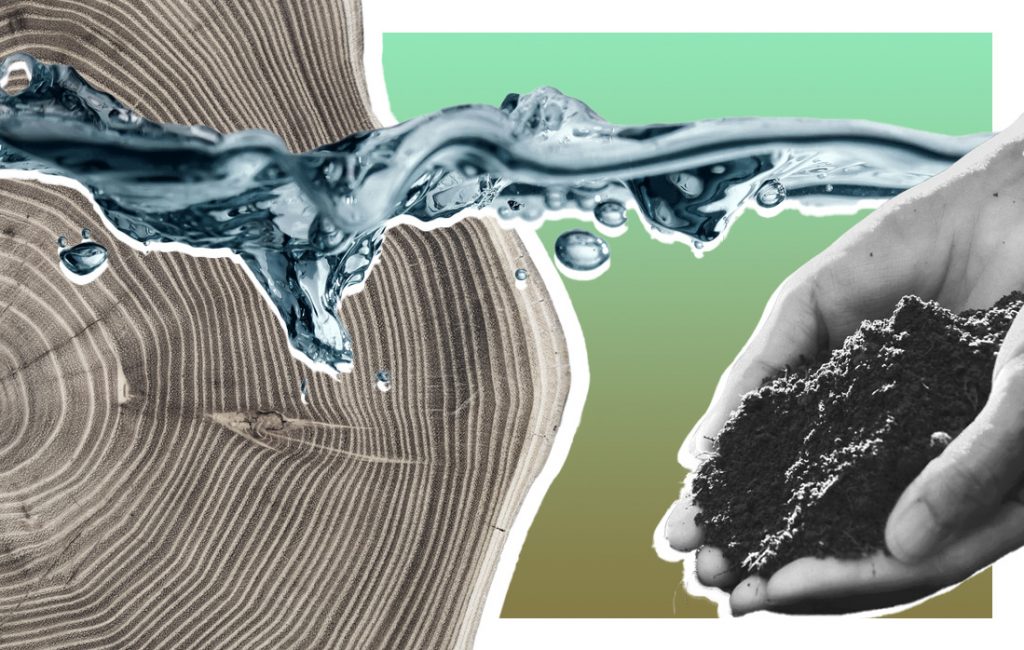 As far as color goes, Stefan Bucur's claims similarly match our conclusions above about blues. "For a better sleep try incorporating the feng shui element of water in the form of refreshing, clean and calm black and blue color hues."
"The very important earth, water and wood elements represented by the colors of brown, faded white, blue, turquoise and green can all be included in bedrooms to generate a relaxing energy as well as a feeling of warmth, making these colors perfect for people who want to obtain better sleep," said Bucur.
Pro Tip: A canopy bed could suit your feng shui vision quite nicely. Read more here.
Arranging Your Bed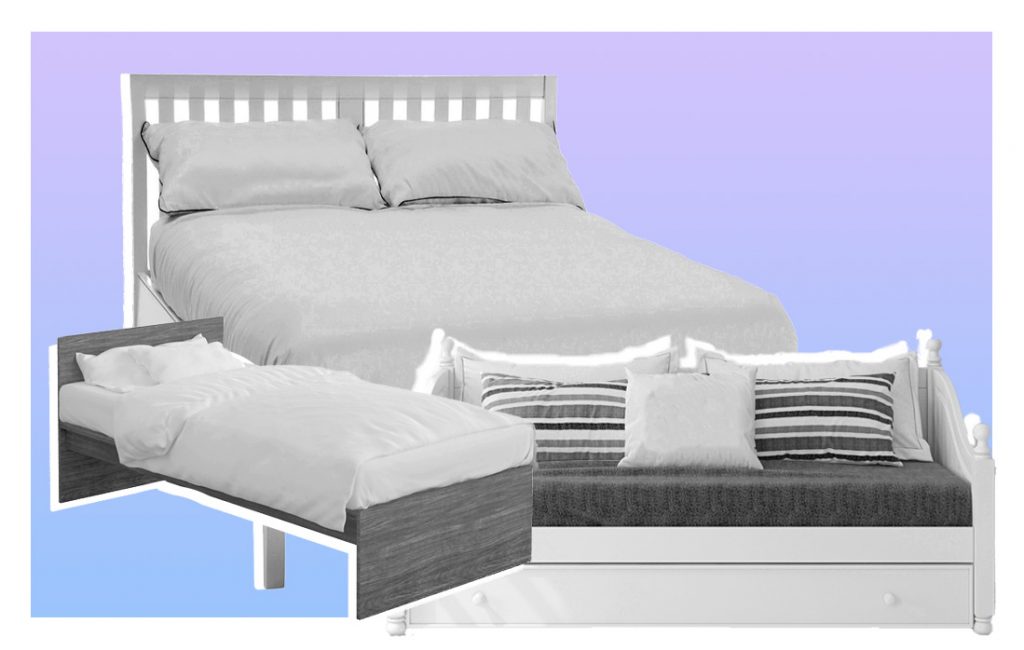 Certified interior designer and Strategic Interior Design Advisor at Real Estate Bees, Alexis Peters, says, "In a small bedroom, I use a full/queen sized bed or even a twin daybed, depending on the needs of the room." However, she advises against ever putting a king bed in a tiny room.
"A small bedroom is no doubt a challenge. We want to love the look, but also have our needs met. It is possible to have both if treaded carefully," says Peters. (11)
How to arrange a small bedroom: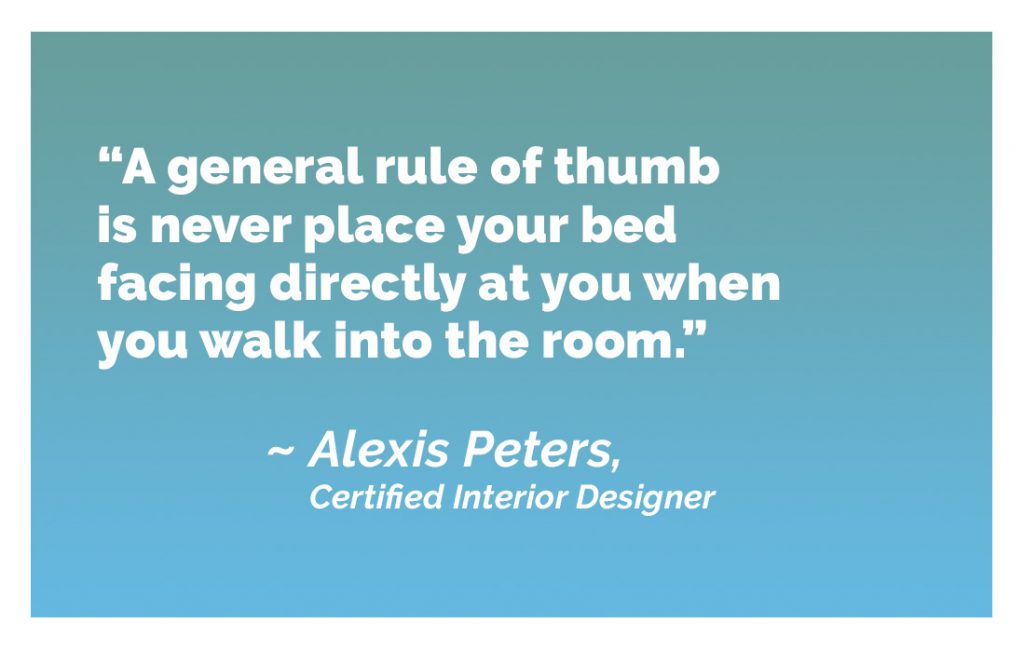 Alexis offers Sleepopolis some of her tips on placing a bed in your smaller space. First off, she states that a general rule of thumb is never place your bed facing directly at you when you walk into the room.
She explained that it's best to angle your bed from the entrance door, so when walking into your bedroom, you will see the side of the bed versus the entire bed facing you. This counter wall placement gives the illusion of more space, which is just what we want. It's much easier on the eyes as well, which evokes a calmer response.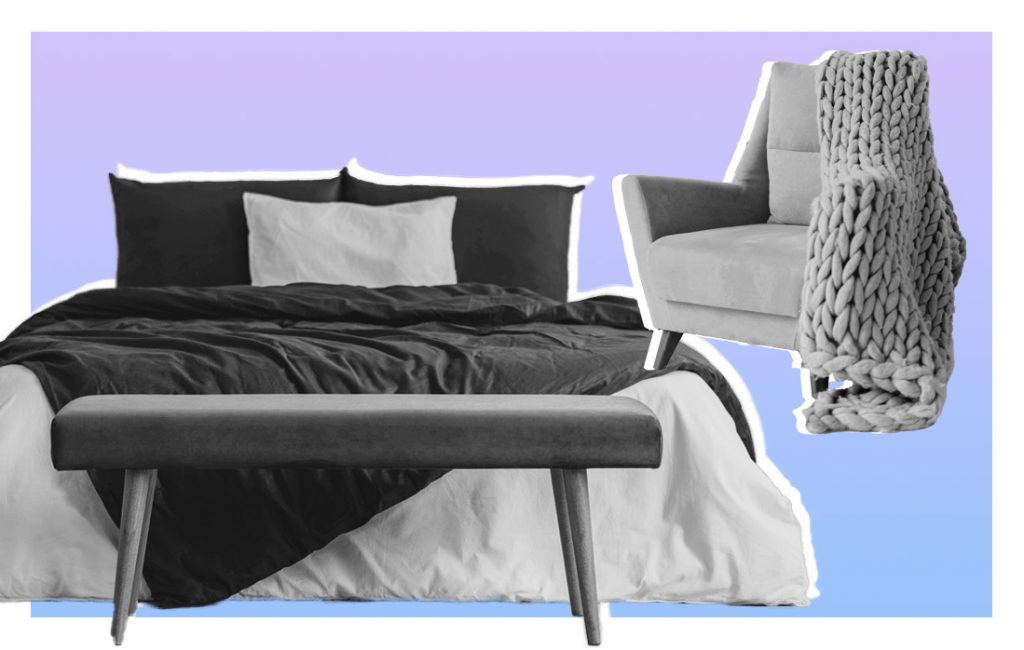 Another bedroom element Peters enjoys is an additional three dimensional element, if space allows. For example, she really likes a cozy accent chair for the corner of the room. She also finds that benches, baskets, or seating at the end of your bed can add this same effect. These can be great places to store and show off your throw blanket collections as well.
Alexis finds twin daybeds to be a great pick for bedrooms that double as offices. This is because they can give off a "couch-like vibe" which is perfect for offices where you don't want a bed to be as obvious, but more of a comfortable seating area. The bedroom and office combo is common in smaller spaces and it's important to do it right – especially if you're working from home.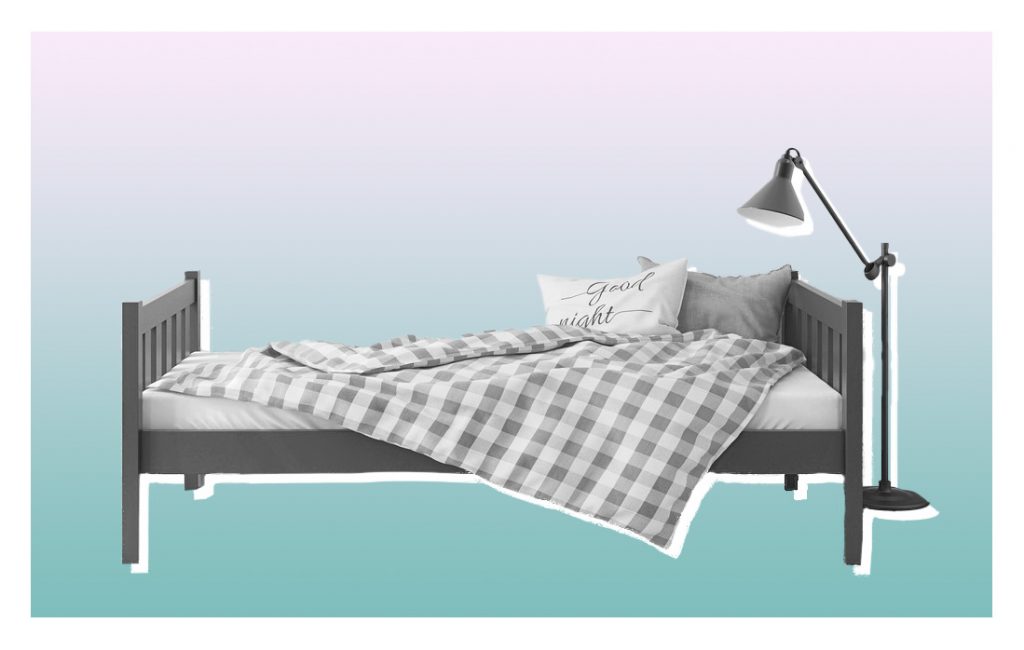 Pro Tip: Find a bed with space to optimize underneath – some even have storage built in. And take a look at our picks for the best mattresses under $1,000 for some affordable choices.
Optimizing Small Living Spaces
Now, let's get into the background and history behind optimizing small spaces. We'll also take a look at how small spaces affect day to day lives, the prevalence of small spaces in crowded cities, and more.
The history behind small space living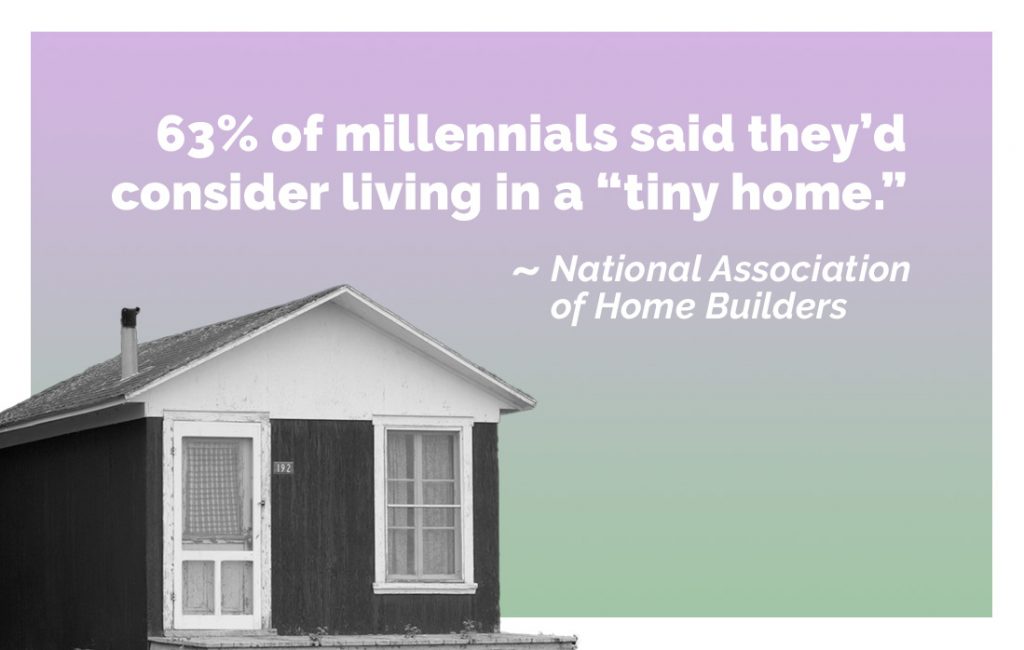 Not only are tiny spaces sometimes a necessity or only option for people, but there may actually be a growing desire. According to a poll conducted in 2018 by the National Association of Home Builders, more than 50 percent of Americans said "yes" or "maybe" when asked if they'd be open to living in a house less than 600 square feet. The number rose even higher when looking at millennials, 63 percent of which said they'd consider living in a "tiny home." (12)
The concept of a tiny home has been around since the pioneer age, with dwellings like tents, igloos, and huts existed in the days of early settlers. People such as the Sioux, Inuits and Samoans are thought to be its earliest originators.
It persisted through the 1970's with artist Allan Wexler promoting his art in a small space, authors Loyd Kahn and Bob Easton broadcasting compact living with their book "Shelter," and other authors like Henry David Thoreau and Lester Walker furthering the movement. This continued through the 1990s and 2000's with several other artists and authors jumping in. (13)
In recent years, there's been a tiny house movement of sorts. Whether it's being built on HGTV, glamorized on TikTok, or up for rental on AirBnB, tiny space accommodations are all around.
What is considered a small bedroom size?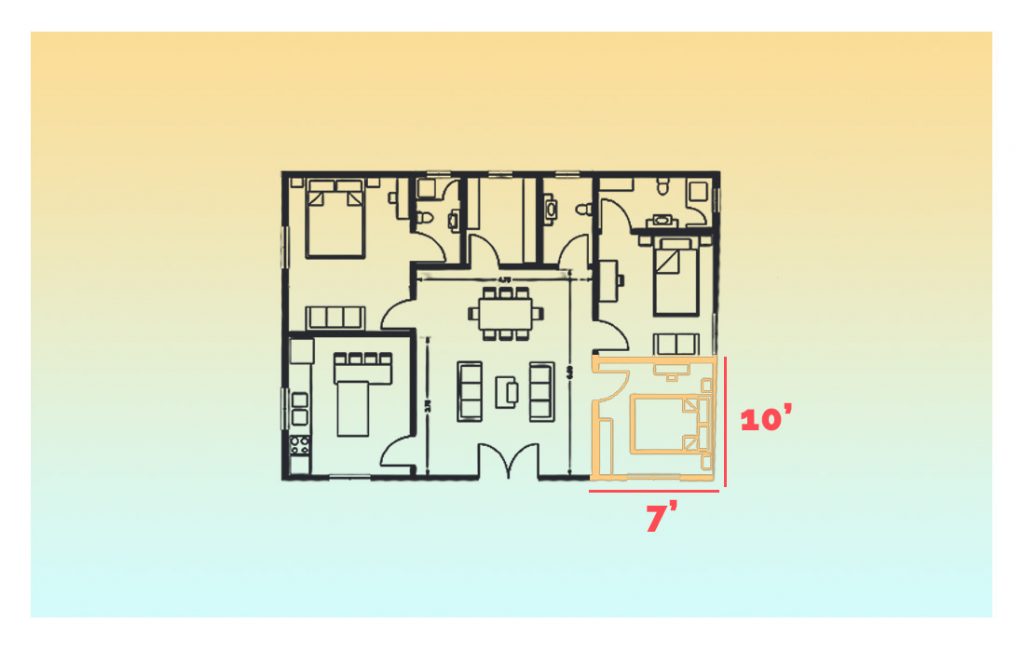 The International Code Council previously required rooms to be at least 120 square feet but they now state the following update, "The 70-square-foot minimum area now applies to all habitable rooms as the smallest acceptable size for occupants to move about and use the habitable space as intended." The 70-square-foot requirement is the equivalent of a 7X10 room. (14)
The research behind optimizing small space living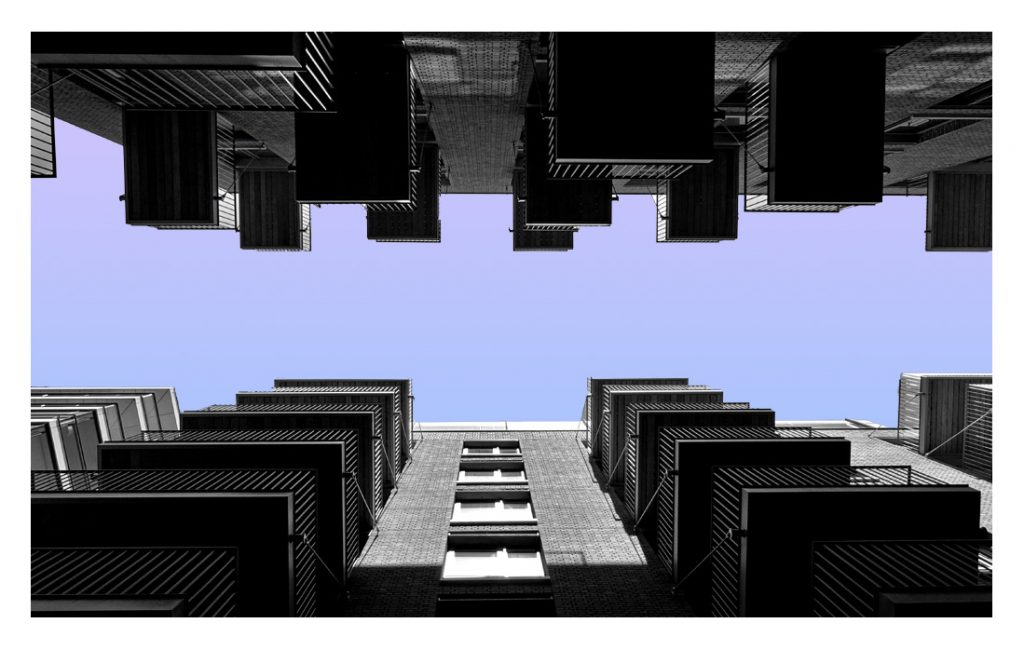 A research article titled The Design of a Storage Product to Help People Live Happier and more Comfortably in Small Spaces stated that, "During the last 55 years, the population density of urban areas has grown dramatically from 29% in 1950 to 49% in 2005." This reflects the growing desire and existence of people living in bigger cities, which often includes smaller apartments on top of one another. (15)
Another research study on small apartment design states that "The core problem that every designer urgently needs to solve is how to design small space for young people to be more warm and comfortable." Whether it's urbanization or high housing prices, small housing plays a large role in young people's lives. And it's often a preferred style of living for transitional housing. (16)
The study also says that small apartment design often lacks "the independence of space." With some apartments, the bedroom is directly connected or shared with the living room.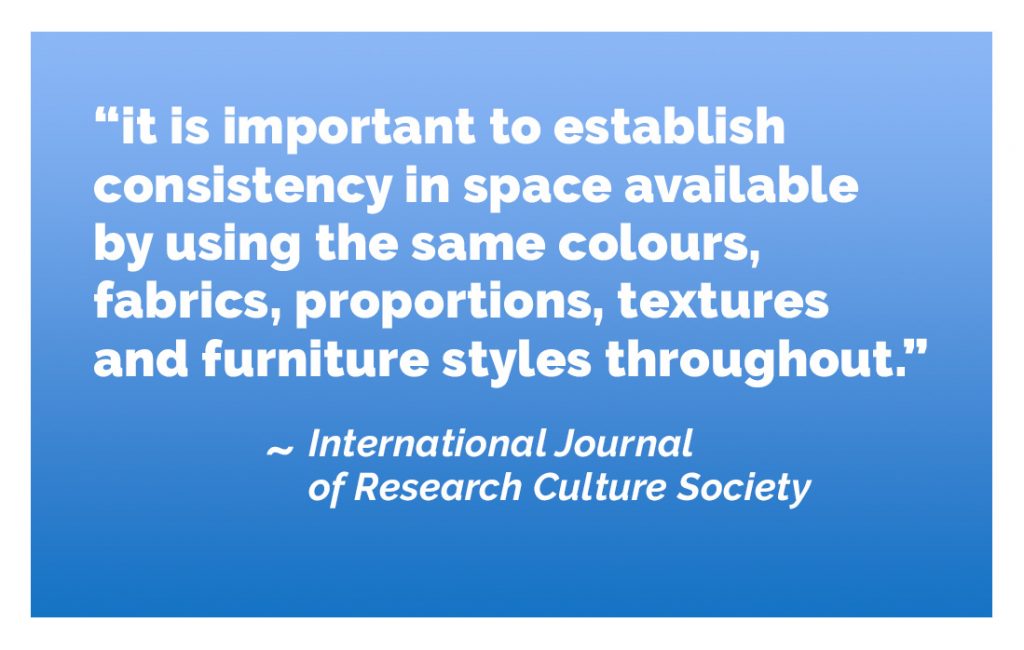 The abstract of another study stated the following, "Especially in metro cities, owning a large house is not possible. This problem leads to compromise in the space and forces people to live in small space i.e. apartment where the space is very less. When it comes to small space, there is a common misconception that it is not worth the time or money that it takes to create a beautiful home. So, it is important to establish consistency in space available. This effect can be achieved through wise utilization of space created using the same colours, fabrics, proportions, textures and furniture styles." This study's findings showed that most people living in small spaces faced problems like lack of clearance space, storage, ventilation, and size of furniture. (17)
Looks like these folks could use some space-optimizing tips…
Last Word From Sleepopolis
Small-scale living can be tricky, but we hope your takeaways from this guide will leave you feeling prepared and excited about optimizing your space. So, grab your mirrors, soothing shades, and cleaning tools – you're ready to style up your tiny space!
References
Creating a Good Sleep Environment. National Institute for Occupational Safety and Health, Centers for Disease Control and Prevention. April 2020.
Richard Petrie. Thomas Sanderson – The Beauty of Bespoke.
How to Use Mirrors to Maximise Space. KLG Glass. February 2019.
Ronique Gibson. Staging Your Home With Mirrors to Enlarge the Space. The Spruce – Make your best home. July 2020.
Phil Coleman. BLINDS VS. CURTAINS: THE PROS AND CONS OF EACH. Barlow Blinds. January 2018.
Pooja Khanna Tyagi. Curtains vs. Blinds: Which is better? Architectural Digest. January 2021.
10 COLOR OPTIONS THAT WILL MAKE SMALL ROOMS LOOK BIGGER. Romanza Interior Design Blog. September 2021.
Feng shui. Merriam-Webster.
Stefan Bucur. The Rhythm of Home – REIMAGINE THE RHYTHM OF YOUR HOME.
All About Applying Feng Shui in Your Home. Decor Tips. July 2020.
Alexis Peters. Home Styling by Alexis – Real Estate Bees.
Rose Quint. Tiny Homes Might Have Potential Buyers. Eye On Housing – National Association of Home Builders Discusses Economics and Housing Policy. National Association of Home Builders. February 2018.
The History and Evolution of Tiny Homes. HOME Stratosphere. February 2020.
R304.1 – Minimum Habitable Room Area. The International Code Council.
Meihui Lin. The Design of a Storage Product to Help People Live Happier and more Comfortably in Small Spaces based on Design Research and Environmental Psychology. Graduate Program in Industrial, Interior, and Visual Communication Design. The Ohio State University.
Liu Wen. Research on Small Apartments Design. Francis-Press – Open Access Journals and Proceedings. Frontiers in Educational Research. 2018.
Sarjoo Himanshu Patel, Ms Shabreen Pathan. Designing Interiors of Small Space for Enhancing Satisfaction of Residents. INTERNATIONAL JOURNAL OF RESEARCH CULTURE SOCIETY. January 2018.