Blue light-blocking glasses are the latest trend in the world of sleep hygiene, and they promise to erase a host of light-related ills. If you've ever suffered from headaches, dry eyes, or tossed and turned in bed after a night of electronics use, then you may have wondered if blocking out blue light, a short wavelength color in the visible light spectrum, could help. The latest science says it might just be worth a try.
Blue light-blocking glasses utilize special lenses designed to prevent blue light from reaching the eye and causing eye strain or inhibiting release of the sleep-promoting hormone melatonin. These glasses are typically used to reduce blue light exposure from computers, televisions, sunlight, and smartphones.
With new models of blue light-blocking glasses — also known as blue blockers — popping up every day, how do you choose the one that's right for you? We tested five models for effectiveness, durability, and style to help you find the perfect pair.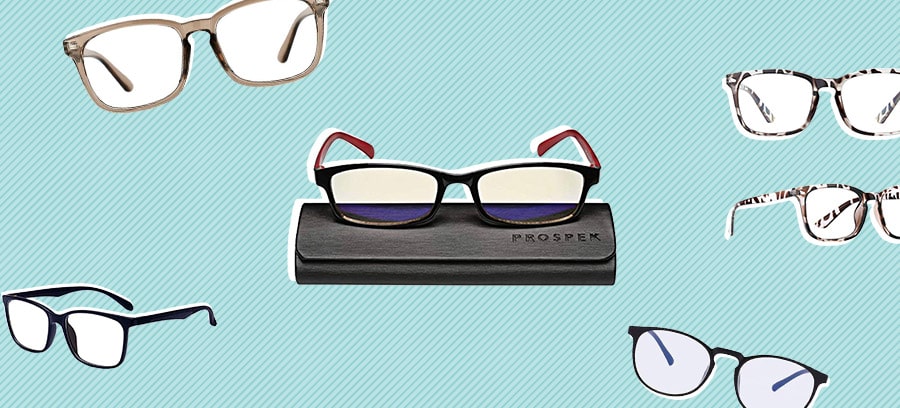 Editor's Pick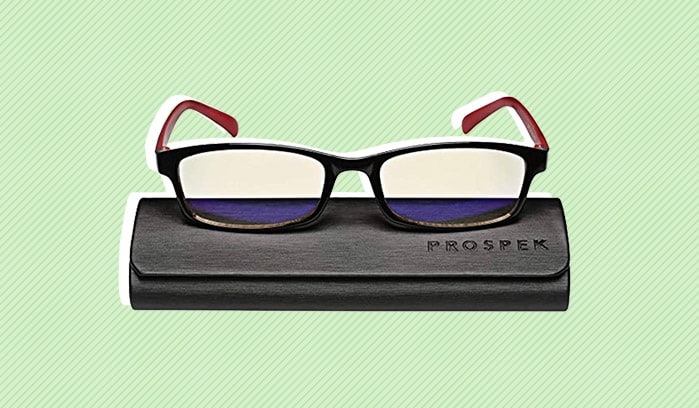 PROSPEK Premium Blue Light Blocking Computer Glasses
Pros:
No obvious yellow tint. As a blue blocking glasses wearer, I've seen my fair share of dingy yellow lenses. Not so with the Prospek computer glasses. These glasses have clearer lenses than many models I tried, which is a plus both for vision and aesthetic appeal
Lightweight. These glasses felt comfortable on my face even after a few hours of wear. No sore red marks or headaches here, which is important after a long day of screen time
Effective. I felt less eye strain at the end of the day and fell asleep faster than I usually do after before-bed electronics time. This could be a big benefit for those who use electronics in the evening or need to work late
Cons:
Price. There are less expensive options than the Prospek computer glasses, so keep that in mind if cost is an issue. For me, their quality is worth the price
Small. The regular size of these glasses felt a bit more like drugstore readers than standard-size glasses. Pay attention to the measurements of these glasses before purchasing
PROSPEK Premium Blue Light Blocking Computer Glasses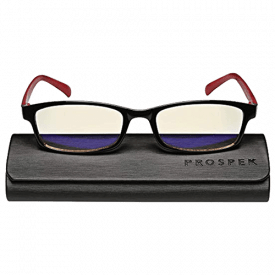 My choice for editor's pick is the Prospek Premium Blue Light Blocking Computer Glasses. These slim, plastic-framed glasses come in an attractive black and red option or a simple classic gray. They're available with or without magnification up to +3.00.
Sleepopolis Score
4.60 / 5
Best Design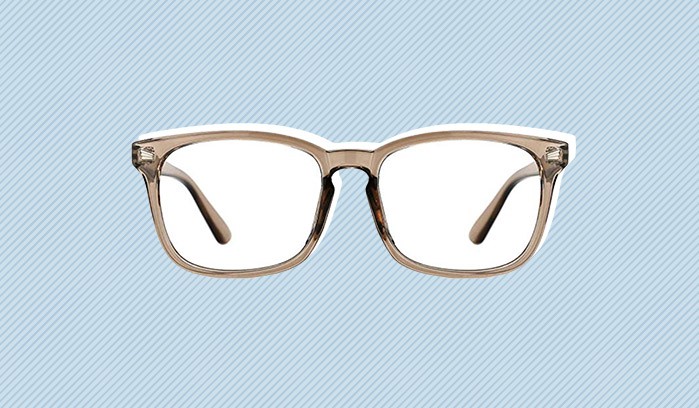 TIJN Blue Light Blocking Nerd Eyeglasses
Pros:
Color options. If you want fun and fashionable, then TIJN blue blockers could be the specs for you. From transparent pink to leopard print to coral, there's a frame color for just about anyone. I'm particularly fond of Blue Ink, a chic tortoiseshell pattern with flecks of vivid blue
Price. Multiple color options at a moderate price make these glasses a steal. There are plenty of blue-blocking glasses in this price range, but not many that are this stylish
Lenses. Although the lenses of these glasses have a slight amber tint, it is less noticeable than in other blue-blockers that cost about the same
Cons:
Fragile. The lightness of the TIJN glasses frames might mean they break easily, so be cautious if you plan to use them frequently or travel with them
Larger frames. This could be a plus for people with a larger bone structure or those who need full coverage of their field of vision. For others, they may feel a bit overwhelming to the face
TIJN Blue Light Blocking Nerd Eyeglasses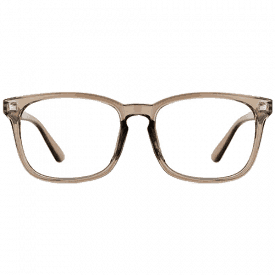 My choice for design is the TIJN Blue Light Blocking Nerd Eyeglasses. Contrary to their name, these full-size glasses are a stylish choice for people who want to reduce their exposure to blue light. They're available in eleven different frame colors and are constructed of a light plastic with metal hinges.
Sleepopolis Score
4.40 / 5
Best Bargain
Keakuo Fashion Blue Light Blocking Glasses
Pros:
Price. The Keakuo blue blockers are some of the lowest priced in this category. Add in a wide range of color choices and a great unisex frame, and these glasses are hard to beat
Design. If you like a little elegance with your blue blockers, look no further. From leopard-print to a splashy pink and blue pattern, the Keakuo blue blocking glasses offer some of the best colors of all the brands I tried. I was particularly partial to 2 Bean Flower and Gradient Purple
Material. The Keakuo blue blocking glasses felt lightweight and flexible on my face. They didn't slide down my nose or leave marks, even after three solid hours of computer use
Cons:
Coating. These blue-blocking glasses have what they call a "multi-layer blue filter coating." While this may help make these glasses effective, time will tell if a coating on the outside of the lenses will hold up to use and cleaning
Effectiveness. The manufacturer claims that these glasses block 50% of blue light, which is admittedly better than nothing but makes me question whether these glasses will block enough blue light to reduce eye strain and help promote sleep
Keakuo Fashion Blue Light Blocking Glasses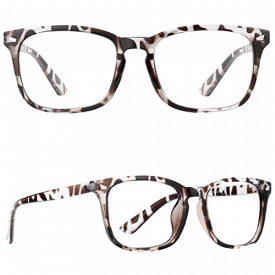 My pick for best bargain are Keakuo Fashion Blue Light Blocking Glasses. These glasses block 50% of blue light at a rock bottom price and come in twelve different colors and designs. The frames measure 140 millimeters, making them suitable for a variety of average-sized faces.
Sleepopolis Score
4.40 / 5
Most Effective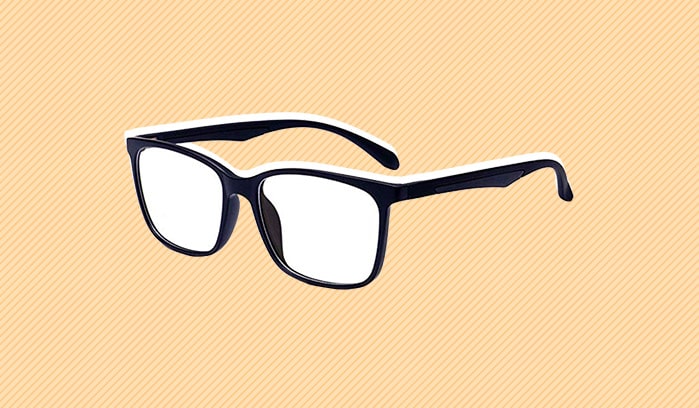 ANRRI Blue Light Blocking Glasses
Pros:
They work. If you're suffering from eye strain, headaches, or sleepless nights from blue light exposure, these glasses are worth checking out. The manufacturer says they reduce 92% of blue light, a lofty claim but one I believe after wearing these glasses for a full day of computer use with near zero eye strain
Sturdy. If you put your glasses through their paces like I do, you'll appreciate their solid, durable feel
Accessories. These glasses come nicely packaged in a sturdy white cardboard box with a magnetic case and lens cleaning cloth. These are nice additions at this price, and will help keep the glasses in good shape
Cons:
Reflective. These glasses had a tendency to catch the light, which could be distracting when I was working. This seems to be a problem primarily in the upper outer corners
Large. These specs may feel a bit too large for smaller faces. Be sure to measure and compare to an existing pair of glasses before ordering
ANRRI Blue Light Blocking Glasses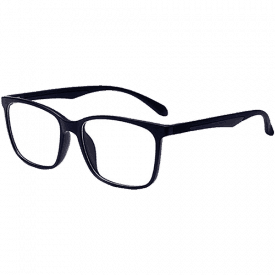 Anrri Blue Light Blocking Glasses cut out 92% of high energy blue light, making them my top choice for most effective blue blockers. These glasses have a modified Buddy Holly style and polycarbonate lenses, and come in four classic colors.
Sleepopolis Score
4.50 / 5
Best Two-Pack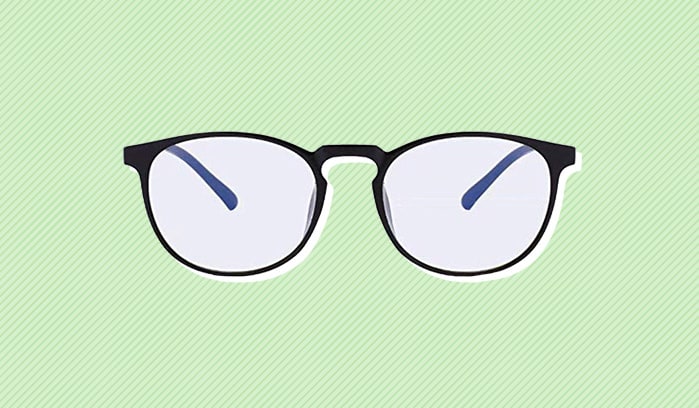 FEIYOLD Blue Light Blocking Glasses, 2-Pack
Pros:
Double the blue-blocking for a reasonable price
Design. Each 2-pack comes with glasses of two unique designs, including black, leopard, and an attractive two-toned purple
Great unisex option. The frames are fashionable but understated and, at 6.7 x 2.2 x 2.8 inches, would fit almost any face
Cons:
Vision. I found the vision on these glasses to be a tad blurry at times. This wasn't always obvious, but could be an annoyance for people who value total clarity in their blue blockers
Faint yellow tint. For the most part I wasn't bothered by the slight orange-ish tinge, but others may find it distracting, particularly while engaging in activities that require a lot of focus
FEIYOLD Blue Light Blocking Glasses, 2-Pack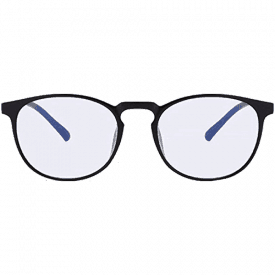 If you prefer to have a pair of glasses stashed in more than one place, then the Feiyold 2-pack could be a good choice for you. The manufacturer of these FDA-approved blue light-blocking glasses states that they cut out 99% of blue light, promoting better sleep and reducing eye strain. The frames are constructed from a light, flexible plastic, and come in four different color combinations.
Sleepopolis Score
4.50 / 5
How We Picked
In choosing blue light-blocking glasses to review, we focused on a few important factors. These are helpful to think about no matter which pair of blue blockers you're considering. When checking out new blue blocking glasses, keep the following in mind:
Effectiveness
The most important feature of blue blocking glasses is performance. How well do they block blue light? Do they reduce eye strain and other symptoms of blue light exposure? Try to find glasses with advertised reductions of at least 50% of blue light. Keep in mind that there is currently no independent organization that tests glasses of this type. That makes potential buyers dependent on manufacturer claims, which may not be supported by science. When in doubt, write or call the manufacturer to ask if they have supporting documentation.
Manufacturers of higher quality blue-blockers will generally display the range of blue light wavelengths their glasses block as well as the reduction in percentage of total blue light. Look for glasses that block at least 90%.
Lenses
Most blue blocking glasses have lenses with a slight orange or yellow tint. This is necessary because orange absorbs light from the blue part of the light spectrum, preventing it from reaching the eyes. Blue blocking glasses do not need to be noticeably orange to be effective, though most do have a detectable hue.
We tested glasses with less of an orange or yellow tint, which is preferred by many computer users. Models with darker orange lenses tend to work best at night, while lighter lenses are generally ideal for using electronics during the day.
Frames
As blue-light blocking glasses have become more popular, style and color options have expanded. They now come in a wide variety of frame styles and colors, from simple black to tortoise shell to unique patterns. Some models of blue light-blocking glasses are also available in kids' sizes. Unisex models are usually sized to fit most heads and faces of average size.
The frames of blue blocking glasses are typically lightweight and flexible to maximize comfort for long-term wear. This may also make them more fragile than prescription frames. Plastic frames are usually made from acetate or a material known asTR90. TR90 is becoming increasingly popular due to its light weight, flexibility, and ability to resist breakage. TR90 frames may also have a rubbery texture that makes them easier to hold onto.
Corrective Models
The blue light-blocking glasses we tested do not include corrective lenses, and are intended to be worn only to filter out blue light. Some models of blue-light blocking glasses come in various magnification options similar to non-prescription readers. Some custom prescription-strength glasses are also available with a blue blocking option. An optometrist can help to explain options for prescription blue light-blocking glasses.
Price
Many non-corrective blue light-blocking glasses are significantly less expensive than prescription glasses. We picked a lower price range, which gave us plenty of options to choose from. If price is a concern, know your must-haves before starting your search. You may pay more for glasses that can block a greater percentage of blue light or for more stylish frame options. Glasses that offer ultra lightweight frames, UV light reduction, or anti-glare lenses will generally cost more than those with fewer features.
Sleepopolis Tips
To make choosing a pair of blue-blocking glasses easier, check out the following tips:
Decide how you'll use your new blue blockers. Are they primarily for computer use during the day or for video games and television at night? Will you be wearing them for several hours at a time or for brief periods? Lighter, more comfortable frames may be at the top of your list of desired features if you plan to wear your blue blockers for long stretches

Find your frames. If you'll be wearing your blue blockers at work or outside, you'll probably want to choose flattering frames you won't mind sporting in public. Many blue light-blockers are designed to be unisex, with stylish frames that fit a variety of face shapes and head sizes

Give them a try. If you've never tried blue light-blocking glasses and are considering ordering a pair online, check out lenses and frame styles at a local store to help you decide if blue blockers are right for you

Consider a prescription pair. Wear glasses or contact lenses? You may want a custom pair of blue light-blocking glasses for times when you need both vision correction and blue light reduction
FAQs
How do blue light-blocking glasses work?
Artificial blue light from electronics and televisions has the same wavelength as sunlight, and has similar effects on the body. Blue light-blocking glasses reflect blue light away from the eyes and prevent it from reaching the brain. Blue light-blocking glasses create conditions for the eyes that are similar to natural darkness. This allows normal circadian rhythm processes to occur at night, such as reduction in core body temperature and release of melatonin. 
Can blue light damage my eyes?
Though the eye is designed to detect blue light from sunlight, it is not intended to be exposed to blue light after dark from computers, smartphones, and televisions. Recent research shows that excessive blue light may trigger a toxic reaction in the eyes which can lead to macular degeneration, a leading cause of blindness. Though more studies are needed, reducing exposure to blue light may help protect the eyes from blue light-related damage. 
When should I wear my blue light-blocking glasses?
Blue blocking glasses can be worn any time of the day or night except when driving, as they can distort certain colors. Many people wear them while using a computer to reduce eye strain or at night when watching television or using electronics. Remember: the darker the lens, the greater the reduction in blue light. Lighter-hued lenses that cut out less blue light are typically for daytime use, while darker orange lenses are often reserved for nighttime use to help encourage the release of the sleep hormone melatonin. 
Last Word From Sleepopolis
The right blue light-blocking glasses can help improve sleep, reduce eye strain and dry eyes, and decrease headaches. Blue blockers may also help lower the risk of light-related eye conditions such as macular degeneration. Blue light-blocking glasses can reduce light exposure when using a computer or other electronics during the day, and can be particularly helpful at night to mimic natural darkness conditions and stimulate normal release of melatonin.
Rose MacDowell
Rose is the former Chief Research Officer at Sleepopolis. An incurable night owl, she loves discovering the latest information about sleep and how to get (lots) more of it. She is a published novelist who has written everything from an article about cheese factories to clock-in instructions for assembly line workers in Belgium. One of her favorite parts of her job is connecting with the best sleep experts in the industry and utilizing their wealth of knowledge in the pieces she writes. She enjoys creating engaging articles that make a difference in people's lives. Her writing has been reviewed by The Boston Globe, Cosmopolitan, and the Associated Press, and received a starred review in Publishers Weekly. When she isn't musing about sleep, she's usually at the gym, eating extremely spicy food, or wishing she were snowboarding in her native Colorado. Active though she is, she considers staying in bed until noon on Sundays to be important research.