Canopy beds are a nice way of sprucing up not only the look of a bedroom but also the sleeping experience. Canopy beds provide a nice infrastructure for any number of different types of canopies, allowing people to add flare, comfort, or even a shield from light or bugs. But in order to achieve these aims, first the canopy bed frame has to be chosen.
Canopy beds may all have a similar structure, but it is in the details where most of the differences lay. Between the assembly process, the durability of the product, and the different styles, there are meaningful distinctions that may cause one bed to be a better fit than the other. We have examined some of the more popular offerings to see how they fare:
The 5 Best Canopy Bed Frames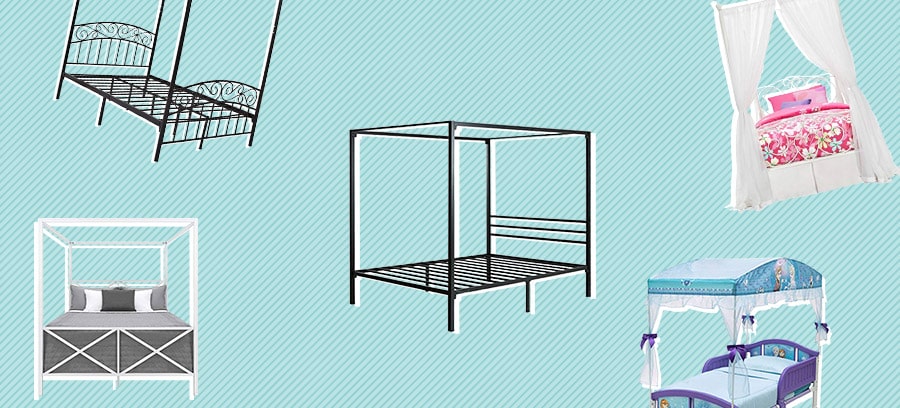 Pros:
Desk add-on. For an additional cost, this canopy bed frame can be purchased with an attached desk of the same style. The desk has a wood finish and shares a leg with the bed frame.

Rubber mallet. This bed frame comes with a rubber mallet and a hex wrench. There is no need for separate purchases or for the pre-ownership of other tools.

Not too heavy. While many bed frames have a heavy and cumbersome size, this product is relatively easy to maneuver even after completely assembled. This is great for those who like changing up their feng shui every once and awhile.
Cons:
Middle support brace. The way this canopy bed is designed involves a support brace in the middle of the length of the bed on either side. This can make storage difficult and is an easy place to stub a toe.

Slats can pop out of place. Unless the cross-slats are arranged properly, they have a tendency to pop out of place over time.
Pros:
High headboard. One thing that stands out with this canopy beds versus others is that the headboard on this product is placed rather high. This can allow a more comfortable experience sitting in bed.

Design. The diagonal shapes created by the crossbars of the headboard and footboard elicit a modern aesthetic. While many canopy beds have a more ornate and traditional style, this is a great choice for those looking for a modern look.

Sturdy slats. While many manufacturers will include more slats to go across the base of the bed frame, this product only has four that are more permanently stationed. These are more securely fashioned and are less likely to pop out.
Cons:
Holes not always big enough. Some of the pre-drilled holes may not be in fact big enough to function properly. A drill may be needed to make them bigger.

Instructions not great. The instructions included with this canopy bed are not the most clear. It may be wise to assemble this bed with another person.
Pros:
Four color options. This line of canopy beds from DHP is available in four colors. Available are pink, pewter, gold, and classic white.

Rounded finial posts. The tops of each post are fitted with rounded finials. This gives the bed a specific look and is less likely to rip fabric during installation and disassembly.

Cost. When looking at other canopy bed frames, it is clear that this offering from DHP is quite a bargain. Some similarly-designed canopy beds can cost two or three times as much.
Cons:
Low to ground. This canopy bed is only 11 inches off of the ground, which limits the room available for storage.

Twin and full. This bed is only available in twin and full sizes. This may be a bit tight for two people.
Pros:
Foot above ground. This bed frame includes more storage space underneath than many similar products, which usually top off at 11 inches of space. This bed rises a foot above the ground.

Extra parts. Each bed frame set comes with a few extra parts in case any are damaged or compromised during shipping. This helps avoid frustrating moments at the end of assembly.

"Deluxe" sizes. Both the full and queen size beds are advertised as being "deluxe" sizes. This means there is a bit of a gap on either side of the mattress for linens, so sheets and other bedding materials are a bit easier to put on and off.
Cons:
No grip on feet. This bed could slide a bit if on a slick floor like wood or tile. Rubber grips can be purchased separately to alleviate this problem.

Slats can bend. The slats that go horizontally across the bed frame can bend if there is heavy impact upon the bed or just with a lot of use over time.
Pros:
Guardrails. These cute little canopy beds have guardrails on either side to keep toddlers from rolling out of the bed while asleep. This safety feature can be removed if desired.

Themes. This manufacturer has several different themes for these canopy beds for children. Parents can choose between various children's movies to serve as design inspiration.

Matching furniture. Not only is there a matching bed and sheet set that can be purchased separately, but there are other furniture pieces, like dressers and bedside tables, that can be purchased to match this canopy bed.
Cons:
Guardrails are low. Some may wish that the guardrails had a bit more height. They only rise a few inches above the mattress, depending on how thick a mattress is installed.

Canopy takes adjusting. The canopy doesn't always look right unless it is carefully adjusted. It may get out of place if the bed is moved, for example.
How We Picked
Canopy beds are a fun way to change the atmosphere in a bedroom. They are also an avenue to more privacy and a shield against the elements. Due to the different ways these beds are used, it is necessary to find a few salient attributes to consider when making a purchase. Here are the aspects we looked at when making our decisions:
Assembly
While most beds will require some assembly, it is canopy beds that may require a bit more attention and time than average. These typically consist of not only bed frames, but the poles and upper infrastructure of the canopies will need to be built as well. It is typically recommended to have help when building one of these units.
Some manufacturers have each piece labeled and clearly organized in an instruction manual, while others, unfortunately, do not. It is extra helpful if the bed comes with the required tools; rubber mallets and wrenches may not be laying around everyone's house. Be aware that some beds will have pre-drilled holes that weren't properly sized and will need to be widened with a power drill.
Style
There tend to be three main styles of (adult) canopy beds. Any of the three would probably fit most rooms they are outfitting, but some might be particularly good matches. If a person is starting out their decorating from scratch, canopy beds can be good foundational pieces.
One style features more ornate headboards and footboards. These typically have baroque-style shapes and flourishes made of wire. Some may opt for a more modern look with clean lines and more geometric patterns. Finally, industrial styles may end up more appropriate for bedrooms with a more minimalist aesthetic.
Dimensions
Canopy beds are a bit different in dimension and structure than typical beds. They sometimes have some extra support bars underneath the bed that limit the storage space under the bed. Further, these beds can't have as high of a profile as other beds, because there needs to be room above the frame for the canopy itself.
Bed sizes may need to be a bit different with canopy beds than with other types of bed frames. There may need to be more space on the bed due to the constrained space around it. Some brands feature sizing that is a bit bigger than standard sizes to allow for this space.
Tips
Not sure which canopy bed is right for you? Take a look at some of the suggestions below:
How much space do you have?

Some rooms may be a bit too small for a large canopy bed, as the poles may need to occupy the same space as existing shelving.

Canopy beds can help in rooms with more than one bed to help divide the space and give more privacy.

What is your aesthetic?

Traditionally-styled bedrooms can probably accommodate all kinds of canopy beds, both classically-designed and modern.

Modern and industrial-style canopies tend to have a more austere look and are probably best fit for bedrooms with a similar decor.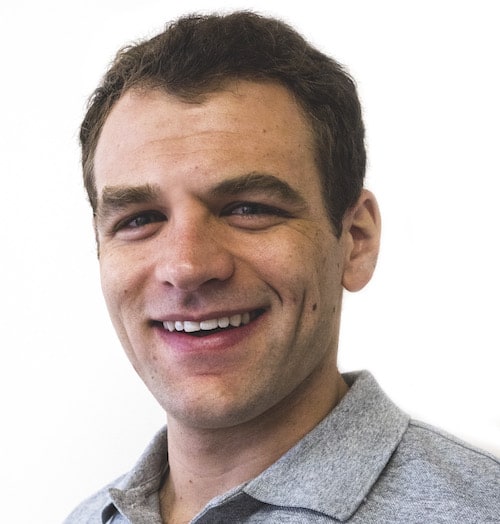 Logan Block
Logan is the former content director of Sleepopolis. As content director, he reviewed new mattresses every week and curated the comparisons, best of pages, and video guides on the site. Logan perfected his method by personally testing over 200 different mattresses, so he's not only able to discern the overall vibe of a specific bed, but to contextualize its feel within the bed-in-a-box market as a whole.