People use many different tricks and techniques to help themselves fall asleep. One such method is using a light projector on the ceiling to help relax the mind as it falls asleep. This is a device that can be used by young children, adults, and the whole family.
Due to the varied nature of the projection designs and the different sleep patterns customers may have, choosing a projector can require some nuanced evaluation. Whether users are hoping to use it to occupy a baby or to help themselves fall asleep, there are a few features that will stand out between leading options. We took a look; this is what we found out: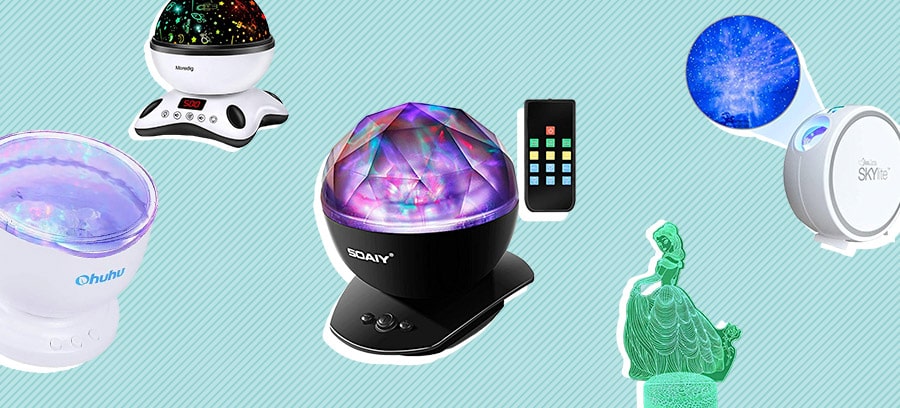 Editor's Choice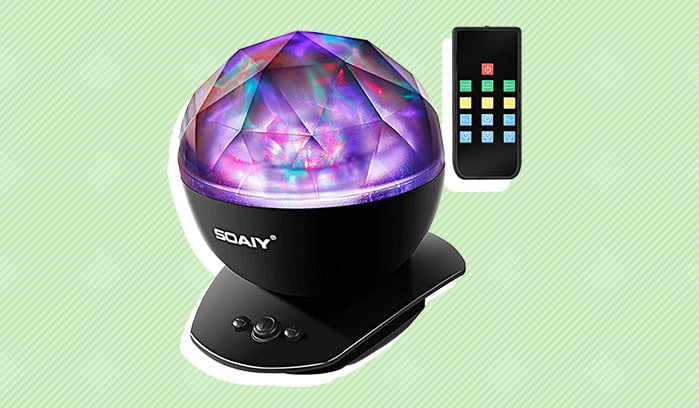 Aurora Night Light LED Projector
Pros:
Auto-timer options. Not only does this projector have a built-in timer, but there are three different time settings. It can be programmed to shut-off after 1 hour, 2 hours, and 4 hours of use.
2-in-1. Customers can use this product as either a nightlight or a projector. It is easy to convert this projector into a nightlight; users just need to put on the included dome.
Aux cord. This projector has an auxiliary cord input. This is great for users who would like to play relaxing noises as they fall asleep to the projection. (Newer versions have bluetooth connectivity).
Cons:
Only effective in darkness. This product won't work great when used in combination with a nightlight or a reading lamp. It works best with complete darkness.
Sound quality not the best. While it is neat that this projector can play user's own music, the speakers aren't as good as many speakers users may already have at home.
The Contender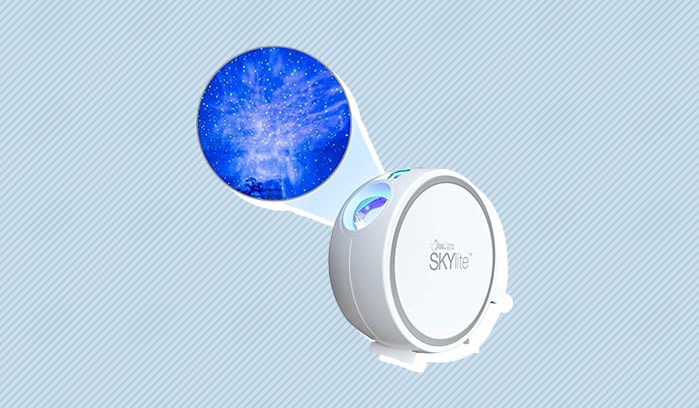 BlissLights Sky Lite Laser Projector with LED Nebula Cloud
Pros:
Detailed star projection. This projector displays a beautiful system of stars with a heavy concentration of celestial objects. This is set against a nebula blue cloud.
Simple controls. Users can quickly and easily adjust the brightness and program with big buttons on the side of the unit. This product has a very short learning curve.
Still or motionless. While some projectors only have a static projection and some only have a moving one, this one has the option to have either. This makes it a more versatile product as it can satisfy different sleeping habits in the same family.
Cons:
Motor can make noise. While it isn't deafening, some users may notice the noise the motor is making more than they would like. The motor can always be turned off.
Too bright. Although the product can have its brightness adjusted, it still may be too bright for some users.
Best Bargain
Ohuhu Ocean Wave Night Light Projector and Music Player
Pros:
Battery or USB. This projector can be powered by either 4 AA batteries or by USB. This makes it great for travel.
Ocean pattern. Customers may find the pretty ocean pattern quite calming, especially if they find a color they react positively too. It has 8 different color options.
Price. This product is on the more affordable end of the spectrum. It costs about half the amount of similarly-functioning competitors.
Cons:
Speaker can't be too loud. This projector has a speaker system, and while it is a nice feature, if it is turned too loud there can be some noise interference.
Needs to be centered. Because this projector displays a projection straight up and not at an angle, this product needs to be in the center of a room to display properly.
Most Unique Projection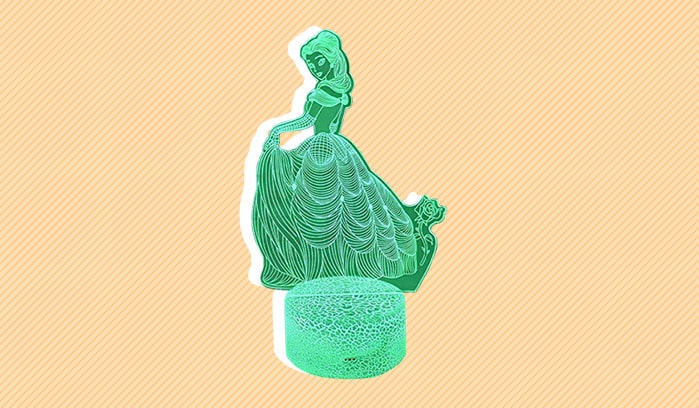 Flow.month 3D Optical Illusion Night Lighting
Pros:
3D figures. This projector will display a 3D projection of various characters. There are 11 options, including a few dinosaurs and a unicorn.
16 colors. Aside from the variety of characters that can be displayed, users have the option of 16 different colors with the ability to add a gradient. This is great for a nightly variety.
Remote control. This is great for those who are laying in bed with their kids to fall asleep, as the device can be controlled via remote control.
Cons:
No AC adapter. This product can only be powered via USB. Those without a spare wall adapter will need to buy another one
Small projection. Customers may be disappointed in the size of the projection. It would be cooler if it were a bit bigger.
Best for Families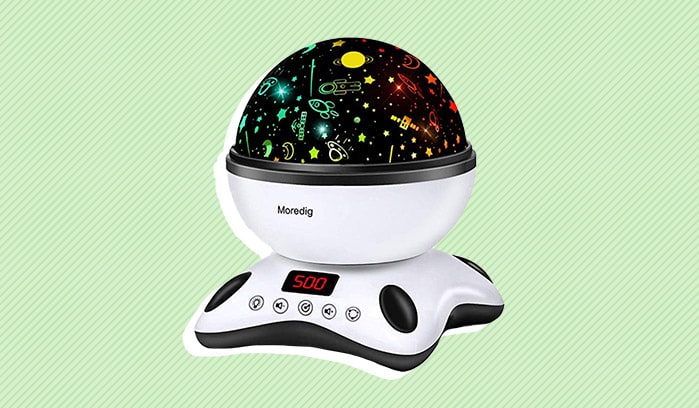 Moredig Night Light Projector
Pros:
Precise timer. Users can decide any time between 5 minutes and 500 minutes to have this device turn off. This is great for adjusting it to specific sleep patterns.
Music included. This product includes 12 different relaxing songs to play as the projection rotates. This can create a relaxing environment for the whole family.
Animal or planet options. Users can decide between an animal or a starry sky pattern. This can help cater to sleepers of all ages.
Cons:
Music has no timer. Though the lights have a nice timing system, the music does not. It would be nice for the music to be able to be turned off before the lights go out.
Short cord. This product has an option to be battery powered but frustratingly for those hoping to plug it in for power, the cord is rather short.
How We Picked
There isn't a standard style that most of the leading light projectors on the market follow. There are however certain aspects that can be compared and prove helpful in deciding which product to get. Here are the factors we looked at:
Adjustability
Though projectors are a great device to have in a bedroom before bed, their value can become moot if the unit doesn't turn, rotate or is too bright. Thankfully most projectors offer some room for the user to adjust the settings. The question is which facets each product lets users adjust.
Aside from the colors and patterns, the temperature and the brightness of those colors and patterns can make a crucial difference. If the projection is too bright, it can keep people from falling asleep, so the ability to toggle the light itself is helpful. Additionally, the ability to allow the projector to rotate can make a big difference in how effectively it can create a calming atmosphere.
Patterns
The fun part of these devices is the different patterns customers can choose from! Most common is a starry night, though there are many derivations. Some have cartoon-ish stars and celestial shapes, while others create more realistic clusters of stars and galaxies.
Some manufacturers take a different approach, either by creating more unique patterns or by using lots of colors. 3D projections are a more technologically advanced version of this art and can provide a novel experience. These may be fun to look at, but may not be as calming for all ages.
Sound
Though not everyone will use a projector as a sound source as well, it is a nice feature that some brands offer. Using either an auxiliary cord or sometimes even bluetooth, many light projectors can sync with user's smart devices or laptops to play music, white noise, or even podcasts.
The speakers on these devices aren't always top notch, but it doesn't mean they aren't useful. They typically shut-off automatically when the lighting is set to stop. Some products aimed for babies will have lullabies and other sound pre-programmed into the device.
Tips
Not sure which light projector is right for you? Take a look at some of these helpful tips:
Is this for you or for a young child?

While most light projectors will meet the needs of a sleepy child, some are better suited for adults.
Products that allow music connectivity and ones that have more realistic or generic projections may be more useful for adults.

Will you travel with it?

Some devices are battery-powered, which will help customers transfer from room to room without much effort.
Products that can be plugged in will be more reliable but may make positioning the device in the right place more difficult.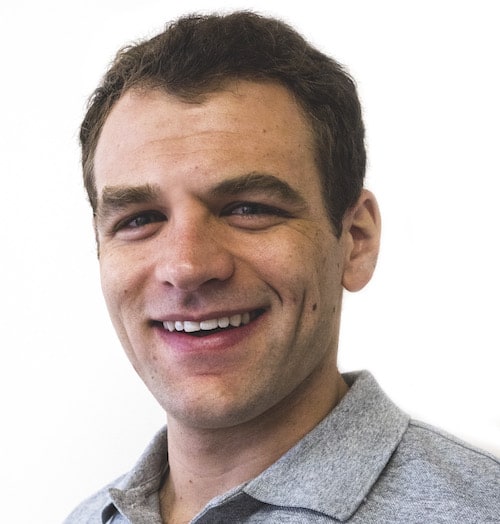 Logan Block
Logan is the former content director of Sleepopolis. As content director, he reviewed new mattresses every week and curated the comparisons, best of pages, and video guides on the site. Logan perfected his method by personally testing over 200 different mattresses, so he's not only able to discern the overall vibe of a specific bed, but to contextualize its feel within the bed-in-a-box market as a whole.