New parents understand that getting a baby asleep is no easy task. It takes attentive care, a calm environment, and engaging yet quiet stimulus, and even with all those a baby may still have a hard time falling asleep. One possible solution is a sound machine.
Sound machines that have babies in mind operate similarly to other sound machines, except there is usually a special selection of sounds that are soothing for young ones. Extra features and age-appropriate design choices can be hallmarks of these sound machines as well. Here are our favorites: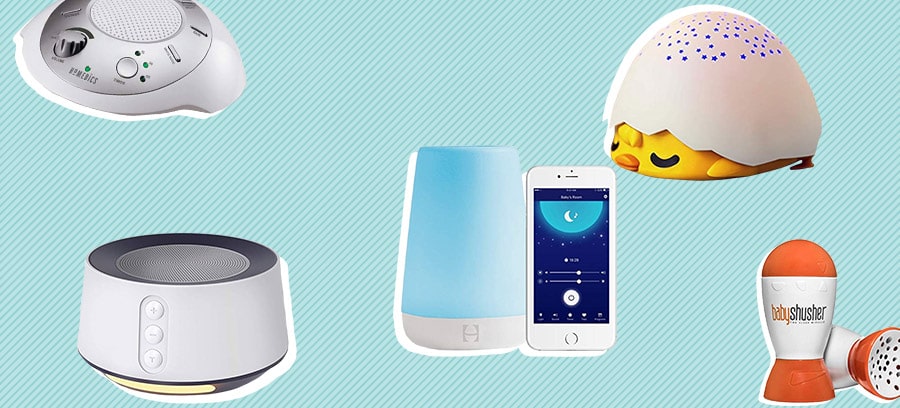 Editor's Choice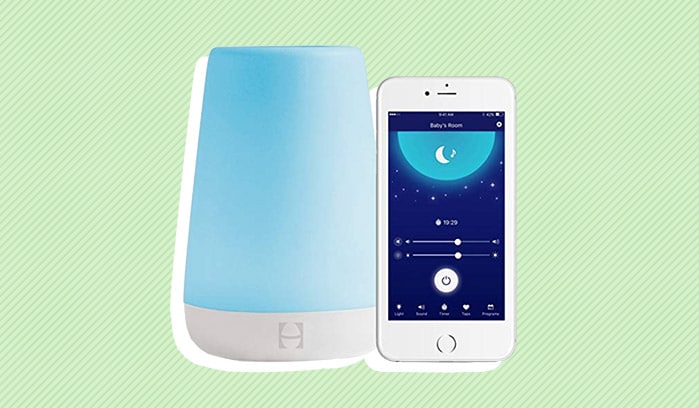 Hatch Baby Rest Sound Machine
Pros: 
Syncs with phone. The Hatch Baby Rest app allows users to operate the sound machine remotely. The colors, brightness, volume, and selection of sounds can also be controlled with a smartphone.

Sleep programs. A cool aspect of this sound machine is that customers can set programs that can automatically activate the machine for playing noises at morning rising time and lights and sounds at night to announce bedtime. This is great for those who want to establish a routine with their growing children.

Toddler-lock. This product from Hatch has a toddler-lock safety feature where the device's control buttons can be locked. This can help keep toddlers from changing what parents have set.
Cons:
Can only operate from home. Because the program is synced through bluetooth, users can only operate from throughout the home but not outside of it.

Price. This is one of the more expensive sound machines geared for babies that is available. It is about twice the price of other devices that don't offer the same frills.
Hatch Baby Rest Sound Machine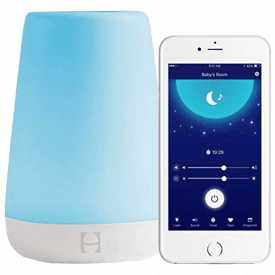 Hatch Baby Rest Sound Machine
The Hatch Baby Rest Sound Machine is a modern take on traditional sound machines. Parents can control and program lights and colors to help their children sleep, offering soothing noises for infants up to young children.
The Contender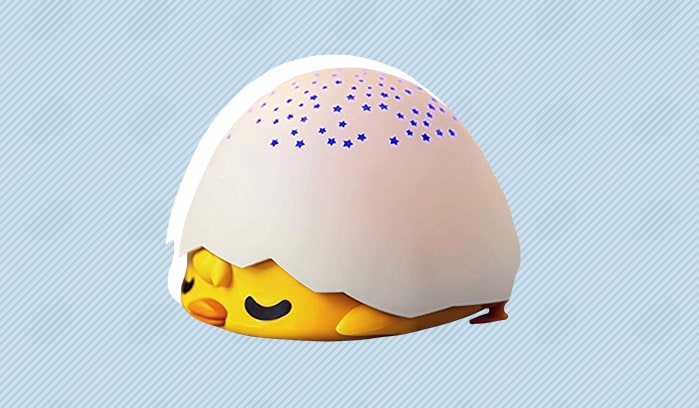 Babyfeel SleepyMe Smart Sleep Sound Machine
Pros:
Design. This sound machine not only makes soothing noises to comfort babies, but it features a shape that is akin to baby chick underneath a broken shell. The chick is adorably asleep, hoping to encourage a peaceful sleep for babies.

10 lullabies. Aside from the natural noises this machine plays, it also is programmed with ten classic lullabies

Star projection. This sound machine projects a starry sky on the ceiling, with orange, blue, and green color options. This is great to create a calming and dreamy environment in a baby's room.
Cons:
Stars are static. While many nightlights that have a starry sky will rotate the constellations, this product only shines its lights in one position. Babies may not notice the lights if they aren't moving.

Automatic shutoff. This product automatically shuts off after 30 minutes. This is frustrating if it takes longer than that to get a baby asleep.
Babyfeel SleepyMe Smart Sleep Sound Machine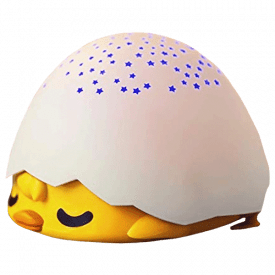 Babyfeel SleepyMe Smart Sleep Sound Machine
The SleepyMe Smart Sleep Sound Machine by Babyfeel has a cosmic night light and can play natural noises along with a selection of lullabies. It is wireless and has a cute design that resembles a slumbering baby chick.
Best Bargain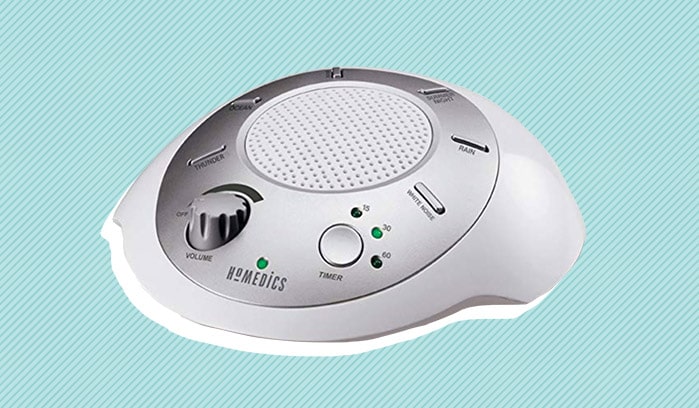 HoMedics White Noise Sound Machine
Pros: 
Battery or plug. Conveniently this sound machine by HoMedics can either be powered by AA batteries or be plugged into a wall. This is helpful for travel or for situating it far from an outlet. 

3 color options. Customers can choose a sound machine that fits the decor of their baby's room. Blue, silver, and gold are the available offerings.

Cost. This device is one of the more inexpensive sound machines one can find. It can typically be purchased for less than $20.
Cons: 
Beeping noise. There is a slight beeping noise that repeats itself in the background of some of the white noise selections. This may be hard for some adults to ignore but babies may not notice.

Green "on" light won't turn off. The unit has a green light that glows when it is operating. This has the potential to keep a baby awake if it is pointed in the wrong direction.
HoMedics White Noise Sound Machine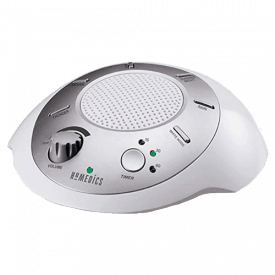 HoMedics White Noise Sound Machine
This offering from HoMedics is available in multiple color options, can be plugged into a wall outlet or be operated from batteries, and has timed shut-offs. It is a great option for its price.
Easiest to Operate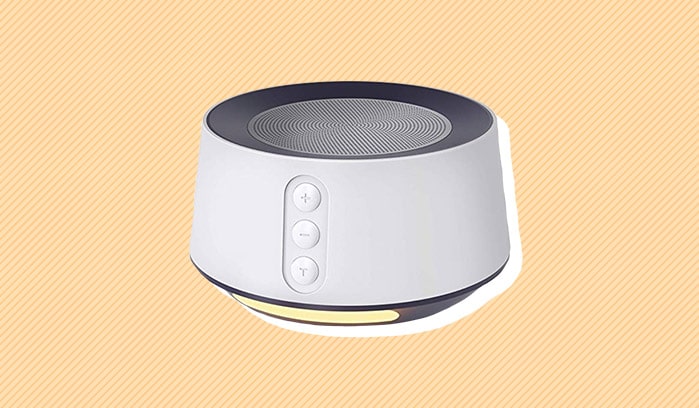 Letsfit White Noise Machine
Pros: 
14 unique sounds. This sound machine has a large set of sounds available to use as white noises. Aside from a classic white noise sound, there is a washing machine, ocean wave, fan sound, thunder, bird chirps, water stream, and a nursery rhyme.

Automatic timer. This sound machine has more automatic shut-off options than most of its competitors. This is great for adjusting the machine to the needs and sleep patterns of a growing baby.

Easy operation. Users can easily toggle on and off the sound functions and the night light by tapping the top of the device. This can be helpful when it is dark.
Cons:
Confusing controls. Though this device is easy to operate once the control are learned, the way the volume is adjusted and noises are selected can be confusing at first.

Kids can operate. Because it can be controlled with a tap, any toddler can accidentally (or purposely) turn it on and off easily by touching it.
Letsfit White Noise Machine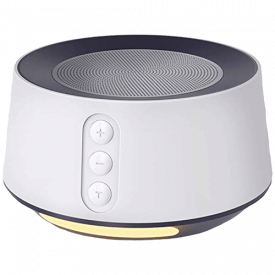 Letsfit White Noise Machine
The Letsfit White Noise Machine is a compact and stylishly designed product that has a wide selection of sounds to soothe a baby. The nightlight is well placed and it can be turned on with a simple tap.
Most Portable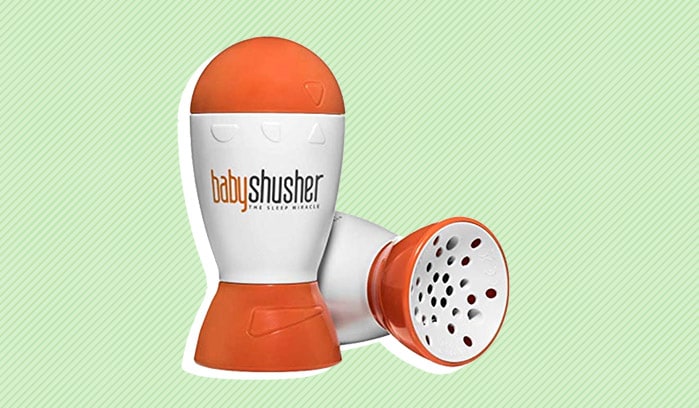 Baby Shusher Sound Machine
Pros: 
Carrying strap. This device can be placed on a table or even carried with a baby as it is being soothed by a parent. It has a strap that wraps around a parent's wrist.

Shush noise. The Baby Shusher Sound Machine relies on a human voice emitting a soothing shush sound. This can be calming because it imitates a noise that many parents make to calm their babies.

Lightweight. This sound machine only weighs just over a measly 3 ounces. This makes it perfect for travel from room to room or when actually leaving the home.
Cons: 
Need two hands to turn on. Parents may be frustrated that it takes two hands to turn it on (by twisting). This can be difficult if the parent is also trying to soothe a baby in their arms.

Unstable design. This product has a rather thin profile and beveled edges. This means it can easily be knocked over and then roll around.
Baby Shusher Sound Machine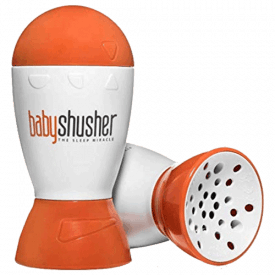 Baby Shusher Sound Machine
The Baby Shusher Sound Machine provides comforting "shush" noises that is meant to mimic a noise that is familiar to many families. It is lightweight and great for in or out of the house.
How We Picked
Sound machines can be a new parent's best friend. These devices play soothing noises and can use calming or engaging light displays to help settle a child down. While some sound machines are general purpose with some functionality geared towards comforting babies, other sound machines are made exclusively for parents to use in this regard. With that in mind, we have identified some key characteristics to look at when comparing various products:
Sound selections
A sound machine is only as good as the sounds it produces. Sometimes a single sound played every night can be enough to get a baby asleep. Othertimes, however, it is going to take a variety of different noises that are cycled from night to night.
Baby sound machines can have over a dozen different noises and lullabies, while some only have one sound it can produce. That difference begs the question though, is quantity better than quality? Some sound machines have lots of sounds it can produce, but they all sound similar or have the same robotic quality. 
Nightlight
A distinguishing feature of sound machines designed for children is that they often have a night light component. These can come in a few forms. Some are clearly designed to provide a subtle yet calming presence in the room.
Some products go in a totally different direction and have fun and engaging lights that variably change color or even project patterns on the ceiling. This style of nightlight is meant to engage the child and distract them enough to ease their nerves and get them to sleep. With either style, parents will be able to safely navigate a baby's room due to the nightlight.
Operation
As with most products, some sound machines are easier to operate than others. With some, there are complicated procedures for setting timers, changing the sounds, and even adjusting the volume. Some may require a learning curve or even some online consultation from other users.
More modern devices are moving in the direction of phone-controlled operation. This allows parents to remotely change the sounds and lights without entering the baby's room and disturbing a nice nap. These phone-operated products often have a wider range of capabilities, such as programming daily schedules, through the use of proprietary apps.
Tips
Not sure which baby sound machine is right for you? Before you make your decision, consider the following:
Is this for you or for a gift? 

If this is a gift, keep in mind that many parents might already have a similar product. It may make sense to consult with them first.

To be safe, it may be prudent to get something that has a unique flair, like a cute design, interesting sounds, or light projection. Parents may have something more standard.

Do you travel often?

Those who will be traveling with their families might need to find a product that is battery powered and lightweight.

If traveling to the same place often, it may be wise to get multiple sound machines to keep one in each place. One can even go in the car..