A nightlight can be a soothing beacon on a dark night, leading the way to a bedroom or bathroom after lights out. Designed to be illuminating but not as bright as standard bulbs, nightlights can add a non-stimulating light in areas of the home where darkness isn't desirable.
Search for a nightlight and you'll find a wide variety of styles and price ranges. To help you pick the best nightlight for you, we put several bestselling brands to the test. Here are our favorites: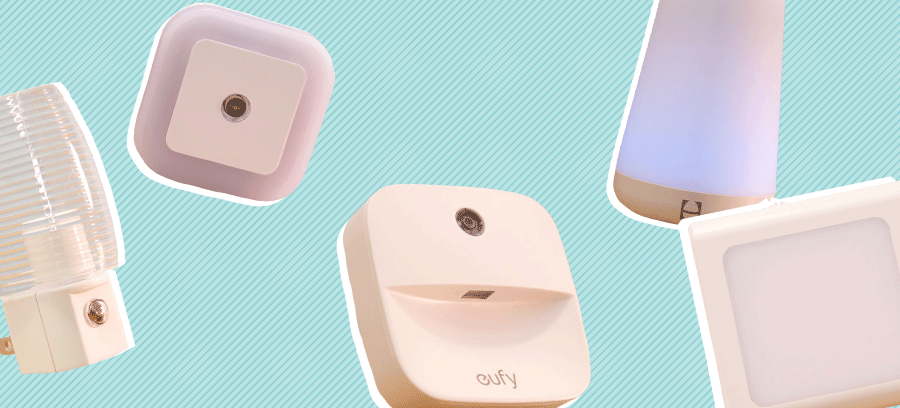 Best for a Baby's Room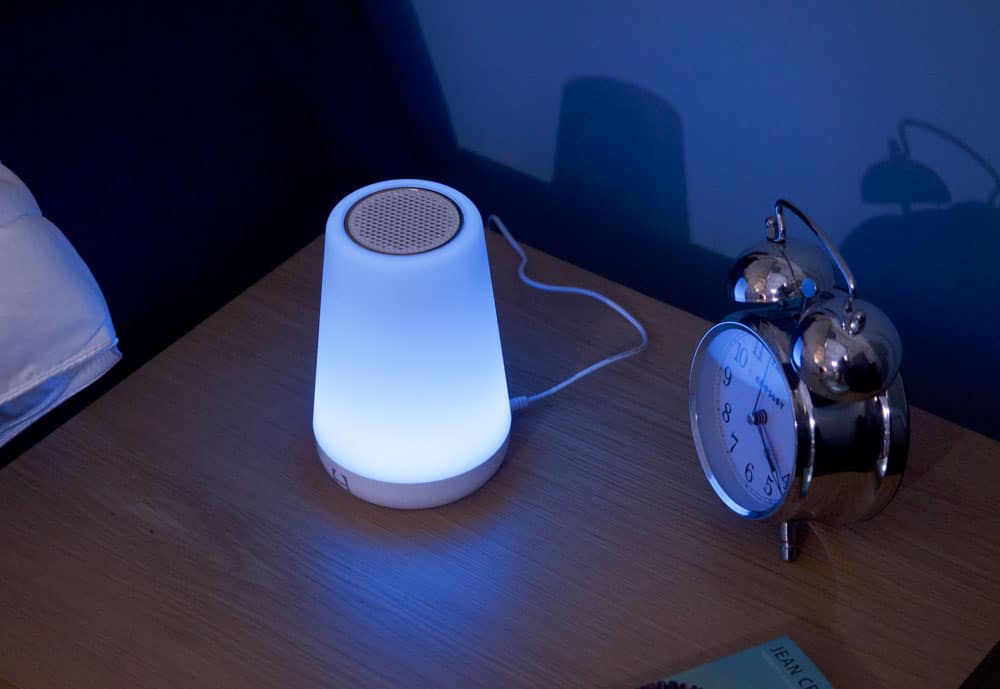 The Hatch Baby Rest Night Light and Sound Machine
The Hatch Baby Rest Night Light and Sound Machine is controlled by Bluetooth, allowing parents to adjust the settings by smartphone, tablet, or Alexa. According to Hatch, the nightlight colors are proven to help regulate your baby's sleep patterns. Sounds include white noise, waves, and bird songs.
Pros:
Setting control. Once I downloaded the required app onto my phone, I was able to switch the power on and off, change light and sound settings, and adjust the volume without leaving the adjacent room. Though setup took a few minutes, the download process was easy and seamless

Time-to-rise setting. A soft green light lets your child know when to get out of bed. This feature was easy to set up, accurate, and bright enough for a toddler to see from bed

Sound options. To my ear, the white noise was appealingly consistent, and loud enough at a high setting to block the sound of an elevated subway train. This feature could be helpful for children whose sleep is disrupted by traffic noise or other family members
Cons:
Settings location. The settings

are located on the bottom of the device. Manual adjustments must be made by picking up the device and flipping it over 

Sound settings. While I found the white noise to be soothing and effective at blocking out noise, the sound could be a bit too "staticky" for some parents or children

Design. While the low-profile exterior of the Hatch Baby Rest felt smooth to the touch, the plastic shell seemed a bit flimsy to me. It could be easy to knock over or damage, particularly when used by young children
Best Design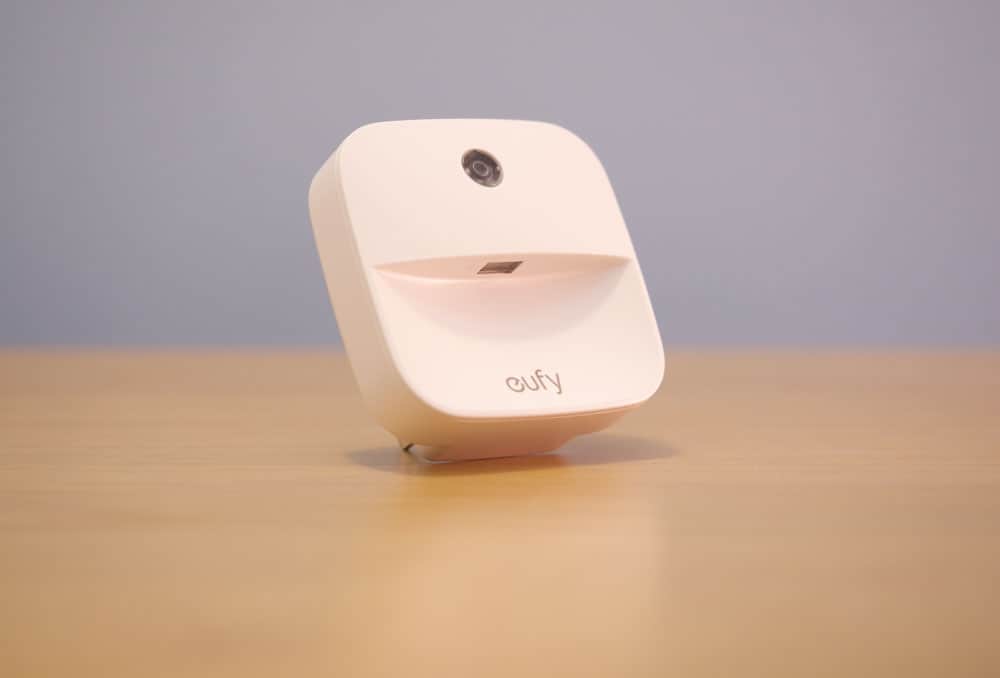 Eufy Lumi Plug-in Nightlight
The Eufy Lumi Nightlight is a plug-in nightlight that can fit in the palm of your hand. A two-pack of this light-sensing LED nightlight is less than $10. The light beam can be aimed toward the floor or ceiling, and does not obstruct the second outlet of a two-outlet electrical unit. 
Pros: 
Shape. The Eufy nightlight packs a lot of LED illumination into a small package. At less than 2.5 inches by 2.5 inches, this nightlight worked perfectly when I plugged it in between a bench and dresser, and is a great option for small spaces

Style. The Eufy's sleek, modern design fit well with my contemporary decor, but is slim and small enough to blend into more traditional rooms

Brightness. The indirect beam prevents glare, but casts enough light for a dark hallway or stairwell. I found the ivory hue  of the light to be appealingly soft but bright
Cons:
Brightness. I found this nightlight a bit too bright for my bedroom, though it was perfect for the dim hallway between my bedroom and bathroom. Light sleepers might find the Eufy a little harsh if placed in direct view of the bed 

If you aren't specifically on the hunt for a plug-in nightlight, keep in mind that the Eufy Lumi and other plug-ins can produce light only from an outlet. This may not work in a dark area without a source of electricity, such as a stairwell, an attic, or a basement
Best for Brightness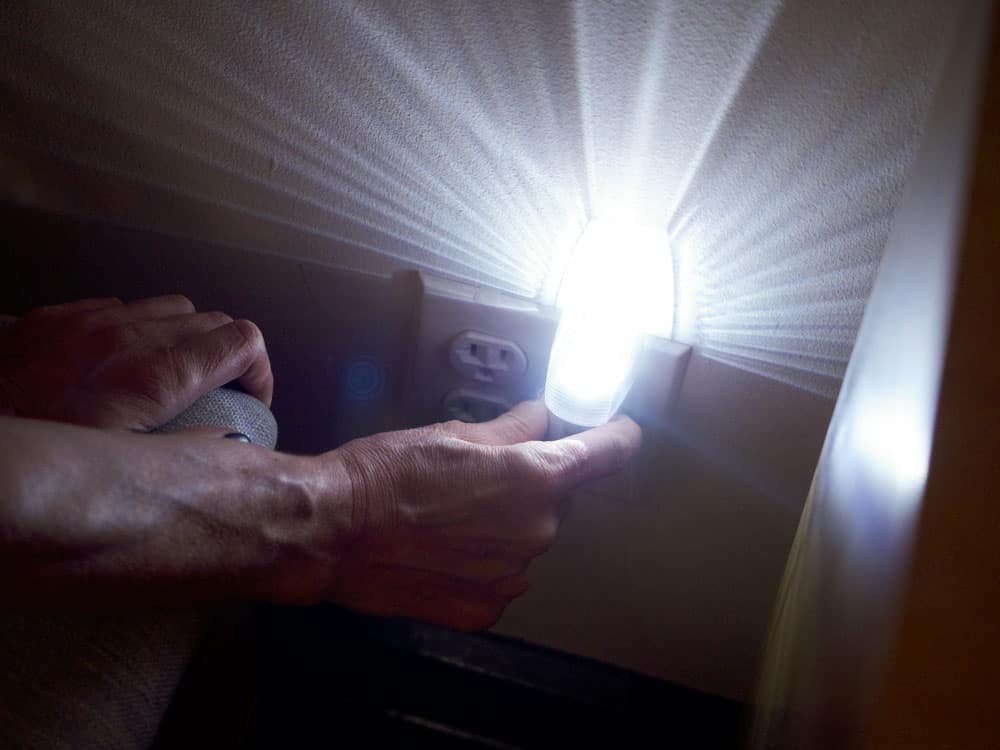 Maxxima LED Nightlight
The Maxxima LED Nightlight casts a bright white glow that could illuminate even the darkest spaces. This classic-style nightlight has a dusk-to-dawn sensor, and promises over 11 years of continuous use. Great anywhere you have an outlet, but particularly useful in very dark spaces.
Pros: 
Brightness. This nightlight put me in mind of bright white Christmas lights when I plugged it into an outlet in a dark room. Though the light source is a single small LED bulb, the clear plastic casing's "spread beam optics" help disperse the light and illuminate the surrounding area for several feet in each direction 

Price. You can pick up a 6-pack of Maxxima nightlights for less $12. $2 each, 11 years of continuous use — whatever the math is, this nightlight is a bargain

Classic design. If you like a classic white nightlight, the Maxxima could be just the choice for you 
Cons: 
Casing. The plastic casing on this nightlight was loose and slipped off repeatedly when I plugged it in and unplugged it. This could be as frustrating for other users as it was for me

Shape. The Maxxima nightlight is tall and could potentially block a second outlet 

Adjustability. The Maxxima nightlight can't be adjusted or dimmed. It runs at one speed — very bright.
Best Value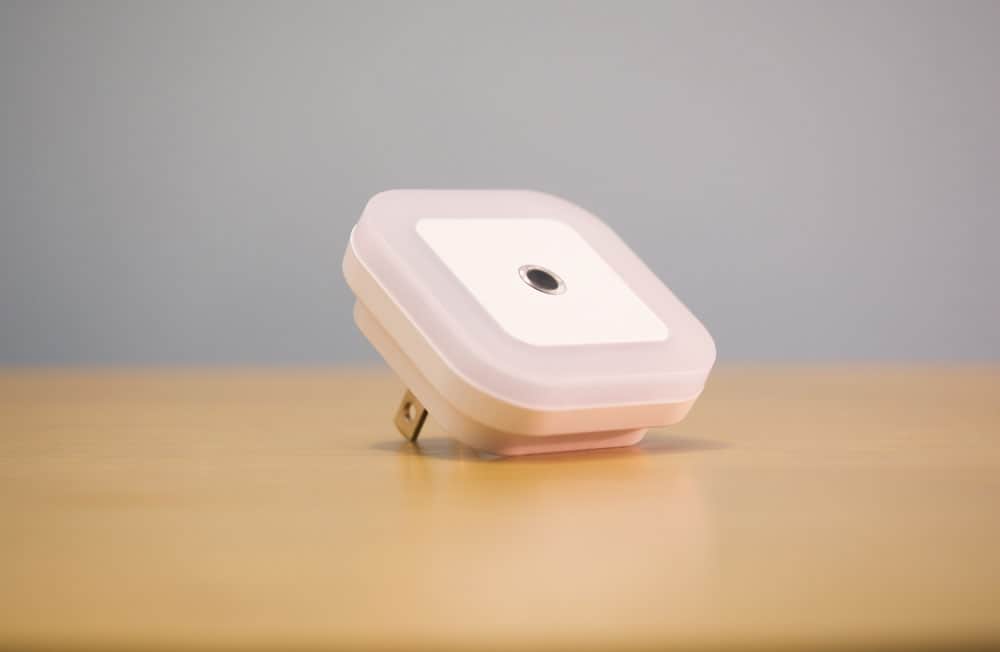 Sycees LED Night Light
The Sycees LED nightlight combines value with a sleek, attractive design. This nightlight has a dusk to dawn sensor and casts a soft white glow that brightens gradually as the room gets darker. 
Pros:
Price: At six for $15, the Sycees nightlight is a deal. A single box would light up half the outlets in my home 

Design: The compact design is low-profile, contemporary, and won't block a second outlet. The external casing is frosted, making it look high-end and unique

Light: I loved the square shape of the Sycees soft white glow. It added a modern and stylish element to my bedroom, and could work well in almost any decor
Cons:
Visibility. Because of its design, the Sycees nightlight could stand out in some rooms where subtle is the goal

Thickness. The Sycees nightlight is thicker than many other nightlight models, and could stand out from the outlet a bit too much for users who live in tight quarters
Editor's Pick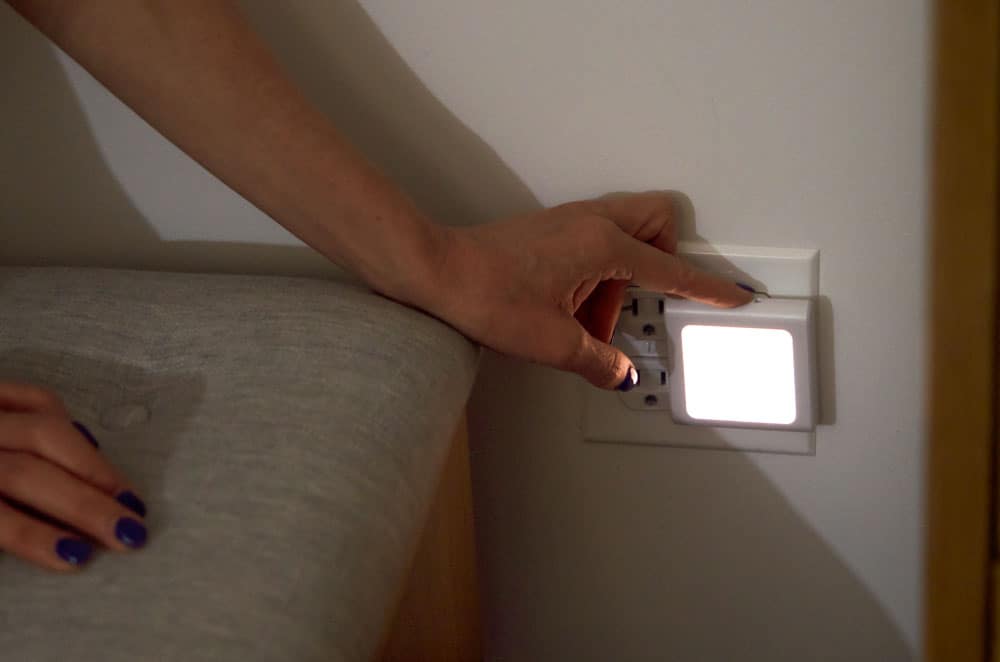 MAZ-TEK Plug-In Led Night Light
The MAZ-TAK LED nightlight gets my nod for editor's pick in the nightlight category. This warm white nightlight combines form, function, and price to create a versatile nightlight practical for almost any home. Biggest plus: a dimmer that allows you to adjust the brightness to the level that suits you.
Pros: 
Adjustability. The MAZ-TEK's sliding dimmer was my favorite feature of this nightlight. It allowed me to lower the brightness to a perfect bedtime glow that was illuminating but not awakening 

Style. I found this nightlight's square, contemporary design very appealing. The center area produces plenty of light without glare or a direct beam that could irritate the eyes 

Durability. The MAZ-TEK promises to last over two years under continuous use
Cons: 
Size. The MAZ-TEK is fairly large at 2.75 x 2.75 inches. This could be an issue for people who need both outlets in a two-outlet unit

Price. Though you get a high-quality bang for the buck, a box of two MAZ-TEK nightlights costs about $13. Furnishing a home with these nightlights could get a bit pricey
How We Picked
Nightlights tend to be an inexpensive purchase, but are important tools for safety and security. Though they come in a wide range of styles and sizes, all are designed to be used during nighttime hours when the main lights are turned off. When reviewing nightlights, I looked at some key factors that helped me assess and rank each model.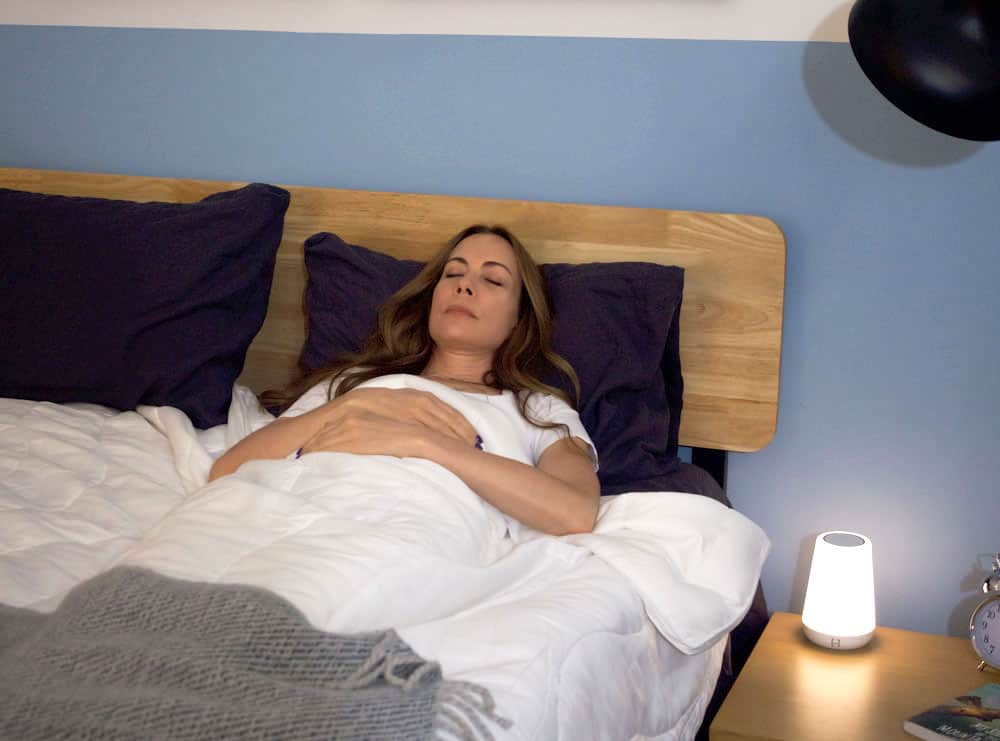 Lumens, or Wattage – Both lumens and wattage are measurements of the amount of visible light produced by a lightbulb. More lumens and higher wattage means the light is brighter. Before LED light technology, wattage was the most common way to measure brightness. LED lights now generate more brightness for less wattage, making lumens a more accurate measurement of how much light a nightlight produces.
Type of Light – LED nightlights are the most common type of nightlight due to their energy efficiency, brightness, and ability to remain cool during long-term use. LED nightlights vary in color and brightness, and may be dimmable or touch-activated. Older, incandescent bulb styles are still available, but are less common as they tend to be warm to the touch and not as energy efficient.
Blue light reducing nightlights provide illumination without emitting blue light, which can halt melatonin production and increase wakefulness during the night. Reduced blue light bulbs tend to be red, with higher lumens ratings.
Safety – Safety is paramount when choosing a nightlight. A night light that gets warm when plugged in may not be safe for continuous use, particularly near drapery or bedding. This issue is more common with older-style incandescent bulbs, while LED lights typically remain cool. Nightlights are usually limited to indoor use, and are not for use near water or open flames.
Impact on Sleep – Recent studies show that even dim light at night can interrupt production of the sleep-promoting hormone melatonin, disrupting sleep and potentially impacting health. Total darkness promotes the release of melatonin and may have a significant positive impact on overall health. It may be best to keep nightlights outside the bedroom to avoid all-night exposure. Dim red nightlights or those designed to prevent blue light emission could be a wise choice if you're concerned about the effect of light exposure on sleep.
Style – Styles of nightlights include those that plug directly into an outlet and lamp-styles for nightstands or dressers. Nightlights may be sleek and low-profile, or larger and easier to spot in your home. While I'm partial to nightlights that blend into my decor, others may favor a light that is large and bright, or has a fun or interesting design.
When choosing a nightlight, consider color, material, and visibility in a room during daylight hours as well as at night. Some nightlights are rechargeable and work well in areas without electrical outlets. Others have dimmers, or the ability to activate the light by touch. These features are more common in larger, lamp-style nightlights that do not plug directly into an outlet.
Price – Nightlights range in price from a few dollars to significantly more depending on brand and style. Less expensive models do not typically allow for bulb changes, or offer features such as dimmers or touch-activation. Higher-end brands may offer light sensors, a variety of light colors, and on-off switches. Lower-priced nightlights can last for several years under ordinary usage, but may need to be disposed of when the bulbs burn out.
Sleepopolis Tips
Not sure which nightlight is ideal for you? Consider the following tips when making your choice:
Where will use your new nightlight? A bedroom? Hallway? Near an exit door? A nightlight with higher lumens and longer life expectancy may be best for very dark areas or commercial spaces
How bright does your nightlight need to be? You may prefer a dimmer model for a baby's room and a brighter one to illuminate basement stairs
Keep your sleeping patterns in mind. Consider a nightlight that doesn't emit blue light, which can make falling back to sleep more difficult
Don't forget aesthetics. A nightlight doesn't have to be unattractive. Some boast a sleek, modern design, while others fit nicely with more traditional decor
Consider your health. Total darkness is associated with improved sleep, increased overall well-being, and a decreased risk of cancer. Using a nightlight outside the bedroom in a hallway or bathroom can offer safety and illumination at night with fewer risks to health
Rose MacDowell
Rose is the former Chief Research Officer at Sleepopolis. An incurable night owl, she loves discovering the latest information about sleep and how to get (lots) more of it. She is a published novelist who has written everything from an article about cheese factories to clock-in instructions for assembly line workers in Belgium. One of her favorite parts of her job is connecting with the best sleep experts in the industry and utilizing their wealth of knowledge in the pieces she writes. She enjoys creating engaging articles that make a difference in people's lives. Her writing has been reviewed by The Boston Globe, Cosmopolitan, and the Associated Press, and received a starred review in Publishers Weekly. When she isn't musing about sleep, she's usually at the gym, eating extremely spicy food, or wishing she were snowboarding in her native Colorado. Active though she is, she considers staying in bed until noon on Sundays to be important research.