A great throw pillow can add the perfect decorative element to almost any room in your home. Whether you'd like to punch up your existing decor or add the final touch to a new space, throw pillows can provide texture, pattern, and a pop of color for low cost and commitment.
With a huge array of throw pillows available to choose from, how do you find one that complements your taste and lifestyle? We tested best-selling pillows in a variety of shapes and fabrics to help you choose the right throw pillow for your home.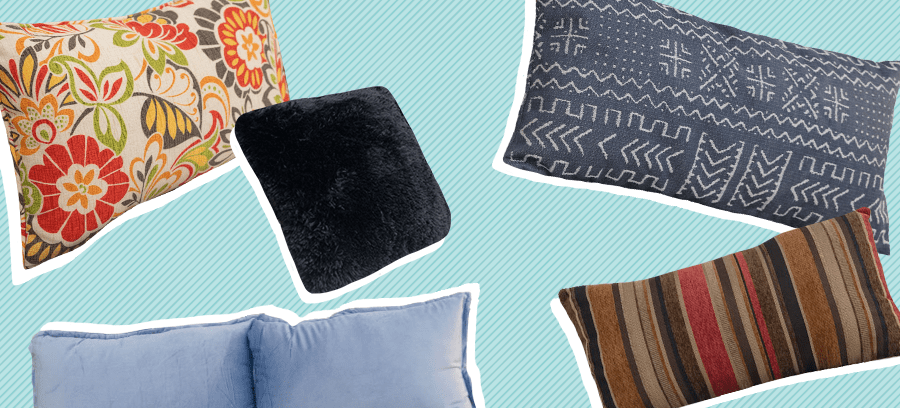 Best For Design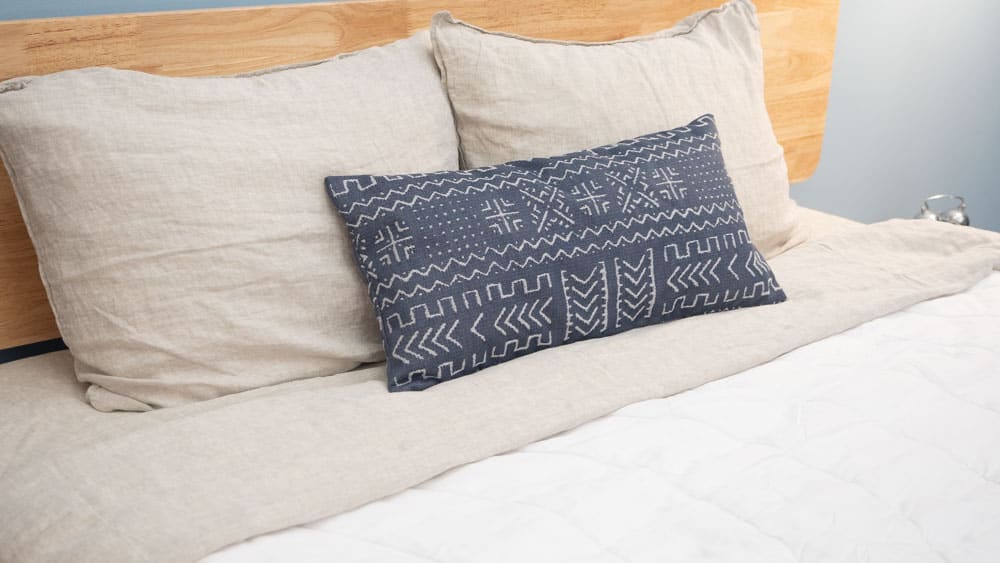 Rivet Mudcloth-Inspired Decorative Throw Pillow
This 12×24 inch pillow gets my nod for best design. The pattern draws inspiration from the traditional Malian cotton fabric dyed with fermented mud, also known as mudcloth.
Pros: 
Design. The Rivet throw pillow's unusual textured design was not only striking to my eyes, but felt hand-woven and interesting to the touch. The pattern of each color option is slightly different, giving each pillow a one-of-a-kind look

Fabric. The cotton/polyester material used to make this pillow felt thick and durable. I can imagine it holding up well under heavy use in a home with pets and children 

Colors. The neutral colors are subtle and appealing. I tried out the navy, which was less a true navy than a smoky charcoal blue. This color could complement many styles of decor (including mine)
Cons:
Price. The Rivet throw pillow is sewn in the U.S., and it shows in the price — nearly $40 for one 

Insert. While the shell feels substantial and well-made, the polyester insert feels flat and underfilled. For this price, the insert could be a bit fuller and more comfortable
Best Faux Fur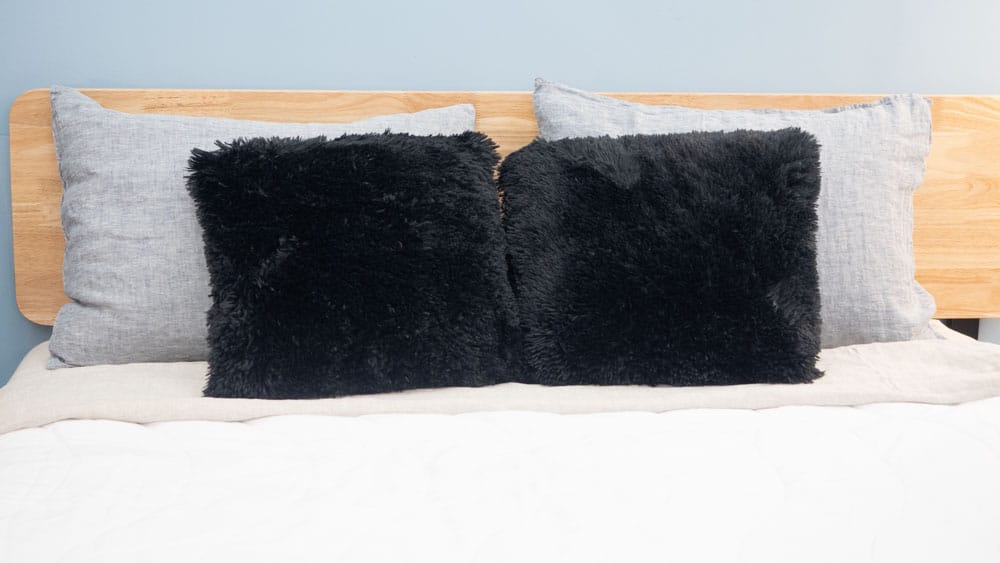 Sweet Home Collection Plush Pillow
The addictively soft and cozy Sweet Home Collection plush pillow gets my pick for best faux fur pillow. This standard-size throw pillow is made of synthetic materials, and is available in seven colors including black and turquoise.
Pros:
Softness.

The Sweet Home Collection plush pillow is plush, all right. The long-fiber faux fur felt silky and deep to the touch, and had no loops for my fingers to get caught in. This faux fur reminded me of Mongolian lamb's wool — glossy, fuzzy, and luxurious

Price. Two of these plush puppies cost between $20 and $30, depending on color. They're likely to be adopted by kids and pets, so affordability is a nice feature 

Insert. The insert of this pillow is huggable but firm, and didn't lose its shape after I sat on, leaned against, and lay on it. This could be a good choice if you like your pillows to stand up straight without fluffing 
Cons:
Edging. The edging of these pillows is flat, snaggable, and didn't last long under normal use. Covering the full pillow in the long-fiber faux fur might have been a better — and more durable — choice

Colors. The available colors for this pillow are either very neutral or very bright. This may not work for all decors, which might require something in between. I tried out the black, which was rich and deep and consistent throughout
Best For Comfort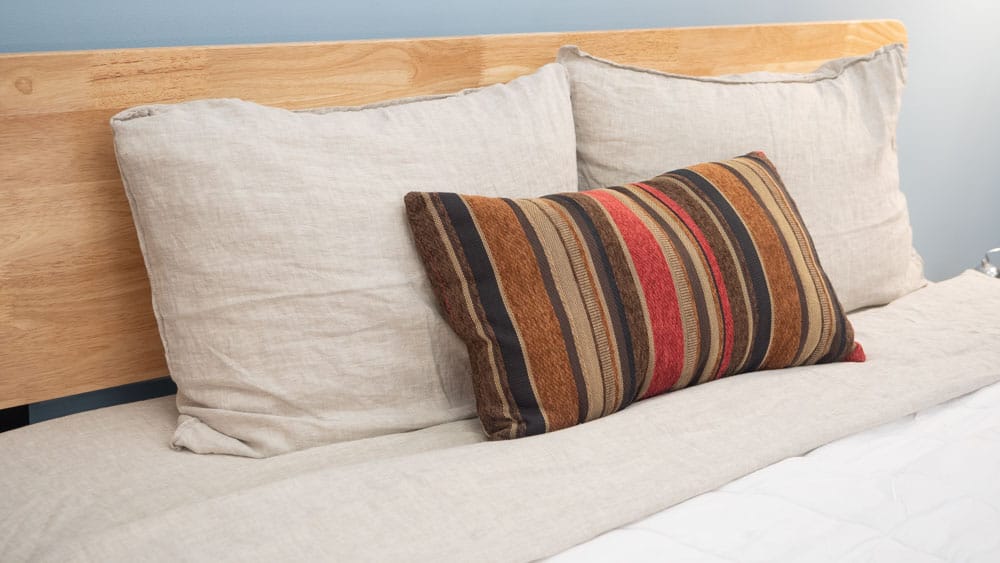 Brentwood Originals Carnival Stripe Toss Pillow
The Brentwood Originals throw pillow is 14×24 inches of plush, squeezable comfort. The cover can be spot-cleaned, and is not removable. 
Pros:
Cushiness. This pillow is stuffed full of a cozy, comfortable filling that felt firm but compressible to the touch (or squeeze). This pillow was perfect tucked behind my lower back, and offered just the right amount of loft thrown under my knees while I sprawled on the couch

Retro design. If you like to curl up in your grandmother's afghan and watch

Stranger Things

, this could be the throw pillow for you. Its retro design and earthy colors radiate early 80's charm, and are probably great at disguising stains, too 

Fabric. Not only are the stripes different colors, they're made of different fabrics, too. A velvety velour dominates, punctuated with smooth accents of neutral-toned materials in varying widths 
Cons:
Price. At just under $20, the Brentwood throw pillow seemed a tad pricey. It is filled and finished in the U.S., though, which could make the price worth it for many people 

Filling: After a little poking and prodding, I could see some slight indentations in the stuffing. There's a potential for lumpiness there — time will tell
Best For Indoors and Outdoors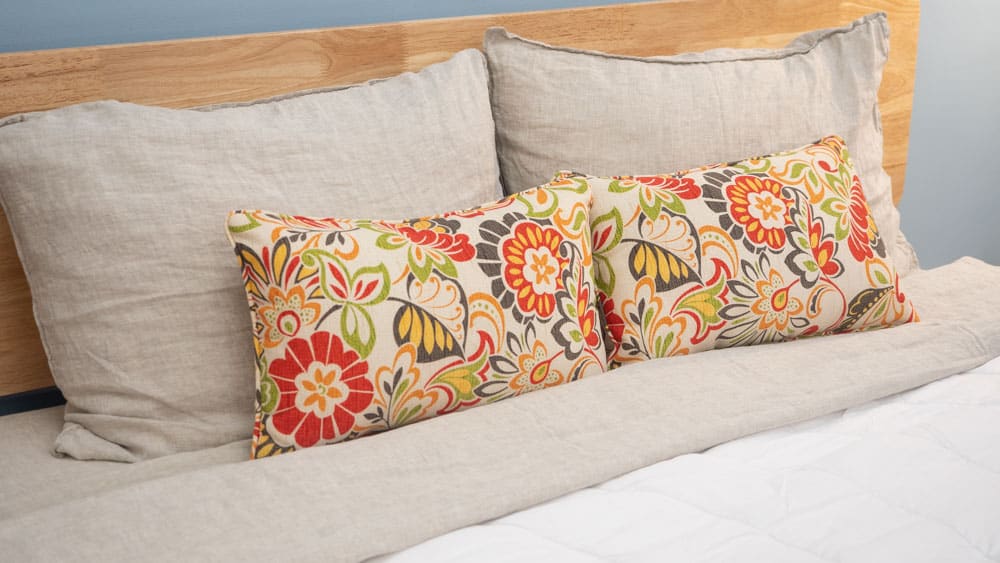 Pillow Perfect Decorative Multicolored Modern Floral Rectangular Pillow
The Pillow Perfect rectangular pillow is designed for indoor and outdoor use, and is filled and finished in the U.S. They're available in twenty different patterns and colors, and come as a two-pack.
Pros:
Versatility. The Pillow Perfect rectangular pillow can be used indoors or outdoors, and is fade and weather resistant. My first thought when unpacking these was "patio"

Workmanship. With its matching corded trim and plush fill, the Pillow Perfect pillow looks and feels exceptionally well-made. Even the tag is an attractive gray in a modern lower-case font. I found no excess strings or defects on the pillows I ordered, a rarity at this price point

Design. This pillow comes in a wide variety of patterns and colors, making it a solid choice for nearly any indoor or outdoor decor
Cons: 
Care. These pillows must be spot cleaned or gently hand washed, which could be impractical if they're used outdoors

Fabric. Though the patterns and colors are versatile and attractive, the fabric felt a bit rough and low-end to the touch. This may work if the pillows are used outdoors, but some buyers might find them too coarse on the skin for indoor use
Best Value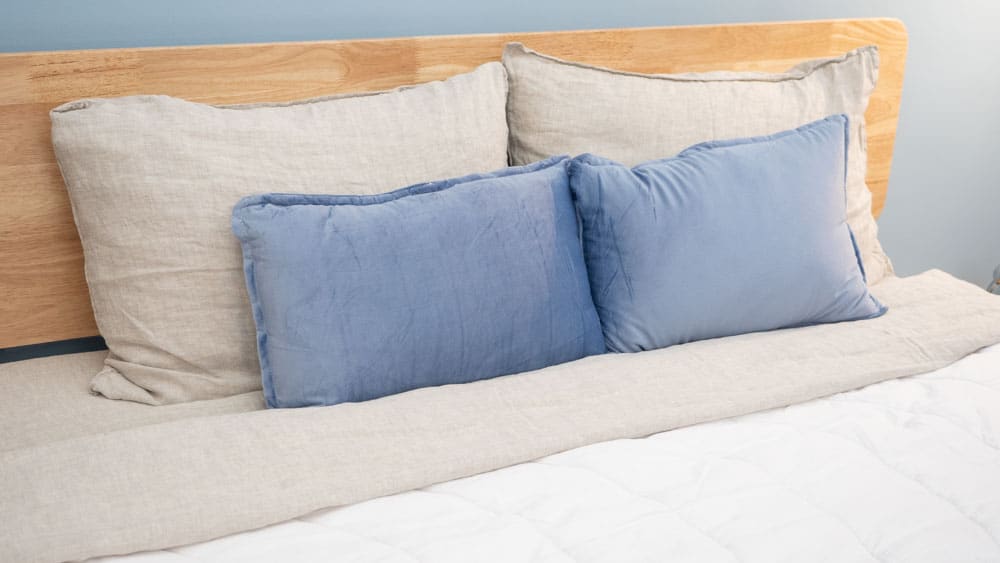 Edow Velvet Throw Pillows
The Edow Velvet throw pillow is my choice for best value. Each pillow includes a non-removable down alternative insert.
Pros:
Price. You can't go wrong with two 12×20 inch pillows at just under $13 

Softness. The fabric may not be thick, but the Edow velvet pillow is about as soft as they come. This pillow felt like, well, velvet to the touch, with a bit of microfiber-y smoothness that gave it an addictive tactile quality

Colors. The variety of colors will please just about any throw pillow fan, no matter what their decor
Cons: 
Stitching. I wasn't expecting perfect craftsmanship at this price point, but the stitching on this pillow looks rushed and rudimentary

Fabric. The velvet feels thinner than I expected, but for $13, it isn't a deal-breaker
How We Picked
Throw pillows are an essential part of a home's comfort and aesthetic. When reviewing throw pillows, we examined several factors that helped us choose the best in each individual category. Consider the following when searching for the perfect throw pillow for your home or office.
Fabric
The fabric of a throw pillow determines how it looks, the way it feels, its durability, and how you care for it. A removable, machine-washable pillow case may be more suitable for a family with pets or children than one that must be spot or dry cleaned. If you plan to use a pillow outdoors or in a breakfast nook or family room, you may want to choose a water-repellent fabric that hides stains.
Velvet, jacquard, and silk can add an elegant aesthetic to a room, while cotton and linen feel more homey and casual. Seasonal fabrics such as wool and fleece can add a thematic element to your home during different times of year, and telegraph a cool or cozy vibe.
When choosing a fabric for your throw pillow, consider where and how you'll use it. Will the pillow be purely decorative? A helpful tool for lumbar support? Will dogs and children be using it? Throw pillows are often functional as well as decorative. The fabric of your throw pillow should reflect its place and purpose in your home.
Internal Fill
A throw pillow's internal fill impacts how it looks and feels as well as the support it offers. When shopping for a throw pillow, consider the type of internal fill and how it might perform under regular use. The following are some of the most common types of pillow fills:
Polyester – Polyester is inexpensive, light, and easy to clean. It also tends to clump easily, making it less durable. It can feel warm, and is generally not moldable like down and memory foam
Cotton – Cotton is a natural fiber that is often less expensive than other types of internal fill. It may be a good alternative for those with allergies or sensitivities to synthetic materials, but is generally less durable. Cotton is usually washable, but flattens easily and tends to lose its shape
Down alternative – Down alternative fills are light and offer a quick response to pressure. These are often reasonably priced and versatile, but may not be as durable as fills such as memory foam or down
Memory Foam – Memory foam offers pressure relief, and conforms to head or body shape. Memory foam fill is durable and remains smooth over time, but can be a bit heavier and more expensive than other options. Shredded memory foam offers both support and a plush feel
Down – Down is a lightweight and compressible fill, with a fluffy, feathery feel. Down tends to hold its shape, and is moldable to your head and body. Down is also durable and can last for several years. This type of fill can hold in heat, however, and requires regular refluffing
Shape
Throw pillows are available in many different shapes, including lumbar, square, neckroll, and bolster. To decide which pillow shape is best for you, consider where you'll be using your pillow. In bed or on a sofa? On a bench for a few minutes while putting on your shoes? A pillow you'll use to support your back during a binge-watch session may need to be firmer or more supportive than a pillow that serves a purely decorative purpose.
When choosing a throw pillow, consider measuring the furniture or area where you'll be using it. Taking measurements can help you decide on both shape and size, and ensure the pillow you choose will suit your purposes.
Cover design
Throw pillows come in a multitude of designs. Some people have a specific style and look in mind, while others are less sure of their decorating instincts. If you don't have much design savvy, a throw pillow is a relatively low-cost way to experiment with color, pattern, and texture.
Fabric samples can help you decide which design is right for your style and decor. Most professionals suggest choosing a common theme, such as a color or pattern, and selecting pillows based on that theme. For instance, try a mix of tribal patterns in three different shapes, or choose pillows that have nothing in common but a splash of red. If you'd prefer to stick with solids, try mixing up fabrics and sizes. Draw on colors from furniture, rugs, or artwork, or pick a splash of any bright color to liven up a monochromatic decor.
Price
Throw pillows can be one of the most inexpensive elements of your decor, or as pricey as a rug or chair. Price typically depends on materials, country of origin, and craftsmanship. A hand-embroidered pillow will cost significantly more than a machine-made pillow, while a pillow made of fine fabric such as silk or linen will command a higher price than polyester.
Some throw pillows incorporate artistic elements in their designs, and serve as statement pieces that stand out. These pillows are designed to be noticed and bring a room together, and typically come with a higher price tag. Custom pillows abound online, and may cost a bit more to make to your specifications. Pillow sales are common in spring and fall as seasonal colors and fabrics change.
Sleepopolis Tips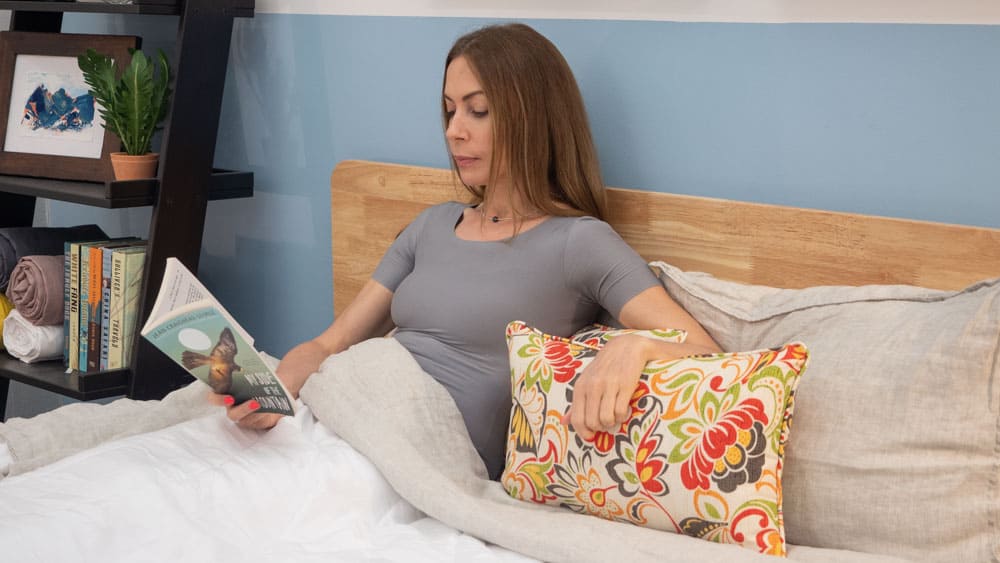 Still not sure how to choose from the wealth of throw pillows available? We've put together some tips to help even the most design-challenged choose the perfect pillow:
Go neutral – Not quite ready to try bright colors? Give subdued earth tones a whirl. It's difficult to go wrong with throw pillows in understated hues like charcoal gray, cream, and rust
Treat yourself – If you're decorating on a budget but want to add a luxe accent, try a throw pillow (or four!) in velvet, silk, or wool. A few sumptuous pillows can take a less expensive sofa to new heights
Layer your pillows – Start with larger ones in the back on your bed or sofa, and add smaller pillows of varying shapes until you have the perfect two or three-layer arrangement
Get inspired – Take a look at design blogs for ideas about color, pattern, and texture. Head to a pillow store to check out what's on trend, and see how they arrange pillows for a chic finishing touch
Keep it simple – When starting out with throw pillows, fewer may be better. Start with two on a bed or sofa, then add additional pillows in different patterns and colors as your design confidence grows
Know what you're buying – Many companies sell throw pillow covers and inserts separately. Make sure you know what your pillow purchase includes. Cover only, or cover and insert?
Decorate the great outdoors – Try outdoor pillows to liven up your lawn or patio furniture. Just be sure to buy pillows made to stand up to the elements, or indoor/outdoor pillows that can go from family room to porch swing without fading or losing shape
Rose MacDowell
Rose is the former Chief Research Officer at Sleepopolis. An incurable night owl, she loves discovering the latest information about sleep and how to get (lots) more of it. She is a published novelist who has written everything from an article about cheese factories to clock-in instructions for assembly line workers in Belgium. One of her favorite parts of her job is connecting with the best sleep experts in the industry and utilizing their wealth of knowledge in the pieces she writes. She enjoys creating engaging articles that make a difference in people's lives. Her writing has been reviewed by The Boston Globe, Cosmopolitan, and the Associated Press, and received a starred review in Publishers Weekly. When she isn't musing about sleep, she's usually at the gym, eating extremely spicy food, or wishing she were snowboarding in her native Colorado. Active though she is, she considers staying in bed until noon on Sundays to be important research.