6 Steps to Create a Minimalist Bedroom Design
Minimalist bedroom design isn't something that happens over night. By its very nature minimalism requires a high degree of organization and lack of clutter. Since there is so little that makes up the bedroom, there are no room for extras without their presence dramatically changing the aesthetic of the room.
Creating your first minimalist bedroom doesn't have to be difficult, or expensive. However, it will require careful thought and planning to make the proper functional and aesthetic choices to bring it all together. The following is intended as a beginners guide to creating a minimalist bedroom. It covers what you should buy and where, and how to choose the right aesthetic touches to go from purely functional minimalism to an aesthetic style you can be proud of.
1. Choosing a Minimalist Bed Frame
Finding the right frame for your room is critical, as it will set the entire tone of your minimalist bedroom. Traditional beds are generally large, heavy (looking and literally), and have a number of aesthetic touches that distract from the minimal goal. As a result, we'll focus only on platform and other low-profile bed frames.
Platform Beds
A traditional platform bed can be a great option as the centerpiece for your design. They can often come with a full matching set of supporting furniture, which can help to quickly set the foundation for your design. The only problem with platform beds is that they can be quite expensive. My wife and I bought our first platform bed this past year and looked at dozens of platform beds looking for a style we liked at a price we could afford.
Most well-designed and constructed platform beds will be $2,000+. So if that's your desire, be ready to open up your wallet.
My wife and found a steal of a deal on our platform bed from Copenhagen Living. We purchased the Bellmar platform bed, which is was only $600 for King. If that price range is out of your budget continue on to one of the options below.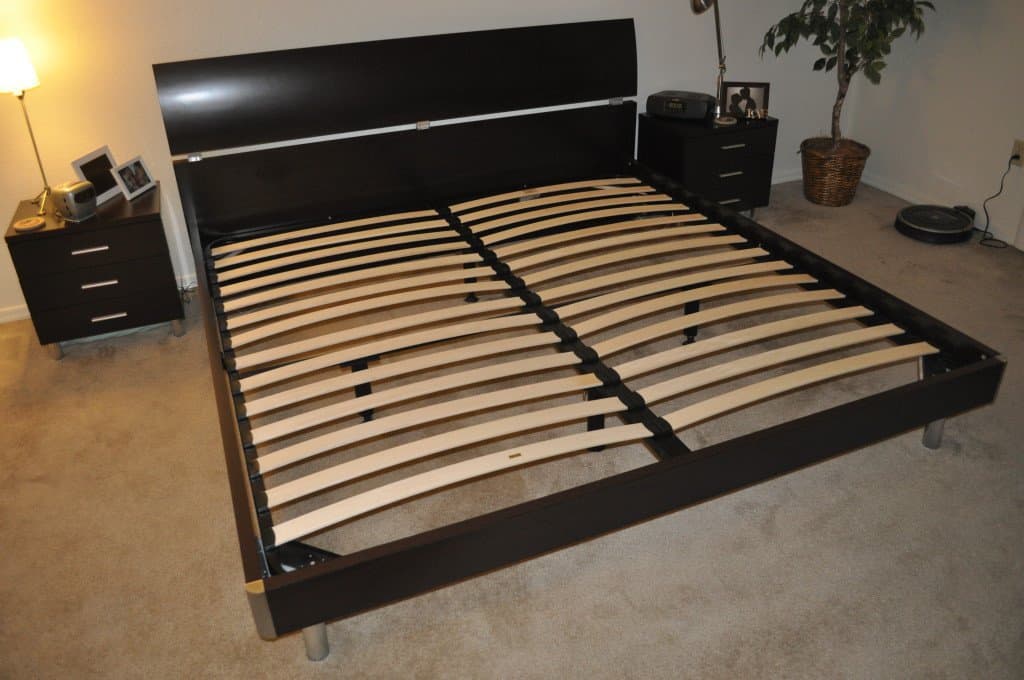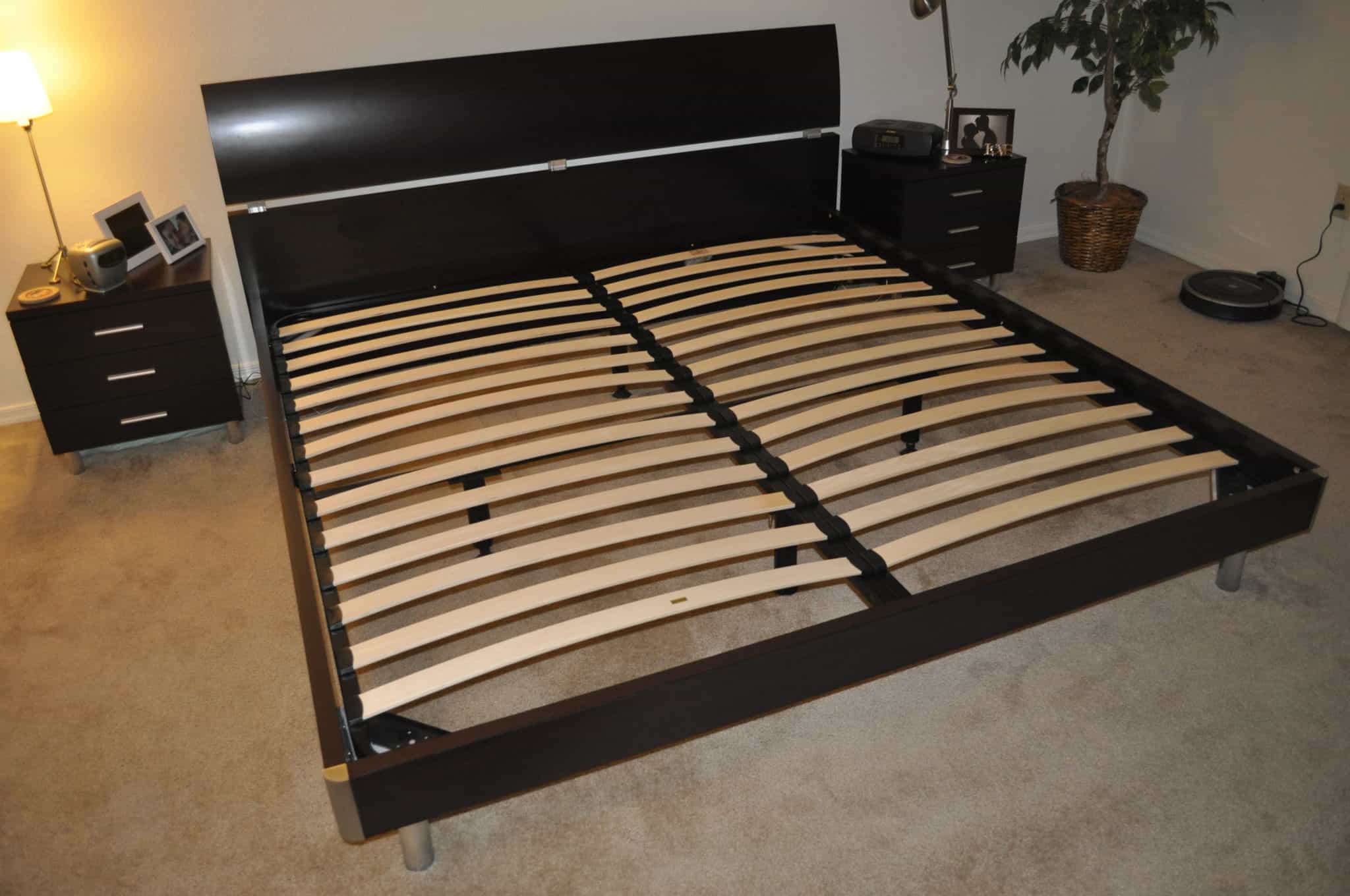 IKEA
If you're on a budget, IKEA can be a good choice for platform beds also. When it comes to price, it's hard to beat. However, IKEA furniture is generally lower quality. If you move frequently or otherwise put pressure on your frame it is likely not going to have a long life.
IKEA has several great minimal platform bed options. Additionally, there are multiple matching furniture pieces that you can buy as many or as few as you like.
Metal Bed Frame / Box Spring
If you move frequently, are on a super tight budget, or just want a bit of a different look, you should consider a metal bed frame / box spring. You'll find these combination frame / box springs popping up on Amazon.com and elsewhere.
This one has great reviews and is less than $100.
They are inexpensive and ship in a box to your door. The frames just take a few minutes to assemble and are a complete replacement for a traditional box spring.
Additionally, they are generally crafted from steel, so you know they can take some punishment from several moves and still expect to stay together.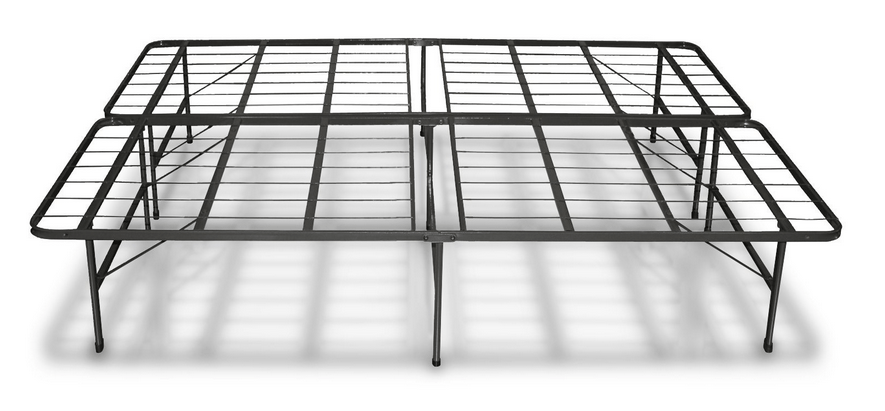 2. Choosing a Mattress
To maintain a certain sense of balance and minimalism I would recommend avoiding any mattress that's thicker than 10 inches. 10 inches is fairly standard in terms of thickness, so you certainly won't be missing out in terms of comfort or support, but it will likely eliminate some super plush mattresses or pillow toppers.
Leesa Mattress
Leesa is a great choice for just about any bedroom, minimal or otherwise, it's just a great all around mattress. It has a balanced feel, neutral firmness, good cooling, great support, and a nice aesthetic departure from the typical all white cover. The Leesa has a thickness of 10 inches, so it won't overwhelm the room with extra weight. Leesa is $830 for a Queen when you use our exclusive $75 discount promo code.
Read our full Leesa mattress review here.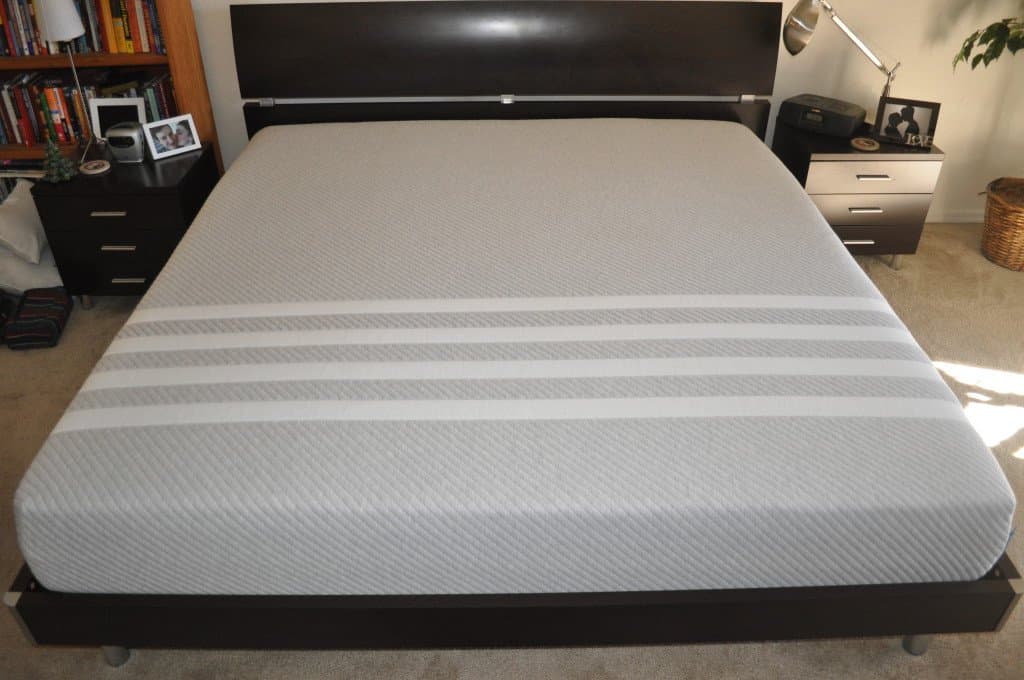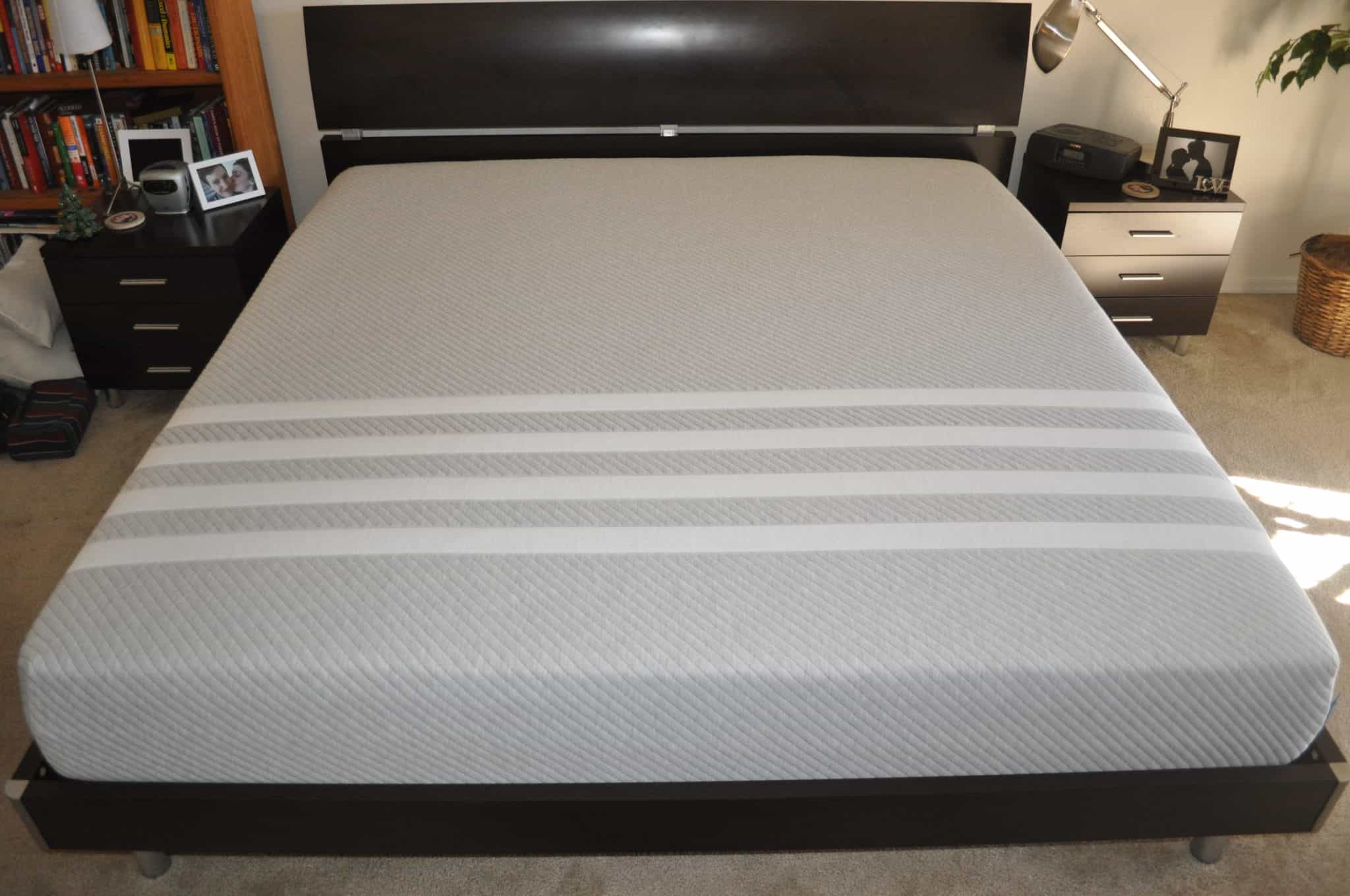 Tuft & Needle Mattress
If you're on a super tight budget or just want a mattress that's a bit firmer, Tuft & Needle can be a great option. The cover of the Tuft & Needle is very minimal, with no significant aesthetic touches or bold design elements. Tuft & Needle offers both a 10″ and 5″ mattress. The 5″ is a bit firmer than the 10″, so bear that in mind. The look of the 5″ Tuft & Needle on a platform bed would be extremely low profile. The price is hard to beat at $600 for a Queen 10″ or $450 or a Queen 5″.
Read our full Tuft & Needle mattress review here.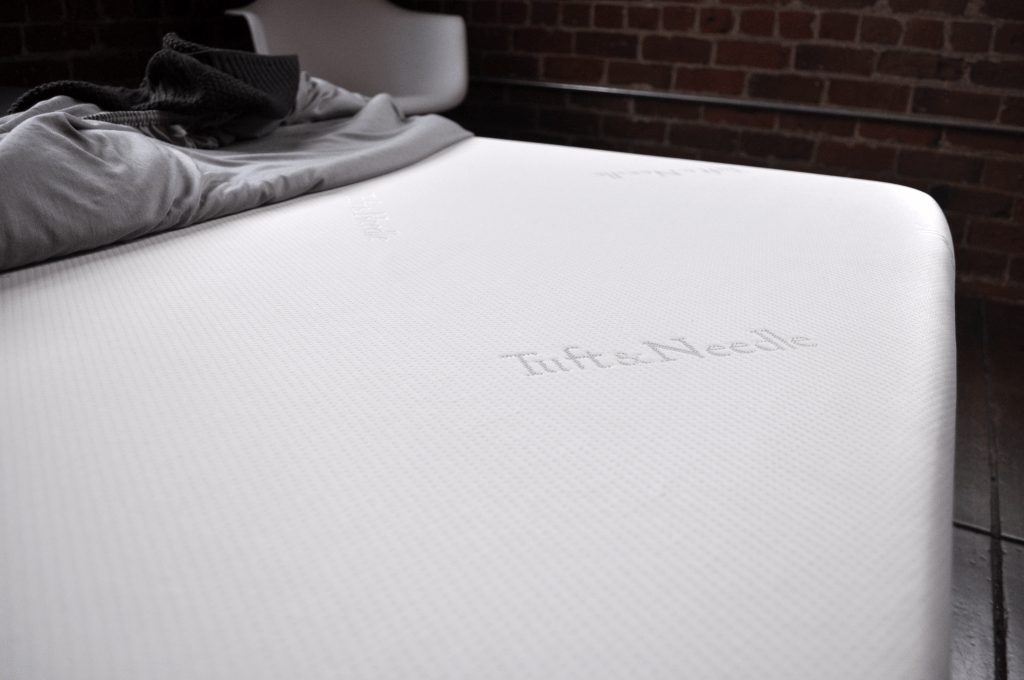 Other Mattresses
There are several other great 10″ mattress choices on the market that you might consider. Here's a brief list that you may want to check out depending on your sleep preferences:
3. Choosing Minimalist Bedroom Furniture
Furniture can quickly turn your bedroom minimalism from tight and sleek to heavy and unwieldy. My advice regarding furniture, less is more. You don't need to purchase every matching piece that goes with your platform or other bed frame to meet you functional needs.
Nightstand
A basic nightstand provides a small amount of storage, space for your phone / alarm, and a lamp if desired. IKEA has a great selection in a wide array of colors. If I was going to purchase any piece from IKEA it would be the nightstand. They are easier to move and don't take the same type of punishment that other furniture can take during day-to-day use or moving.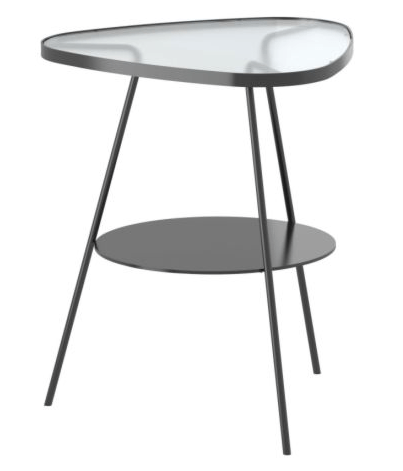 Dressers & Chests
The size of your room and functional needs will determine whether you need a traditional wide 6 drawer dresser, a tall 4-6 drawer chest, or a smaller 3 drawer set. My wife and I opted for the traditional wide 6 drawer dresser. Originally, I was pushing towards the tall 5 drawer chest, as the footprint was about half the size of the wide dresser. However, after having the wider dresser for several months now I haven't been unhappy with it.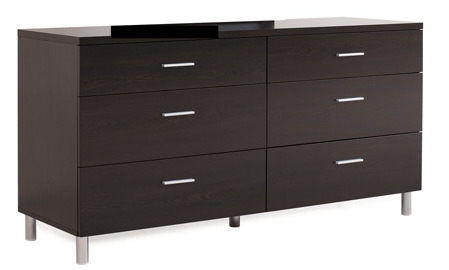 If you can functionally get by on a single piece I would recommend it. This helps to keep the room decluttered and minimal.
Alternatively, you might also choose purchasing a cheaper dresser or chest for the closet or another separated area of your bedroom. The key is to keep the focal area around your bed frame condensed of extra furnishings. This will help to maintain the sense or order.
4. Choosing Minimalist Decor & Art
Many bedroom minimalists might argue that decor and art is an unnecessary extra that only degrades the room. I tend to disagree, as 1-2 small, but poignant pieces can dramatically change the outlook of a room.
Art
A bold large canvas or print above your bed, or several balanced smaller pieces, can add pops of color (if you prefer) or sharpen a nice contrast of your furnishings and bedding set. Amazon has some great and inexpensive prints and paintings that can get the job done.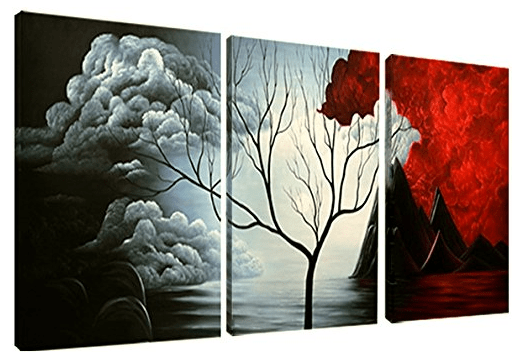 Plants
Whether real or fake, a potted plant, flowers, or small tree can dramatically change the room from anemic to alive. My wife and I moved a silk tree we had in the living room to our bedroom and it instantly brought the room to life.
Once again, less is more, so use sparingly. No more than 1-3 plants per room. Be careful that these aren't competing with your artwork choices. You want them to work together, not try to draw attention away from each other.
I personally love these decorative Bonsai trees. They are small, add nice pops of color, and each makes its own unique statement.
5. Choosing Minimalist Lighting
I almost decided to list this one under decor and art, as your lighting choices can have an equally strong impact on the minimal aesthetic of the room. Almost every bedroom is going to require some type of lamp. You should carefully consider and choose a lamp that:
Compliments your other furnishings naturally
Meets the functional lighting needs of your room
Depending on the art / decor you've selected you'll want the lamp to seamlessly mesh or stand out as its own piece. If you have less art you can supplement with a strong and bold lamp, using great design or contrasting colors, to make a statement on its own
Here's an example of a more basic piece that would look to live seamlessly within the rest of your design. And here's a bolder piece that is meant to make its own statement.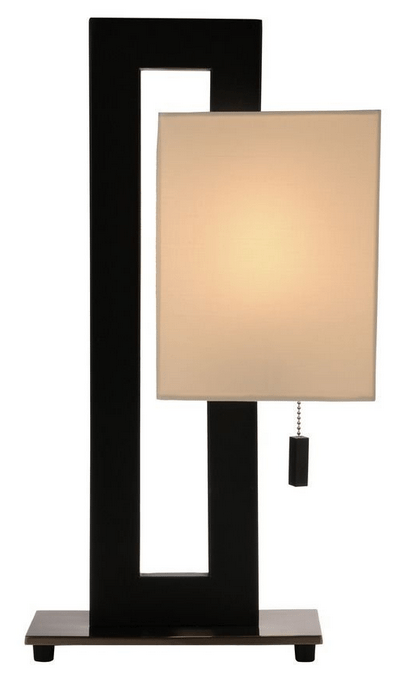 6. Choosing Minimalist Bedding
Bedding is perhaps the most overlooked minimalist bedroom factor. Well designed and aesthetically pleasing bedding can make or break your minimalistic design.
As with decor, art, and lighting, you'll want to consider how the bedding meshes with your other style pieces. Color is essential. You don't have to simply go black and white to go minimal. High contrasting colors help to really create a balanced and interesting look in the bedroom.  I have two pairs of these sheets. They aren't high end by any stretch, but they get the job done, the price is unbeatable, and they come in a wide array of colors.
Try to keep pillows to a minimum, as they can be an unnecessary distraction that detracts from the rest of the bedroom.
From a purely functional standpoint, make sure to purchase a mattress protector. This basic piece of bedding could save you in the event of a spill or other accident in the bedroom.
Conclusions
My chief piece of advice, less is more. It's always easier to start with fewer pieces and gradually add more. Start with the basics and begin to slowly add. Experiment, have fun with it, and remember that there is no right answer when it comes to design.
Have a sleek minimalist bedroom design you'd like to share? Drop me a note via my contact form. I'd love to showcase your design on the blog.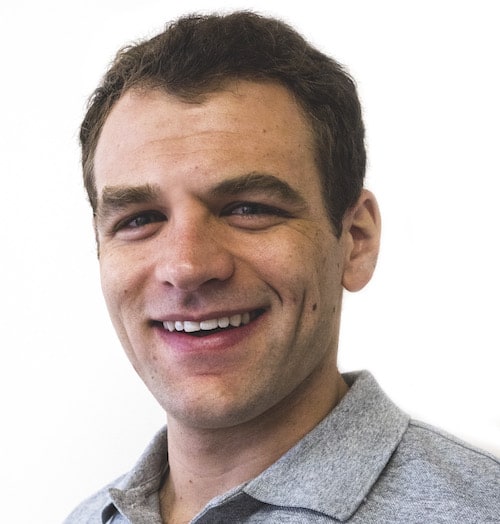 Logan Block
Logan is the former content director of Sleepopolis. As content director, he reviewed new mattresses every week and curated the comparisons, best of pages, and video guides on the site. Logan perfected his method by personally testing over 200 different mattresses, so he's not only able to discern the overall vibe of a specific bed, but to contextualize its feel within the bed-in-a-box market as a whole.