Ever wondered where I got the bed frame I use in all my Sleepopolis video reviews? If so, you're not alone, which is why I decided to write up a little post to set the record straight once and for all.
Below, I'll introduce you to the frame, talk about why I chose it, and discuss my favorite things about it.
The Frame
The frame we use for our mattress reviews is called the Olivia Metal and Wood Platform Bed from Zinus. It's a Queen-sized frame, measuring at 60″ X 80″ X 14″ and weighs approximately 76 pounds. As the name suggests, the Olivia is built with both wooden slats and steel frame supports.
The headboard is made from the same wood used in the frame and attaches to the main structure via two steel support beams. It reaches a height of 41" and measures 66" across.

Why I Chose the Olivia Bed Frame
When thinking about the bed frame I wanted to get for our studio, I considered a few different factors:
First and foremost, I wanted a frame with an attached headboard, which was surprisingly difficult to find online! In most cases, you have to buy a frame and a headboard separately, so I was super pleased to find that the Olivia (as well as several other Zinus models) came with both.
Secondly, I needed something affordable. It's easy to spend a lot of money on a bed frame, but it was important for me to find something that wasn't too expensive. The Olivia was well within my budget, as were many of the other Zinus frames.
It was also important for me to land on a frame that matched my decor. I like a bright aesthetic, so thought the light wood looked nice against the blues and greens of my room.
Finally, I considered support. I conduct a lot of tests on the mattresses I review, so I needed a solid, sturdy frame. And the Olivia, with its strong steel structure, has proven to be very supportive indeed.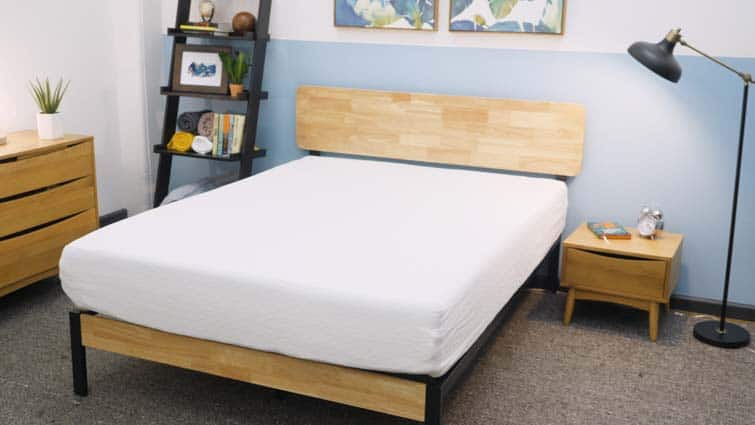 Final Thoughts
In general, I'd say I'm very happy with the Olivia frame from Zinus. I think it looks great in our bedroom and has worked well with a variety of mattresses. I find it supportive, comfortable, and durable, though of course it may feel different for those sleeping on it night after night. That's why it's crucial to consider all the ways in which you'd use a frame before buying one!
To find a frame of your own, check out our guides to the best bed frames on the market as well as our round-up of adjustable base reviews.